Friday, June 11, 2021
In September 2018, I developed a new world weather interface for WiredPages. I discuss the new tool (September 2018) in this blog post.
The following illustration is the same graphic used in the post referenced above, to show in September 2018 I was still doing most of my software development work using my MacBook. You can tell by the standalone application shots running in the Mac version of Firefox.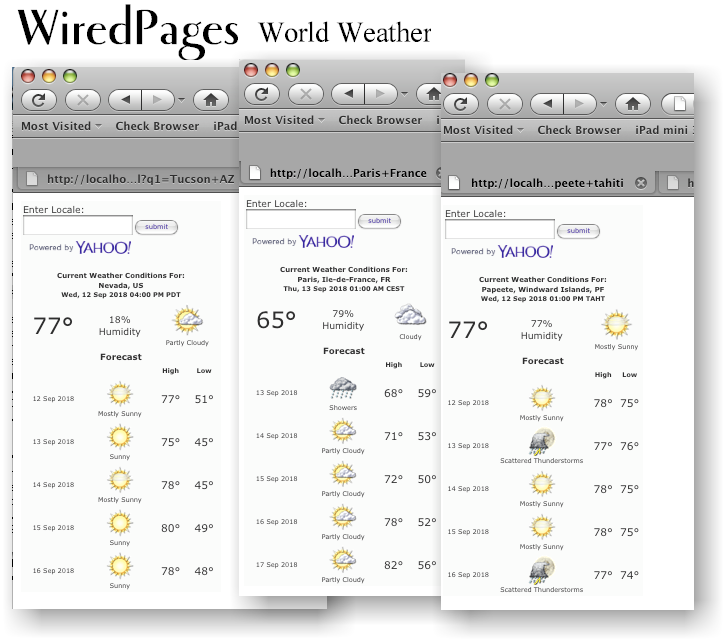 In January 2019, the original Yahoo! API was retired so I had to come up with another source of real time weather data.
Luckily, Yahoo! had another offering, although more complicated to integrate than the original, I worked out the issues and reinstalled a revised WeatherTool in late January 2019.
In late April 2021, I was notified that the Yahoo! Weather API was being retired and thanked for my interest in the resource. I wanted to believe the notification referred to the resource retired in January 2019 and not the feed I was currently using for the weather interface used on WiredPages.
That said, just in case my Yahoo! powered tool would become inoperable on June 1, 2021, as the email indicated, I developed another interface using a new data source. I wrote about the new interface on Mother's Day of this year, in this post.
The illustration below is from the May 9, 2021 (Mother's Day) post. It shows the then current Yahoo! WeatherTool side by side with the new interface using WeatherAPI data, running in my standalone development environment.
So why are you seeing a Weather Widget from WeatherWidget.io on the main page of WiredPages, as illustrated in the screen grab below and not the new WeatherAPI powered interface?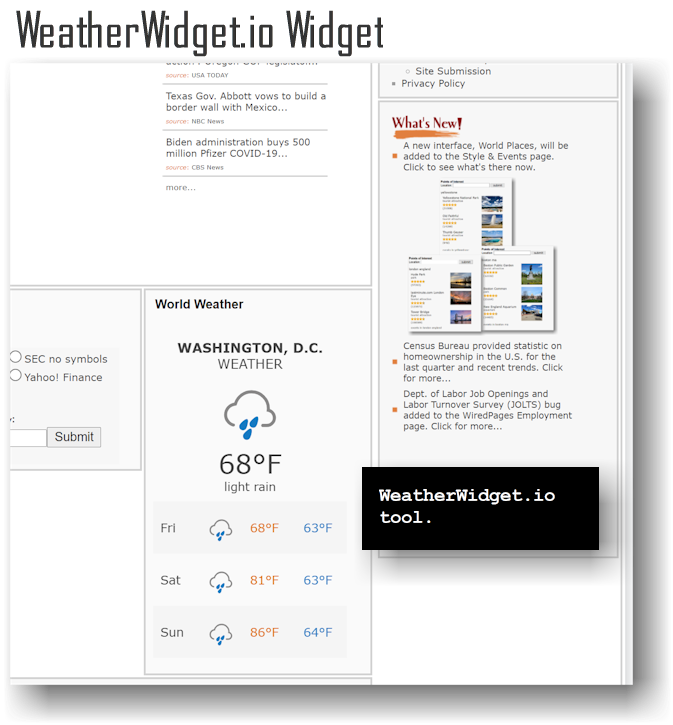 Too many security issues. As I have already indicated, the Yahoo! Weather interface developed in January 2019 was difficult, and should have been the tool I would not want installed on a less secure server. I like the new WeatherAPI tool, and it is ready for installation, however there is just something about the many issues I am having of late, that I do not like and so I am going to hold off on installing my new interface.