Sunday, January 16, 2022
I have been playing with the following recipe for a number of years to replace the box cake mixes I once used. The major problem with the box cake mixes? These days, simply too much.
The following basic buttermilk cake recipe works well with two 7" cake pans for a layered cake, one 7" cake pan for a coffee cake (add topping to the bottom of the pan), or 12 standard size cupcakes.
Ingredients
1½ cups of all purpose flour (to make cake flour substitute 3 Tbsp of flour with 3 Tbsp of cornstarch)
½ cup soft unsalted butter1
¾ cup white sugar
1½ eggs beaten
1 teaspoon vanilla (pure almond extract is another great flavoring)
1¼ teaspoon baking powder
½ teaspoon baking soda
¼ teaspoon salt
¾ cup lowfat buttermilk
Directions
Preheat oven to 350°F.
Spray cake pans with baking spray. I like Baker's Joy.
Cream with mixer butter and sugar for about 3-5 minutes. (This seems long, but I think worth it)
Add eggs and beat.
Mix in vanilla.
Combine flour, baking powder, baking soda, and salt in a small bowl.
Add flour mix to butter/sugar mixture in 3 parts alternating with the buttermilk in 2 parts, beginning and ending with the flour.
Stir after each addition until blended.
When using this recipe for one 7" cake pan as in a coffee or fruit topped cake, bake for about 27 minutes at 350°F. Bake 12 Cupcakes for about 20 minutes and two 7" cakes for about 24 minutes. Cake tester should come out clean.
I have used this recipe for layered cakes (cake flour version), coffee cake with an apple topping, and blueberry cupcakes. All turned out well. Yesterday, I made the blueberry cupcakes.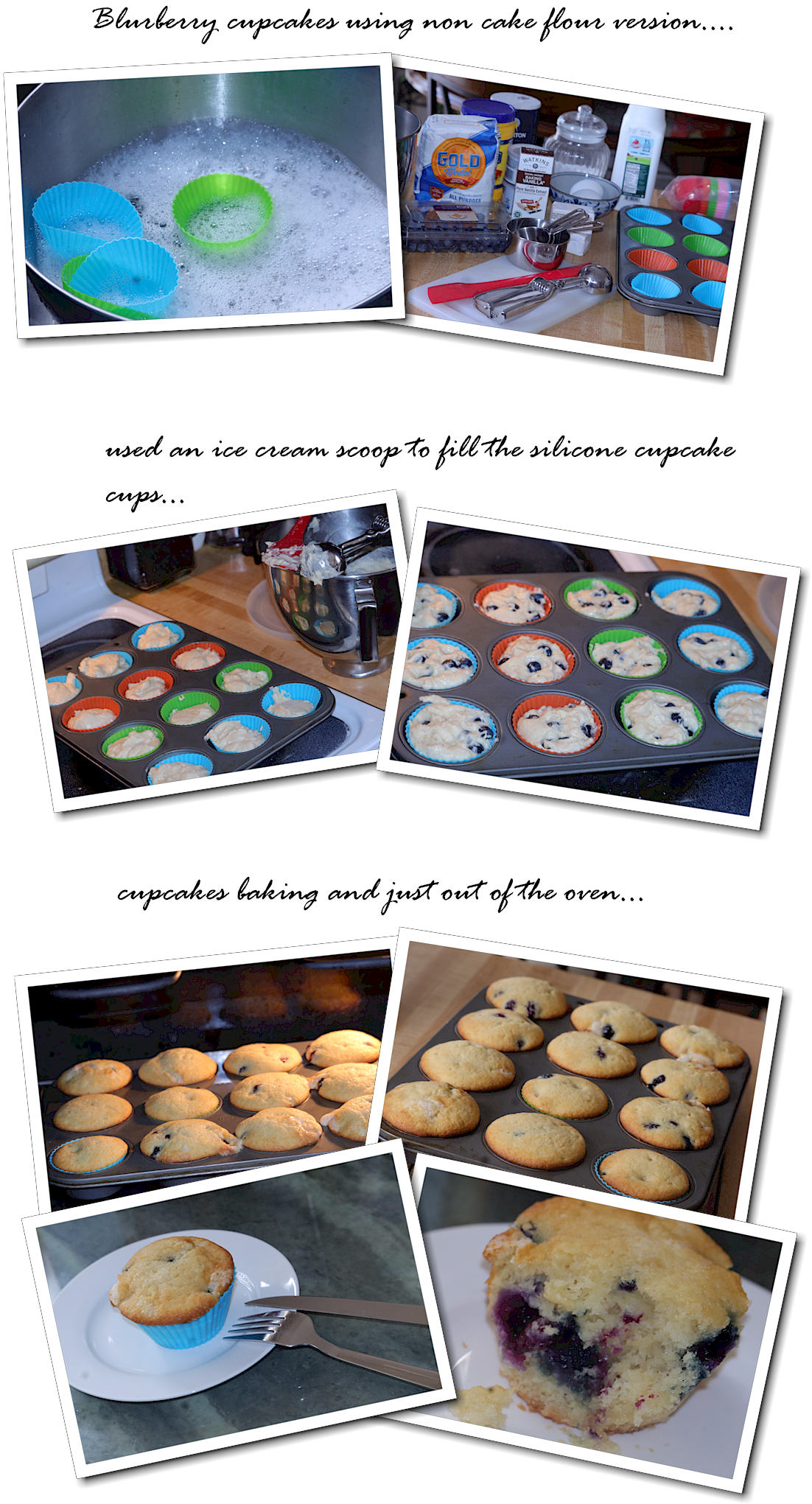 Last Wednesday, Safeway had blueberries on sale for $1.49. I purchased both blueberries and strawberries ($2.00) out of season for about $3.50.
Thursday and Friday morning, we had blueberry buttermilk pancakes (recipe found here).
I still had lots of blueberries leftover, so I made the cupcakes Saturday morning.
I thought I would need icing for the cupcakes, however after tasting them- decided they were great without the added sugar.
I purchased my Fat Daddio's 7x2 inch cake pans in March 2018 and the silicone cupcake cups in November 2020.

1Did you know you can freeze butter? I purchase unsalted butter and immediately put it in the freezer upon arriving home. This tidbit from Martha Stewart.