Tuesday, October 22, 2019

Friday, September 13, 2019
Starting to update the Gift Ideas post and ran across an idea I thought might be interesting for a kid's birthday, costume or Halloween party theme.
These NFL youth costume theme sets could be a hit with the kids and cost between $17 and $75 depending on size and team.
I am only showing four of the theme sets, however most of the NFL teams are available.

Are you ready for the holidays? I am trying to get into the swing of things, however I am a little late with some of things I want to do this year.

Tuesday, July 25, 2017
I did not go away to college. I lived at home the entire 4 years, while studying for my undergrad degree. Going away to college is one of the things I always felt I should have experienced.
I am always interested to learn what new students leaving home for the first time are hoping the experience will provide them.
That said, school shopping was always one of my favorite things to do and I did more than my share- even though I lived at home. I needed supplies, fashions, books, etc., just like students living on campus. I had a part time job [one summer an internship at NASA] for most of the four years I was in college- to offset expenses and college loans.
Today, if I had to worry about living on campus what would I purchase?


I have also updated some of the other stores.
Also researching for several of my social media projects including the HanoverMaryland Businesses page on Facebook.
Since my last post, I celebrated another birthday. It was a nice birthday and I am always happy to receive the money gifts my family bestows upon me.
I did not like any of my birthday photos, so I will post a new photo later to show how gracefully I am not aging. Did you get that word play? Just kidding.

Monday, January 02, 2017
Coach is a brand long recognized for quality. Some of my Coach pieces are over twenty years old. The Coach classic handbag shown, was used almost everyday for over 10years.
Are you thinking of adding to your Coach collection, or maybe a gift for someone special?

Sunday, January 01, 2017
Sunday, January 01, 2017

Sunday, January 01, 2017
Sunday, January 01, 2017
Sunday, January 01, 2017
Sunday, January 01, 2017
Sunday, January 01, 2017
Sunday, January 01, 2017
Thursday, June 30, 2016
Most of my family is preparing to leave town for the upcoming holiday [July 4th]. I never make the trek down south for the Annual Family Reunion.
So, what have I been up to?
Trimming the Bushes
Holiday Food Planning
Working on my Amazon Stores, added a new sub-category [Pink Gift Ideas]:
I do most of my shopping online and plan ahead for gift giving. I love finding unique ideas or ideas I think people will appreciate. That is how my "Pink Gift Ideas" page started. Initially, it was a single page under the Gift Ideas category.
Earlier this week, I decided to make it a sub-category. Why? To add more than a page full of pink gift ideas and to unburden myself of trying to insure the pink gifts stayed on the same page. The problem? If I inserted a gift idea before the "pink" page, everything was out of sync.
Shown, a screen grab of the first page of the new sub-category as it appeared yesterday afternoon.

Keep in mind, Amazon prices may change based on different variables. Click here to see the actual page.
Also this week, workmen installed the new gutters, completing all of the work for the new roof installation, which started last week.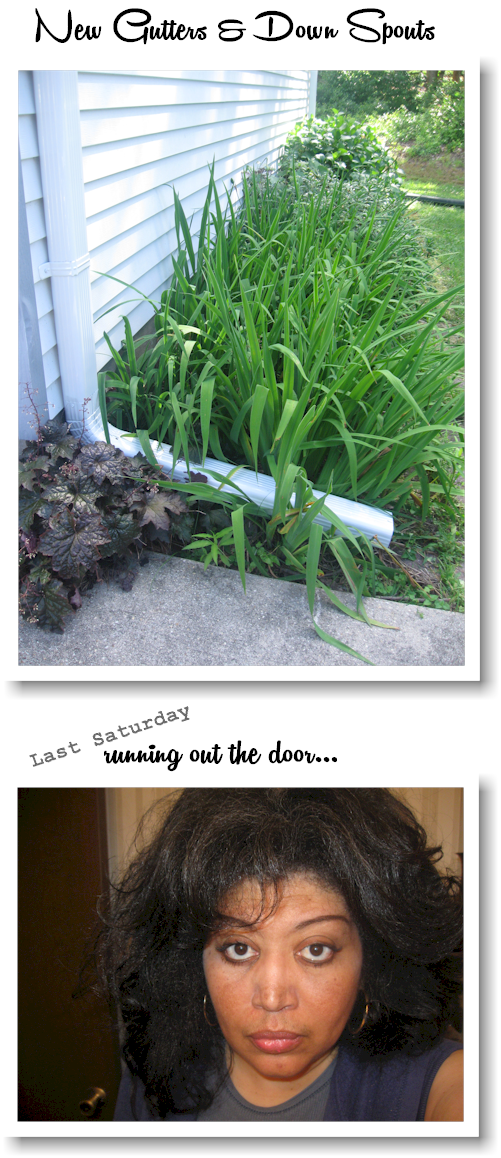 I had a couple of errands to run this week, so also shown... me, as I was leaving the house [alive and busy].

Friday, July 05, 2013
Last week I had some issues with my Macbook's display. I believe the problem occurred because I cracked the case just under the monitor where it is hinged. There was a small screw-- in that location.
This problem began in Oct 2011-- and has not really been an issue until last week. Yesterday, I spent most of the afternoon trying to re-calibrate the display only to go to bed frustrated. This morning I finally fixed the problem.
That said-- yesterday I went in search of a portable monitor I could use with the Macbook and found the Toshiba shown on the right. If you are looking for a similar option for your Macbook-- you will need to visit DisplayLink.com and download a driver for the Mac OSX operating system-- as it uses a USB connection.
This item is still in my Wish List-- however it is a serious contender for my next purchase. When I have problems with my Macbook-- I use a flat-screen television monitor which works fine-- however, I need a more portable solution.

Friday, June 21, 2013
My Current Shopping Cart:
I need two of the hard drives-- and recently only purchased one USB 2.0 cable. I will need another.
My Current Wish List [the shoe came in sand but no longer available-- I like this color combination-- too]: