Monday, June 25, 2018
Many are aware, I was a defense contractor in the Washington metropolitan area for a number of years. I enjoyed living and working in the area and especially the many activities the region offers its residents and visitors alike.
One of the newsstand issues I looked forward to getting, the Washington Post's Weekender. In the same vein as the Post's resource, the WiredPages Style & Events page offers a list of entertainment guides for some of the major cities in the U.S. I am always looking for new resources to add to this page.
My own hometown [HanoverMaryland], also offers quite a few distractions.
Social media has become an important factor in our daily lives. Hope you find something exciting to do in your off time.

Tuesday, June 19, 2018
In the past, WiredPages provided many tools powered by popular APIs, enabling visitors quick access to data and information.
Some of the tools/interfaces included [there were many more]:
World Weather -- Tool is being rewritten eliminating the Java Applet interface.
YouTube Search & Video Playback- interface is being rewritten to handle updates to the underlying API.
Indeed Job Search-- rewritten [changes to underlying API] and installed on the Employment page.
Political Representatives-- installed on the Government page.
CIA World Factbook Quick Reference-- researching new ways to provide the data on the Reference page.
Zillow Real Estate Values-- referenced on the Real Estate page-- installed.
Food Nutrition Data-- working and ready to install on the Health page. Security issue a concern.
Four tools that are working and ready for installation are shown in the illustration below. The illustration was screen-grabbed today after I retested each interface. Three of the tools are new; [1] Amazon links to the NY Times Best Sellers, [2] Gift Ideas, and [3] Today in History.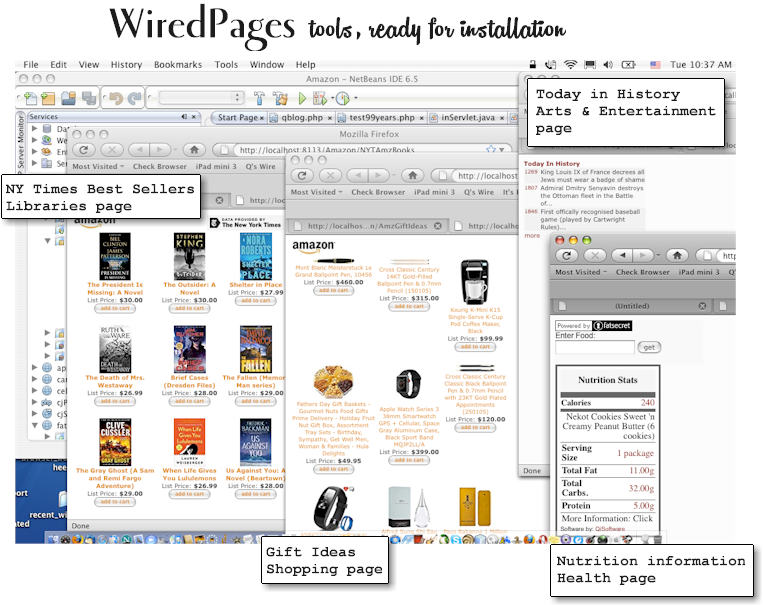 The Fat Secret interface [shown lower right corner] is the same tool that was installed on the Health page in prior years, however due to security concerns I am holding off on updating access to the tool.
Tools like the Mortgage Calculator [almost] and Base Converter are ready, however I am holding off on installation.
I am working to get all of the tools working [many had to be rewritten to remove the Java Applet interface which today's newer browsers are not supporting], however probably will not install many more of the tools until I resolve the security issues.
This post, in case you were wondering...

Sunday, June 17, 2018
Over the last few months I have been trying to create a new banner for my business blog. Each iteration, leaving me acutely aware of the time I might save using a "real" graphic artist.
Then finally, yesterday I came up with something I might be able to live with for more than a week.
Other activities:
Movie: "The Mountain Between Us" last night HBO
Showtime Series: Billions (season ended last Sunday)
Continuing with software development for new tools and updates to WiredPages
Business Directory updates
Cloud hosting research. Are you considering this option? More later.
Store updates:
Hope you are having a nice Father's Day.

Tuesday, June 12, 2018
Big things are happening in my hometown, and especially the business community. The latest, the opening of the Live! Hotel complex adjacent to the Live! Casino and Arundel Mills.
Briefly, construction milestones for the hotel: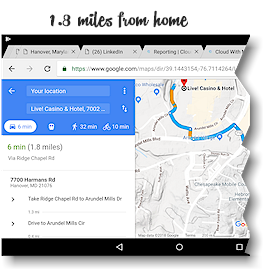 Groundbreaking Celebration, September 13th, 2016
Official Opening, June 6th, 2018
Grand Opening Celebration, Wednesday, July 11, 2018
In that I live within 2 miles of the new hotel, over the last year I tried to stop by at least once a week (starting in June 2017 and ending in June 2018) to capture construction progress photos.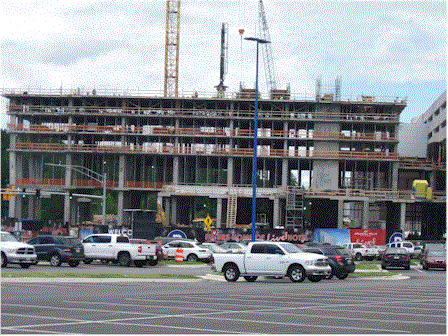 Hanover Maryland has grown into an attractive place to live and play. The thriving local business community that was in place before the mall, casino, and hotel openings- has only benefited from the extensive growth in the area since 2001.

Thursday, June 07, 2018
For various reasons, yesterday was the first time I have been to Costco in a number of years. Not because I do not love shopping at Costco and not because I do not have a household membership card in good standing. I do.
That said, somethings have changed since my last visit to Costco.
My bank cards now use chip technology.
Visa can be used as a credit card at checkout (in the past you had to use a bank debit card with the pin-- still the case with MasterCard).
The card reader shown in the illustration on the right is similar to the card readers the cashiers use at Costco, in that they have both a card swiper on the right side and a card reader at the bottom for cards using the newer chip technology. Both my business and personal check cards use the chip technology.
By the way, did I mention that because I do almost all of my shopping online with a rewards credit card not associated with a bank account, I had never used the bank issued card associated with my personal checking account before yesterday? I opened my business checking account in 2004, however the new business card issued about 4 years ago with the new chip technology has also never been used.
Anyway, yesterday as I am checking out-- the cashier asked me to swipe my 3 year old never used [personal bank checking] card. I try several times to use the right-side card swiper and fail. Then she suggests I use the chip reader at the bottom. No, I did not have my readers on. Again it fails. The reason (this time)? I did not leave the card in long enough.
I like thinking I am well versed in computers and new technologies. That said, for some reason yesterday, all of this simply mystified me. The cashier finally asked for my card, and made easy work of it all.

Wednesday, June 06, 2018
Ran several errands this morning, including:
Stopped by my business bank.
Stopped by Live! Casino & Hotel on the double anniversary of their respective openings. Took photos. The casino opened six years ago today, and the hotel opens today.
Went by Costco to purchase items for lunch.
It was a gorgeous morning. Saw one or two of the local news stations shooting footage for Live! Hotel's opening. Saw a flock of geese in the mall's [Arundel Mills] parking lot. Came home and had some of the rotisserie chicken and a croissant.
Though I visit my business bank regularly, I rarely get to the shops, so when I do happen out, as was the case with my visit to Costco today, I tend to note the occasion. I would really like to get out more, however one family member or another stops by weekly, so a lot of our shopping is done in this manner. Today was a nice treat for me.
For more information about my residential hometown and the thriving business community, see here.

Friday, June 01, 2018
Some are aware, I use my news service, WiredPages to showcase my custom software tools and interfaces.
Its primary function has always been to provide "real" demonstration of my software widgets and tools, allowing visitors an idea of the type of customization I [QiSoftware] offer.
I have provided this information in the past, however feel new visitors may not understand the primary intent of the news service [WiredPages].
As indicated in an earlier post, over the last two or three months, I have been working to repair most of the tools.
Security issues caused by a server move [about 4 years ago] that I did not understand, prevented most of the tools from running. Appears to be mirrors and masking issues. You may have noticed, over the last 3 or 4 years though I mention the service, I rarely provide links. All of that is changing.
Visitors over the last 2 months may have noticed- things are beginning to work, however I am still holding off on the installation of some of the updates or new tools.
Today, I created a new interface [Java Servlet] for the Shopping page which showcases another use of the Amazon Product Advertising API.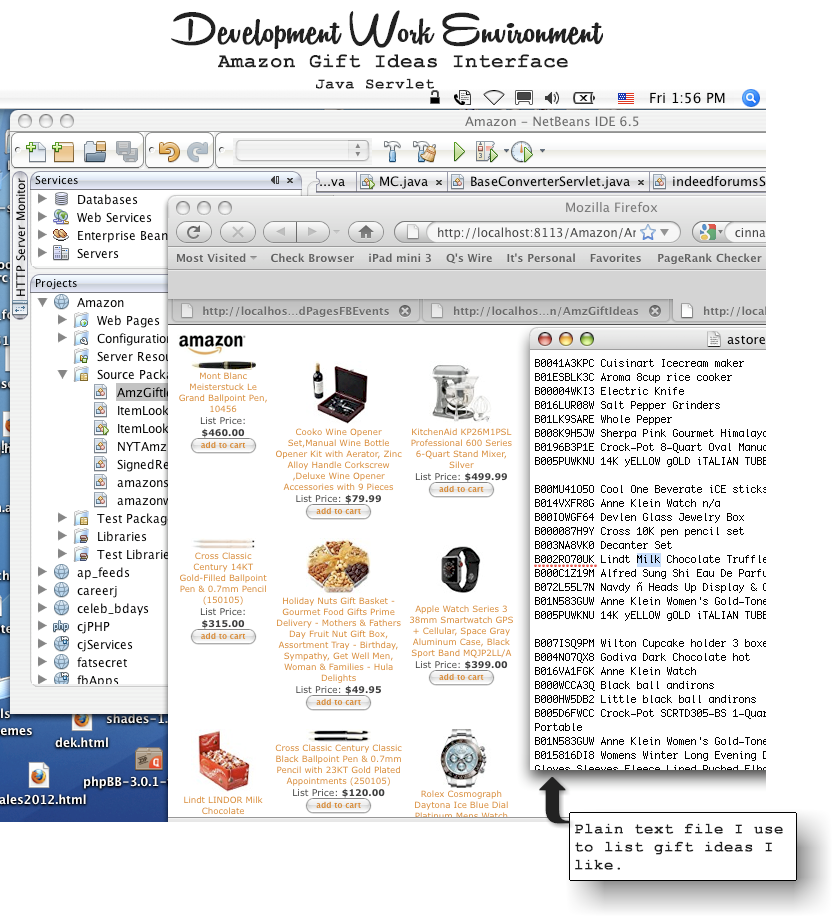 I have several tools that use the Amazon Product Advertising API, so this new tool only offers another idea on ways to integrate Amazon affiliate resources. I am not sure if I am going to install this new interface, another security issue, however I am almost finished with debug. I may also change one or two things with the appearance.