Friday, June 28, 2013
I decided to get up this morning and get my driver's license renewed. This has been bugging me every since I received the notice-- in April 2013.
Because the weather has been so humid lately- I got up and curled my hair using this technique. I let my hair stay in rollers for about 3 hours.
Here is what I looked like until 4 minutes before I reached the MVA Express Office in Columbia, MD. [I had on a bit more makeup-- lipstick and eye-shadow which I applied before I left the house.]
I had to use the bathroom at the center to fluff out my hair a bit- but other than that I was pleased that it worked.
My mother drove-- and I was very grateful-- she did this for me. I can never tell-- when the rules are not going to be the rules-- and though she offered to let me use her car-- I did not want to leave her stranded without one. I was not leaving the keys to mine with her. She has not driven a manual transmission in awhile-- and I do not want her practicing on mine.. See photo in the header.
Worries? Since I rarely use my car-- I have historic tags-- meaning I should use it minimally.. which I do and two-- my bag is big.. Government offices tend to frown on large bags like the one I carry.. again, see the header photos. That said-- Maryland jurisdictions have barely been in evidence lately-- so my concerns may be unfounded. I simply do not like testing the waters- so to speak.
After I got to the MVA Express Center, everything went off without a hitch.. the staff at the center very professional and helpful.. I was so happy this went well.
I even like my new license photo-- though it looks like I could lose a couple of pounds.

Wednesday, June 26, 2013
Today, I received the new hard drives and Kickers. Here are the drives:
I am going to use the two drives to store duplicate copies of software, web sites, etc. I will be downsizing the bag.
Here are different looks at the sandals. I absolutely love them.
The sandals are very comfortable-- however I could have purchased a size smaller. See this link for how to get them.

Tuesday, June 25, 2013
This crazy situation dictates-- I provide details like when I pay for web hosting, my business phone lines-- or other expenses associated with my business.
I use Skype for my main business line [443-393-6650] and my cell as a secondary line. In addition, I have two land lines in the house that I use for Federal Legal or business faxing.
On June 21st, 2013-- my business checking account was automatically billed for the Skype land line [443-393-6650]. Here is the receipt.
Earpiece provides that at times someone associated with the Federal Government will answer business calls to the 443.393.6650 line-- to get samplings. I am told a lot of folks are angry, mainly with those answering the calls. Statements like-- "Go get Regina" are often offered by callers.
I have repeatedly asked that this practice [unauthorized responses to my calls] be discontinued. If I get a call-- I will report it.. I do not get calls. I have a Belkin Skype phone that is always on-- and seldom rings. My call history reports will confirm this. The same is true for my cell phone.
DOJ lawyers also need to explain why this violation of my rights continues. What's going on with them? I am not sure.. they change their stories every 15 minutes.

Monday, June 24, 2013
I got up this morning and noticed from the kitchen window-- this surprise in one of the perennial gardens in the backyard.
Why is it a surprise? Years ago-- I used to buy every perennial I could find and plant it back there-- or in the one on the right side of the house.
The soil in that garden-- did not have the right nutrients and most of the things I planted died. In the case of the new bloom, I just noticed-- it looks like a weed when it starts growing every spring-- so I pruned it every year.
This year-- because of all of the rain.. and more creatures in the yard than I want to know [ravens, bunnies, etc.]-- I have been a little lax about cutting the weeds down.. I am so happy this perennial said -- "hi again".
Other news-- earpiece claims, a lot of folks like the Clock and Brand Kickers [Sandals] I had in my Wish List. By the way-- I ordered the Kickers sandals, too. I will model them when I get them.
Minor issues with vibrations this weekend.
Here is another angle of the rear garden-- however from this angle, the new bloom is just out of camera range.

Update: 6.25.13: The new bloom is a Perennial Aster.

Friday, June 21, 2013
I am having a great day. Did a little weed whacking, site enhancements, had apple strudel--- and feeling pretty good.
Washington-- not saying much though last night and through the morning told things happening. I am not asking any questions right now-- only thankful for the peace.
My Current Shopping Cart:
I need two of the hard drives-- and recently only purchased one USB 2.0 cable. I will need another.
My Current Wish List [the shoe came in sand but no longer available-- I like this color combination-- too]:

Thursday, June 20, 2013
When I went to bed last night-- Jason was in the house and it was time to go. The judge said - time to let this go. So why was I tortured all night? Not sure. Has this happened before? Yes. So why bore you this morning with the same thing?
Well the torture was a little worse than normal-- and one of the conversations this morning caught my attention. Someone said in my ear-- "if anything happens to her"... for some reason I did not think he was talking about me-- it should be very easy to pick up all of the government issued consoles that are vibrating me-- to death? No.. that's what really makes it torture.
They keep talking to me about Angus. do I ever ask questions? No. I am not interested in Angus.. Months ago-- he said "Die Regina". This after I told him-- he and his boys would not be running me nor would I be paying him. At the time he was going to be the new hidden president however had no say where I was concerned. I keep asking him to get off me.. I thought he looked smart-- and would not be a pussy where women are concerned. Bob Hale tends to think all CIA media women are hot. They look like whores and earpiece calls them whores. Earpiece got mad with this insertion. You call them whores try to pretend I should be jealous and then get mad when I call them what you call them? get off me. CIA vip relatives with aids that cannot do anything else. Most --- no education. He yearned Gillebrand [sp] and was mad she was with Obama for a minute. Angus is one of those claiming the reagan administration insisted they insure on a regular basis-- and I think this turns a smart man with a vibe into an idiot with excuses. He looks right.. he is not.. and believe me I keep looking for right.
The latest... His granddaughter gets to go to college and not sit in the pool of vip offspring-- insuring an important relative. She gets to do something different. I am told she does have Aids-- but excited. And no-- I did not take a photo of her-- so she knows I cannot id her.
So when the "if anything happens to her.. " statement was issued-- I thought he was talking about Angus' recent appointment. I asked that a secret service detail be given to her right away because I was not taking the blame if anything happened to the fake [rice a fake to] -- because Angus wanted to demoralize Susan Rice. And I am really not kidding. I am told the US delegation to the UN is competent in areas they need to be competent in --and we routinely send false fronts to the front lines... That said-- secret service should not need to be told to put an armed guard on her-- because Angus is an idiot.
I did not want her laughed at. You meant me? Those consoles can't kill me. they can only torture.. FBI, Lawyers, a lot of folks watching.. No need for an armed guard.
When I asked who said it-- the reply-- too close to angus not to be a threat. But not Angus. the problem-- I did not allow the person to finish.. idiot noise all morning.. just let me sleep.. one of those mornings. I told you-- do not threaten me.
After I posted-- someone said this means war. I have been tortured since 9/2012. Was that you angus? is that because your granddaughter embarrassed you and told the fbi and you -- she did not want to service you anymore? and the fbi told you to stop? War now? what have you been doing before now? Just trying to kill an innocent human being?
But if I just be quiet they have to do something? 18 years-- they have to do nothing but pretend that girl in the store the other day-- had no idea who I was. Maryland knows who I am.. Washington knows? Did your kid blog? ask them if they knew who I was.. I developed the Blogger Calendar in 2004. Ask your kid idiot and leave me alone.
I am not owed government sanctioned torture because they are perverts, greedy and losers.i
Am I trying to incite? DOJ-- do what you said you were going to do-- and let me go.. I want nothing to do with washington. I want to go. Me incite.. get the tapes.. everyone stupid but you? Me-- stand down. Get her a guard. Not one for tears. Not real.. treat like jesse.. I used to ask if Jesse was pissed at me -- because it appeared more people had tried to do me harm than him... stupid issue with pussy in washington that thinks his manhood is in question. not real issue. she is fake. I even asked this morning-- demoralize me or susan? Why would I care? Katie-- what is my pattern. why was I concerned in early 2007-- when wrc in washington wanted to interview the 3 new first ladies? I thought QT was here to clean up the crap. Ann Coulter won. You were second. In 2006-- when you all put your hat in the ring, I had no idea about deep throat. Everyone knew that. You had to teach. You have since had work done on that throat. So have a lot. Why would angus do this-- if she is not real? My first question--what are her qualifications? Look around for before and after.. I have some proof. The bigger problem-- I had no idea about Aids until Feb 2012. the real problem in washington. I wanted you protected. Washington the filth-- No one owes. check.. why was this my business? It wasn't. who is appointed. The problem-- several keep saying i am making washington look stupid. Mostly generals in the Pentagon? I told Mike Mullen to appoint missy's son to the naval academy? I thought it was babs... all because a child I did not know existed was killed? I am tired of your crap.. get off me.
Okay, lets try this. Folks I own QiSoftware and responsible for all of the work? Checking my bank records I have 40.00 a week deposited for over ten years. No other income. Most of my known family members are millionaires. Why? what did I do that keeps me poor and screwed? DOj owes that answer. Not whether I am trying to incite.. why is she poor and screwed?
I went to school and worked. I learned to do things. I was always above average in intelligence. I did not know about washington. I am screwed because I learned to do things other than insure washington filth? I did not have rock's kid? I did not allow relatives to touch me? get off me-- doj owes that explaination. not whehter I am trying to incite crap I am not trying to incite.
Why do they need the bag? The blogger calendar. suggest I did not develop it? who is that stupid? Washington? Girl-- at the store-- why even bother with me.. do you know how many of you do? Lots. I do not go out anymore-- mainly because I have too much stuff-- but things like you happened all the time. they wanted me angry.. I never argue with the clown in the store.. I scream when I leave. But why even notice me.. why bother?
suggest the blogger calendar is someone else's work? But it is assocated with QiSoftware -- known to be my business. what are you going to prove? Some smart guy from washington-- comes over every day to write code for me? How is that FBI? Dave Boyd-- why do I know how to open up a CPU and install memoray, drives, overdrive chips? Because you told me -- after ordering memory for my PC -- good look installing that. Ever since--not only have programmed computers-- I can now also build one. I learned by trial and error. I was happy rockwell allowed me to open up one of their computers. I did not break it. Because I learned things. I worked.
Given my ties-- why would you believe this is my work? They did not tell me I had ties. I worked. I showed the photo of my mother and Richard Nixon.. after rights violations like you would not believe-- I saw that photo of nixon and then looked through old photos here-- and said-- oh my god. Link coming.
Your question: why would you be the developer for such an innovative tool that gets attention.. Me: I have skills and should have been gainfully employed rather than asking why me. A Robert Reischauer is on live on CSPAN. Earpiece said he is important. I always thought he was a Rockefeller. Earpiece saying-- no, he is kin to Angus King. I always liked Robert.. did not know he was kin to angus.. why is he important? Earpiece just said-- "if I say one more word he is going to fire my ass". I assumed Robert said that-- but maybe not.
The other reason I am not quiet? I woke up saying how dare you. You beat me up all night. Many can see. When I was at BWMC-- many said they kept journals to keep them from reverting to behavior that would set them back. I said I blogged to stay sane. I have no other recourse.. they are torturing me.. Those are government issued consoles. I blog to stay sane.

Wednesday, June 19, 2013
In today's blog post on Q's Wire-- I discuss the fact I need to go on a diet because I need a new photo ID taken. To that effort, last night I went to bed hungry and got up and had steamed vegetables around 10:15 a.m. Around 2:00 p.m. had this baked potato with a Monterey Jack/Colby cheddar blend I love.
Then my mother walked in with these items-- freshly purchased from Costco.
I noticed in my new Costco flyer-- that Apple Strudel would be on sale this month and I showed it to her. We both love things like this. Was the half of one I shared with my mother- worth it? You bet it was.
Issues with earpiece still going on-- but to a lesser degree. Good and bad news-- however i cannot tell if they are trying to build my hopes up just to dash them. I am moving forward with things I need to get done and not waiting for settlement to start.
For some reason-- this mainly has to do with shopping and things I have needed for some time-- but put off thinking the settlement process would begin. My sites?- Cannot do much of anything insofar as the sites. They still want the code-- and until I can get lawyers and move the sites-- my hands are a bit tied.

Tuesday, June 18, 2013
This morning when I was wakened for the third time after a night of vibrations-- the earpiece said he wanted me to write about the conversation someone had with the girl who first talked with me yesterday, at the optometrist. I said no. What is the point? Earpiece said it will give us an excuse as to why we have not started the settlement payment process. I said-- I walked around for 30 years before this began--- and most clerks like that did not try that crap with me. Granted I used to wear a lot of size 6 or 8 black business suits-- however I said the problem with the girl is this process.
I did not remind the earpiece this morning, about the conversation someone had with the girl [I was told yesterday-- evening]-- but let me tell you what they discussed-- according to the earpiece.
Interviewer to the girl: Why are you talking to her in that manner?
Girl: I thought we were supposed to .. someone said Katie, local police told me to do it..
Interviewer to the girl: Do you think she is going to cater to you?
Girl: No-- she does not look the type and she did not.
Interviewer to the girl: So why do it?
Girl: To try and make her mad. Don't we want her mad?
Interviewer to the girl: No.
Interviewer to the girl: Do you know who Ben is that she refers to?
Girl: after being told-- really. She is more dainty than I thought she would be.
Dr. Beyers -- did you and your staff try things to make me angry in late June to early July 2012? Did you need another opinion as to my reaction?
They told me this morning we could stop this behavior if I wrote about it. I said--- a black suit does wonders for a rude cashier and my rights restored by washington.
My head was hammered last night. How do I know? Awoke with a headache and my face was swollen. Then-- about half an hour ago-- someone said-- "you are just not impressive enough to be the winner". You hammer me all night-- so I don't have to be impressive.
That did it. Believe it or not-- when I did my hair Sunday-- someone really said to me-- I wish that had not turned out so nice. Monday morning, when I reinstalled the forums index page-- someone indicated they wished I had to ask if I could do that.
When I reinstall the pages for remix or this blog-- someone says- I hate that you can do that. Thingamablog-- allows me to publish from my hard drive[s] to the site[s]-- with a click of a button. Entire blogs are republished in this manner-- insuring my posts are the original and not tampered versions. Someone in my ear hates I can do this.
What pissed me off? I am not impressive enough to be the winner. I was just looking at a female on the floor of congress. I do not mind if you pick her. I do not mind if Barrack OBama is impressive enough for you. I mind you clowns in my ear-- torturing me day in and day out-- telling me I am not impressive.
The good news-- told this morning no longer trying to get the bag. Will not get them anything. I am told WiredPages was impressive. Blogger Calender too. Me.. Unfortunately-- for losers with the government, I am all business-- and yes, I will be noticed. Tell US government idiots to get off me. Stay up all night torturing to convince me I am a loser? where are you going idiot? Why are you talking to a loser?
go find those beauties with their face lifts, mouths and play with your winners. I am 50+. they are 20+. No, I really look better now.. their words not mine. And, why do you keep breaking my exercise equipment? Why don't I have income? I am told both of those beauties make $250,000 a year, now. Me, nothing. have you looked around congress? Then you want me to insure to pay your filth? Will I be a winner then? I will take me. get off me-- idiot.
DOJ-- I said no to insurance-- again suggested this week and I said no to government employment. get those idiots off me.
When I use the category tag-- Fiction Question-- it is not whether or not it was said by the earpiece. It was. It is whether or not the information is true.

Monday, June 17, 2013
I had to go to the optometrist this morning for new prescriptions for contacts and eye glasses. I need these for both my contact lens supplier and the State of Maryland to renew my driver's license.
Other than my too clean hair, went off without at hitch. Here are photos before I left the house.
By the time I got to the optometrist, I had my hair tied back with a barrette. I spent an hour doing that hair-- just so the humidity could rob it of the curls.
That said-- I am so happy that part of this chore is complete. Now, I need to have a photo taken at the Department of Motor Vehicles and this whole issue is over. I know-- people do these things everyday.. In my case-- I am too known and everything becomes a major task. This has been going on since 1996 or so. It surprises me that Washington is still playing this game.. Most know who I am or if they didn't do by the time I leave.. and not because I told them.
Earpiece said-- people remarked I looked older. And yes I have gained weight.

Sunday, June 16, 2013
I have a lot of things to do this week--- therefor I did my hair this morning.
Even with the holiday-- there is no let up from the earpiece. Not sure what they are doing-- but I am tired of their crap. Mostly, just wanted to tell you how much I dislike you.. People ideas for Washington Style-- which I am not interested in investigating. Yes, they get mad when I tell whomever they are showing on a CSPAN spot-- no thanks. Not interested in government people for Washington STyle.. That said-- I get to leave.. I have a lot of great ideas for that project. you [doj/washington] are letting go? Yes, they keep saying we have to let go-- too many people mad-- non government, public. Across the board... no matter race. Washington Gov. people do not like me. I don't like them --- they don't like me-- I do not mind leaving.. they will not let go... not sure what to do .
Am I concerned about the up coming week? Yes, a little.

Friday, June 14, 2013
I got a letter from DOJ this week. It was in response to the fax I sent concerning the registration for car tags. Here is a photo copy.
The last time I got a letter from DOJ-- it was dated 11.29.10 however I got it in Feb. 2011. Here is the post about the letter and events the day I received it.
That day, Feb.12, 2011 I was angry about the letter. When I received the letter this week-- to my home address-- I was in a good mood about getting my purchases which would arrive later in the week. I liked they used my home address an d no alarm bells went off because the problem with the car registration had already been resolved.
What pisses me off today? I spent bad nights-- Wednesday and Thursday with torture. Last night, a Pentagon employee even screamed profanities because I submerged my ear in water-- and soaked the earpiece enough to lessen the vibrations on the nerve.
DOJ is in my ear constantly-- yet they send this letter? The reason? I needed to go out this week. They were hoping I would get mad with someone? I rarely get mad with anyone when out-- but I did on Feb 11, 2010.
DOJ owes me so much -- why do they do this crap? DOJ/FBI rep in my ear now-- claiming they should not have done that. I agree. I am mad-- because I am being tortured and DOJ knows it.. Princeton doj Lawyer that got aids from your wife-- is that you? I saw you on CSPAN once. Earpiece said take notes. I did not. That said, why do I need to sue? Money already here. I did not give you aids. get off me. and at 4:04 pm on Friday, June 14, 2013 I am being pulsated by someone with a government issued console. Why?
DOJ-- which government lawyer that wears gray flannel suits purchased by his wife-- who has a degree from Princeton-- can keep screwing me. Jason and everyone claims he [Jason] only started on my case-- summer of 2012. Everyone agrees-- Gray has power. Why does he continue to get in my ear and suggest i sue-- too.He is not Jewish. Jason has said sue too? Who owns Gray? Aids? What am I not getting?
Kelly narrator, that was present when those claiming to be from England were on last spring [2012]-- you were the other attorney on with princeton. I am told-- they used an old card with you to quiet you. A problem with a son while you were in college. Princeton-- what is his? Told he is well place doj so not cia. Why would he risk this? Ben, you remember Kelly, right? CIA attorney. I should have asked why you were with the C IA, right? Said no cia.
Does this look like DOJ is trying to aggravate me? Who does not have a console. The letter is nothing in comparison to console activity. Why send the letter?

Thursday, June 13, 2013
It has been a hard couple of days [last night especially bad]-- however the good news, my new Kenneth Cole 20" Spinner and Watch arrived.
I think all of my stuff will fit. I am going to use it as a more secure bag for my cameras, notebooks and other business equipment.
New watch-- it is bigger than I thought it would be-- so I am going to need a larger gold bracelet.
I have been excited all week about getting these items and neither disappointed.
The StarTech 6" USB 2.0 cable and replacement battery for my mobile phone also arrived just a moment ago-- via US Postal Service. [UPS used for the bag and watch.]
I needed the USB 2.0 cable because when I copied a large number of photos from my camera to the external hard drive-- the USB 1.0 cable that came with the hard drive would no longer work with most of my USB supported PCs.
I had a universal pack of USB connectors that worked-- however, kind of cumbersome if I had more than one USB device connected to any one of my computers at the same time. The new cable works perfectly.

Wednesday, June 12, 2013
Though my birth certificate indicates I was born -- two years earlier, I believe I was born in 1961. I have been using Oil of Olay Total Effects for about 10 years now [applied daily in the morning]- and quite frankly it works for me.
That said-- I recently tried a new product-- Garnier BB Cream- and I am also impressed with this product.
Do I look my age? You can see a larger photo in a separate window.
The above photo taken today. The one below taken 2 years ago-- and offered to show how I protect my skin when I am out in the garden.
I work from home-- so I rarely drive during the day [too much sun] -- and many have remarked I do not look my age. If you have not tried a BB cream-- try one. I have not tried them all and I believe Oil of Olay has one also..
I went to the bank this morning. I normally add makeup to my look but for some reason-- do not do my hair other than to catch it in a loose ponytail-- when I go to the drive up teller. I used the Garnier BB cream-- and then liner, mascara, eye shadow and an under eye eraser which I use to high light my eyes. This look would be better if I curled my hair- but for some reason-- I never do it if I am not getting out of the car.
I have also never had cosmetic surgery.

Tuesday, June 11, 2013
On Feb. 2nd, 2012-- I wrote about the strange behavior of the crossing guard in this post.
Anyone who knew her--- she was there for about 4 years [a new guard was posted with the new school year in Aug. 2012-- He is male. I am told an x-cop with health issues] -- would say she reminded one of a shorter version of Kagan.
She used to dance in the street as if directing traffic. When the earpiece was activated shortly after the incident discussed in the post-- it was confirmed she was a traffic cop.
I think they started on a crazy plan-- in that time frame. I had not talked with anyone other than abstractly.. I did believe Robert Mueller [FBI] were more in evidence however it was not until later that month that the earpiece was activated.
Coincidence that she [the old crossing guard] reminded one of Kagan? -- not sure.. but I have had report after report including-- during my stay at BWMC in June 2012-- that Kagan was instrumental in my extended stay. What many may not get-- my mother and sister were so upset by what happened the first week I was gone and then someone else vandelizing my car and the house because the bag was not available--- that they had little time to do anything with the bag.
Think about it-- you are not a programmer-- what would you do with it--if you did not know who to trust and not sure who would use the code to your instructions? Another important factor-- in Oct. 2011 I had display problems with the macbook. Everything is on the Macbook. I am told my sister was instructed not to even try to boot it. I documented the problems with the Macbook. I have a lot in the bag-- someone was looking over my shoulder the other day--at the number of photos with police cars sitting on the corner the wrong way... I stopped taking photos of police cars in Jan 2012--when at last I thought Robert Mueller was on the scene. also documented.
The fact that a judge tried to get it back safely to me-- is important. Do I think he achieved his goal? Yes.
Why am I revisiting this question? Because, this morning while lying in bed-- I discussed several things with those listening.
Three Days of the Condor-- why Wicks [appeared Jewish] tried to kill redford. The Austrian was supposed to do it.
Why Wicks tried to instigate an issue with Sam's wife and Redford character.
My research suggests-- Jews were not a big factor in government in 1972 when the movie was made. In entertainment and Hollywood? Yes. I think this is a Hollywood error to note wicks' behavior.. I get that behavior. I have more problems than i should because effective issues like this are raised by others that want me bound and gagged.. Let go of me-- that is the right answer, looks best and easier to fix. Let go... stop with the crap.. Yes-- jan did want to be my mother's daughter... stop instigating.. I do not care. she is the one who cares.. she is not me.
Why someone noted my mention of my French Open viewing in blog posts-- and was it noted? Yes I am told. Me--what is my country doing-- I mention the French Open and it is noted and you continue to keep this situation alive? Someone says at this point in the conversation-- if we had the bag-- and the code we could allay issues the public has with this situation. Really-- they would believe you did this work-- and not me.. Especially with the blogs I maintain?
Paying, not paying.. mind fk.. demoralization.. what is the point-- I am not impressed.
I own leather luggage. This from years ago.. it is a nice set. I searched for a leather carry on with wheels. I found a site with a good assortment. It was a speciality etailor. The owner was actually a front for someone else and someone in my ear this morning asked if I would be willing to provide seed money for something like that? I asked if he understood what it took to do something like that.. where was he going to get leather, workers, etc.. even if he had seed money.. someone else-- asked why does Regina have to be the SBA? I don't. I have talked at length about economic issues and how we can start to move forward and what I would be interested in helping with if I get the settlement.. What gov. types do not seem to get-- is I do not think they are business people and I am a smart business person. If I will do this-- will they let go? What do my affiliates say? I am worried washington does not get how this looks?
I also went through a lot of my photo graphs to see if I had a photo of the crossing guard-- and yes I do have multiple copies of the guard who looked like Kagan. Crazy-- I am also told-- BWMC and the staff have to stand by -- not crazy.It was suggested the hold off in payment-- was to get the bag. I have to do some things in the near future.. Do they warn me to get me agitated? not sure.. but I tend not be agitated about going out. Only-- how to safeguard my bag.
We have honest discussions all the time.. the pros and cons of this situation.. I want my country to let go.. I often ask what does the FBI profiler assigned to me think? Not a threat.. Washington looks bad? They always looked bad.. Disavow whatever you can. You ask me-- I tell you the truth.. You told me about the French Open. My Amazon stats. How do you think it looks? I developed the Blogger Calendar in 2004. I promoted in forums, chat rooms and groups. I used to own the term "blogger calendar" in all search engines. It looks bad. Everyone gets-- this is my work. Stop.
,

Monday, June 10, 2013
I don't want to talk about what's going on.. Either they are in a final push or they have gone to the ridiculous- either way I am not impressed. Are they hurting me? Saturday night was bad-- this morning irritating insofar as vibrations from the earpiece.
I think the reason I am in a good mood-- I spent about $170.00 for things I needed this weekend and expect them to arrive this week.
I watched the French Open finals over the weekend, and movies. Purple Violets, Three Days of the Condor [again-- I will talk more about this later], Savages and others.
I also looked at my shopping cart and decided to buy most of the things there. Most were business purchases.
I have like 6 watches sitting on my dresser and all need a new battery. One or two need new bands. I purchased a great watch for my mother over the holidays-- and decided I would get the same brand if I ever got a new one.. So-- I decided to get a new watch too-- along with my business purchases. This watch is even more elegrant in person-- and I am told my mother has gotten several compliments on it.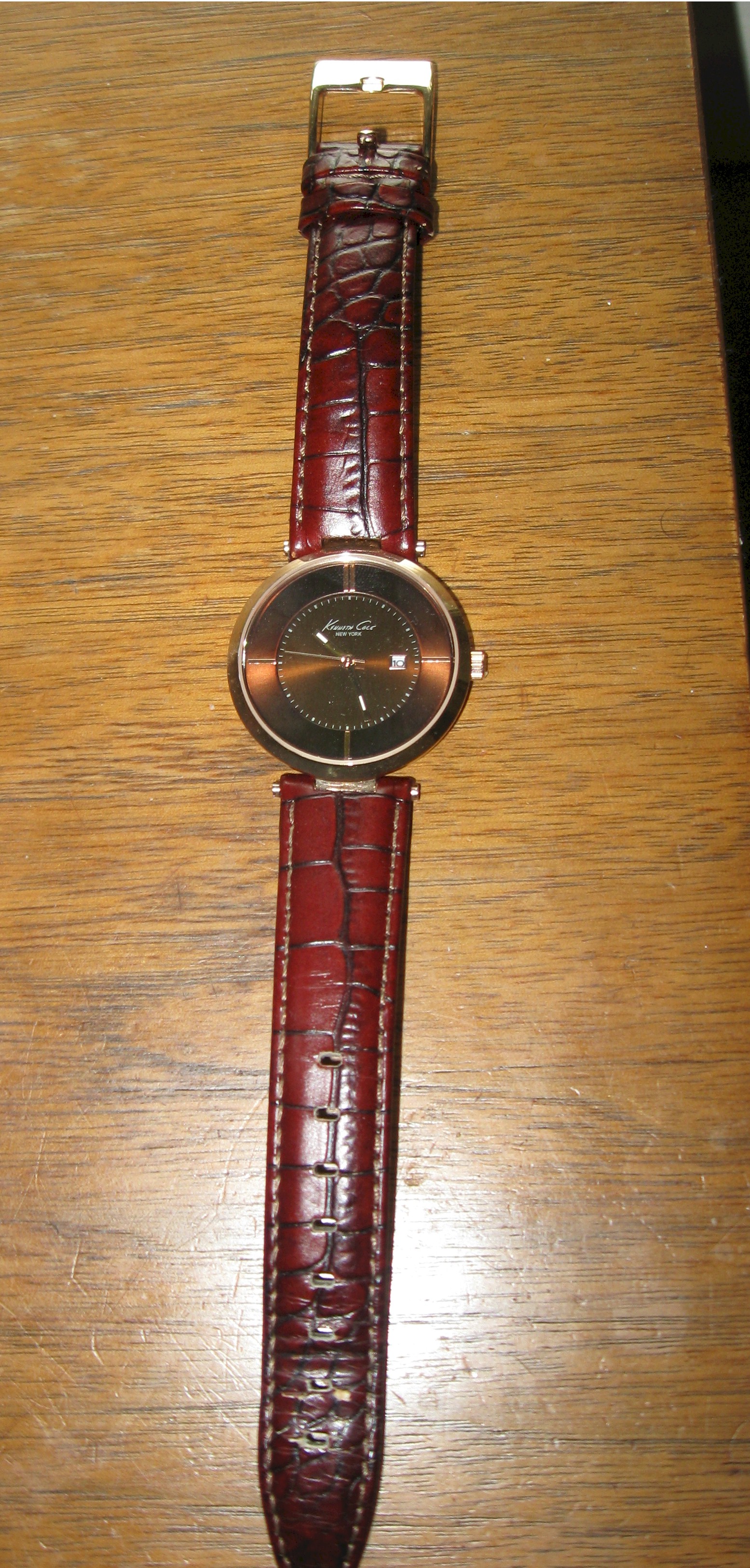 Recent business purchases. The video example I am using -- is similar to the case I ordered-- however a slightly different Kenneth Cole Reaction Carryon piece.
This next item is a USB 2.0 cable to use with external hard drives and cameras.
A new battery for my old LG phone.
This Kenneth Cole man's watch. I will use this like a boyfriend watch. I liked the Kate Spade too-- but my budget only allowed for something under hundred.
I did mark the whole purchase as a business deduction in Microsoft Money-- however if I ever have to worry about business taxes [right now I have no income other than $40 a week in loans]-- I will back out the watch. ARe they saying settlement is still on the table.. Yes. then no. then yes... saying a lot of things they should not say... Not sure why the fbi and official DOJ are allowing this crap.

Thursday, June 06, 2013
Yesterday, I was so winded-- I had a hard time weed whacking. A year and a half ago-- I was on the elliptical for 9.6 miles a day.
Earlier this week I noticed a sharp pain in my left breast-- even when breathing. Yesterday, I could not even lift 24 bottles of water out of the trunk. Government personnel said they were testing to see how bad the situation was with the earpiece. A test that lasted for days.
Others suggested something else.. see Q's Wire's post for yesterday. Xray cmameras may suggest the pain is non-life threatening-- in that it is a breast muscle [why are they piercing my breast in the first place, you might ask-- get to that later]-- but it was really my heart..
They are masking.. what is DOJ doing? Claiming they are picking up the consoles they released to crazy people whom I have no dealings with other than they want to own my business.
Torture... If you are watching the xray and they are claiming it is not one of the banned activities with my frequency and a console-- then please insure it is the muscle and not my heart. Yesterday-- I could not lift bottles of water.
this morning they are claiming Gen. Jon Kelly... I am not sure why he is getting the blame. I do not know him... they are now saying aids maybe a factor.. When the person claiming to be him was on before-- he sounded uneducated and loud.. he likes his ass. why does my ass have to be stupid? Kelly quote. Aids new info this morning. Please check. I asked if he felt he was getting the blame for NASA? Why? Earpiece said he went after Jennie Ohm. Now-- its me.. I want nothing to do with you so I should not be the reason you look stupid.. When I had no idea about aids-- a child you killed nor anything else.. I thought I was supposed to tell things like this.. I had no idea what was going on.. I just learned of the real issues with aids last year march 2012. You do not torture me because you kept looking for stupid causes that have nothing to do with you... Are you old enough to take credit for the moon landings?
this morning-- a government female-- wants to talk. I lived by myself for a great many years.. used to get up and go to work in my car alone and close my office door when i got to the office. I do not need an uneducated government worker keeping me company.. How many times do I have to tell you this?
She is the US attorney responsible for getting Kelly off my heart? Have her do her job without irritating me.. I do not owe crazy generals from the pentagon who got aids and want to stay mad with me because I did not.. Get mad with Mullen. Find out who roger fox is and why I have known him since 1996. Ask if mullen was the right choice.. not whether or not I made you look stupid.
Further killing me-- or is it just make me ill enough to go to the hospital is not going to do anything for the stupid factor.. get off me and take you idiot female with you.
I knew men in the work place. Not babbling females.. shut up and stop raping my ear.
Idiot-- "she can do nothing with me?" Designed to make me get ballistic? How many times do I have to tell you my secretaries sounded smarter than your government idiots.. get that stupid idiot out of my ear.. she needs something to do-- have her learn what no means and understand she is doing nothing for my private parts.. stop the person from violating my ear.. now. Have her find a credit repair service job. she is a bore and stupid. they get tired of listening to idiots like her-- that's why she can get some credit repaired.. i watched something that showed me how they do it.. wear me down? .. I owe jail. I am never going to put up with a stupid idiot.. boxing helena... It is not even a choice.. I am going to have her [and her coward male friend] thrown in jail.. i said no us government.. DOJ/FBI owes me. I said no.. get off me.
DOJ -- they are claiming he [gen. john kelly] tortures me and is stopping the settlement process. -- did he give a national security reason other than he feels stupid?

Tuesday, June 04, 2013
I love strawberries. My after lunch dessert today-- slightly melted Breyer's Strawberry Ice Cream with Fresh Strawberries diced-- [cut the strawberries earlier and added a bit of sugar].
Nothing going on with me.. Hear consoles are still being picked up. DOJ not saying much.
I think this is the mother of the baby bunny, I took Sunday. It is often running around the gardens and I have noticed some damage. Cayenne pepper helps.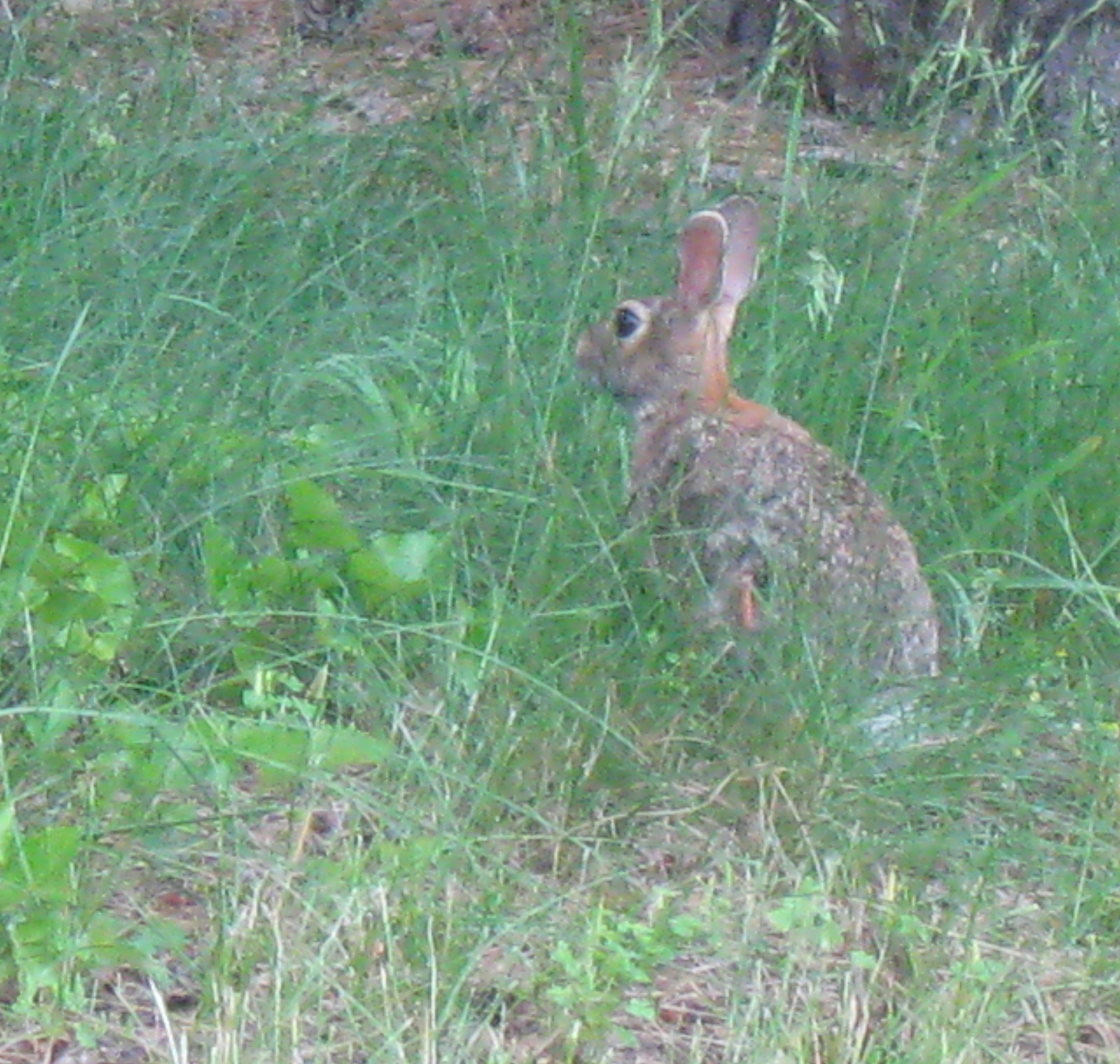 Sunday, June 02, 2013
Earlier I was out watering and dead heading my garden plants. I made Kung Pao Chicken for lunch and fixed my fake oversized glasses. I had my sun glasses on when I was out playing in the gardens.
Also been watching the French Open. I wish I could find someone to play tennis with. Otherwise, it's been a quiet day. Nothing to report.