Saturday, July 23, 2016
I have had the RCA Windows 10 Tablet/PC for about week, and I have to say "my expectations were exceeded".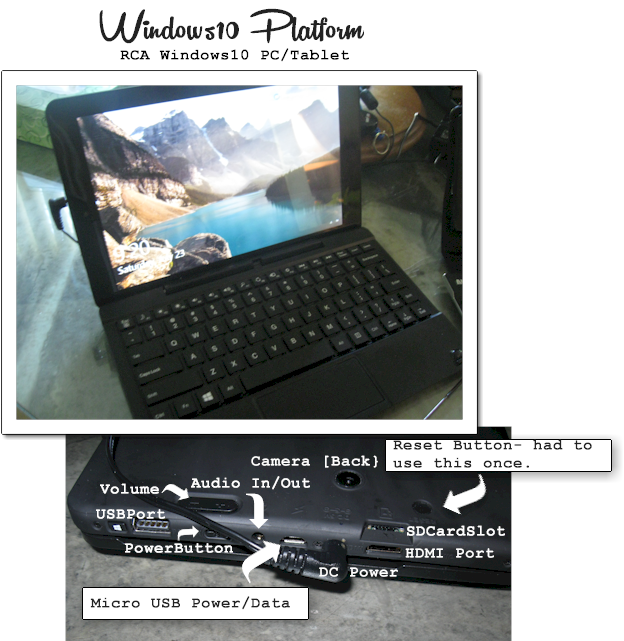 As mentioned, I needed a MS Windows 10 system to ensure my programs worked correctly in that environment and for the price-- I simply could not afford to pass on this option.
One of the areas I check, Java.
The 32GB SD Memory Card arrived on Monday...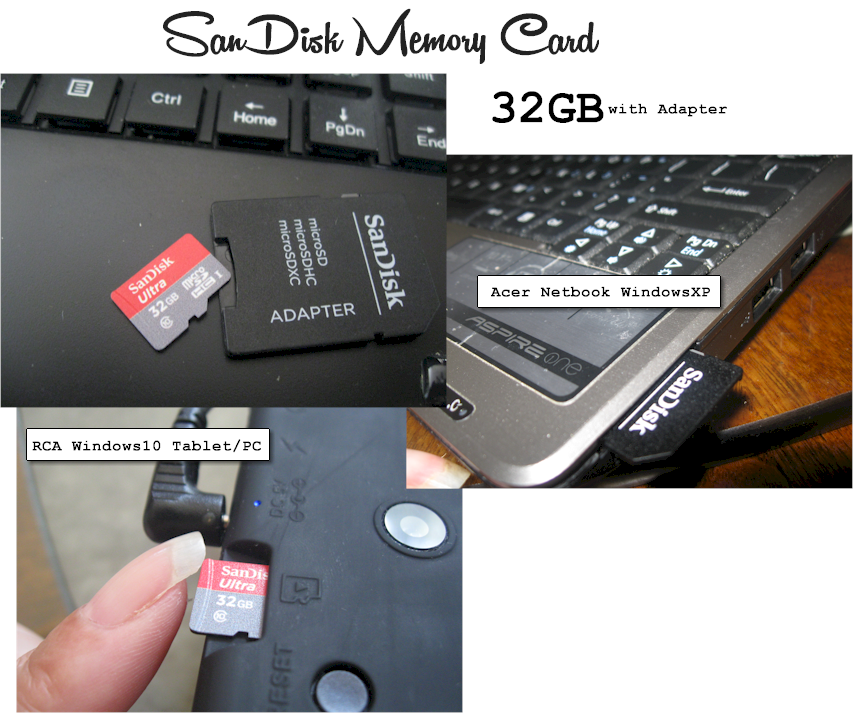 ...so I also installed my iTunes Library and ran a few tests. I had to copy the library from my WindowsXP system and install it on the SD Card for use with the RCA Windows10 Tablet/PC.
I now have several mobile devices, including:
MacBook
Acer Netbook
Nexus Android
RCA Windows10 PC/Tablet
My experience insofar as extending battery life with the older devices is to stay plugged in whenever possible. If I need to use battery power, I allow the battery to drain completely before recharging.
In addition, I calibrated the battery on each device before first use, by fully charging, then fully discharging and finally recharging the battery. This is often recommended by manufactures in their instruction manuals.
I have had great battery life with most of my devices, however keep in mind- I use the device battery, rarely.

Tuesday, July 19, 2016
I really like this dish. I have mentioned this before.
In the earlier post, I mentioned the Yakisoba [Noodle Entrée] is available at Costco. The large container of Mr. Yoshida's Original Gourmet Sauce is also available from Costco.
In addition to those ingredients, for this dish- I also use a frozen chicken breast portion; defrosted [microwave], diced and stir fried.
If you love Lo Mein Noodles, you will probably love this dish. I love Szechuan dishes and have developed my own recipes to replace the take-out and restaurant meals I used to have, when I went to an office in the city, on a daily basis.

Saturday, July 16, 2016
I have been busy this week with several projects. As mentiioned earlier I ordered several items last week, including:
Blank Bank Checks
Memory for my WindowsXP Desktop
Power and Data Sync Cables
Most of the items arrived this week [yesterday], so I have either been installing memory, designing check templates or setting up the new Windows10 Tablet, i.e., printer drivers, every internet browser I can find, etc.
For most of the week, I researched financial software features, legal questions and design issues as related to the use of blank bank checks.
I currently use MS Money to track business and personal finances. I have two checking accounts; a business account and a personal account. I have never ordered checks for either.
I am not sure why I will ever need to use a check, in that my business checking account provides a lot of services, i.e., Direct Deposit, Payroll, etc., because it is a business account. I have had my business checking account since 2004 and have only used counter checks twice over the entire time the account has been in use.
My personal account is a basic checking account, and both [business & peronal] have associated credit/debit cards.
That said, I thought I would design checks for use with MS Money, and discovered after I ordered the blank checks, my verison of MS Money does not print the account information on the checks. This the reason I decided to design my own checks.
I spent under $200 for everything I ordered last week, [not mentioned the 32GB card for the new RCA Windows10 Tablet/PC, however also included in the total amount spent]. My birthday is next week, so I will recoup most of what I spent.

The RCA Windows10 Tablet/PC? I could not be more pleased... It was a good decision in that I do not have a Windows10 platform [mom has an HP Notebook Windows10 in her bedroom- that I fix sometimes, however rarely use].
The new tablet allows me to see all of the issues as related to web and software desgin for that platform. It arrived yesterday afternoon, and I have already started working some of the design issues based on what I now know about Windows 10.
For well under $200 given my career-- it is perfect. No, the new tablet will not travel with me, it is heavy. It will be used as more a house internet tool on the main floor where shown [see above photo]. House gadget? Print recipes, maps, etc. It is always on.
I did install the WatchESPN app for that platform, however could not install Verizon FiOS, so it will not replace iPads nor Androids at this time. Overall there are more apps for iPads and Androids and a lot of the tools we all use on our tablets, are simply not available- for the Windows10 Tablet. Think of it more as a Windows 10 PC for a great price.

Wednesday, July 13, 2016
Recently, I have been discussing issues with my Windows XP Desktop, so I thought I would provide this video of how things look now [while the system is booting].
I have also been working on my Amazon Stores.
Are you ready for the upcoming school year? I have been adding new items like the "Travel Safe" under the Home Office & Electronics Category. I think that looks like a great idea for new college students living away from home.

Monday, July 11, 2016
In April [2016], I posted about the installation of a version of FireFox on an older Windows XP system that would allow HTML5 Video playback.
The system was a little sluggish with the new Firefox browser update so I researched memory upgrade options. Believe it or not the system only had 256 MB of memory installed. I use the system to insure my programs are compatible with an older Desktop Windows XP environment.
It took me an evening, but I found what I needed. My system is a bit odd in that it only has 3 slots and the first two were filled with 128MB memory modules.
In 1997 or so when the system was purchased it came with 128MB and in 2010 or so, I added another 128MB. It had been awhile since I opened up that CPU [to look at memory issues1] and that is why I was a bit surprised by the 3 slot configuration. The system manuals long gone. Purchased from my sister when she moved in 2006.

So in April or May, I ordered a 128MB module from Amazom. For whatever reason the order was never filled. Last week I tried again with another supplier [again via Amazon] and the memory arrived today.
It did not take long to install the module and I am happy to report the FireFox browser is no longer sluggish.
Over the last year and a half I have added the following upgrades to that older Desktop Windows XP System.
Upgraded the operating system from Windows 98 2nd Edition to Windows XP.
Added color laser printing.
Installed RW CD Writer1
Added another 128MB of memory.
I do not think there are any other upgrades I can install on that system, and though I do very little [on that platform]- other than a couple of desktop publishing tasks and ensuring my programs work in that [online] environment, I am happy- I still have the system.
1System board memory location on that system is hidden by drive ribbon connectors and power cords. Last year when I installed the internal RW CD Writer I did not notice nor concern myself with the on-board memory configuration.

Sunday, July 10, 2016
I eat in a lot. I never cooked before moving to Hanover and quite frankly do not mind preparing my own meals.
I rarely have breakfast unless working out and because all of my treadmills are in need of repair- I am doing very little of that these days. That said, today I had a mini bagel for breakfast and then a hamburger and fries for lunch.
I am kind of surprised- I have become quite handy in the kitchen.
It was a quiet week, last week. I celebrated the fourth with foods I love and mostly waited for Wimbledon matches to either begin or continue play. Weather in England was wet for most of the first week of the tournament.
Family rolled back into town on Tuesday and Wednesday I was over at one of my banks making a deposit [the old fashioned way, i.e., non-direct deposit].

Do I shoot video everywhere I go? No, however I do not get out much and when I do- I tend to take a lot of photos. The silly little video above? The bank tellers at that bank used to see me every week, this since 2004. Now it is only once a month, since 2015.
Since I am discussing financial issues, last week I ordered credit reports. You may recall in October 2015 I posted about My FICO Score.
The following month [November 2015]-- the score dropped to 690 [was 786] and then back up slightly to 692. Abstract noise suggested that the events of June 2012 were used to force this. I use credit and my banks wisely.
Abstract noise also provided that the negative item would be corrected since everyone agreed 2012 should not have happened. I ordered the reports to confirm it was what the abstract noise provided was the culprit. It was.
I expect this correction at any moment-- I am told the FBI and DOJ have looked into it. I am also told the same Maryland government employee that put a temporary hold on my business bank checking account in May 2012, shortly after settlement agreements were negotiated, was a motivating force behind this error on my credit report. At first she claimed to be a States Attorney, however later identified as some sort of investigator out of Annapolis.
Since December 2015, the promise this would be corrected, has been verbalized through abstract channels. I check every month. I am not sure why this correction has not taken place.
Other things I have been up to?
Movie: Black Mass w/ Johnny Depp
Wimbledon
Working on my Amazon Stores
Ordered some things, will discuss later.
Even though I was told the reason for the FICO Score drop and that it would be corrected, I was a little angry [this week] to see it actually in the report. It took a day to get over it. I am only surprised I did not post about it earlier in the week.