Tuesday, May 25, 2021
While researching data tables (FRED, Federal Reserve Bank of St. Louis), I thought would be useful for different areas of WiredPages, I noticed an interesting statistic about nationwide personal income and savings over the period March 2020 through March 2021.
This period of course, encompasses the upheaval to business, employment, and life in general across the U.S., and the world, due to the COVID-19 crisis.
What is interesting? According to the numbers, U.S. personal income rose and so did the percentage of disposable income that was held in savings.
The graphs shown above were charted using data from the partial spreadsheet shown below (click on the illustration for the entire data set):
My personal financial situation over the same time period? My personal income was slightly higher along with the amount I held in savings.

Sunday, March 21, 2021
The final for the real estate course is Tuesday, March 30, 2021. I will be studying for most of the week, however feel ready to take the exam.
Was this an easy course? In my opinion, if you do not have time to study, you will probably find it is not as easy as you may think. That said, I have learned a lot and happy I had the opportunity to do this.
Financial terms I may have looked up in the past, simply because they were mentioned in a news story, now have new meaning as applied to real estate finance. Some of these terms include:
Capitalization Rate (also known as Cap Rate). Example: a property in Maryland has a ground rent of $2160 annually. If a buyer is looking to obtain both land improvements and the land, the ground rent in this example would be capitalized by dividing $2160 ÷ 6% = $36,000 (the price the buyer would pay for the land). Six percent is the rate the State of Maryland sets for most redemption cases of this type.
Consumer Price Index (CPI), the State of Maryland uses this factor to determine the filing, delivery, etc. fees for some of the services it provides.
Loan To Value ratio (LTV). Principle Loan Amount ÷ Sales Price (or Appraised Value). A conforming mortgage loan normally requires an 80% LTV. A mortgage lender considers a lower LTV more attractive, i.e., 80% is better than 90% to a loan officer.
I purchased real estate years ago. At the time, some of these terms may have been mentioned in the loan and settlement processes, however probably forgotten. I appreciated this refresher course, in that the definitions now have broader meaning across a wide spectrum of uses.
New features, recently added to WiredPages, provide a myriad of statistics for everyday use. Below, illustration of new resources added to the WiredPages Real Estate page.

I consider myself well versed in consumer news, however if I never looked up uses for the CPI, I was not overly concerned. I thought, if needed, I could easily look up anything. I say this to say, some of the new features may seem a little intimidating, however in real life (& business), these numbers may be useful and easy to lookup.

Wednesday, February 05, 2020
I use the OverDrive App to borrow books from the Maryland Digital Library. Just finished the latest Grisham release "The Guardians". Now reading "The Silent Wife".
Also happy to report, I am done with my 2019 taxes. Any refunds due, already deposited to my personal checking account.
Here are recent photos from other things going on around here. Lunch today, cookies I made Monday, watching the banana plant I moved to the guest bedroom flourish.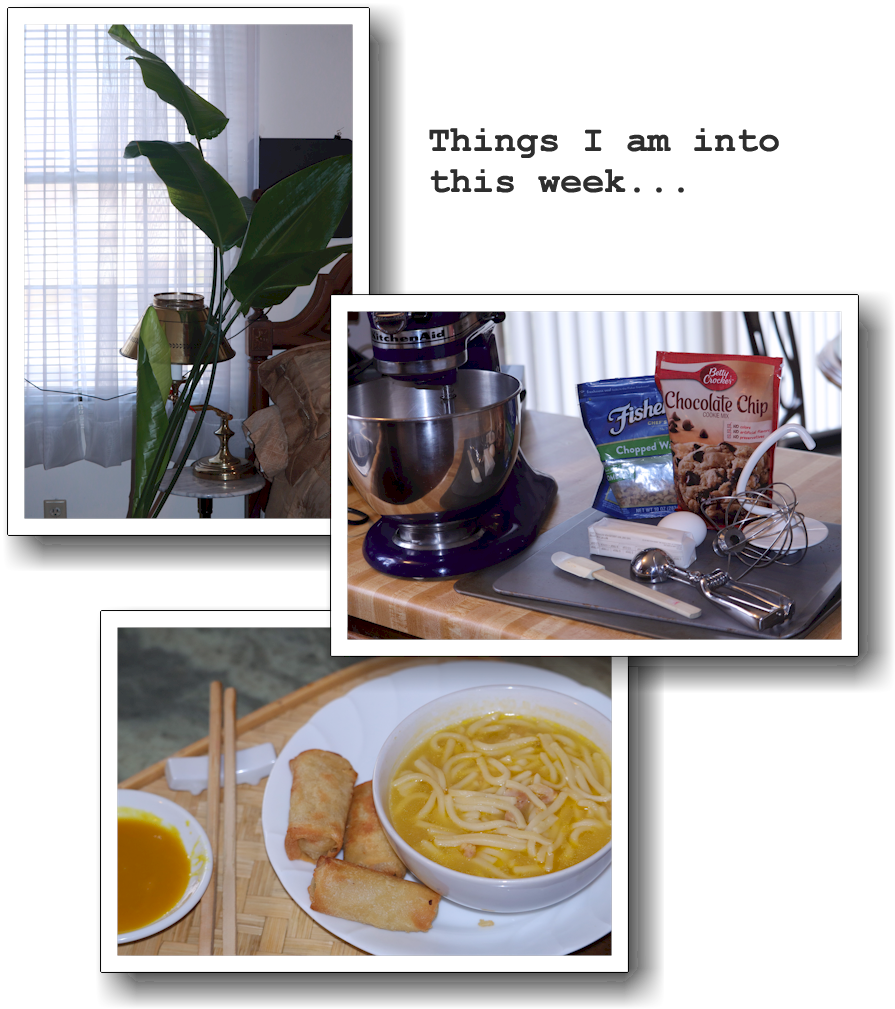 Other things I am watching? Recent news reports indicate FICO score computations are changing. One of my credit cards provides free access to my personal FICO score and my business bank provides reports about my business scores (in my case these scores should be the same because I am a sole proprietor and use the same tax information for both personal and business accounts).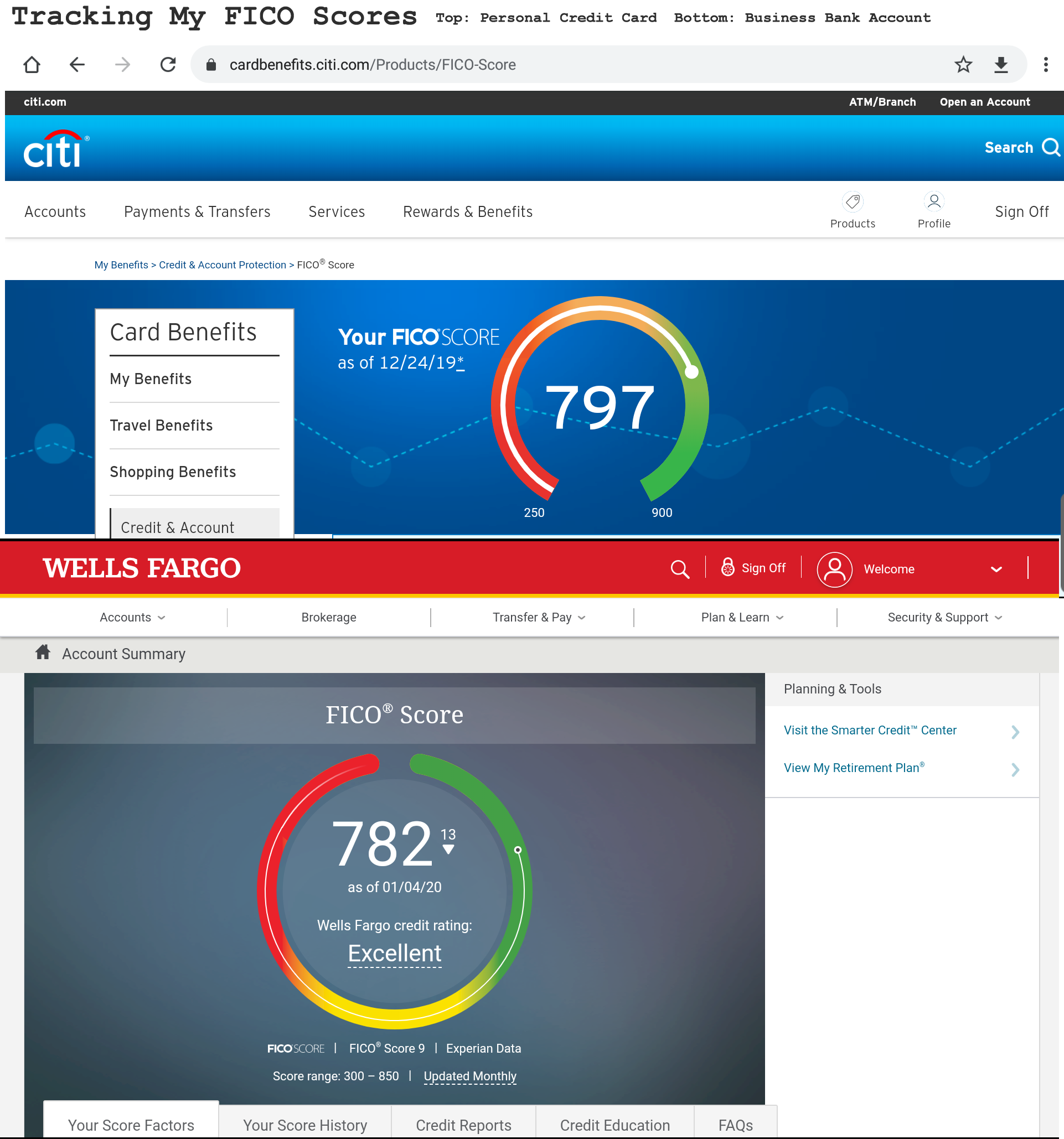 That said, I noticed a 13 point drop in the FICO score being reported by my business bank in early January 2020 and think this may explain the change. The fluctuations seem to be more reflective of spending. Holiday spending using credit cards may have been used in the business FICO score, however I always pay the entire balance on my credit cards so I think the new computations maybe a little trigger happy.
Are you noticing changes with your FICO scores?

Tuesday, October 15, 2019
I provide a lot of information relating to my private, business and financial interests. I provide this type of transparency as related to my business and financial affairs because of ongoing investigations.
Quite frankly, I thought my legal issues would have been over a long time ago. That said, the promises from both Washington, and some of the corporations involved have not as of today, come to fruition.
Promises are still offered, however I am not sure of many of the issues still remaining.
The other problem? I have been out quite a bit working on community business projects rather than software development. Mostly taking photographs (next post).
That said, I have noticed odd things from some people who have gone out of their way to engage me. This should not begin again. I have had assurances from law enforcement that what I have noticed should not be happening and some of the people have been dealt with.
I have also noticed odd things with posts from Q's Wire. I continue to maintain the WordPress blog online, though law enforcement and judges have indicated the blog posts have been tampered with too much over the years.
I simply want to provide this disclaimer of sorts. That said-- because of the nature of my case and the amount of time involved most agree- the blog (Q's Wire) is only there to provide background to the horrific nature of all of this. Legally, experts agree I do have the master copy of all posts for that blog, and timely issues insofar as tampered posts should not be an issue.
This blog and my business blog are Thingamablogs and harder to tamper with.
Now back to a financial matter that I wish to provide transparency on. I use Synchrony to maintain two CDs and a Money Market Account. Recently, one of the CDs came to term. I decided to allow the CD to rollover, however knew because the interest rates were now lower, I would need to add more funds to maintain the same interest payment. The following illustrations provide the process I used to rollover the CD with more funds.
With my meager income, credit rating, business credit rating and a penchant to mind my own business, I should not have the problems I have. A hard look continues to suggest too much is wrong-- and I said no. I thought a lot of this was about "clean up".
Not sure why, some of the issues I have noticed recently are happening, however I am not one to be shy about why law enforcement owes a lot of these issues.

Monday, August 12, 2019
Two items of note on the financial front:
My FICO Score rose slightly.
My cash rewards credit card finally reached the $50 threshold for payout.
The emergency purchase of my new Canon EOS M50 Camera last month, finally pushed my cash rewards on my credit card over the payout limit. Paid off the credit card last week, so I think I will put the check into my bank account and let it sit for awhile.

Monday, July 15, 2019
On Sunday, July 6, 2019, I damaged my Canon PowerShot A590, beyond repair. I was so devastated by what happened (rushing to pack up, I dropped it on the hardwood floor), I cried. I seldom cry.
I purchased the camera in 2008 and loved the many features this point and shot offered. I seldom went anywhere without it.
That said, the camera could only produce 8MB photos. Though my web hosts should have loved the small footprint of the images I used with my posts, my social media account offerings- looked a little shabby in comparison to others.
For various reasons, all of the images and photos I use on my business site, are hosted on my domains, and not a cloud or image hosting service, like Flickr. Digital photo size is an important factor in my environment and provides part of the rational for why I held off replacing the camera. The other reason? I could not justify the business expense.
That said, I did have plans to purchase a new camera in December 2019 (Christmas), and researching the Canon EOS M50. Late in the evening on July 6, 2019, I ordered the following bundle.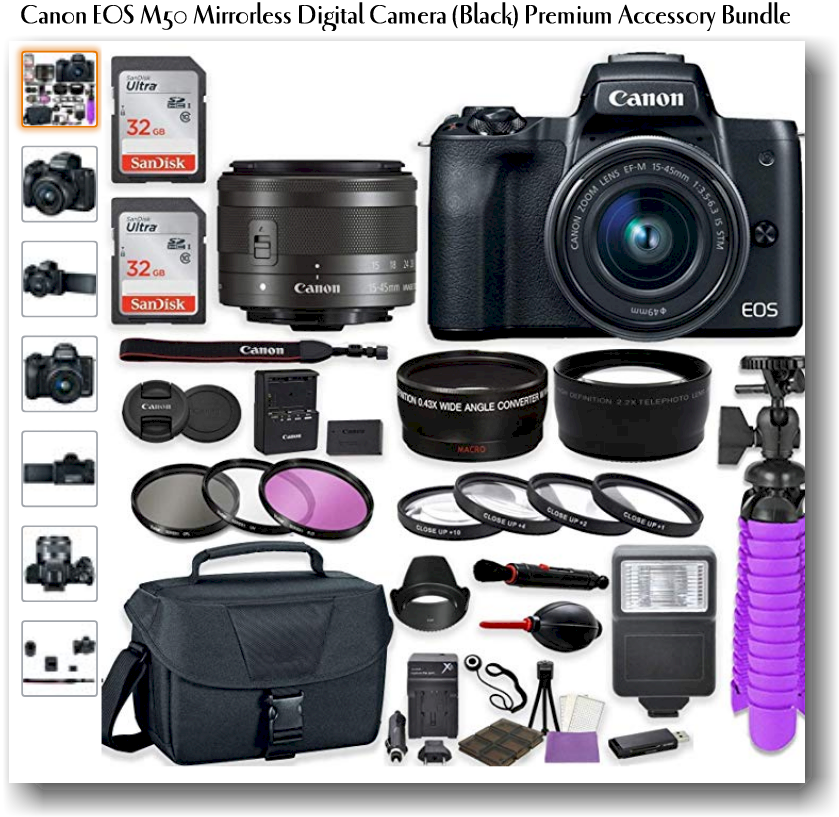 I have to say, I am very pleased with this new camera. Additional info about my purchase(s):
Love the TouchScreen Menu.
Love the Manual Focus and Portrait Features.
Also purchased BM Premium 2-Pack of LP-E12 Batteries for Canon etc..
Also purchased the Fotodiox Pro Lens Mount Auto Adapter.
Also purchased the telephoto Canon EF-S 55-250mm F4-5.6 IS STM Lens for Canon SLR Cameras- see more here.
Love the 4K Video option.
Love the Digital Slave Flash that came with the bundle.
Love the 9 different filters that also came in the bundle.
Love the many YouTube videos about the Canon EOS M50.
The following is an example using the Portrait option on the Canon EOS M50.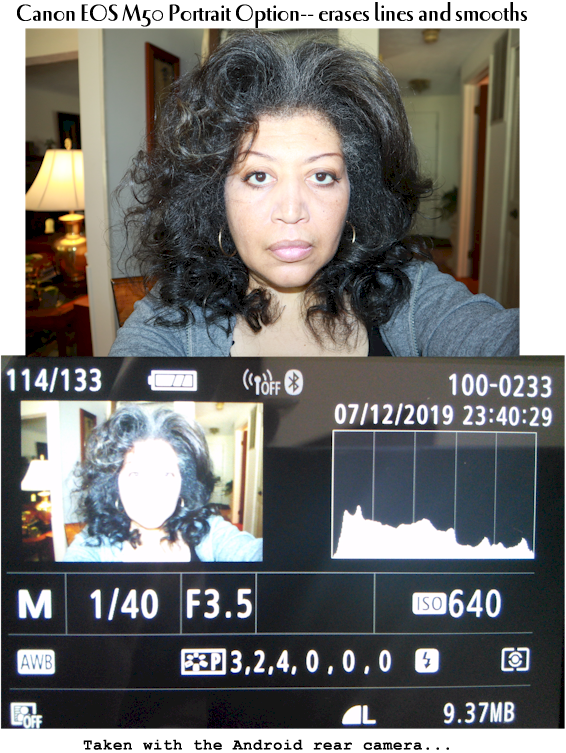 I am still playing around with the many features of the camera and other tools that came in the bundle. That said, I have found things pretty easy to understand and have come up-to-speed quickly (yes, I know the above photo, is a little overexposed). This is my first DSLR camera, and though I wanted to wait for Christmas, I am pleased with my selection.

Monday, May 13, 2019
I am always trying to cut my business expenses. Several years ago (December 15, 2014), I purchased a Konica Minolta Color Laser Printer (see Items I Have) at a great price because I wanted to cut costs on inkjet printing.
Realized savings: I am still using the original toner cartridges that came with the color laser printer. Because I seldom need to use a printer, I no longer worry about dried out ink cartridges when I do need to print. Laser toner cartridges do not dry out.
I purchased the same printer for my Mother a year earlier because she constantly complained she needed to replace the ink for her inkjet printer. Her toner cartridges have never been replaced.
I use Microsoft Publisher for most of my production printing needs. I have been using Microsoft Productivity Suite Software since 1991 or so, therefore I have little or no overhead costs insofar as "howto". You may want to consider this when deciding to do your own printing.
The illustration below, shows the Publisher windows for the check I recently sent to the State of Maryland for my business renewal and this year's Mother's Day card for my Mother.
Illustrated below, photos of some of the paper stock I keep on hand for printing and (on the right) the unfolded and folded printed Mother's Day card and a photocopy of the printed check. If you look closely at the photocopy of the check, you will see the hidden "void" stamps, a feature of the check paper I use.
I use Microsoft Money for all of my financial record keeping, and though I could print checks with that software, prefer to use Microsoft Publisher for that particular task (both personal and business checks). Here again, I can do this because I seldom write checks, preferring instead to use a credit or debit card when making purchases.
Another cost saving? I order inexpensive secure blank check paper which I can use for either account type (business or personal).

Sunday, May 05, 2019
I use the Sunset version of Microsoft Money to track all of my financial accounts (both business and personal). This works for me because I use a Windows XP platform to maintain these records. Quicken is a good alternative, if you are looking for something similar.
The illustration below, shows the MasterCard account activity for the last month (via Microsoft Money).
Line items shown for the MasterCard account include:
Today's Payments-- broken down into non-business and business related expenses (I have separate business and personal checking accounts with different financial institutions).
New plants (Safeway)
MVA Payment Driver's License
MVA Payment Car Registration
Mother's Day Gifts
Cobbler Repairs
Domain Registration Renewals
Some line items redacted because I do not wish to publicize how much I pay for a particular service.
For various reasons I prefer to use my credit cards rather than debit cards, whenever possible, hence the reason you also see the charge for my visit to Dunkin Donuts (I rarely do this). That said, I pay entire balances when statements come due.
Keep in mind, I am a sole proprietor (QiSoftware), however rarely have the opportunity to deduct business expenses. That said, I do track business expenses through payment checking accounts and Microsoft Money.
The MasterCard discussed in this post is a personal credit card which I use for both personal and business use. My business is a legal business entity (in Maryland), however I use the same tax identification number for both business and personal filings. I note these details in case you are a business owner and wonder why I track and pay in the manner I have outlined.

Tuesday, February 19, 2019
Yesterday, I decided to check my FICO® Credit Score. This link provides similar statistics from a check 3.5 years ago.
The score is slightly higher now, I think because savings accounts were established in the intervening period and my debt to income ratio looks good.
I have business savings and checking accounts with the same bank, a personal checking account with another large institution, and personal savings accounts with the following:
Want to learn more about credit scores?

Thursday, January 24, 2019
I have been working a number of projects, illustrated in the diagram below.
Several license/registration related renewals this year, including MVA.
Gathering tax related documents and starting my TurboTax process.
Finance moves, hoping to get the best returns on my meager savings. Switched funds in a recently matured CD, to a CD with higher interest rates. Went from 1.75% to 2.85%. Happy with the timing on all of that.
Last but not least, preparing (setting up development environments on my MacBook and WindowsXP systems) for more efforts using the c++ programing language.
Lately, I have spent a lot of time on software efforts. Several problems with API resources that have me searching for workarounds. You may have noticed issues with WiredPages.
To a lesser degree; efforts with taxes, finance and state renewals-- nevertheless important projects that I need to get out of the way. Simply a matter of gathering paperwork and submitting requests.
Maryland's Motor Vehicle Administration- in keeping with Federal law, now requiring new procedures for renewals. Happy to report, this seems like an easy adjustment to my plans and moving along.
Several in my family are affected by the Federal Government's partial shutdown so things are a bit low key. I am self employed. I have been working late hours and hoping things work out.

Monday, December 03, 2018
In September (2018), I noticed savings rates offered by several of the major banks were starting to rise. In October, one of the online banks was offering a 2.65% APY CD, so I scraped together just over the minimum required deposit amount to open the account.
Since then, I have watched savings rates offered by CIT and Synchrony Bank (two of the more popular, highly rated online banks), rise and just recently, start a slight decline.
Since starting my research, I have noticed banks tend to offer higher rates on savings accounts going into the Fall/Winter holiday seasons and then taper off after the new year.
Would you like to do the research?
I know, it is hard saving this time of the year. Last night, I added more holiday gift purchases to my credit card and though not dreading the bill (which will be paid off entirely when it comes due), know that I do not have extra funds right now for another high interest savings account, though I will continue to track the rates.

Thursday, July 12, 2018
My car [shown in one of the blog header photos], is registered with Historical tags. In Maryland, this allows for limited use of the car. Since I work from home, it is no great hardship however I am thinking about a new car. This, one of reasons I am saving money.
I started this process a year ago in September and have managed to save one or two dollars. Okay. it is a little more than that. I am happy with my progress.
This post discusses how I have been able to achieve some of my success with this project.
The following is an updated image providing current rates banks are offering on savings accounts.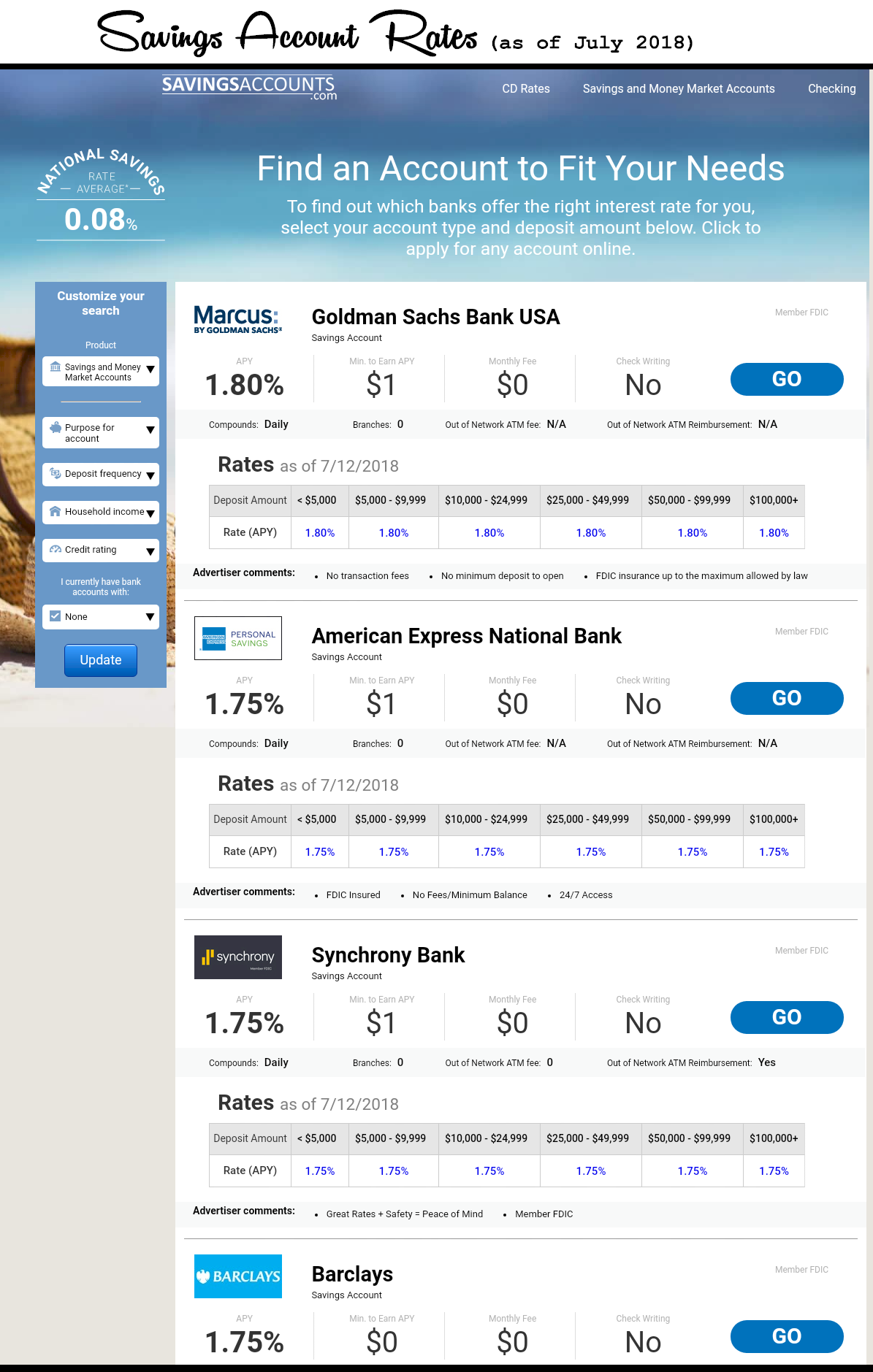 I like my banking choices, however listed below are more resources if you want to do your own research.

Friday, March 09, 2018
Every now and then, I publish details about my business related expenses.
March is normally more expensive as related to business than other months because my annual business address fee is due in March.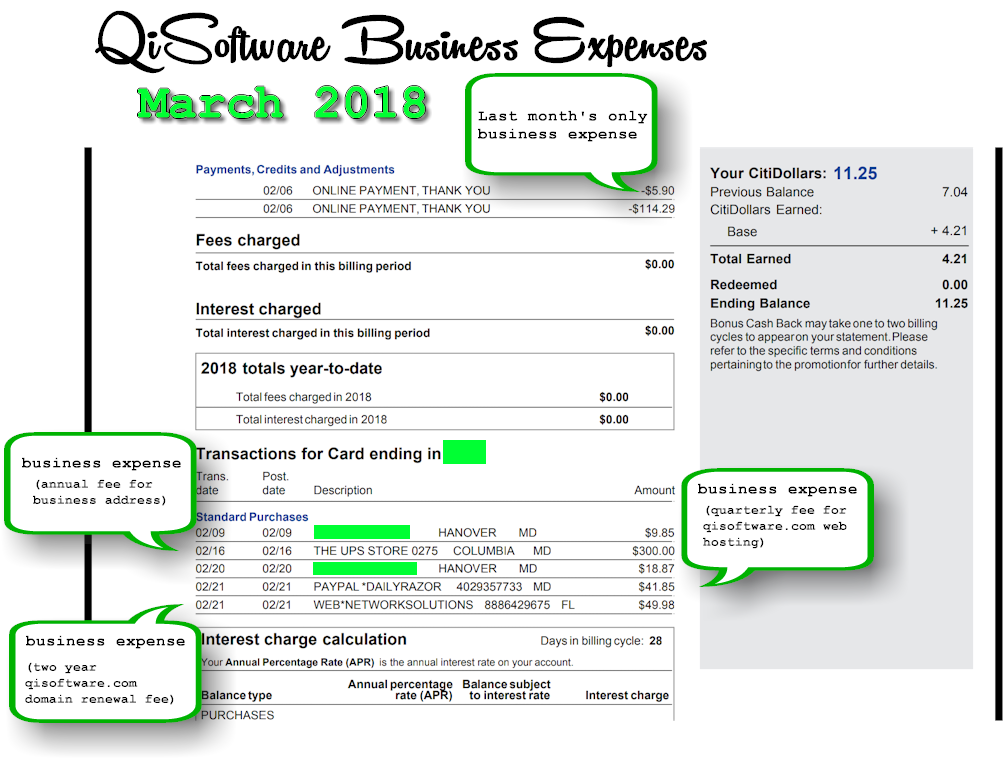 That said, because I opted to pay the qisoftware.com domain renewal fee early (actually due June 2018), my business related expenses for this March were made more so.
Note my business is registered with the State of Maryland as a Trade Name entity, i.e., Sole Proprietorship, so though I use a personal credit card for some of my business related expenses, I actually separate the expenses as either business or personal and pay the card issuer with either my business or personal bank account depending on the expense.
I track business and personal expenses separately using Microsoft Money for Business & Personal use [Quicken for Business & Personal Use another great choice], however at this time- I do not deduct business expenses.
The type of business I own allows for the use of my social security as the tax identification number associated with the business. Perhaps once a year, I review the request form for a Federal Employer Identification Number [EIN], however to date, can think of no reason I would want to do this.
I simply like the one tax identification number associated with both my personal and business affairs and because I do not outsource nor hire contractors, this works for me.
Products discussed in this post (latest version of Quicken):

Saturday, March 03, 2018
Just over a year ago, I activated an early retirement account and decided to put most of the funds into savings.
Because I am a business owner, I have both a business bank and a personal bank. Both large institutions in the U.S. I have had my business bank since 2004 and up until June 2017, paid a monthly service fee to maintain the account.
In June 2017, I was able to reach and maintain a minimum balance across all of the business related accounts, which allowed me to avoid the service fee. Most of the funds were in the business savings account which comparatively speaking, were not as good as business CD rates my bank was offering. Therefore, in September 2017, I moved most of the business savings account to an associated business CD [Time Account].
Please note, I was able to save a lot of the early retirement account funds to be able to do this.
Late in 2017, I began researching online banking institutions for higher savings interest rates than those offered by my traditional banks.
I use the Bankrate.com site on WiredPages, so have known about this site's offerings for a while, however also used other online resources for research associated with this project.
In early December 2017, I opened a small CD account with a well known "online savings" institution which at the time was offering the best rates on CDs for a 12/13 month period. I am very pleased with how this worked out. The CD monthly interest payments are higher with my "online bank", even though I have less money in the certificate of deposit than that associated with my business account.
So why not move the business CD [time account] funds to an online savings/deposit bank? I need my business bank and the maintenance fee is high for the type of business account I have. In my case, it is worth it to keep the business CD with my business account, avoid the maintenance fee and earn less in interest.
Earlier this year, I opened a Money Market Account (MMA) associated with the same online savings bank. The MMA account allows me to earn interest on money that I can also use with a debit card. I am in save mode, so this is very important to me.
A Money Market Account (MMA), typically does not offer the same high interest rates as a High Yield Savings Account (HYSA). That said the HYSA, in most cases, does not provide an associated debit card. It is meant to be a straight savings account.
In January 2018, I also opened a small HYSA with another online banking/savings account. Last month, I set up a small recurring monthly deposit of $150 as a external funds transfer from my personal bank checking account to the HYSA online savings account. Works great, however there maybe a small wait period depending on your bank's policies.
As I indicated, I am in "save" mode and have limited funds to work with. Taking advantage of online savings banks is a "smart" thing for me to do at this time, however these banks are not the same as my traditional banks.
In September, when I opened my business Time Account [CD], one of the bank representatives walked me through the entire process while sitting at his work station.
With my online savings banks, I must read everything and decide how to set up my accounts. It is relatively easy, however may not be for everyone. Another thing I love about my online savings accounts? No maintenance fees. That said, check the fine print of those banks you decide to bank with.