Friday, February 19, 2021
The real estate industry is heavily regulated by both State and Federal (to a lesser degree) guidelines and laws.
To assist with understanding the procedures and processes used by real estate brokers (coursework), I began delving into the many forms, agreements, statements, and contracts used by these professionals. Shown below, a directory listing of some of the forms I have collected to date.
While researching for my (real estate) course, I found other legal forms and agreements I wanted to add to my Microsoft Word template sets. The lower image in the diagram above, shows some of the other forms.
For some reason, I feel smarter having done this research, and wanted to provide a great resource for DIY research and creation of legal forms.

Should you retain a lawyer if you have questions? Yes. That said, some agreements are pretty straightforward and most services like eForms.com probably use lawyers and/or legal staff to help with the creation of the documents and services they offer.
In my case, I always want a lawyer to fax a copy of an agreement so I can study and research (without interruption) the document before further discussion or signatures- are added.

Monday, May 20, 2019
Yesterday morning, Sunday, I got up early, took a shower and made dessert (fruit tart discussed here).
Then I dressed (hair & makeup), and decided to enjoy Sunday morning driving around town. Some things I noticed...

Last week, because I am always researching new ways to generate revenue from my sites, I signed up for a new affiliate marketing program. Often, I try to develop new programs for use on WiredPages and this blog using affiliate API network resources. For example, see this link.
So yesterday, after returning from my drive, I sat around reviewing some of the affiliate merchant programs offered by ShareASale.com.
I also made a pizza and watched a movie, "Jennifer 8" on television. The illustration below shows the other side (see last post) of the main entry. Behind me on the right, is the closet and on the left, the hallway leading to the informal dining room off the kitchen (working on the smile, issue).
Then I went out to my gardens and took photos...
Came in, updated some of my stores, had dessert and went to bed around 9:00 pm.
Thought the new episode of Showtime's "Billions" was coming on last night, however research provided the new segment is scheduled for next Sunday. Think it is the season finale.
Did you have a nice weekend?

Monday, October 08, 2018
In recent years, I have started my holiday shopping in early Autumn and usually finish by the end of November. I think this trend began because I start researching for "the stores" around that time.
The Stores...
This year, I found a great deal on an item [Yunmai Digital Scale], I listed last year as a gift idea. I wanted to give it as a November birthday gift, however decided to give it early. My mother loves it, and so do I.
Other items in the same order...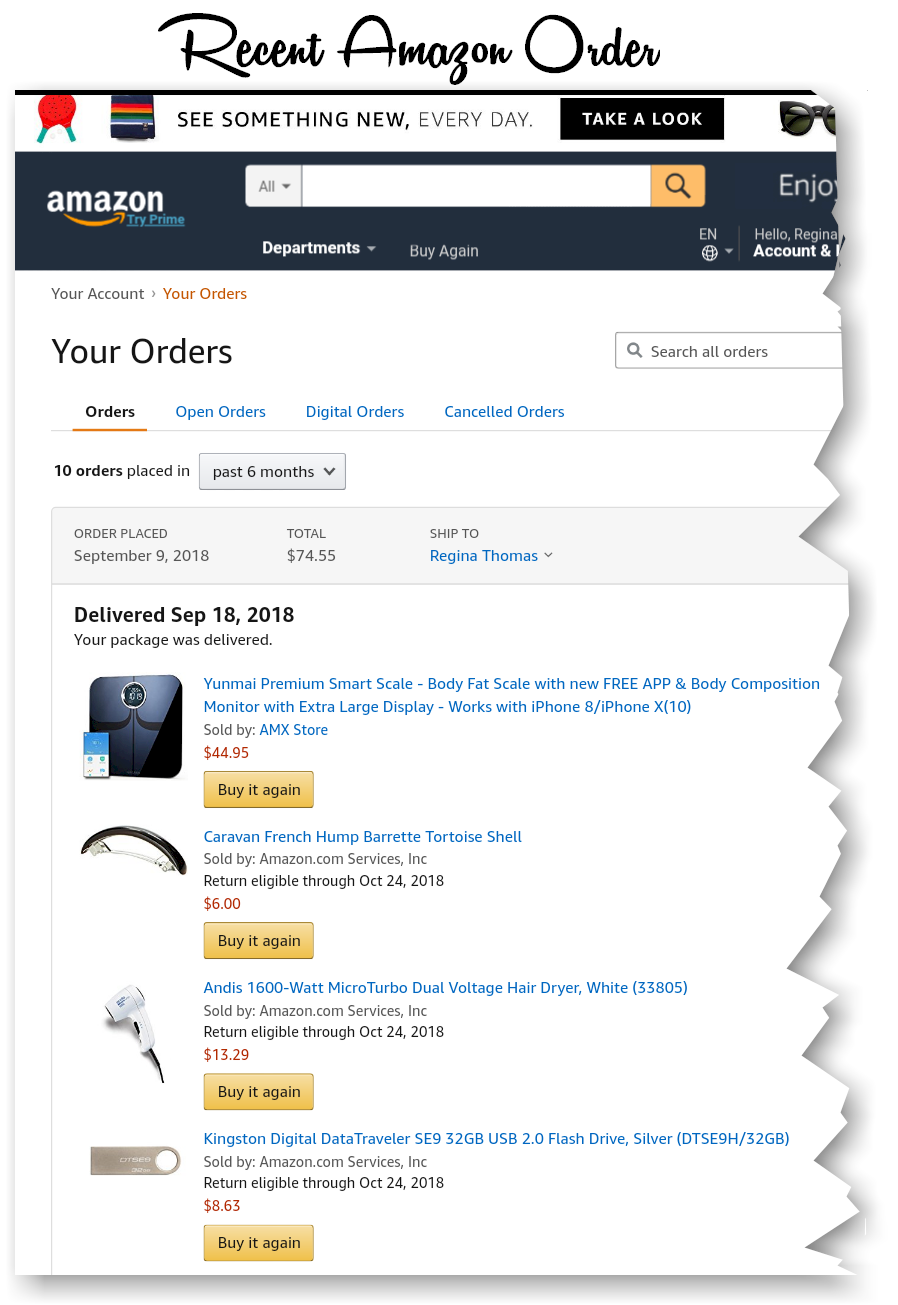 I have been rather busy lately, with web site moves and software development projects (see WiredPages), so I have not done as much research for the stores as I normally do, however stay posted if you are looking for holiday gift ideas.

Sunday, November 26, 2017
This year, my Mother's Birthday and Thanksgiving fell relatively close, so it seemed- if I was not planning for one celebration, I was planning for the other.
As usual, my brother-in-law provided the beautiful Poinsettias that will decorate the entry and fireplace this holiday season.
For her birthday, I gave my Mother a gift card and made her favorite brownies.
I seldom purchase gift cards, however this year she seemed interested in any number of items she found online at one of her favorite department stores, so I thought it a safe bet.
That said, I have been updating my stores with seasonal finds I want to add to my shopping cart instead of gift cards:
Also keeping me busy:
Social media posts, see here.
Switching protocols from FTP to SFTP for areas on qisoftware.com that require frequent updates, i.e., Remix and this blog.
Research related to local area businesses.
Hope you are enjoying the holidays.

Saturday, June 24, 2017
A death in the family took most of the family out of the area in early June. I did not attend the funeral. I have not been out much, instead working, catching a movie here or there and watching live tennis action.
Recent activities and plans:
Movie: The Accountant
Movie: Legend [2015]
Movie: Inferno
Movie: The Wizard of Lies
Upcoming: Starz "Power" Series [new season starts Sunday, June 25th @9:00 pm ET]
Upcoming: Wimbledon starts July 3rd.
Grass court [professional tennis] action from Europe.
Social Media Posts [including]: Hanover Maryland Businesses, Instagram [QiSoftware & HanoverBusinesses], Tumblr.
Revising Amazon Stores in anticipation of upcoming changes Amazon plans to make to the program. Updates to the new store formats are ongoing and several shopping categories were removed. The new shopping categories:
I have a little more work to do on the stores-- and new additions and deletions are constant. I also have three new domain registrations I plan to start work on.
In the coming months, for a change of scenery and project research, I may check in at the air conditioned mall [ArundelMills] & Live! Casino.

Saturday, June 17, 2017
Over the coming months, Amazon plans to phase out the astore feature, so I am currently adding new pages to this blog that will incorporate most of the product links provided in the Amazon versions of the stores.
Currently the links for the Amazon versions of the stores are listed in the right upper sidebar. I will gradually replace the Amazon links with the page versions associated with this blog.
Listed below, demonstration links for the blog page versions of the stores [keep in mind I am currently working this project].
This project should keep me busy for a couple of days...

Monday, January 02, 2017
Coach is a brand long recognized for quality. Some of my Coach pieces are over twenty years old. The Coach classic handbag shown, was used almost everyday for over 10years.
Are you thinking of adding to your Coach collection, or maybe a gift for someone special?

Wednesday, April 20, 2016
Thinking about adding short videos to your blog posts to enhance your advertising optons or add more interest to your content?
The HTML5 <video ... > </video> tags make this easier than ever.
What you will need:
A camera that records video with at least 640x480 or 320x240 resolution in vivid color.
A camera tripod that extends to at least 50".
Video file conversion utility that exports MP4, WEBM and OGV; the 3 formats supported by the HTML5 video tag.
Optional: Video record utility for your tablet or PC.
Here is a short video I made with the camera tripod shown in the group of photos in the header graphics for this blog and my Canon PowerShot A590. [If I were really using this for advertising I would have re-shot the footage. Whip cream application is kind of messy. This just to give you an idea of how easy this is].
In my opinion, using a camera tripod to record video helps to make the results more professional in appearance. My Canon PowerShot A590 is not that lightweight [can topple a flimsy desktop camera tripod], however my lightweight aluminum tripod that extends to 59" easily supports the camera.
More info about my tripod:
Photos of my tripod extended...
I hate to admit this, but I just figured out what that little twirly thing on my tripod was for-- so I made this short video in case you need to know too.
Online, I love short interesting videos. I have worked with Java Applet Video features and Haxe code to create custom video players, however the HTML5 video tag used by today's browsers- is a more cost effective solution.

Tuesday, October 27, 2015
I loved the Anne Klein Brass Watch pictured below, from the moment I saw it. I added it to the "Things I Heart" store, and even though it has not been available for sometime now, I never removed it.
I did not purchase the watch when it was available [I tend to go for a plainer look for business and could not justify the purchase for casual wear]. That said, it is the inspiration for one of my latest purchases- the brass chain shown in the photos below.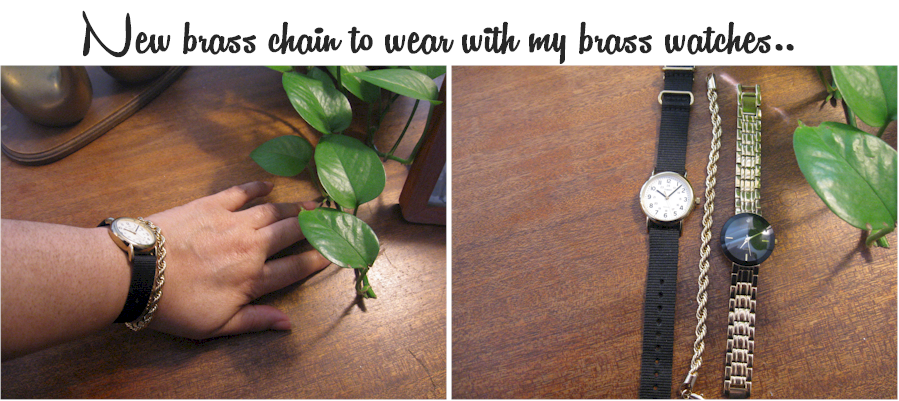 You can find the brass bracelet here. I am very impressed with the quality of the chain- especially when taking into consideration the cost. The Brass Bracelet is also listed in my "Brass" Amazon Store. All of the Amazon Stores I maintain:

Friday, November 21, 2014
Monday night my mother went out and upon returning came in with an armful of Birthday Gifts including this Edible Arrangement.

I have been snacking on this all week. I love toasting up a Hawaiian Sweet Roll, cutting off a hunk of cheese and dishing up a bowl of fruit for a great mid-afternoon snack.
Another idea... Grand Marnier, Whipping Cream and Powered Sugar. Found this recipe when I was looking for a fresh fruit sauce that was not chocolate. Sounds good to me-- however I love Grand Marnier. Let me know if you have tried this.
Speaking of gifts... Wednesday, before I found out I had to report for jury duty on Thursday [November 20th, 2014], I thought more about neat gift ideas for the Holidays.
One year for Christmas, a friend gave me this beautiful [glass] perfume atomizer.
I later found out the friend was actually an acquaintance of one my cousins. The things I have learned over the years, has often surprised me.
In any case, I have always loved the gift so I added a couple of choices to my Amazon Gift Ideas Store.
Other things I have been up to:
One of the things I wish I had done? Taken photographs while I was in Annapolis yesterday. I was so tired-- I could only notice how beautiful everything looked first thing in the morning.

Friday, May 16, 2014
Have you ever booted your Acer Netbook to a white screen? If this happens, plug in an external monitor [should be a standard 15 pin serial port on you device], ensure Windows has booted and use the following "hot keys" to toggle between the Netbook display and external monitor.
Keep in mind, attempting to use the hot key for an external monitor that is not connected will not work. I thought I could trick it and tried. Did not work. The monitor most be connected.
If you boot to a "white screen", you will not be able to see the options illustrated in the above image- however after correcting the problem-- simply click anywhere on your Windows Desktop with the right mouse button and select "Graphics Properties" from the popup menu.
I found, that when you toggle to the external monitor and then back to the Netbook-- the "white screen" error is corrected.
I have also noted ambient light problems associated with the built in video cameras on my mobile computers, so I think using an external USB video camera can extend the life of the display on your mobile computer [i.e., Netbook, MacBook].
I have provided buying options here-- for a Mac or Windows compatible video camera and an inexpensive external monitor.
News from Washington? Unsure what it means-- promises offered, promises broken-- trying to stay positive.

Saturday, April 19, 2014
I started making homemade pies when I moved to my current Hanover, MD address. Before that, I was a young professional that lived alone, so I rarely cooked.
Apple pies were my favorites to experiment with. I do not know how many apple pies I made, before I understood- sautéing Gala Apples in butter, Brown and White Sugars, Nutmeg, Cinnamon, and Cornstarch, filling an uncooked crust, and then baking- would get the results I wanted.
In my quest for perfect homemade pies, I purchased all of the tools I could find. Pie crust shields, pie plates and savers. Here are a few: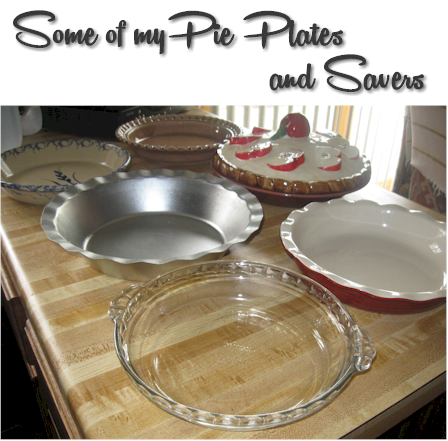 Here are two Covered Pie Dishes- I added to my
Amazon Store
.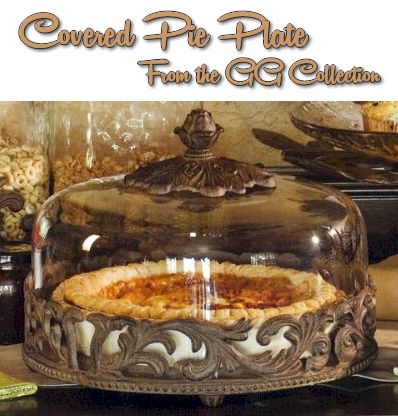 The following Covered Pie Saver is similar to the Apple Pie Saver I have [shown in the first photo], however this one is slightly smaller in that it is 9" and the one I have is 10".
The trick to great homemade pie using fresh fruit? Sautéing the fruit in the spices, sugars and thickening agents [i.e., Cornstarch or Flour] allowing the fruit juices to release and thicken before baking in the pie shell. I learned this through lots of trial and error.

Monday, February 10, 2014
Earlier, I found a photo of a jar similar to the one in the entryway and discovered it's called a Ginger Jar.
Have no idea why I did not know that. I like the jar and wanted to add something similar to my Amazon Home Furnishings Category.
Here are two lamps I found using the search term "Ginger Jar".
Other examples of ginger jar items around the house:

My search yielded lots of great finds [ginger jar like items]-- and even some vases, but I like the covered jar pieces as shown in the photo above- because you can put them anywhere and do not have to worry about a floral arrangement.
Do they collect junk? Yes, in this house they do, however as you can see- they are covered.

Saturday, February 08, 2014
I have always loved my mother's spice rack.
I am not sure when she got it [nor where], but do think it is absolutely adorable.
I went in search of something similar to add to the ...Kitchen category of my Amazon Store. I really did not find a lot in the way of options- however these are close.
Have you ever seen this pattern? [Shown- Google Image search results]: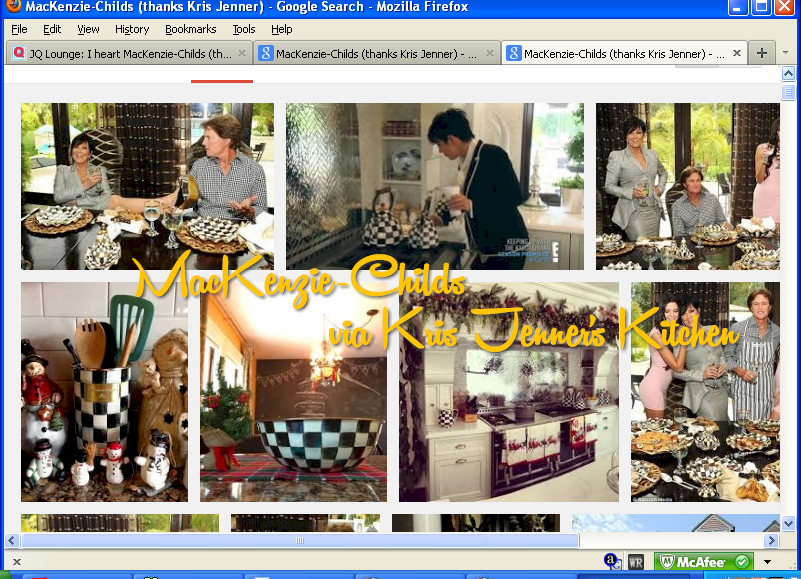 It is called MacKenzie-Childs. I especially loved the utensil holder. Search results
.

This is what I have been up to this morning [searching for things I find while looking around], further checks to my Tumblr blog's template-- and an update post on Q's Wire.
What else have I been up to? If I had surveillance they would probably say complaining loudly about issues I feel I should not have.

Thursday, February 06, 2014
A couple of months ago, the strap on my Classic Coach Bag ripped. The bag is over 20 years old and I have carried it around almost everyday for more than 10 years. I am sure the cobbler can repair it, I simply have not had the opportunity to get over there.
This is why every time I see a Classic Coach bag-- I want to order a new one. The other Coach bag I want? This one.
I found the bag above searching for one similar to the one I have. Other things I have been up to?
Creating Social Media Icons for my Tumblr Blog-- that I have since chosen not to use.
Creating a master template for my Tumblr Blog. I like maintaining master copies of blog posts and templates offline. This to insure-- my versions are my versions.
Adding blogroll code to my Tumblr Blog [see the bottom of the page].
Updating the Celebrity Blogger List. Have you ever noticed who the large organizations follow on their Tumblr blogs?
Minor updates to my Amazon Stores.
Dealing with abstract noise issues.
Today, I was so busy insuring my new Tumblr template worked on the older computers and browsers I own [running to the upstairs office]-- that I managed to burn a boiled egg. Everything is okay.. it only smelled like I burnt something.
News from Washington? I wish it were clearer as to what they are doing. Mostly not doing what they say they are going to do. That said, I am not sure who is saying what.

Tuesday, January 21, 2014
I wish I could tell you I have been working on code issues [broken widgets and interfaces] as related to my sites. Every time I look at WiredPages, I want to get started on the fixes and updates I have planned for that site.
Instead, I have been working on design or data update issues-- as related to other online resources I maintain, including:
Wiki Updates
Generating site maps for qisoftware.com sub-domains. Google not crawling all areas of qisoftware.com. Trying to isolate the problem.
New Tumblr blog look:

Today, I also downloaded new icon sets:

Sorry, I cannot provide the link. I get a lot of traffic, no matter what is being reported by those counting.
I had several issues earlier this year [more than normal]- bad power cord, qisoftware.com went down for almost two whole days and trying to ignore the problems with my car-- so in the middle of all that, I neglected to post about my new watch. It was a late Christmas gift.
I am very pleased with the elegance of this watch. You can find it in the Brass section of my Amazon store.
News from Washington? Sounds like some issues still remain. Hearing from those that may not understand- early on [late winter/spring 2012] I was given a lot of information. Why are you here, now? I have no loose ends. Do you?

Sunday, January 19, 2014
Over the years, I was hesitant about entering the color laser printer market. Even though color laser printers have come down drastically, toner replacement seemed so expensive.
Before last Christmas, we had two monochrome laser printers and so many ink jet printers, I do not want to think about how to dispose of them. The problem- ink replacement also expensive and the ink tends to dry out.
So late last year, when my mother announced for the umpteenth time- her ink jet printer was not printing, I decided to look at color laser printing options again. I chose an inexpensive solution and so far, I am very pleased.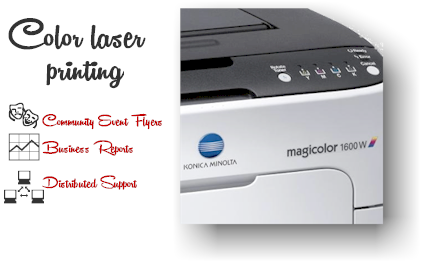 Because printer replacement supplies and a printer hub for multiple computer hookups were also purchased, I am not worried about her printing woes anytime soon.
The printer itself, prints in vibrant color and I am impressed. Photographs come out, about the same quality as with any color printer. This factor more dependent on the camera in use [my camera only 8 mega-pixels].
The illustration provided below, is a bit dark-- however in actuality, quite impressive.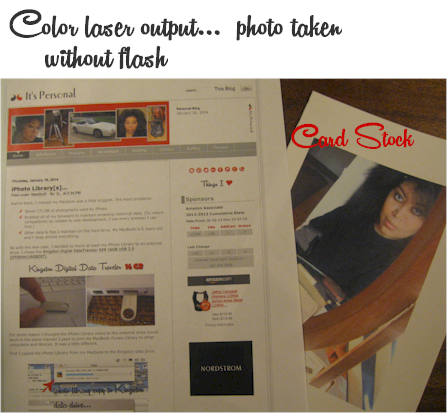 I created the photo card on the right, using iPhoto [Mac software], saved it to PDF, which allowed me to print the file using a connected computer [in this case, my mother's HP notebook] and Adobe Reader.
Though none of my computers are directly connected to the new printer, I have lots of software that will support its features. Highlights for someone in business include:
Works well with most of my software including: iPhoto [cards and calendars], MS Professional Office Suite [including PowerPoint & Publisher].
Business productivity: flyers, presentations, charts, business reports
1200x600 DPI printing also provides [nice-enough] photographic reproduction dependent on the camera in use.
Check around and read reviews for the Konica Minolta Magicolor 1600W Laser Printer
. I like this solution a lot for my mother's needs- and if I need color laser output, I no longer have to run to Staples.

Sunday, January 05, 2014
I have started down-sizing my bag [shown in this blog's header photos], however to date, I have only destroyed two discs. This process is going to be long and slow.
Goals:

Note- I use storage media from days gone bye, like 3.5" diskettes. There were several reasons for this, which I will not bore you with here.
The links below show how to get similar devices/discs like those shown in the illustration for this post.
When finished my bag should contain a Macbook, Netbook, external harddrives, flashdrives and camera equipment and will be only a third of the size it is now.
New bag options:

Saturday, December 28, 2013
My mother has her own little office space in her bedroom. Before Christmas [this year], she had an inkjet printer connected to her desktop computer but no way to print from the HP Notebook she received last year for Christmas.
The other problem- though she did very little printing, the ink cartridges needed to be replaced often. Ink drying up may have been part of the problem.
In recent years, I have noticed color laser printers have gone down drastically in price, so this year I decided to get her one. I was very concerned about toner replacement issues, however I think I found a solution for that too [more on this later].
Here is her new setup.

You can find the two port printer switch hub- I selected, in my Amazon Business Solutions Store.
When I need to print- I use one of two black and white laser printers [one being the Brother FAX also listed in the store]- or an Epson Color InkJet. That said, I am envious of her new color laser printer and installed the printer driver on my netbook [used the HP Notebook connection for testing]. Works beautifully.
My sister purchased extra supplies for the printer, so my mother should be good to go- insofar as printing, for years to come.

Friday, December 20, 2013
I am in the holiday spirit and thinking about holiday outfits. Where clothes are concerned, I love spending money on a business suit and eveningwear.
These days, though I rarely get the opportunity to get out-- I still manage to spend hours looking through online catalogs for seasonal outfits. Here is what I have recently added to my wish list [or in some cases, what I love- but for someone else].
Are jumpsuits in this season? I have found many I love.

Yesterday morning, I found this cute little red dress [also came in black] that I thought would be great for someone else. It was gone shortly after I listed it in one of my Amazon stores. Abstract noise provided the clues. Sold out.

I have also been downloading fonts.

In my last post to this blog [Monday], I indicated I was going to take my car out for a spin. I did, but only after I jump started it. I think [hope] the battery is dead. I plan on dealing with the issue after the holidays-- so this was kind of a downer.
News from Washington? Odd.

Monday, December 16, 2013
It is pretty quiet around here today. The snow melted yesterday, so I am going to take my car out for a spin. It has not been driven in almost two weeks and I need to take it around the block.
Other things around here-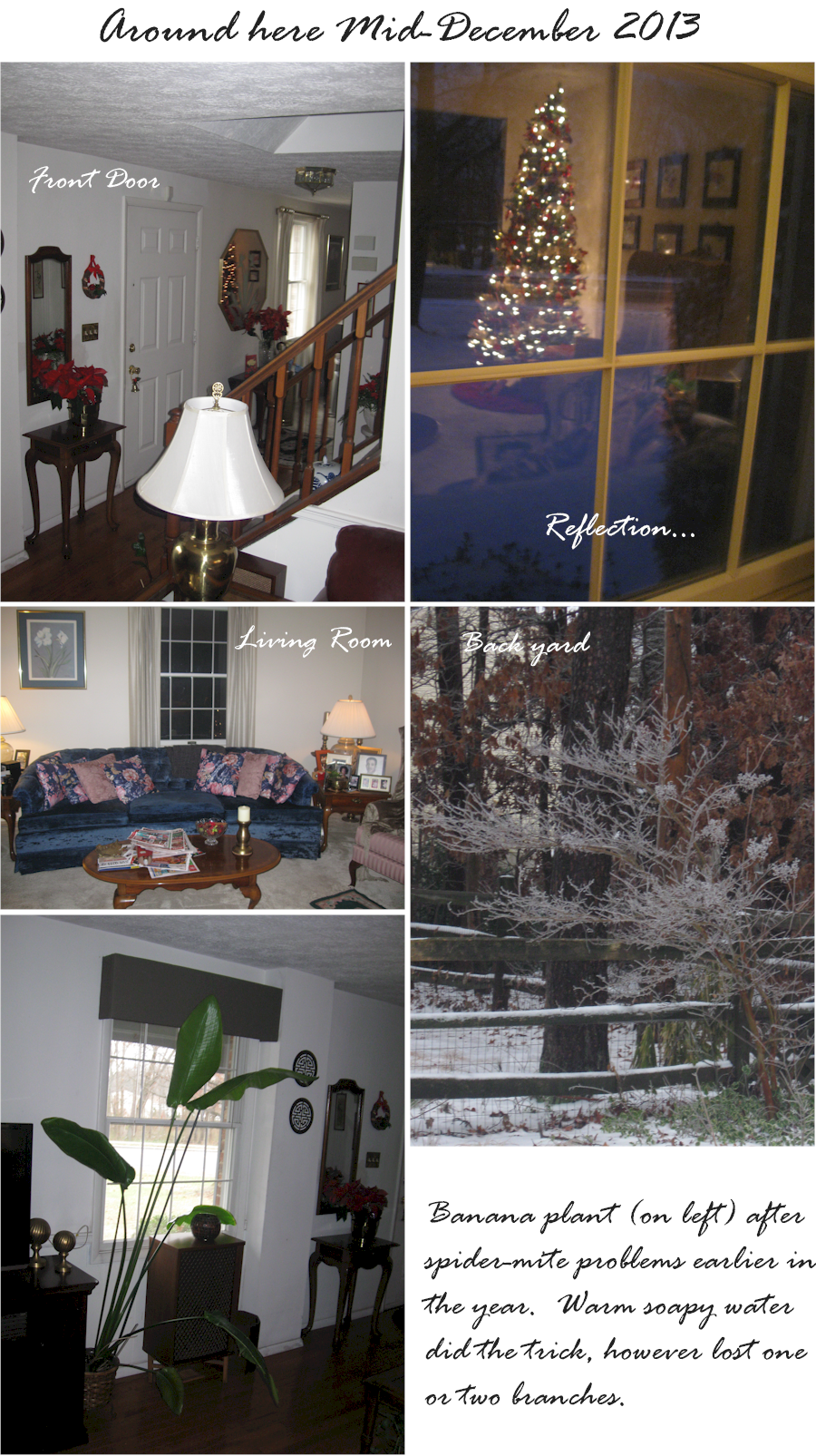 For those wondering about my Banana plant after the spider-mites? She's doing okay. I had to trim back some of the leaves-- and in my opinion, she is not as pretty-- however I am hoping I can bring her back. I think the pot is too small-- but I really do not want it to get any larger-- so I am simply going to wait on the new leaves to start coming in.
Not much else going on. Updates to my Amazon Stores.
This morning, I also noticed the WiredPages ZipCode Retriever located on the Business page is no longer providing Zips for street addresses. The Geo Coordinates Tool on the Reference page works. I really need to get busy on several updates [deleting bad links, etc.] to WiredPages. Maybe after I return.
News from Washington? Full steam ahead with the tease. Not sure why? Already explained I may cry starting in January. Right now-- in good spirits, busy.I have decided I love shopping online for my stores.

Friday, December 13, 2013
I am not superstitious, however I did note it is Friday, the 13th.
What have I been up to?
News from Washington? Continuing to provide information about others I wish to divest myself of. Not sure what the point is. News, not good.

Wednesday, December 11, 2013
Are you wondering why there is a can of chalkboard paint under the Home Furnishings & Kitchen Category [lower page 2]?
Several years ago-- when Naomi [blogger I read], moved to DC she had areas of her kitchen done using the paint. I liked the idea.

Also- the other night I watched part of the movie "The Words". Dennis Quad's character- had in his apartment, an extra large mirror leaning in the entryway which was the inspiration for this Home Furnishings find.

Sometimes, I pretend I am furnishing a large home with all of the things I love. My Home Furnishings & [Kitchen] Category reflects some of the finds I would like to have.
I have not included this item yet, however I decided this Enclume MPB-06 RACK IT UP Bookshelf Pot Rack
would be perfect if we had higher ceilings with wall space in the right location to hang my mother's beautiful set of MPS pots & pans.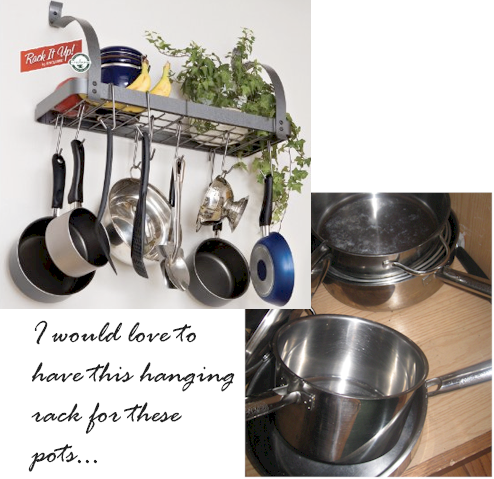 I have finished wrapping all of the presents I am giving and have started planning the menu for Christmas day. Have not started updating WiredPages-- but hope to get to it later this week.
News from Washington? Not good.

Thursday, November 21, 2013
My mother has been collecting brass for as long as I can remember. I started my own collection when I moved away from home and when we combined our collections- then added to them [these last 17 years or so]-- it seems we have more than I realized.
For instance, my mother has several sets of brass wall plates like those shown in the following photo [taken in the den/family room]. I remember her having these plates when we lived in England-- however it may have been longer.
I have always loved the brass leaf ashtray set [one shown in the photo]-- the other sitting on a table in the formal living room. When I purchased my place in Bowie, I changed most of the light switch plates to brass or ceramic [bathrooms] and the one shown was in my formal living area. When I came here-- I swapped some of the standards she still had in place- with mine.
This photo shows a brass tray from my collection with more of my brass jewelry and the bud vases I think I picked up at Pier1.

Also shown, pieces we have added since I came here [sitting Asian Male statuette bookends a TJ Maxx find and the Gyroscope bookends, Target]. The swans were here when I arrived. I am still deciding if I want to use Brasso on some of the pieces. In my opinion, in some cases the tarnish adds more character.
She likes copper accents in the kitchen and has things like copper topped straw holders, strainers, scoops and salt & pepper shakers. I added to her copper kettle collection [not shown], and also tend to purchase copper or terracotta plant holders. I love plants. Here are a couple I have purchased for use in the informal dining area just off the kitchen.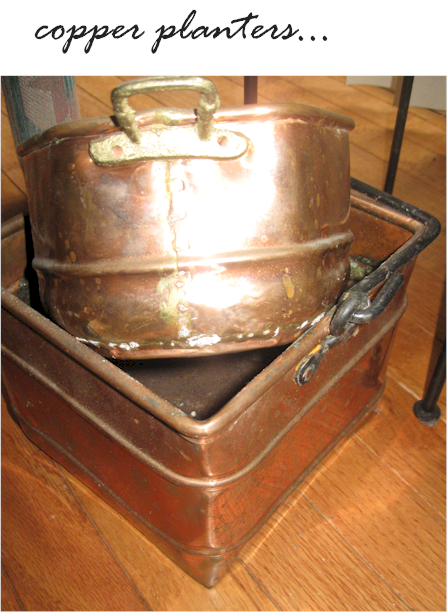 Sometimes too much is too much-- however since we both like brass, we agree that our accent pieces when used properly work in the mix of our environment.
I have been adding to the Brass, Home Furnishings and Gift Ideas categories of my Amazon store-- and thinking about the things we have and why I like them.
Some of the Brass pieces [under the Brass category] I have added are a combination of brass and copper.
How is your holiday shopping going? Today, I received one of the gifts I ordered and feel so ahead of schedule.

Friday, November 15, 2013
A couple of weeks ago, I noticed brass jewelry prices were going out of sight. That's when I started researching. Not only did I find some great prices on Jewelry but also other things I myself have purchased over the years like- brass andirons, finials and knick knacks for my place. Here are some of my finds.
I mostly wear gold jewelry however have several pieces of brass.

When I first moved away from home-- I loved to add brass accent pieces to my home furnishings. PierOne one of my favorite destinations. Lamps, incense burners, plant & candle stick holders, etc.
I still have a lot of my brass-- and for some of the pieces- I use Brasso to remove tarnish. That said, not all brass needs Brasso. Some of it is coated to prevent oxidation.
These pieces [located in the kitchen dining area] could use a good cleaning with Brasso.
Keep in mind-- if you are cleaning brass jewelry that tarnishes-- make sure to wipe clean all of the polish and residue in that a necklace or bracelet might stain a favorite outfit.
For the last week, I have been battling problems with nerves in my mouth. Not exposed nerves- so cold drinks provided temporary relief. Happy to report-- since yesterday morning I have been feeling lots better. Hope to get back to some of the projects I have been planning or working on. Updated some of the lists on the NS&J Forums, researching and shopping and planning for the holidays.
Washington news ambiguous.