Sunday, July 25, 2021
It has been hot in our area with lots of moisture. I have been sticking with easy meals and desserts to prepare.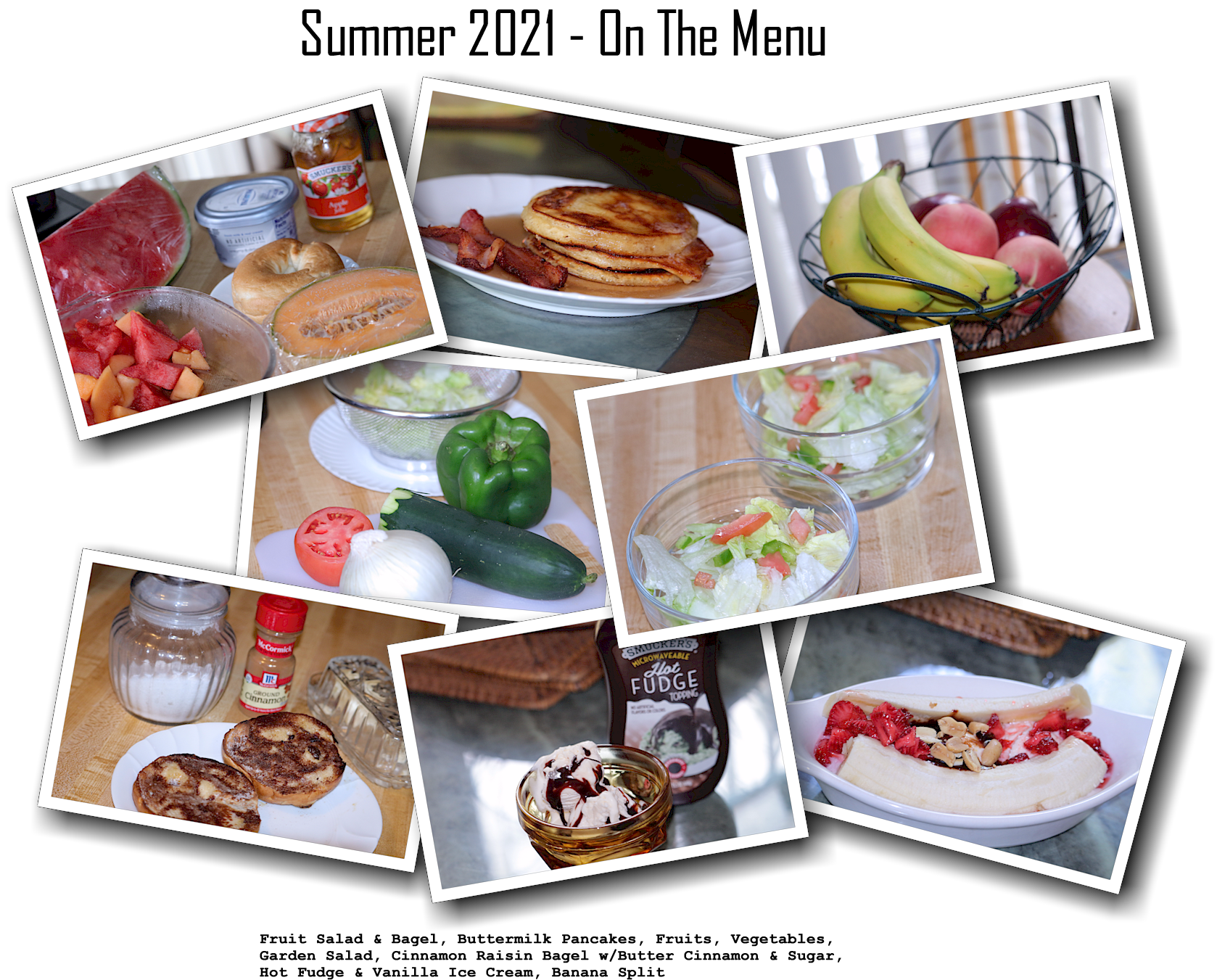 Shown below, some of the plantings in my gardens. I added a new hosta plant to the front porch and filled the deck planters with marigolds, however have done little more in the way of gardening this year.
The plantings in my gardens include:
Marigolds, most flying insects do not like marigolds so these were a great addition, especially with the cicadas this year.
Variegated Day Lilies (Pink & Yellow)
Back deck
Crocosmia Lucifer Spectacular Red Perennial
Shasta Daisies
Black Eyed Susans (Maryland's State Flower)
Hydrangea bush
Hosta on back deck
Most of the statewide pandemic restrictions in place over the last year have been lifted, and my area is becoming busier everyday.
Live Casino & Hotel along with Arundel Mills probably attracting most of the crowd. Friday, I had an appointment in the area, and was surprised by how many visitors I noted (based on automobiles in the parking lots and coming off major exists to the mall and casino). Seems as though people are trying to get back to normal.
Hope you are having a great summer. Have to say, I am ready for the cooler weather of autumn.

Monday, May 31, 2021
It has been a busy week, and I am almost happy the national holiday is about to come to a close.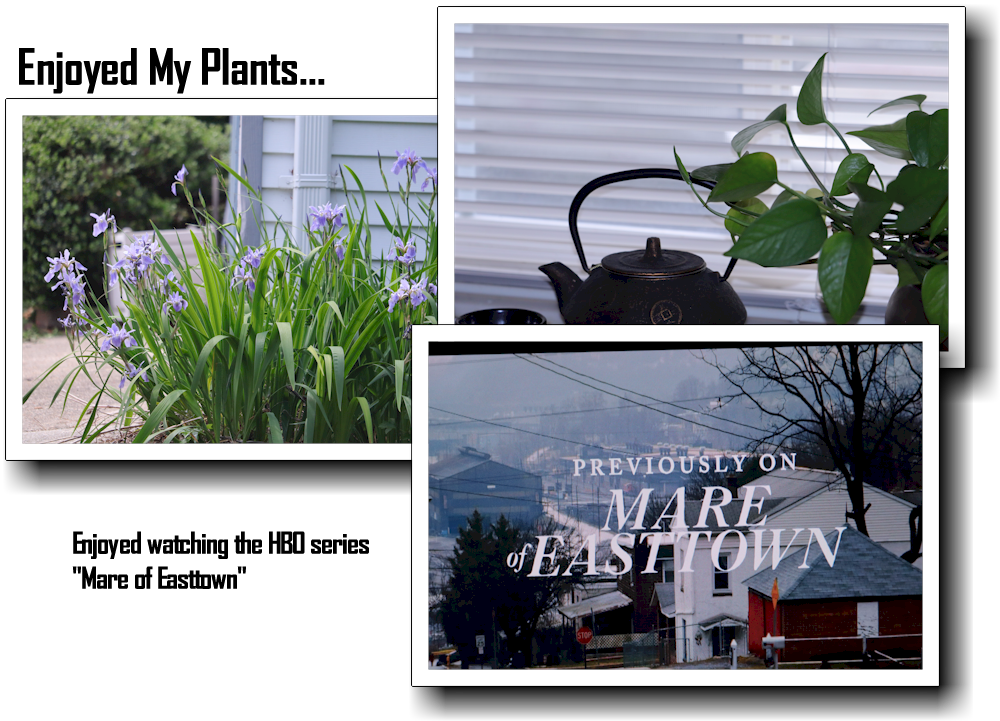 My activities included:
An assortment of visitors including relatives from out of town.
Meal preparations
Eating
Shopping (new espresso machine, groceries, household staples), stores included: Costco, Safeway, Food Lion and Walmart online
Gathered items for the dump, brother helped with delivery
Plants, housekeeping chores...
Article on patch.com about my high school alumni group
Header bidding updates and maintenance, Google AdManager and Unified Ad Marketplace
Website updates
Season finale of "Mare of Easttown"
Other photos taken over the last week, first set (below) - meal preparation.
Some of the meals prepared...
Last week, my espresso machine decided to call it quits, so I ordered a new one. In addition, I hit almost every market in the area in preparation for the week's meals.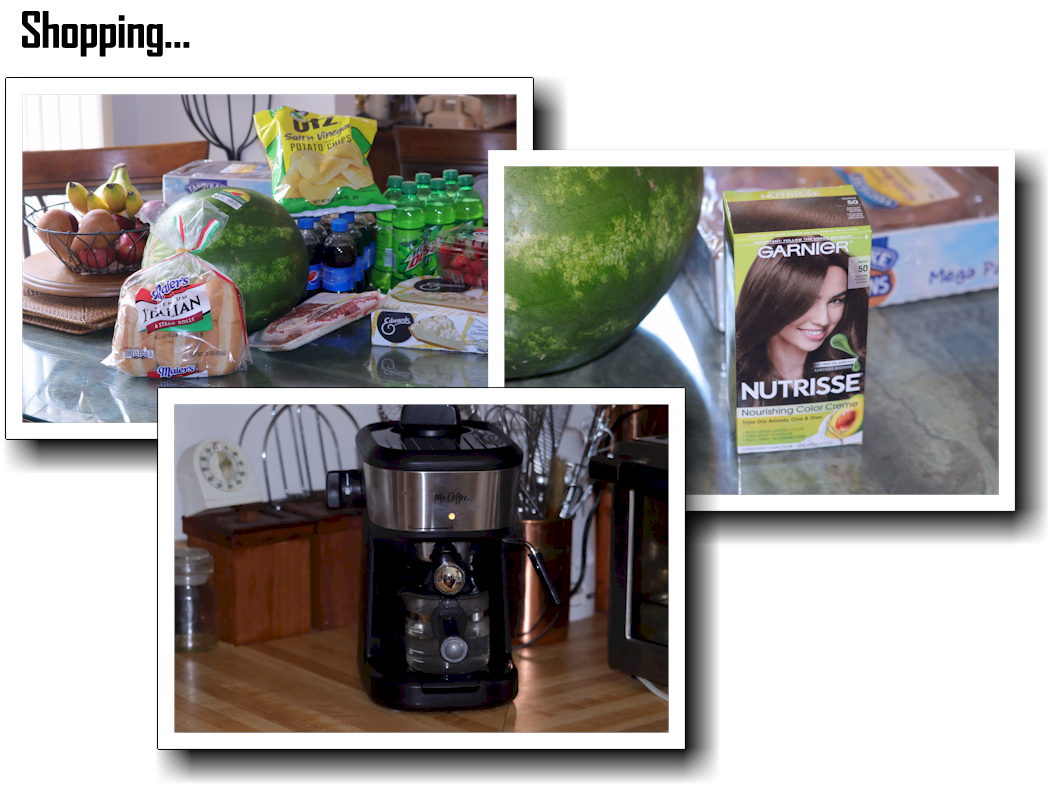 One relative stopped by on Thursday. Photos of me taken after the visit.
I have been meaning to get to my hair, simply cannot find the time. Hope you are having a nice holiday. Are you planning to catch the concert on PBS?

Sunday, May 02, 2021
In early April 2020, repairs to the main bathroom on the upper level were an important preoccupation along with the many concerns relating to COVID-19.
A trip to Lowes for fixtures and tools needed for the repair- provided the opportunity to purchase a new plant, the snake plant shown below.
The two illustrations below, show a photo of the plant, taken yesterday and the set of photos taken when I first replanted the Mother-in-Law's Tongue (Snake Plant) in April 2020.
When I left home after college, my parents gave me a snake plant for my first place. I never had a problem. I hate to admit, I almost killed the new plant, over-watering.
With all of the other plants I maintain around the house, I thought I could water as often as I did the others. Big mistake. I am pleased I realized my mistake before it was too late.
Other recent photos...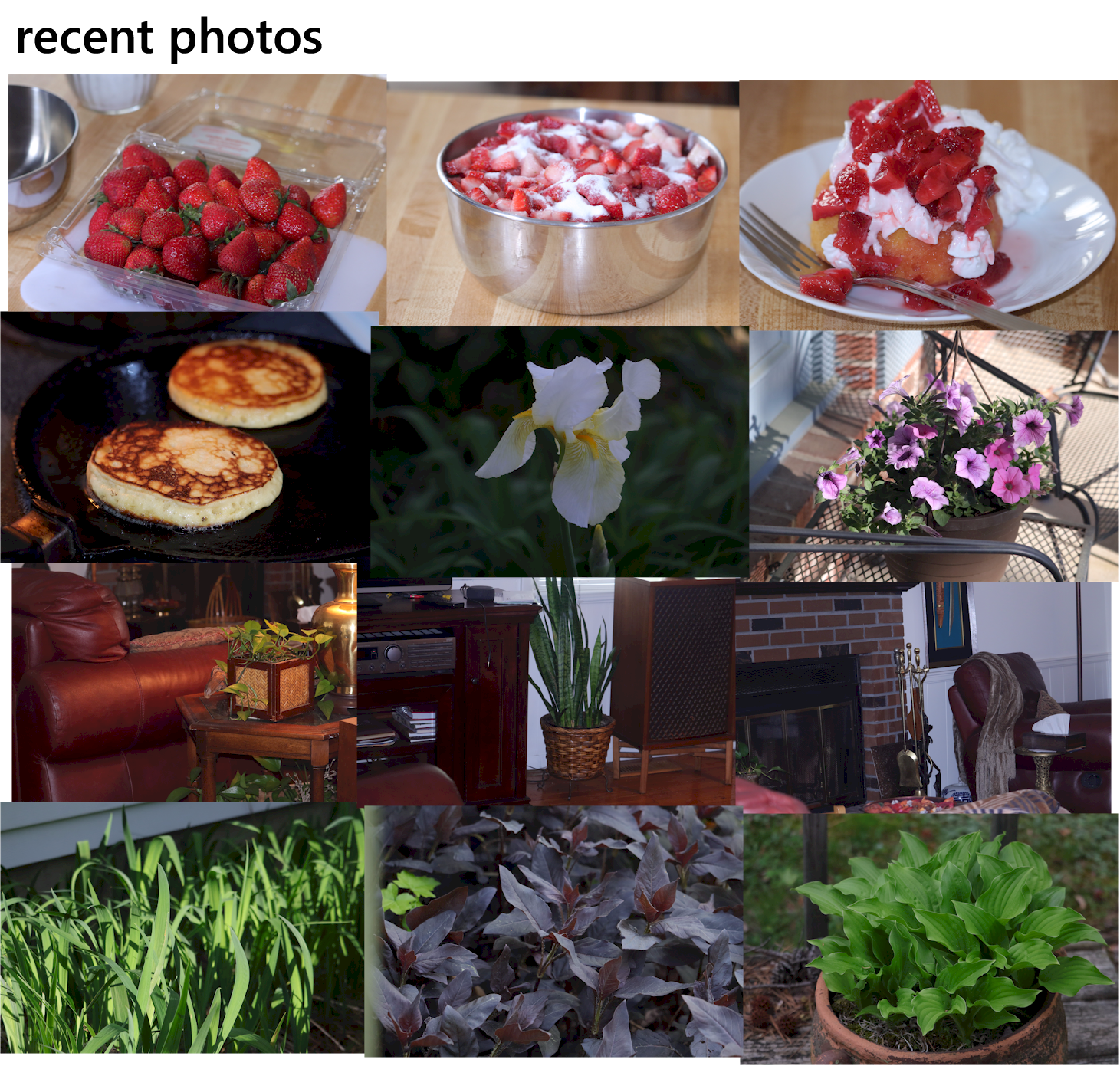 Photo Summary
Strawberry season, so I buy strawberries... I love strawberry shortcake.
Love buttermilk pancakes --recipe
Yellow irises in the backyard are in bloom
Cascading petunias for the front porch
Scenes from the den, including the same snake plant photo
Purple irises on the side of the house not yet in bloom
Alternanthera Purple Prince - a perennial ground cover
Hosta plant on the back deck
There were many changes over the past year, however we made it. So did the Dracaena Trifasciata (mother-in-law's tongue).

Wednesday, February 17, 2021
Let me just say, "I love Red Baron Pepperoni Pizza with the Classic Crust". I am funny about frozen pizza, and will not try most. That said, last week I tried a DiGiorno Pepperoni Pizza with a Croissant Crust, and have decided I can do this one too.
Other things I have tried lately, include this LandOFrost Honey Ham lunch meat. It was on sale around the holidays and I am happy I decided to try it. I added diced slices of the ham to the Red Baron Pizza before baking and it turned out great.
We do not often have food delivered, however over the weekend relatives sent a "Well Wishes" gift...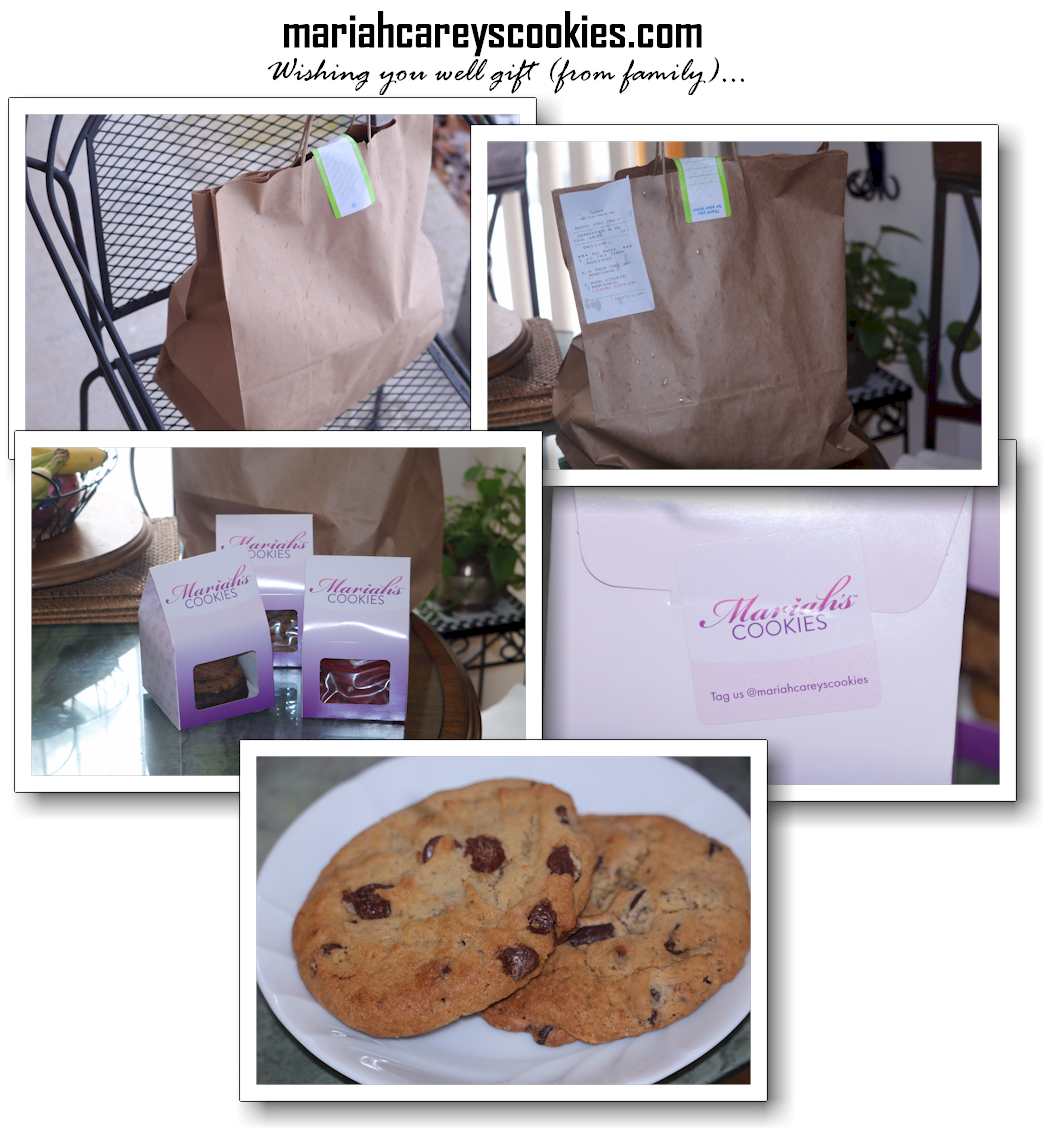 This is a great gift idea.

Saturday, November 28, 2020
It was a busy week. Shopping, cooking, preparations for a new project.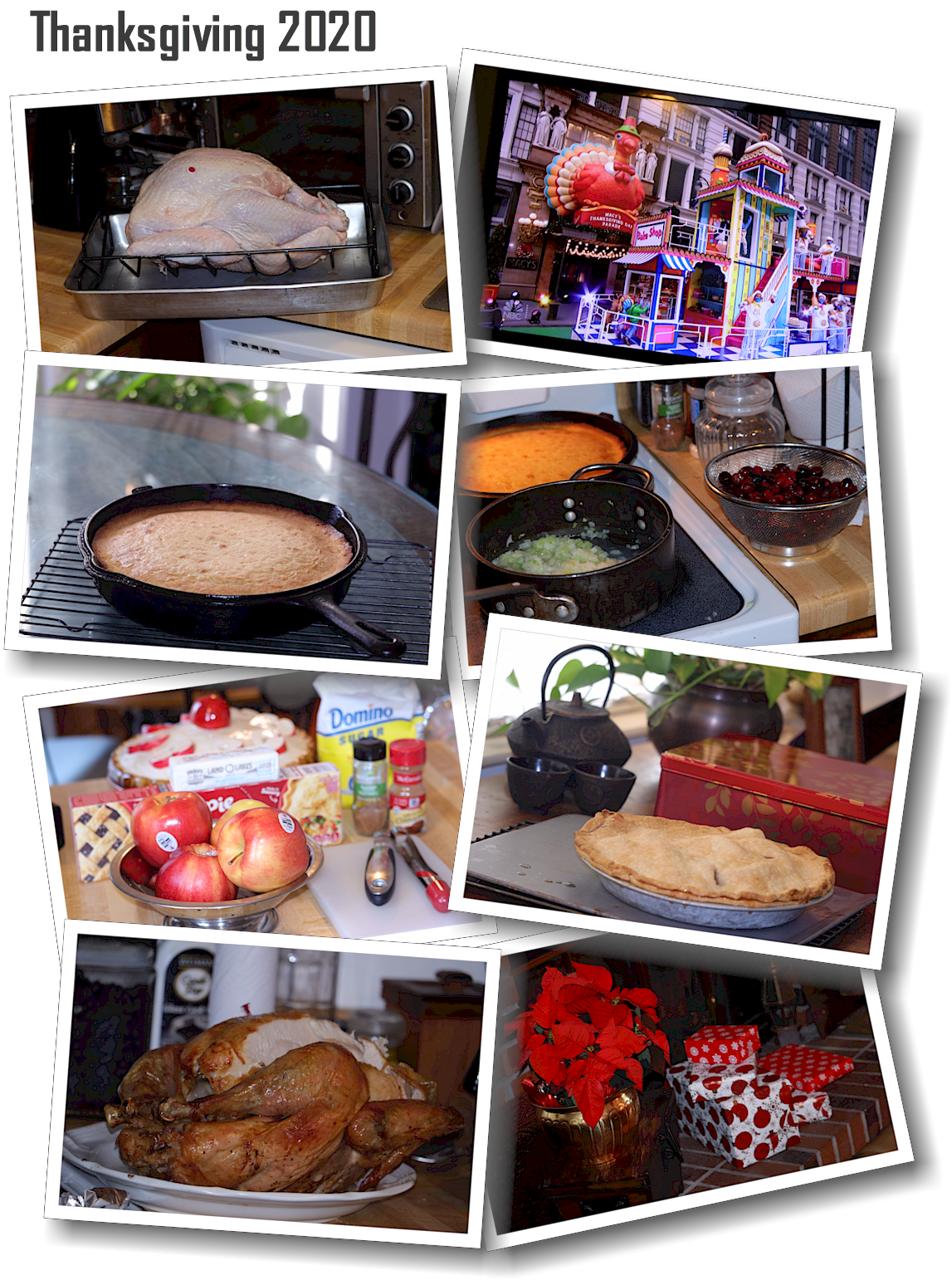 I liked this quiet holiday. I have several projects in the works, so it seemed- everyday over the last week, had any number of tasks that had to be completed, to be able to move on to the next step.
Over the last 8 months or so, I have been out a lot more doing most of the shopping and running errands. People seem busy. I am happy, because I am busy.
Sometimes people seem more upset at the holidays (for years, I have felt more like a bystander at the holidays, giving me the opportunity to observe more). This year is different. People seem busier. This makes me hopeful. Hope you are having a nice holiday.

Wednesday, November 18, 2020
Yesterday was a celebration of sorts. Normally, the birthday celebrated, is with extended family members and dinner out. Yesterday, it was dinner in.
On the menu...
Thin Sliced T-Bone Steaks
Baked Potato w/Sour Cream
Broccoli
Garden Salad w/French Honey Dressing
Dinner Roll
Apple Pie
One of the gifts received, an inexpensive point and shoot camera that is very easy to use. I have to say, I am pretty impressed with this camera.
Side by side comparison of photos from the inexpensive Digital Camera 2.7K Ultra HD Mini Video Camera 44MP 2.8 Inch LCD Rechargeable and my Canon EOS 50 using a Canon EF-S 55-250mm F4-5.6 IS STM Lens (need an EF-M Adaptor for this lens and camera):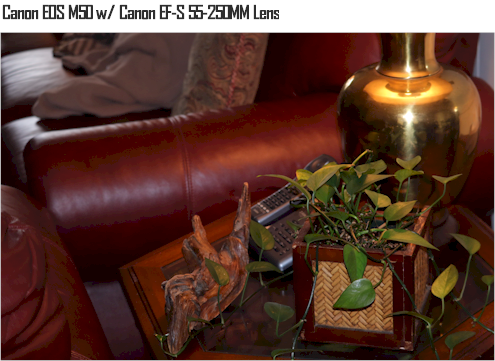 The camera has plenty of features and a very useful user's manual.

Thursday, October 08, 2020
Enchiladas are a favorite and I try to keep on hand, ingredients for this dish. My version of this entrée includes:
1 lb. Ground Beef
McCormick Enchilada Seasoning Mix
Old El Paso Hot Enchilada Sauce
Onion
Green Pepper
Mission Super Soft Corn Tortillas
Colby Jack or Mild Cheddar Cheese
Sometimes I add extra tomato sauce and water
Over the summer, I discovered local markets could not keep the McCormick Enchilada Seasoning Mix I normally use with this dish, in stock. With the many restaurant closings, perhaps many found themselves in the kitchen trying new recipes.
I researched several options and found I liked this homemade recipe for Enchilada Seasoning.
I like mild banana peppers and Tabasco sauce with this dish.

Saturday, August 22, 2020
Last Sunday, with the remaining Gala apples, I made an apple upside cake. The cake turned out well, so I thought I would share the recipe.
First allow me to explain, I found this recipe for Pineapple Upside Down Cake on Food.com in December 2015.
The thing I noticed about the recipe, the way it incorporated the flour mixture in three parts with the milk in two parts, starting with the flour. From past experience, I have had a lot of success with cakes when I combine the milk and flour ingredients in this manner.
After I made the Pineapple Upside Down Cake, using slightly different ingredients (I like unsalted butter for baking- I keep this item on-hand frozen, until I need to use it), I decided I liked the way the cake turned out and the amount of batter was perfect for the smaller two layer cakes I prefer to make today.
Over the years, I have tweaked the base cake batter recipe until I am pretty pleased with the results. Below, the changes I made to the original recipe to get the basic cake batter recipe I use today.
My Basic Cake Batter Ingredients For Two 7" Layers
2 tablespoons margarine Pineapple Upside Down Cake Ingredient
9 pineapple rings Pineapple Upside Down Cake Ingredient
9 maraschino cherries Pineapple Upside Down Cake Ingredient
3/4 cup brown sugar Pineapple Upside Down Cake Ingredient
1/2 cup soft margarine unsalted butter
3/4 cup white sugar (added 2 tablespoons of sugar to the 3/4 cup)
2 1.5 eggs, beaten (see note 4 below)
1 teaspoon pure vanilla extract
1 1/2 cups flour
2 1¼ teaspoons baking powder
1/4 teaspoon baking soda (new ingredient)
1/2 1/4 teaspoon salt
2/3 cup milk 3/4 cup buttermilk
2 teaspoons of club soda (some like adding this to help the cake rise, mix in the buttermilk)
Follow the instructions for the original recipe to mix the ingredients for the batter. One note, the first step, when mixing the butter and sugar- I cream the unsalted butter for about two minutes then slowly add the sugar. I then let the mixer cream the two ingredients (butter & sugar) together for at least 3 minutes.
The other note, I bake the two 7" round cake layers (shown above) in a 350 degree oven for about 26 minutes.
For the Apple Upside Down Cake I made last Sunday, I only used about 2/3 of the batter in one 7" cake pan. I sautéed the Gala apples for a couple of minutes adding sugar, cinnamon, nutmeg, butter and cornstarch then drained almost all of the juice off before layering the apples in the bottom of the sprayed cake pan. I then spooned the cake batter over the apples and baked for about 28 minutes.
Note 3, I like Baker's Joy baking spray to insure my cakes do not stick to the pans.
Note 4, the cake is much better if allowed to sit for at least 4 hours before cutting. Cutting the cake before that, in my opinion, leaves a more eggy aftertaste, the reason- I reduced the amount of beaten eggs in the recipe.

Wednesday, August 12, 2020
Yesterday, I made an apple pie with Gala apples.
The secret to great apple pie using fresh apples? Allow thick apple slices to sauté in sugar, cinnamon, nutmeg, butter and cornstarch to release most of the juices from the apples. You only want to release the apple juices so do not sauté on the stove top for too long. Use any highly rated apple pie recipe as a guide for the ingredient amounts and then add to suit your own taste buds. I like cinnamon and sugar.
Spoon only the apple slices into the crust lined baking dish. Bring the remaining apple juice concoction to a boil. Let it thicken, and then pour over the apples in the baking dish. Top with the upper crust and bake.

I love Apple Pie Alà Mode.

Sunday, August 02, 2020
I made my favorite buttermilk pancakes for breakfast this morning. The recipe, one I mentioned here. Note, rather than cooking spray, I use vegetable oil in the pan.
Actually, this is the third or fourth time I have made these pancakes since mid July. Did not want to waste the buttermilk and this "from scratch" recipe, is very easy. Briefly, the recipe calls for:
Cup of all purpose flour
2 tablespoons of sugar
Teaspoon of baking powder
Half teaspoon of baking soda
Quarter teaspoon of salt
Cup of buttermilk
Lightly stirred egg
Teaspoon of vegetable oil
Mix in a bowl with at least a 2 cup capacity, the first 5 ingredients. In a separate bowl (I use liquid measuring cups), mix the buttermilk, oil and egg. Add the wet ingredients to the dry and stir well. Pour on a hot pan with oil and wait until you see the bubbles. If you like buttermilk pancakes you will love these.
Did you know you can make buttermilk with plain milk and vinegar? See this post.

Sunday, June 14, 2020
In July 2018 (blog post), I developed an Instagram API Demonstration Interface to showcase how social media API resources can be customized for individual sites and blogs.
Last fall, I noticed Facebook had taken over management of the Instagram API, however I thought- because my interface only accessed QiSoftware's Instagram data, there would be no need to migrate the tool to the Facebook platform.
I noticed something in a forum post last week, so I checked again and decided- to be on the safe side, I would migrate the interface to the Facebook platform. Spent most of the day (today) on this project.
This was a little more effort than I thought it would be, however when I realized my mistake, the task became relatively easy.
Another easy thing today- lunch.
Yesterday, I made enchiladas and tacos with enough in the way of leftovers for lunch today. So in between debugging and playing with Postman, in an attempt to figure out why I could not set up the correct access tokens for the Facebook/Instagram Graph API platform, I did not starve because I forgot to eat. I could not wait for lunch...

Thursday, May 28, 2020
I have to be honest and explain I have been eating in- for awhile now, even before most U.S. and world communities began observing stay at home guidelines. The main difference in my situation- given the global health concerns, I rarely went to the market to shop before the guidelines were in place. Now, I do almost all of the shopping.
This to explain, why many of my old favorites from restaurants and Mom's kitchen have been part of my meal planning for years.
For example, I loved Duck Chang's (in Annandale, VA) and their Kung Pao Chicken and Sweet & Sour Pork entrées. So about once a week I make Kung Pao Chicken (once a year Sweet and Sour Pork). Photo below from Tuesday's lunch.
Another example, I loved the Western Omelets the JW Marriott (in Washington, DC) offered as part of their brunch service on Sundays. So, Wednesday for breakfast, I decided to make my own version.

Favorites from my Mother's Kitchen, included:
Enchiladas
Fried Chicken
Roast Beef
Chili
Though Spaghetti w/Meat Sauce has never been a favorite of mine it was one of my sister's, so growing up it was always on the menu. Sometimes, after I moved away from home-- coming home for dinner was just the best, even Spaghetti w/Meat Sauce. I rarely cooked when I moved away from home. Young, single, career minded. Actually, did not know how to cook.
Anyway, recently I purchased a four pound pack of lean ground beef that was on sale for $12, normally $20. I love catching deals like this. Before putting the meat into the freezer, I divided it into four, 1 pound portions and one quarter pound portion. I vacuum sealed each portion, and began planning what I would do with the meat.
This week I decided to try my Mother's Spaghetti w/Meat Sauce.
Earlier this month, I tried my version of her chili and enchilada recipes using ground beef I purchased in early March 2020. Did not take photos of the enchiladas.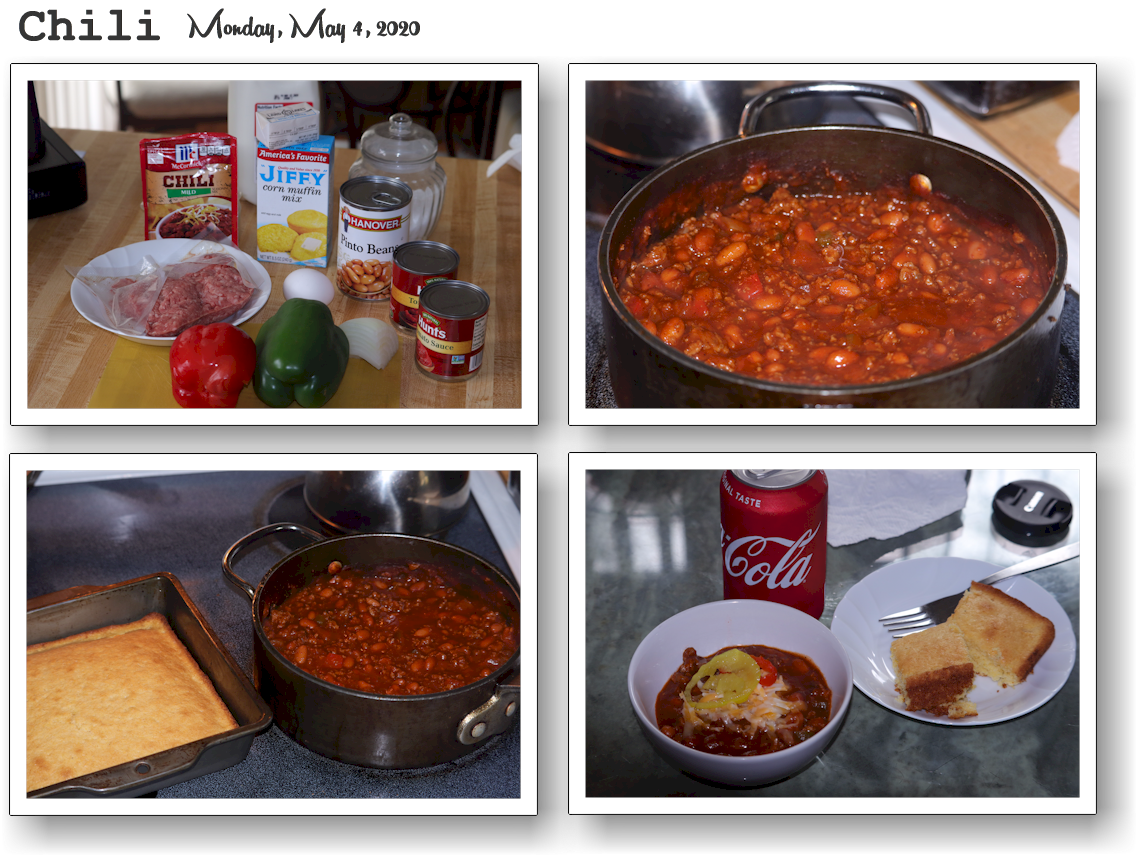 Somethings you may want to consider for your own menu planning:
Okay, with all of this shopping and cooking, do I find time for other things? Yes, the shopping takes up a lot of my time, however I am getting other things done. Many of my new tools and interfaces are ready to be installed on my sites, just looking at the same security issues and eating a lot...

Monday, May 25, 2020
We decided not to venture far from home for the Memorial Day weekend, so we stocked up on a lot of favorites to insure we had plenty to eat.
These days, I do most of the shopping and though I try to include a wide variety for meal planning, I think I am purchasing more sweets than were purchased in the past.
We are now purchasing meats in bulk and using a vacuum sealer to repackage smaller portions for daily meals. I like the choices this affords when planning meals.
For example, the meal today consisted of two ½ inch pork loin chops, purchased from Costco in bulk a little over two months ago.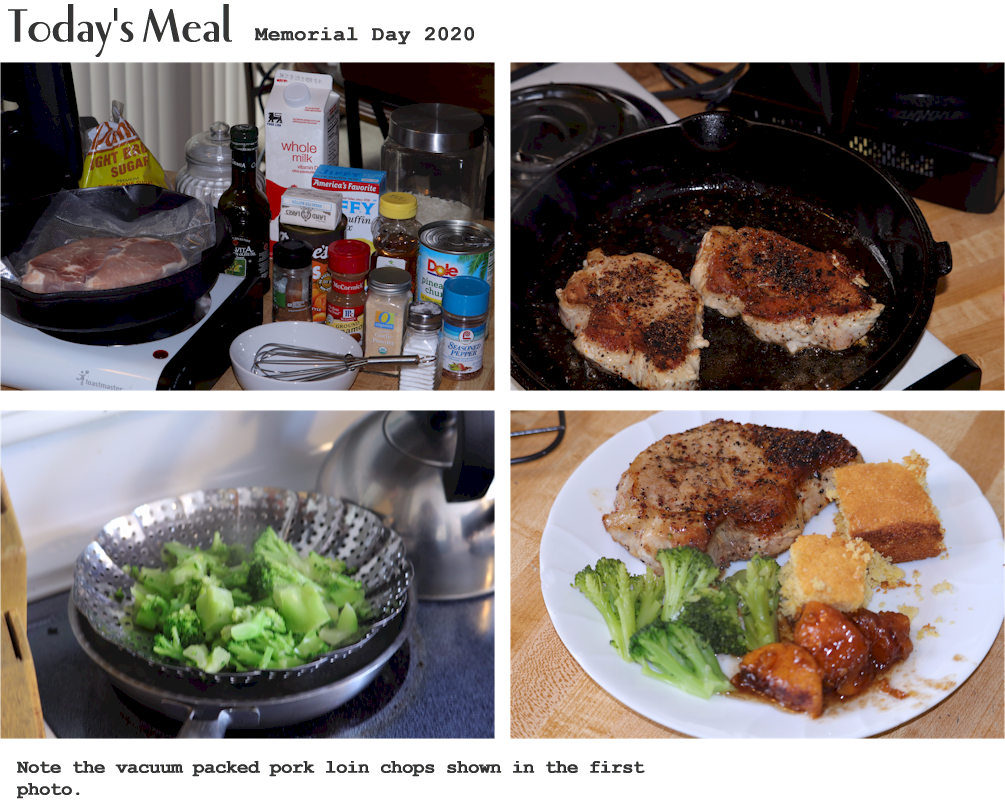 I like the vacuum sealer I purchased as a holiday gift for the house several years ago, however only recently started using it on a regular basis. Shown below, the sealer I have (no longer available) and a very popular unit- slightly more expensive.
I consider a vacuum sealer a great investment, and as I have already mentioned, love the fact I now have options in the freezer for meals.
Hope you are having a wonderful Memorial Day. Weather here- beautiful and I am finding lots to do around the house.

Thursday, February 13, 2020
Yesterday, I stopped by Costco and Safeway. I thought I would be doing all of this shopping on Friday, however weather forecasts though calling for rain, seemed to indicate the precipitation would begin late in the day, so I thought I could get most of this done by noon. Actually, arrived home after two, so it took longer than I expected.
For some reason, I have been craving a ham and cheese sandwich on a croissant along with a strawberry milkshake. So along with necessary staples, i.e., bottled water, paper products, coffee, etc., I thought I would get the ingredients to satisfy my cravings.
Strawberries were a little more expensive than I thought they would be, so I did not get the ingredients for a shake but did get everything I needed for my sandwich.
The croissants and pepper jack cheese purchased from Costco, and the ham, lettuce and tomato picked up from Safeway.
Other things I have been working on?
Updating my local master copy of the Celebrity Birthday Database (security issues preventing the online installation of the master version of the database). The almost 4000 entries included in the offline version are being checked for dead biography.com links which are being replaced with Wiki links. Very tedious process, however the database should be pretty robust by the time the work is complete.
Researching a problem with the "Who Are My Legislators?" interface accessed from the WiredPages Government page.
Reading, "Secrets of a Charmed Life" by Susan Meissner
Things are working out with my new Windows10 Mini insofar as duplicating my software development environment. Working a number of issues and ensuring I can duplicate development efforts normally worked on my older Mac system.
The cost to provide this duplicate development environment, given I needed new hardware and operating system to work effectively with newer technologies, was something I could afford at this time.

Saturday, June 01, 2019
One of the ingredients I use in my Cheesecake recipe, is heavy whipping cream. Normally, with the leftover cream, I use a Braun Immersion Mixer to make whipped cream.
The whipped cream though good, tends to lose its body after a day, so I found a Stabilized Whipped Cream recipe that I decided to test.
Short video- making the Stabilized Whipped Cream version...
Both versions of the whipped cream are good, however the version using the Braun Immersion mixer should be used immediately (it will destabilize over time). I think the stabilized version is worth the effort.
Things you may need for these recipes:

Sunday, February 03, 2019
Are you having friends over for the game? Are you looking for another snack idea?
Thursday, I stopped by the local market and picked up Old El Paso Soft Taco Shells. I wanted to make one of my all time favorite "diet" entrées, Chicken Fajitas. Weight Watchers used to offer a similar frozen entrée that I liked taking to the office.

Thursday, April 05, 2018
Yesterday, I made a carrot cake. I used a recipe adapted from one found online. The cake turned out great, however one ingredient as called for by the recipe, seemed excessive- the reason I am not providing the link here.
The recipe called for two cups of sugar, so I decided that just over half of that amount would be more than enough, given so many of the other ingredients were naturally sweet. I also based this decision on other cakes I have made using similar amounts of flour and sugar.
What else?
WiredPages and the associated Business Directory are getting quite a bit of my attention these days. Hope to release more of the updates in the near future.

Monday, January 22, 2018
Last Tuesday, I noticed an interesting email from Pinterest.com, highlighting Lemon Loaf Recipe ideas. Today, I decided to test one of the recipes (most who tested it, loved it.).
I am delighted with how these lemon loaves turned out. I only had a slight deviation from the original recipe. The recipe called for milk in the lemon glaze and I had none on hand, so I used half and half instead. I especially love the lemon glaze and the substitution did nothing to lessen the flavor.
The recipe also called for the zest of one lemon. After using a micro-plane to grate the lemon, I used a sharp knife to finely mince the zest. I have found that when a recipe calls for lemon zest, I tend to like it more- when the zest is minced a bit more.
I have also been cleaning out the basement and moving things around. I put components from an old stereo system in the guest bedroom and began testing the separate units. There may be a problem with the phonograph (turntable), however the other components are working fine.
I have been looking for new speakers to use with the system [currently using a pair of old headphones to check things out] and these caught my attention.
I think I am going to add the speakers to my Computer Electronics/Home Office store, listed below.
I love watching movies at home with stereo surround sound effects. Most of the televisions I use- have a stereo amp and speakers connected to the Verizon Set Top Box.
That said, I have been researching the Sound Bar offerings from Sony and Samsung which enable the same surround sound effects when combined with some of the newer high definition televisions. The new Sound Bar offerings enable more hook-up options i.e., bluetooth, HDMI, wifi, etc. than older amps and look pretty impressive. Is your den in theater mode?

Tuesday, May 02, 2017
About a week ago, most of my family went out of town. Before leaving, the fridge was stocked and I have been testing different recipes almost everyday.
One of my favorites- a roasted chicken breast with olive oil, cayenne pepper, salt, and the original chicken seasoning by McCormick. I roasted it in the convection oven-- according to the instructions in this recipe and added sides of fresh cranberry sauce and white rice.
Today, I grilled a steak on an indoor grill I purchased last year as a holiday gift that I decided to keep. The price on the grill was such a great deal, Amazon does not even list it with the order. Check here for more on the grill.
Short video capturing the grill in action today.
My new Canon camcorder produces MP4 and AVCHD [MTS] video files. Often I use the AVCHD setting for the higher resolutions. The camcorder has a built-in utility enabling quick conversion of AVCHD videos to MP4.
I also found a great video conversion utility which works with the MTS [AVCHD] video files, allowing for slightly higher file resolutions than the camcorder's built-in function.
Here is a screenshot of the AVC program.
This week, I also made a video showing how to make fresh cranberry sauce with frozen berries, however that video was 35 seconds and the steak video only 15, so I opted to use the shorter to discuss the AVC utility program.
By the way, I also love the grill.

Monday, January 09, 2017
Sunday, January 1st, 2017 I cut the base of my left thumb pretty deep with a pairing knife trying to core a cabbage. Though I called 911, I opted out of going to the hospital. I am happy to report the thumb is on the mend--- think [1] because I applied a lot of pressure quickly and [2] my mother and sister came through with the right first aid supplies.
I am still cleaning the wound every 24 hours and applying new gauze bandages and tape-- but mainly to protect the wound from re-opening. It is a very loose dressing to insure the wound gets enough air.
That said, this week I did get some things done.
Tuesday, went by my business bank to transfer some funds from my personal account to the savings account.
Paid off my holiday bills.
Did most of the prep work to e-file my Federal and State returns. Still waiting on an EIN number so that the reason I did not actually file the Federal return. Marylanders cannot iFile [e-file] before the 23rd of January 2017 so the other reason I did not file that return.
Caught early Down Under pro tennis action. The Australian Open starts Monday, January 16, 2017 [that's Sunday night here].
Caught the latest episodes [air dates: 1st & 8th] of Showtime's series "The Affair".
Tweaked the HDTV antenna [holiday gift] for the television in the guest room.
Tried out the new grill [another holiday gift].
Updating the stores [see upper right sidebar]. Noticed some great sales, too...
Recent meals...
If you are wondering how those HDTV antennas work, I have a short demo of how to set it up. Also note the television resolution- I think it looks pretty good.
Photos of the setup...
Minor setback to the new year, insofar as the thumb, however I think it is going to be okay. This is a big load off my mind.

Friday, November 25, 2016
Yesterday morning [Thanksgiving], I was up and dressed by 7:00 am and the turkey was on by 7:30 am.
In years past, because my parents' home was the site of so many festive Thanksgiving gatherings, I try to provide photos of the events going on now. Does anyone remember my Mother's beautiful holiday trivets?
I like the quiet holiday we now enjoy. In the past, I always felt I simply stopped in to have dinner, greet visiting relatives and old friends, and then left. I may have returned over the holiday weekend for "extended family" shopping trips or leftover dinners, however really just a visitor.
Now, I am much more the event planner. Before, my career was very important to me-- and I went to an office everyday. I hosted very few parties in my own home. An office Thanksgiving party was also a big event, also planned by others [in this case, office staff].
This more to say, although Thanksgiving is now different-- it is not bad. I love working and now I combine work with holiday planning. In the past, holiday planning was done for me. Believe it or not-- I used to give my Mother money to purchase the holiday gifts I gave. Now I do all of that.
This morning, I had plans to be at Arundel Mills for the beginning of Black Friday shopping, for a Hanover MD, Businesses project. I cancelled when I realized the Mall opened yesterday at 6:00 pm and has been open ever since.
I am almost done with my holiday gift purchases. Later today, I will be wrapping more gifts. By the second week in December, I will finish all of my shopping and we will start putting up the decorations and tree.
This year, I want to get out and enjoy the season more, however have no definite plans. Are you still looking for gift ideas?
Today, I am working and having leftovers for lunch.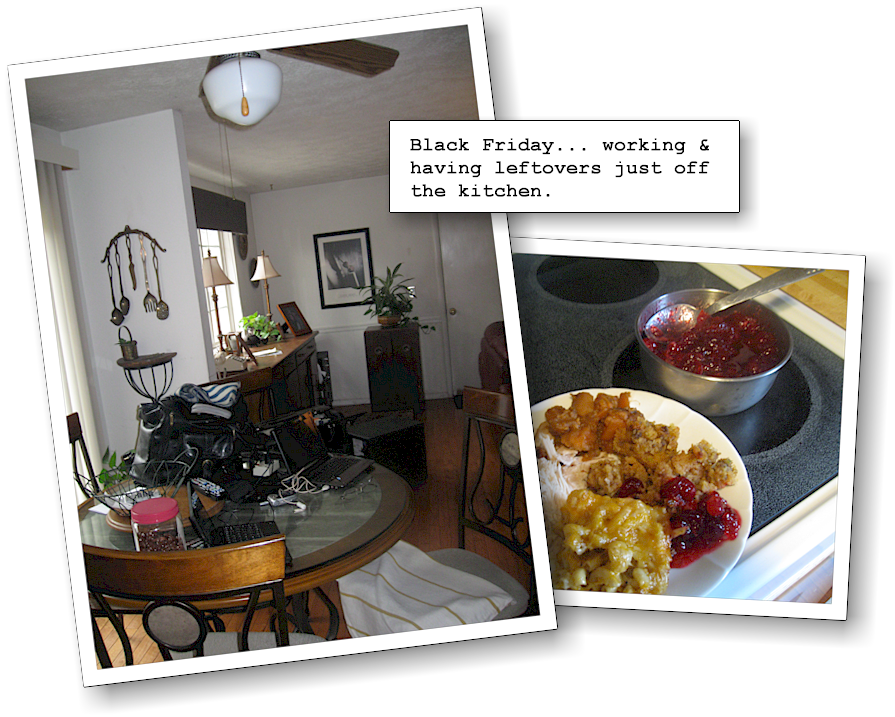 Sometimes, I simply cannot believe I make my own turkey and dressing with all of the trimmings...

Tuesday, November 22, 2016
I was up early this morning preparing some of the baked goods we will have for Thanksgiving.
Last week, along with some of the gifts for family- my new wallet arrived.
I cannot tell you how pleased I am with this purchase. I listed it in the "Items I Have" Category, however if you need other gift ideas you may like some of my finds...
Right now I am waiting for my cheesecake to cool so I can add the sour cream and sugar topping for the final bake [a ten minute process]. I am on schedule insofar as holiday baking. Hope your preparations are coming together.

Thursday, November 17, 2016
Today is my Mother's birthday. As previously reported, her gifts arrived November 8th, 2016-- and this morning I finally gave them to her.
On Tuesday, I went to the market to purchase ingredients for the cake, I changed my mind about making. You may recall- I did not think I was going to make her a cake this year.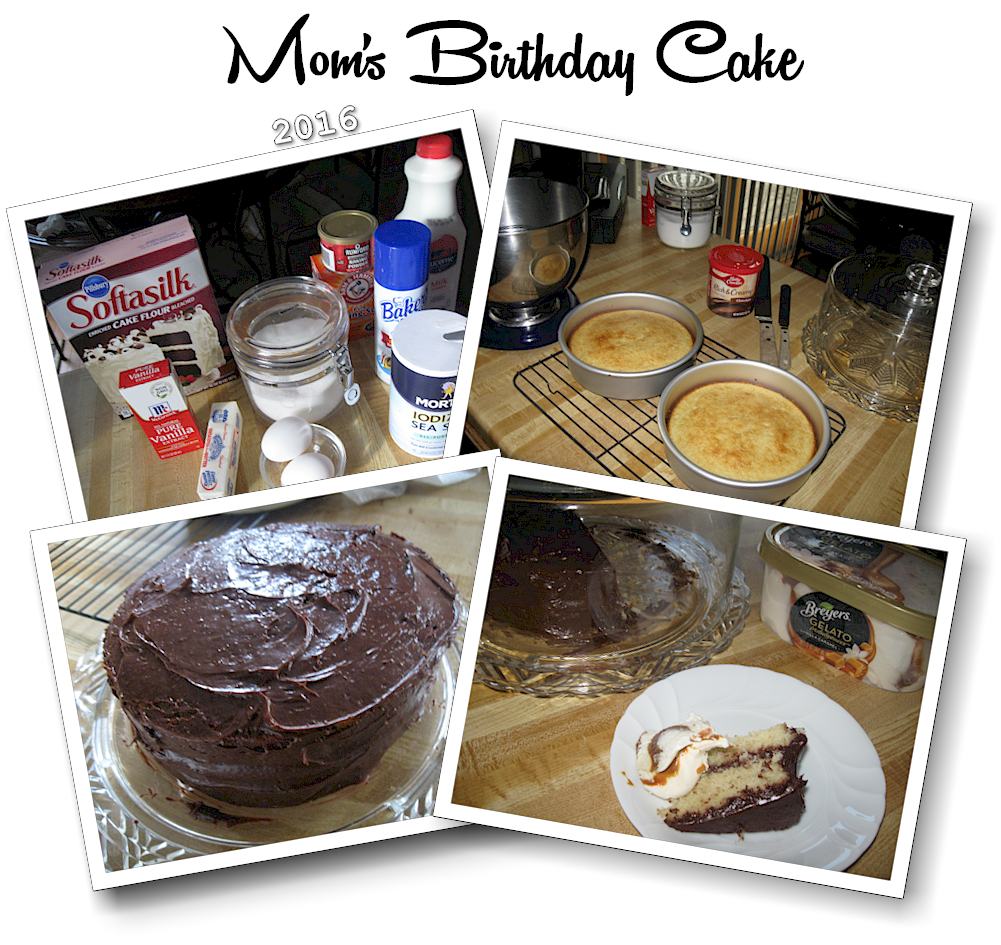 The tea set...
In August, when I gave my sister a similar set- she seemed to like it, so when I found this Ancient Coin Cast Iron Tea Set, I thought she might like it as well. She did, along with her new tunic top.
Big dinner and other plans tomorrow.

Sunday, November 13, 2016
I love cranberry sauce. I love it so much- I keep OceanSpray Cranberry Jellied Sauce on hand- year round.
That said, three or four years ago I started making my own sauce for the holidays, i.e., Thanksgiving and Christmas. Photos from last Thanksgiving.

I use the recipe on the back of the OceanSpray Cranberries bag which can also be found here. I use the non-frozen berries normally found in the produce section.
If you have not tried this recipe, you may be surprised by how much you like it.
I know- changing a traditional recipe at the holiday is often hard, however in this case, it is easy to keep on-hand a can of Cranberry Sauce or bag of Craisins, you can use later if it works out.

Other preparations for the holidays? I have been researching and shopping. Do you need gift ideas? I think I have found some pretty good ones:
I feel I am on schedule this year. How are your plans shaping up?

Sunday, October 02, 2016
I have been home alone since Thursday, September 29, 2016, because of an extended family health issue. Normalcy should return tomorrow.
This morning, I finally tested the Buttermilk Pancake Recipe I found on cookinglight.com and have to report-- it is pretty good.
Most are aware, because of legal issues- I do not like being mistaken for someone else. In the coming weeks I will be out a bit more than normal because of appointments I need to keep. My appearance is changing. Of course, I am getting older and it shows.
That said, I have been working on a project that slightly changes my appearance more. I simply want to note it...

Other things I have been up to?
Updating my Amazon Stores, see here, here and here. BTW: Found a Mac Mini slightly cheaper however with less memory. My software development environments require a lot of memory. Still researching...
Movie: The Private Lives of Pippa Lee w/Robin Wright Penn [caught last night]
Tennis: Asian swing, including current tournaments; the China Open and Japan Open Championships. Upcoming, the Shanghai Rolex Masters
And finally, see this post on my Business Blog, Remix.
It was a quiet weekend and I am told everything is as good as can be expected insofar as the relative's health issue. This is good news.