Monday, May 31, 2021
It has been a busy week, and I am almost happy the national holiday is about to come to a close.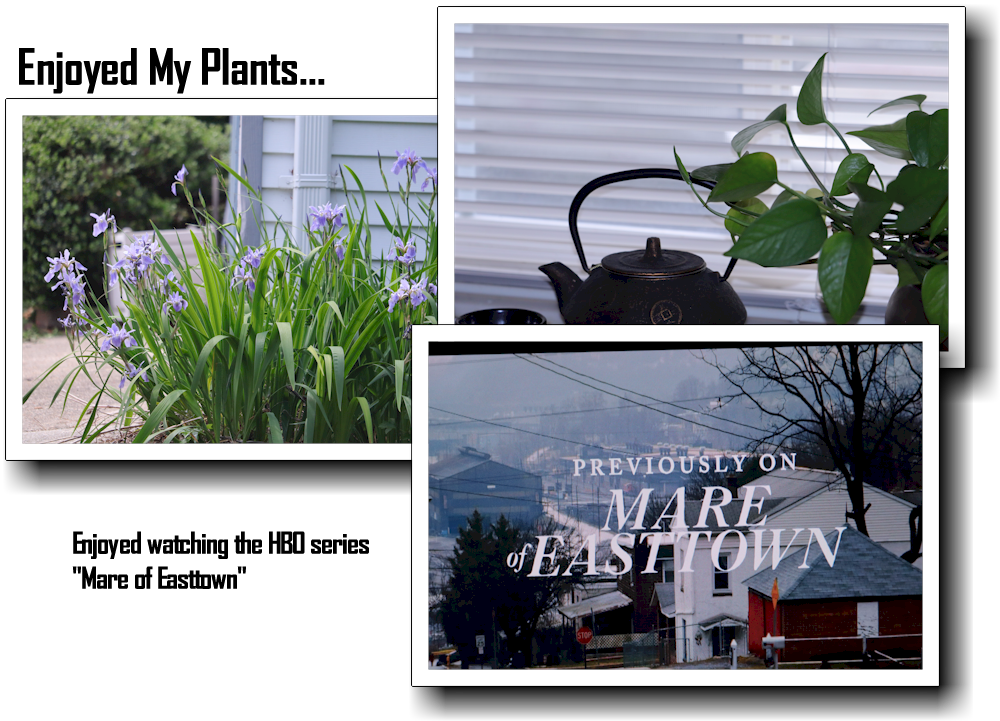 My activities included:
An assortment of visitors including relatives from out of town.
Meal preparations
Eating
Shopping (new espresso machine, groceries, household staples), stores included: Costco, Safeway, Food Lion and Walmart online
Gathered items for the dump, brother helped with delivery
Plants, housekeeping chores...
Article on patch.com about my high school alumni group
Header bidding updates and maintenance, Google AdManager and Unified Ad Marketplace
Website updates
Season finale of "Mare of Easttown"
Other photos taken over the last week, first set (below) - meal preparation.
Some of the meals prepared...
Last week, my espresso machine decided to call it quits, so I ordered a new one. In addition, I hit almost every market in the area in preparation for the week's meals.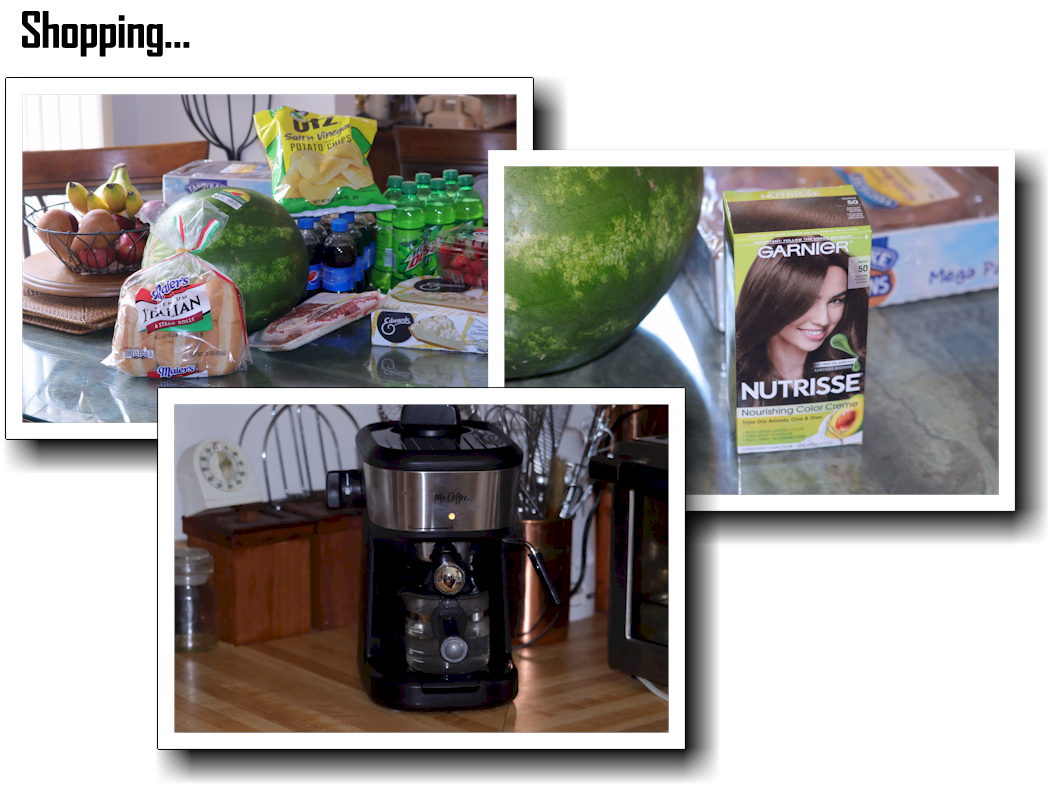 One relative stopped by on Thursday. Photos of me taken after the visit.
I have been meaning to get to my hair, simply cannot find the time. Hope you are having a nice holiday. Are you planning to catch the concert on PBS?

Saturday, November 28, 2020
It was a busy week. Shopping, cooking, preparations for a new project.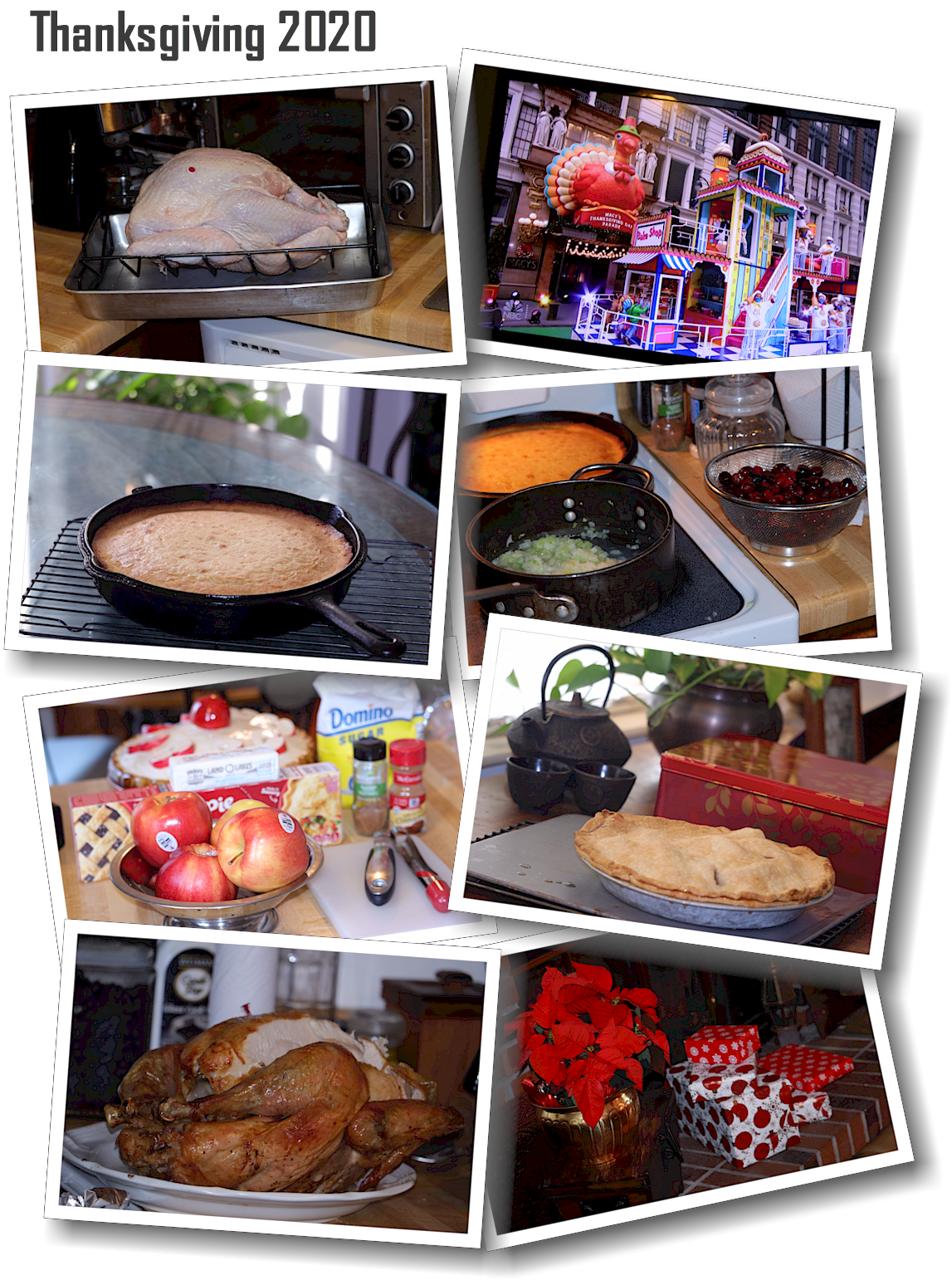 I liked this quiet holiday. I have several projects in the works, so it seemed- everyday over the last week, had any number of tasks that had to be completed, to be able to move on to the next step.
Over the last 8 months or so, I have been out a lot more doing most of the shopping and running errands. People seem busy. I am happy, because I am busy.
Sometimes people seem more upset at the holidays (for years, I have felt more like a bystander at the holidays, giving me the opportunity to observe more). This year is different. People seem busier. This makes me hopeful. Hope you are having a nice holiday.

Sunday, November 15, 2020
This time of year, I am normally out taking photos of beautiful autumn colors. This year is different. I find, I am spending more time ensuring the shopping, and other choirs outside of the house, are getting done.
That said, I have pulled out my camera- to take photos of the spectacular color just outside the door.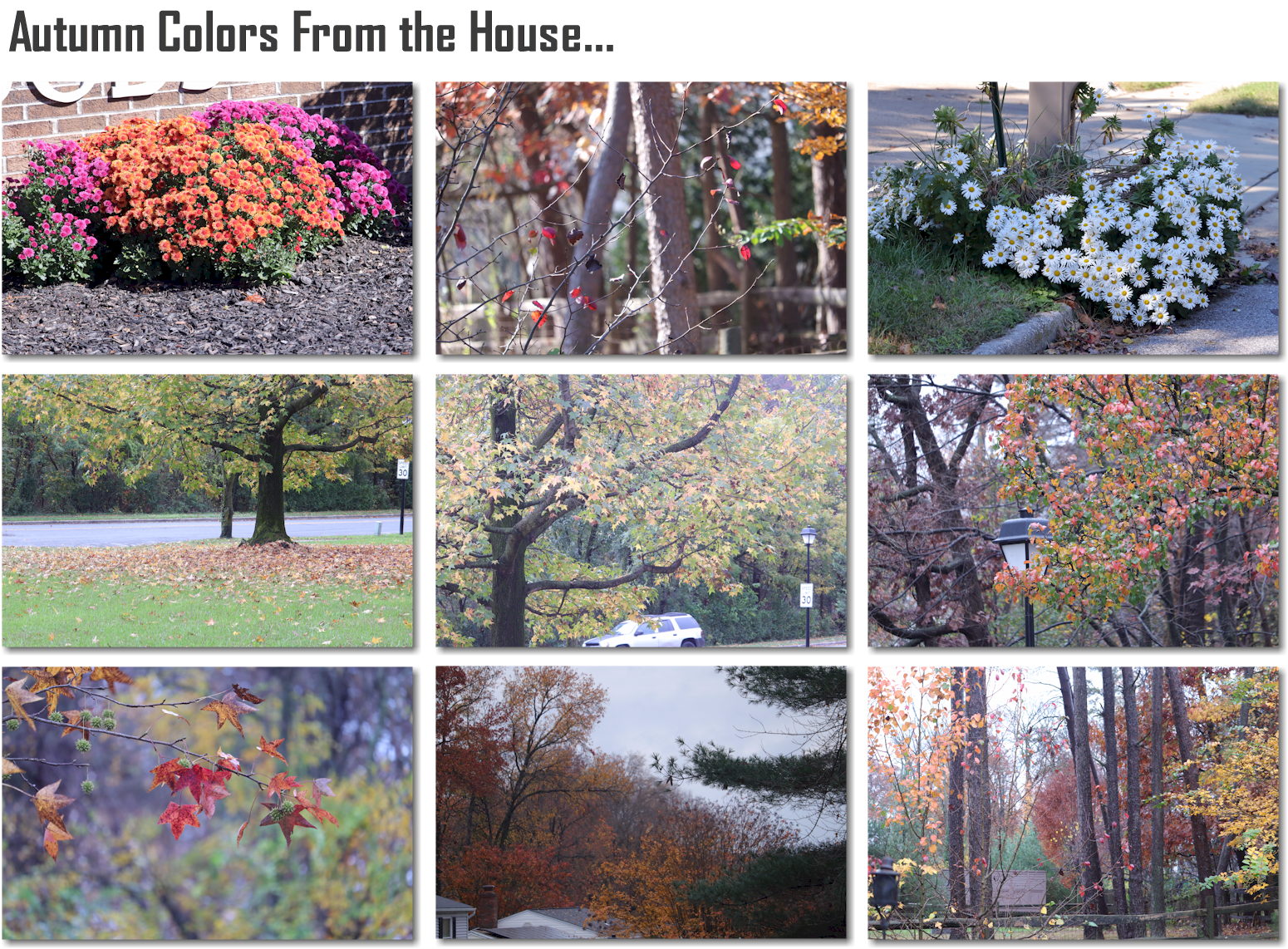 Another Fall 2020 project- "Shop My Sale" is an online marketing experiment I am undertaking, after noticing a new feature being offered by PayPal-"Sell on Social".
I have been going through rooms and taking photos of items never used- now. Things I thought about, but decided I really did not want to sell- are shown below.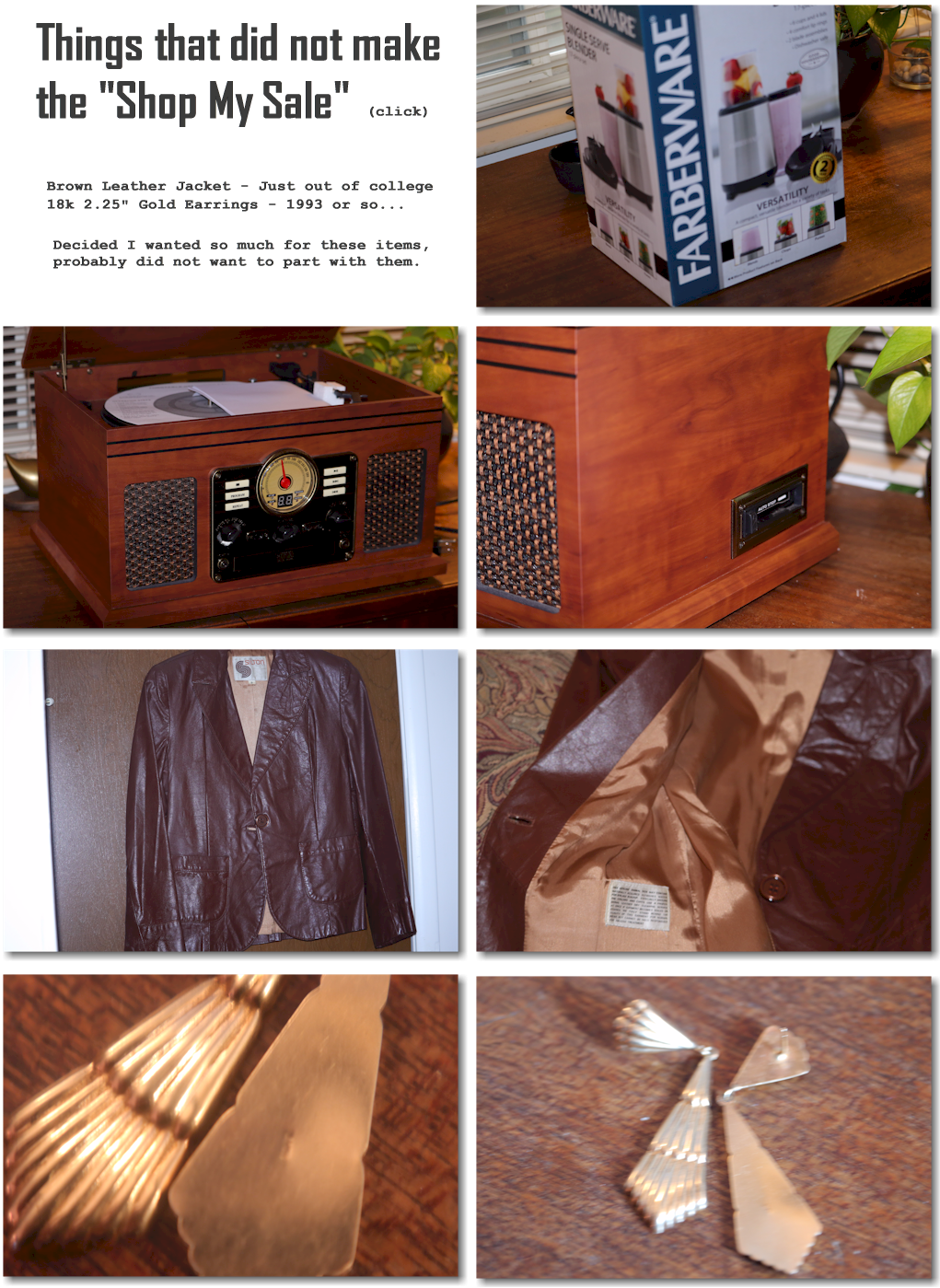 Why show them here? Just to show, what I have been up to. I really did not want to sell my earrings so when I came up with a $2000.00 price tag (I paid under a $1000.00 for them in 1993 or so), I decided, I really should not add them to my sale.
Other things I have been up to?
Yesterday, received a Cash Rewards check from one of my credit card companies, so that made me happy.
Trying to resolve a new problem with Facebook Page Plugins. I use this resource in various places on WiredPages and this blog. For some reason, the plugin will not show the fb page content unless the visitor clicks on the Like link. The thing is, you do not even have to like the page (happens if you are not logged into Facebook), for the content to then render correctly. This is a new problem, and I am still looking for a work-around. Visitors to my pages should not need to login to obtain the public content I am trying to provide. I have been using Facebook Page Plugins for over 2 years and loved the way this worked.
Online shopping for birthday and holiday gifts. This year, mostly, needed items and no- would love to have items.
Attempting minor repairs to my car.
Perusing market sales flyers (I am surprised by how much time I spend doing this, is it paying off? Yes.).
Hope your holiday planning is going well.

Monday, May 25, 2020
We decided not to venture far from home for the Memorial Day weekend, so we stocked up on a lot of favorites to insure we had plenty to eat.
These days, I do most of the shopping and though I try to include a wide variety for meal planning, I think I am purchasing more sweets than were purchased in the past.
We are now purchasing meats in bulk and using a vacuum sealer to repackage smaller portions for daily meals. I like the choices this affords when planning meals.
For example, the meal today consisted of two ½ inch pork loin chops, purchased from Costco in bulk a little over two months ago.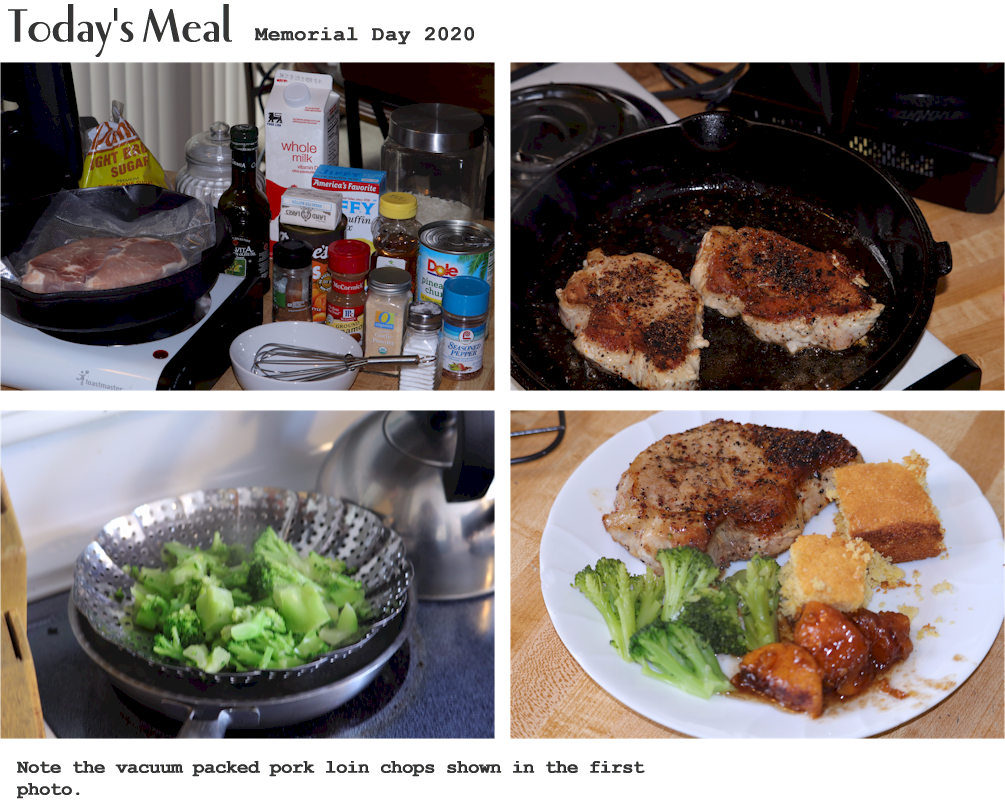 I like the vacuum sealer I purchased as a holiday gift for the house several years ago, however only recently started using it on a regular basis. Shown below, the sealer I have (no longer available) and a very popular unit- slightly more expensive.
I consider a vacuum sealer a great investment, and as I have already mentioned, love the fact I now have options in the freezer for meals.
Hope you are having a wonderful Memorial Day. Weather here- beautiful and I am finding lots to do around the house.

Friday, January 03, 2020
In 2019, I had any number of unexpected business related expenses, where I spent more than I originally budgeted, for the year.
Major 2019 Business Expenses
Replaced my Canon "Point & Shoot" camera with a Canon DSLR (EOS M50)
Replaced my Android
Updated a Windows 10 Tablet with a Windows 10 Pro Mini platform
Luckily, this year my family provided holiday gifts in the form of money so I was also able to afford a personal care unit I have always wanted to try.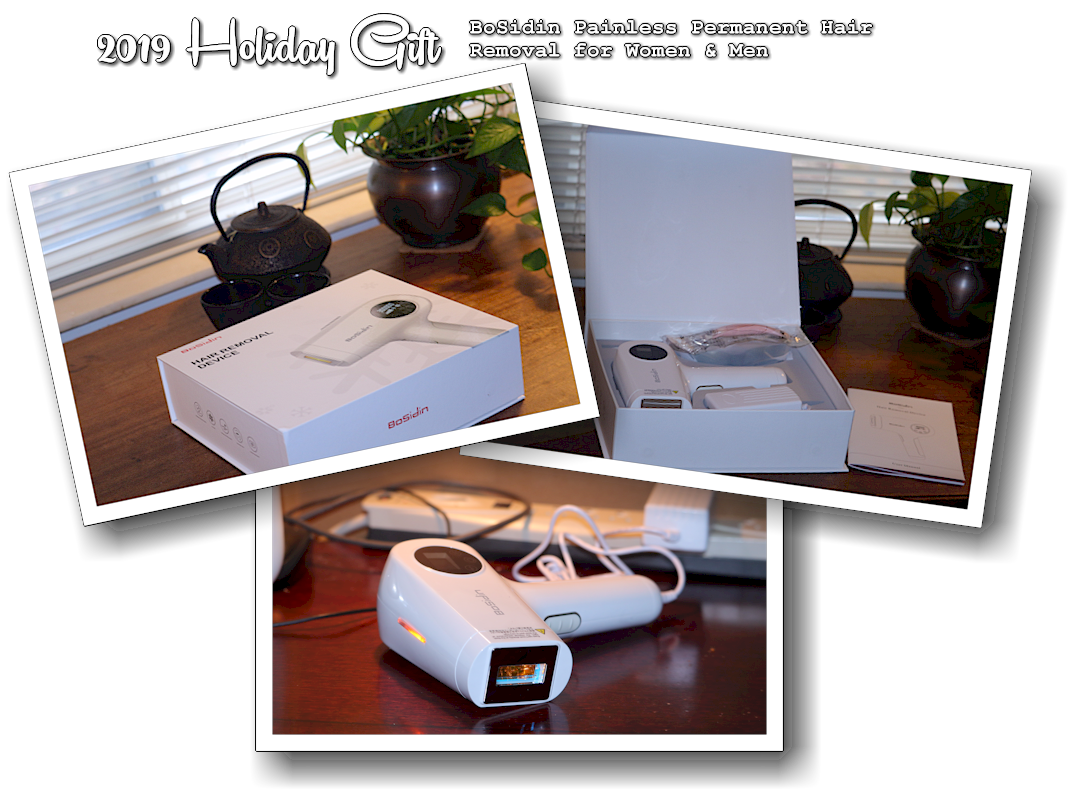 I did a bit of research before purchasing the BoSidin Permanent Hair Removal System and though quite happy to date, still in the early stages in the use of the unit.
Other considerations as related to the selection of the gift? (1) I am dangerous with a razor blade, though some of the newer technology is pretty good. (2) my cordless razor battery died. (3) I wanted a more permanent solution.
Hope your New Year is off to a great start...

Saturday, December 28, 2019
I have no plans New Year's Eve, however earlier this month I ordered two new lipsticks to test, and decided I could use the Blazing Lava L'Oreal Lipstick if I changed my mind.
The other lipstick, L'Oreal Peony Pink is not as festive and more an everyday look for me.
Through the weekend and up until the first, I will be preparing my sites for the new year, i.e., updating copyright information and ensuring any new year's regulations and policy requirements are current as related to my sites.
What are your plans for New Year's Eve?

Saturday, December 14, 2019
It was a busy week, highlights included:
Replaced a brake lamp bulb on one of the cars (The internet allows me to think I can repair anything).
Trip to the market.
Online shopping & waiting on the deliveries.
Wrapping presents.
First holiday gift: Handy Multi-Use Tool - Synchrony
Putting up the tree and the rest of the holiday decorations.
Correcting a problem with the Instagram API Demonstration application.
Fixed the submit button issue with the map tool on the WiredPages Dining & Travel page.
Beautiful moon in our area on December 11th, 2019. The following photos taken with my Canon EOS M50.
Hope your holiday preparations are going well.

Friday, November 29, 2019
I have had a busy week, running errands and preparing for Thanksgiving. Lots of shopping, cooking, and an appointment or two. Who sets an appointment Thanksgiving week?
The last three days in photos...
So much going on here and elsewhere this holiday season. Social media updates...
Found this holiday tune while listening to a station via an Echo device. An old song, however a new favorite for me.

My Echo devices (Note: 2 Echo Inputs):
Hope you are enjoying your Thanksgiving holiday.

Friday, September 13, 2019
Starting to update the Gift Ideas post and ran across an idea I thought might be interesting for a kid's birthday, costume or Halloween party theme.
These NFL youth costume theme sets could be a hit with the kids and cost between $17 and $75 depending on size and team.
I am only showing four of the theme sets, however most of the NFL teams are available.

Are you ready for the holidays? I am trying to get into the swing of things, however I am a little late with some of things I want to do this year.

Tuesday, December 18, 2018
I am always looking for new ideas to add to my stores. That is why recently, while taking stock of items in the guest bedroom/sewing room I found one or two items I decided to add to my Gift Ideas list.
What's in your guest bedroom?
I like the idea of the quilt rack, and quite pleased when I received a similar item in the late eighties as a holiday gift. Unfortunately, my rack was damaged in a move, so the one shown is the one in my parents home.
The valet stand was a gift for my father. Though I think a nice gift, now rarely used.
The other gifts continue to be used. One of my favorites, the convection oven. I use the oven quite a bit and now cannot imagine- not having this appliance in the kitchen.
The fur trimmed cape? I love this gift for its simple elegance. It works with both evening as well as more causal daytime attire. Swank enough to look stylishly expensive while walking the dog in the city? Yes, you will need the right pencil skirt, however the one shown was less than $100. The lace-up heels match the charcoal grey cape perfectly.
This post really is not about last minute gift ideas. It's really about the old gifts I found in the guest room-- and holidays remembered.

Monday, December 10, 2018
Holiday decorations a little less than normal, however happy they are in place.
My holiday shopping is almost complete. Spent more than I planned, however happy with all of my purchases. Are you still looking?
It was an easy weekend filled with holiday good cheer, music, and foods I love. Hope your plans are going well.

Monday, December 03, 2018
In September (2018), I noticed savings rates offered by several of the major banks were starting to rise. In October, one of the online banks was offering a 2.65% APY CD, so I scraped together just over the minimum required deposit amount to open the account.
Since then, I have watched savings rates offered by CIT and Synchrony Bank (two of the more popular, highly rated online banks), rise and just recently, start a slight decline.
Since starting my research, I have noticed banks tend to offer higher rates on savings accounts going into the Fall/Winter holiday seasons and then taper off after the new year.
Would you like to do the research?
I know, it is hard saving this time of the year. Last night, I added more holiday gift purchases to my credit card and though not dreading the bill (which will be paid off entirely when it comes due), know that I do not have extra funds right now for another high interest savings account, though I will continue to track the rates.

Saturday, November 24, 2018
Holiday photos from last Saturday through today (Saturday, November 24, 2018).
Recent movies:
The Post
Red Sparrow
Collateral
American Made
Plans? Several software development projects, WiredPages updates, and holiday shopping.

Friday, November 09, 2018
This morning, I added two new photos as part of a story to my Instagram feed. When I checked the QiSoftware Instagram API Demonstration Tool, I noticed the error illustrated below, in the image on the left.
I am happy to report, the correction involved a simplification that is going to make my server happier. I was parsing the data, based on the type of post, i.e., single image, story carousal or video, and not the top level container for the post. Less "if" branching. Pleased with how this worked out.
Other projects?
Minor adjustment to the Movies tab on the fb HanoverMDBusinesses page.
New updates to these WiredPages:
Mid Autumn Photos, I love this time of year...


Planning for the Holidays? Lots of things going on in my hometown. How about yours?

Saturday, December 30, 2017
I have not done a video in awhile, so I decided to demonstrate some of the things I have been doing with our new Alexa Echo. The video is a bit longer than some of my others- and of course I am still coming up to speed with taping, editing and using video in blog posts.
New holiday gifts were added to the "Items I Have" list. Are you taking advantage of some of the great after Christmas bargins?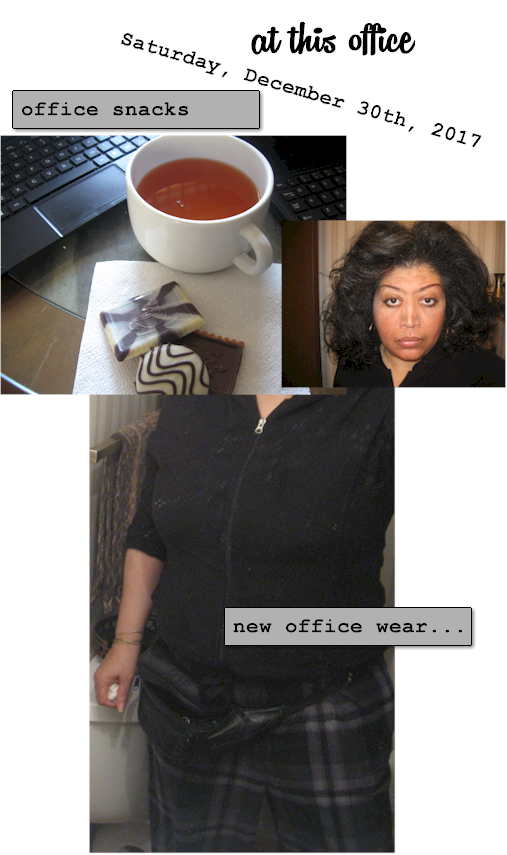 Happy New Year!

Sunday, December 17, 2017
We have awakened to snow for the last two Saturdays. It is beautiful, in that it is not enough to keep us inside [illustrated in one of the photos below].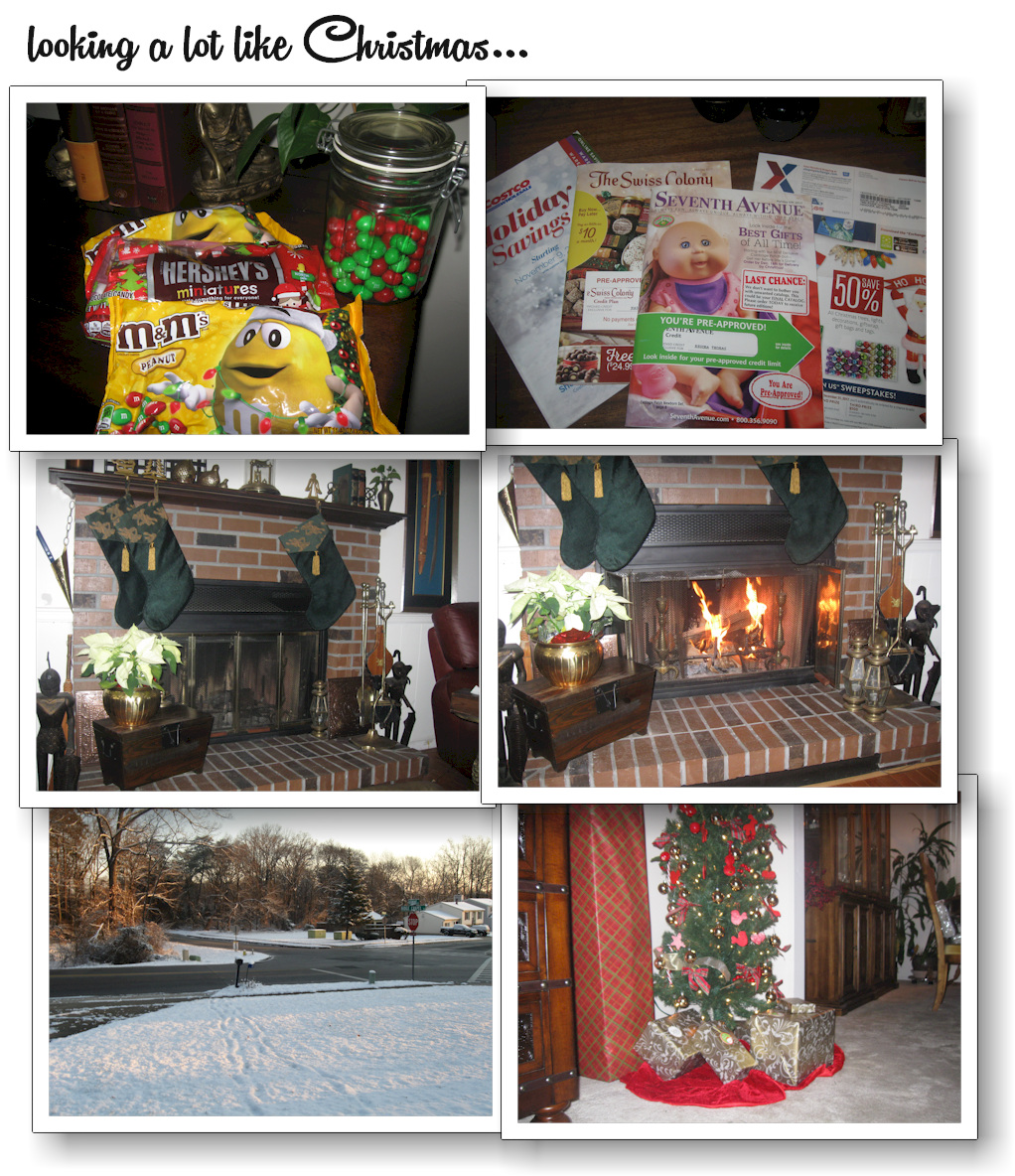 The decorations are up, chimney cleaned, plans and shopping for the holiday dinner complete, and most of the presents wrapped. I think it looks a lot like Christmas around here.
Are you still looking for last minute gift ideas?
I spent most of the day putting away groceries, backing up qisoftware.com and moving over 800 photos from the card in my camera to an Apple iPhoto Library on a flash drive. FYI: qisoftware.com now requires about 2GB of space for the compressed tar file.
Are you using the Facebook Pixel? Recently, I added "Pixel" code snippets to several areas on qisoftware.com and began preparing the site for the new year.
Hope your plans are going well,

Wednesday, December 06, 2017
Today, I am expecting my first holiday gift purchase. I wish I were a bit further along with this project. I think the problem, I started researching for holiday gifts [for the stores], in early October and now cannot decide what I want to give anyone on my gift buying list.
That said, I am enjoying the holiday season, even though I am taking my time about decorations and gift buying.
This year, because of areawide commercial and residential expansion, there are a lot of new homeowners in the area. I thought the holiday decorations in the new residential areas might be impressive, and quite frankly are not disappointing. Parkside is one of many new residential areas in Hanover.
The package did arrive today as shown in one of the photos below, along with other recent photos...
Other things I have been up to:
Movie: Unforgettable
Researching Google DoubleClick For Publishers API resources.
Store updates...
Social media posts.
Planning to get out a bit more next week, so I can finish my holiday shopping and look into several projects I want to start. Hope your plans are going well.

Sunday, November 26, 2017
This year, my Mother's Birthday and Thanksgiving fell relatively close, so it seemed- if I was not planning for one celebration, I was planning for the other.
As usual, my brother-in-law provided the beautiful Poinsettias that will decorate the entry and fireplace this holiday season.
For her birthday, I gave my Mother a gift card and made her favorite brownies.
I seldom purchase gift cards, however this year she seemed interested in any number of items she found online at one of her favorite department stores, so I thought it a safe bet.
That said, I have been updating my stores with seasonal finds I want to add to my shopping cart instead of gift cards:
Also keeping me busy:
Social media posts, see here.
Switching protocols from FTP to SFTP for areas on qisoftware.com that require frequent updates, i.e., Remix and this blog.
Research related to local area businesses.
Hope you are enjoying the holidays.

Saturday, November 11, 2017
Do you have a cash rewards credit card? I received a $50 check in the mail Thursday, because I finally reached the payout threshold with the latest billing cycle.
All in all it was a nice week...
That said, I did not feel well yesterday morning. I felt so bad, that even though I wanted to go inside my bank to deposit the check and ask questions about a service offering, I chose to stay in the car and use the drive-through window. Glad I am feeling better today.
Earlier in the week, I worked on the stores and several other projects.
Also happy to report no more problems with my Android. See the last post.
Are you interested in what's going on insofar as National Holiday Events? How about events in my area, Arundel Mills/Live Casino? All of this looks pretty festive.
I am also putting together my market list for Thanksgiving. I wanted to try something new this year, however I think I am going to do the traditional Thanksgiving dinner. What about you?

Sunday, May 28, 2017
It is a beautiful quiet holiday weekend here and I do not have much on tap.
Things I have been up to?
Those in the area may have noticed, I have been out a bit more researching and photographing ongoing projects.
Also still thinking about new websites [discussed in the last post] and all that entails.

Monday, January 09, 2017
Sunday, January 1st, 2017 I cut the base of my left thumb pretty deep with a pairing knife trying to core a cabbage. Though I called 911, I opted out of going to the hospital. I am happy to report the thumb is on the mend--- think [1] because I applied a lot of pressure quickly and [2] my mother and sister came through with the right first aid supplies.
I am still cleaning the wound every 24 hours and applying new gauze bandages and tape-- but mainly to protect the wound from re-opening. It is a very loose dressing to insure the wound gets enough air.
That said, this week I did get some things done.
Tuesday, went by my business bank to transfer some funds from my personal account to the savings account.
Paid off my holiday bills.
Did most of the prep work to e-file my Federal and State returns. Still waiting on an EIN number so that the reason I did not actually file the Federal return. Marylanders cannot iFile [e-file] before the 23rd of January 2017 so the other reason I did not file that return.
Caught early Down Under pro tennis action. The Australian Open starts Monday, January 16, 2017 [that's Sunday night here].
Caught the latest episodes [air dates: 1st & 8th] of Showtime's series "The Affair".
Tweaked the HDTV antenna [holiday gift] for the television in the guest room.
Tried out the new grill [another holiday gift].
Updating the stores [see upper right sidebar]. Noticed some great sales, too...
Recent meals...
If you are wondering how those HDTV antennas work, I have a short demo of how to set it up. Also note the television resolution- I think it looks pretty good.
Photos of the setup...
Minor setback to the new year, insofar as the thumb, however I think it is going to be okay. This is a big load off my mind.

Tuesday, December 27, 2016
Christmas morning, I was showered and dressed by 6:00 am- and ready to prepare the dessert [chocolate cake] for the day. After everyone arrived, we opened gifts [around 11:00 am] and then had cake. Dinner was later.
It was a nice Christmas.
This morning, I went by the bank to deposit my gift money, because the banks were closed yesterday [December 26th- in observance of the holiday]. Other than that, I really did not get out much over the weekend.
I started reading Philip Roth's "Indignation" Friday night and though a short novel, read a bit each night and finished last night. I like period pieces like this and this was a very interesting read.
Closing out the year, I will work on my sites, look into filing my taxes, update the stores [see upper right sidebar] and work on the HanoverMD Businesses page on Facebook.

Wednesday, December 14, 2016
This week, finally put up the holiday decorations.
I have been busy with various projects and wanted to wait until a bit later, however the guest bedroom was being overtaken by presents.
Earlier in the week, I had a free moment to go through the boxes in the basement and I found my Mother's decorative plaid ribbons from years ago. I decided to use them on the tree again, this year.
Hope your plans are going well. FBI-- there is a problem. Please check into this.

Friday, December 09, 2016
Normally, I purchase new business equipment in January or February of each year. This year, new business equipment purchases will be before the new year arrives.
Business tools and equipment I have been researching?
Sports Camera. I am shooting more video for social media accounts, i.e., Facebook & Instagram while also producing short video clips for this blog. I want sharper resolution and better audio quality. Some of my research results:

Bluetooth Speaker with a built in microphone for Skype calls, however robust enough to support YouTube and iTunes playback.

The sports camera will also need WiFi connectivity for Skype video calls. Most of the newer cameras support this feature with a lot of flexibility in price. I like the idea of being able to clamp the camera anywhere for video calls. My best angle is higher than eye level.

Are you still looking for gift ideas? I have listed new items like Hibachis and Kitchen Flame Torches [I cannot believe how inexpensive some of these are now] under the Home Furnishings & Kitchen Category.

I purchased a Hibachi when I moved into my first home years ago as a young professional. I no longer have the grill- and quite frankly, only used it once or twice, however just loved the idea of owning one.




Thursday, December 01, 2016
Seems like it took forever for December to arrive. Maybe I feel this way because this year, Thanksgiving fell so early in the month and I have completed my holiday shopping.
I think we are putting up the rest of the holiday decorations, the end of next week. Sister stopped by Sunday, with the Poinsettia.
Other things I have been up to:
Movie: Batman v Superman: Dawn of Justice [premiered on HBO Thanksgiving weekend]
The Affair on Showtime-- new season started November 20, 2016.
Movie: 45 Years
Social Media [areas working]: High School Alumni Group (FB Admin), Hanover Businesses also on FB.
Paying bills: qisoftware.com hosting, cell phone, etc.
Researching tax issues. I am a sole proprietor [legal business entity in the State of Maryland] enabling me to use a combined status for personal and business tax filing & reporting. This calculator a bit out of date, however still useful.
Research for my stores. [Been here before? Start at the last page of the shopping category for new additions.]
Miscellaneous photos of things going on around here...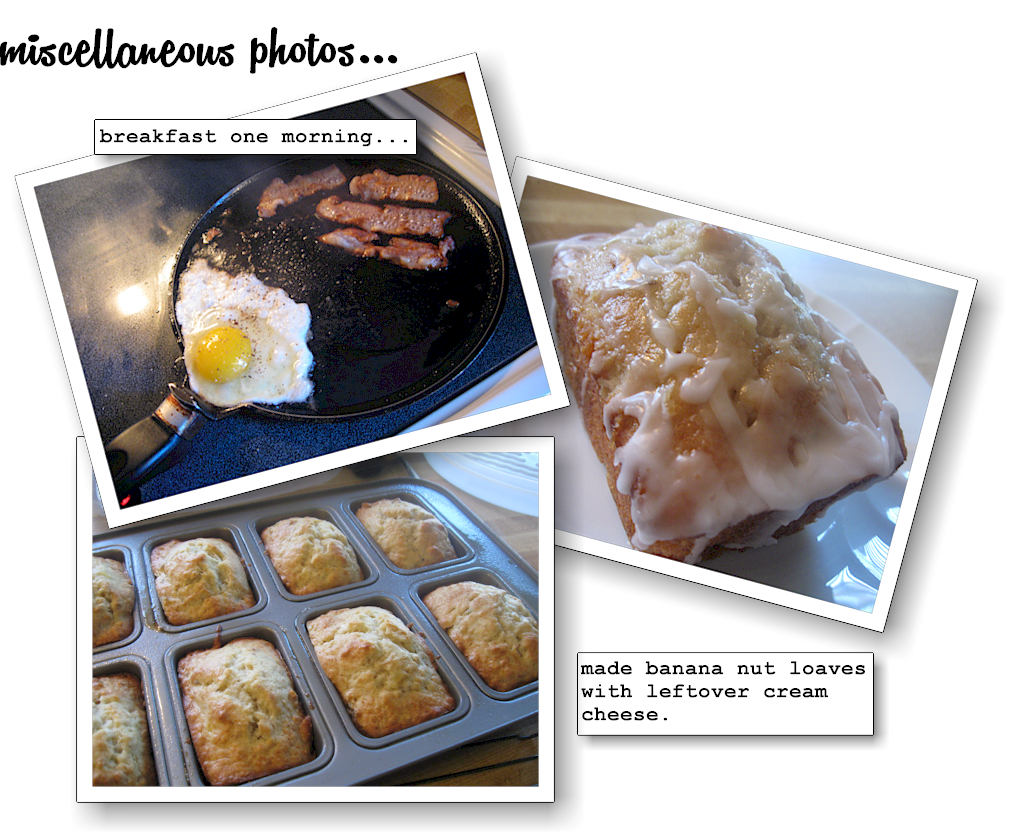 How are your plans shaping up?