Tuesday, January 26, 2021
On two occasions over the last week, I had the opportunity to witness the use of a Verizon MiFi 6620L Jetpack 4G LTE Mobile Hotspot unit used with an HP laptop. Thought this was pretty impressive.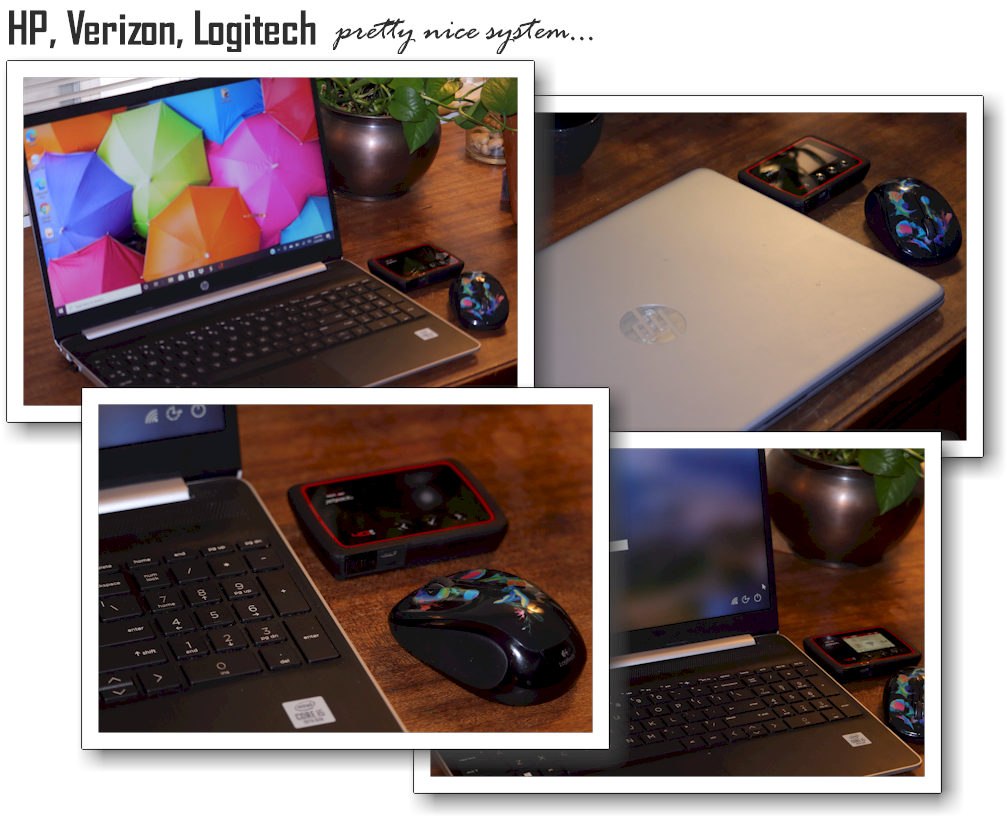 I own several computing platforms, however most are not true mobile systems, in that I am tethered to both my dedicated wifi service and electrical current. These days, I prefer working in this more secure environment, however if I needed to be truly mobile- would definitely look into the acquisition of similar hardware. My choices shown below:
I also checked into current pricing options for mobile hotspot plans and found an interesting article on the Android Authority.

Monday, December 14, 2020
Today, while searching for a Windows 10 utility for screen video capture, I discovered Windows 10 comes with a screen recording utility called "Capture" "Game Bar".
To activate the program, on your keyboard use the Windows key in combination with the "G" key.
I recorded the following video using the capture program. The video discusses a new Java servlet I started work on today, which uses the Share This API.
The resolution on the monitor I used for the screen capture was 2560x1600. The original output file was over 34MB. Since I am not using Youtube for this demonstration, I converted the file to a smaller format.

Tuesday, January 14, 2020
I have been researching portable monitors for awhile and finally decided to purchase the Elecrow 10.1" 2K IPS Touchscreen Monitor.
Initially, the touchscreen capability was not a high priority, however overtime decided I would prefer a portable monitor with this option. When I found the Elecrow, several of the features I wanted with a monitor of this type were met, including:
Touchscreen
Monitor Size: 10.1 inches
Screen Resolution: 2560x1600 (2K)
Cost
The following is a short video demonstrating the Elecrow touchscreen feature.
Video Quality: I shot the videos for this post using my Canon VIXIA HF R700 Camcorder then merged the video files using a 640x480 lower resolution file size. This done mainly to accommodate my web hosting server. The original MP4 file was over 25MB and the converted file less than 10MB.

Tuesday, December 24, 2019
I am baking today, however I wanted to take a moment and tell you about a recent acquisition that I am pretty pleased about.
I imported most of my CDs to iTunes, and have the app installed on several mobile devices. In March of this year, while using an unprotected charging device, I believe I damaged my first bluetooth speaker (no longer accepting a charge), so I caught a sale and picked up this DOSS SoundBox XL 32W Bluetooth Speaker.
In addition to iTunes, I have several Echo devices hooked up to stereo and/or amped standalone speakers, enabling Alexa music requests in most areas of the house. I tested the new speaker with all of these systems and found in most cases the audio was greatly enhanced, however not in the den.
Systems around the house using other Echo devices where the Doss speaker made a significant difference:
If you are looking for a new bluetooth speaker, I think you will find this speaker has surprising output.
P.S. Issue from the last post, cleared up. I am so pleased about this.

Wednesday, October 30, 2019
Recently added to the collection of Alexa devices used in our home to include two new Echo Input units-- reference Instagram Post.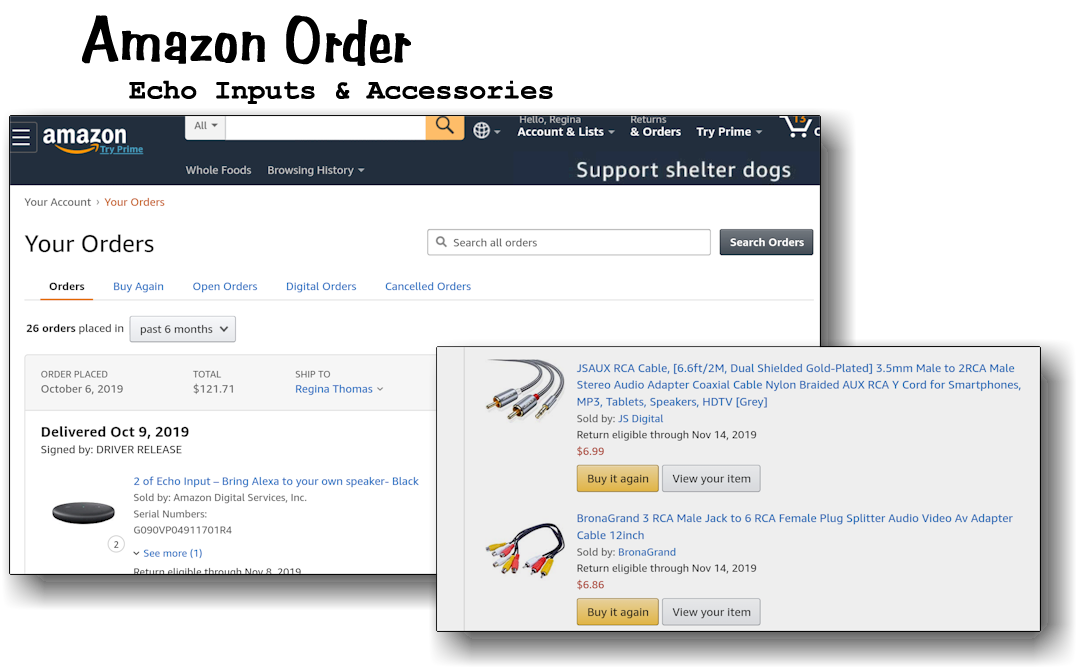 As noted in the above illustration, the order included RCA Splitter and RCA to 3.5mm adapters.
Pretty pleased with how this worked out, in that we already had the bookshelf stereo system and standalone amp speakers we wanted to use with the new devices. Note: I needed the RCA Splitter Adapter to allow both the Verizon Set-top box and Echo Input to output sound to the bookshelf stereo system.
Alexa devices currently used in our home, include:
One of the new Echo Input devices was setup in my office.

I love being able to put on a smooth jazz station while working. The bookshelf stereo system that was already in the office, offers a lot of sound, in that the on-board equalizer offers plenty of options.

Sunday, July 21, 2019
I have been playing around with the Digital Slave Flash that came with the Canon EOS M50 bundle I recently purchased. What is a Digital Slave Flash? It is an external flash that can either be attached to your camera's hot shoe, or positioned away from your camera and used as an autonomous light source that is triggered by the camera's flash.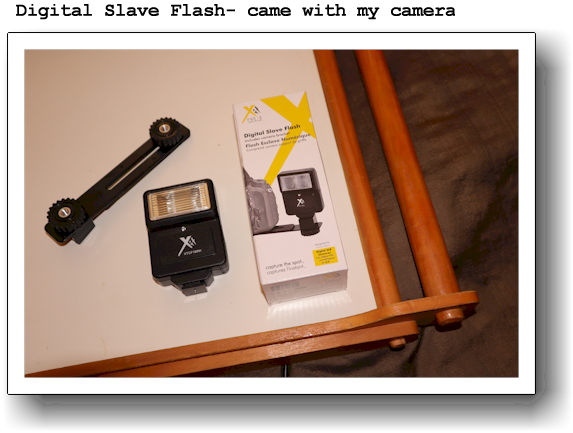 In the above photo, I am of course- not using the external flash and there is very little glare from the camera's flash. I had to slant the camera away from the items to avoid the glare.
The two photos that follow show (1) a photo taken without the digital slave flash and (2) a photo taken with the external flash. I was working on a post for one of my Facebook pages, in my dimly lit bedroom this morning when I decided to pull out the external flash.
Based on my experimentation, I noticed the two flashes working in unison and when positioned correctly, negated a lot of the flash glare.
I know how to set shutter speed and IOS (manual focus settings) without using a flash to allow enough light for a decent photo, however also like using a flash. I simply think I need to learn how to use a flash more effectively.
I am having a lot of fun playing with my new camera. Professionals who have used DSLR cameras are going to love this camera and newbies like me are going to be very pleased with how easy it is to learn what the professionals know.
Background Data (Photography):
This goes without saying, I am not a professional photographer, however I take all of the photos used by my Instagram accounts and blog posts.
In college, back before digital cameras, I took a black and white photography course as an elective- to learn the basics. I have been in a darkroom and learned to use developer, stabilizers, and enlargers. I remember often being a little panicked about opening the film canister (in the dark) and getting the film into the solution.
For digital photography, I have been using a great Canon (A590) Autofocus Point & Shoot and only now, just beginning to understand the complexities of digital photography (and manual focus), with my new DSLR camera.

Thursday, January 03, 2019
I have been working several projects including updating my sites for the new year. This mostly involves updating the copyright year, i.e., 2002-2019 for site pages that provide the data.
I have also been playing around with a new audio resource. I am pleased with how this worked out. The video does not provide the actual robust audio quality, however you may get a sense of how well this works.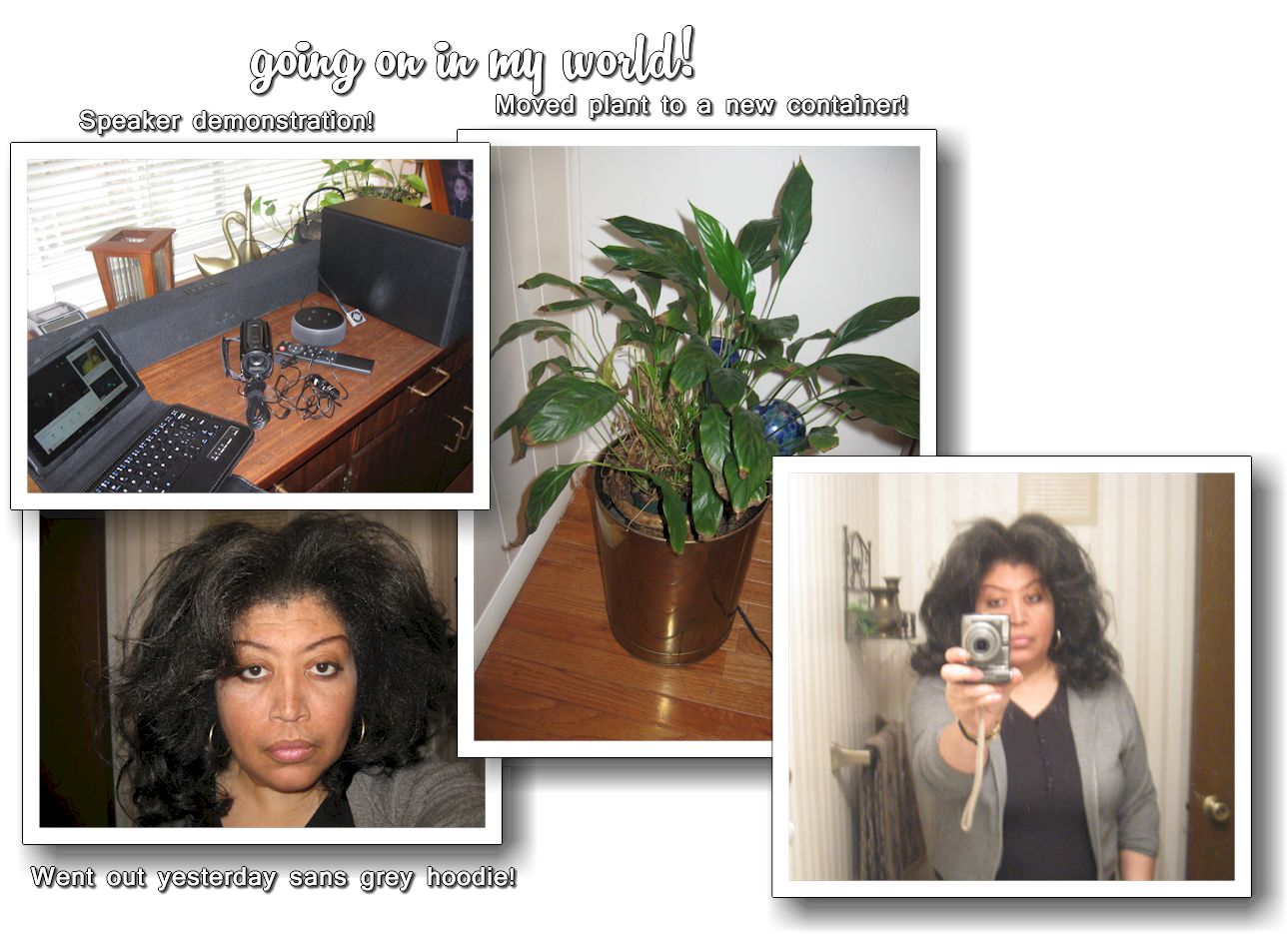 The video provides demonstration of Alexa Echo Dot, Apple iPod Mini and Youtube video via my Android as sample input audio to the 100 Watt per Channel speaker set. Keep in mind, I am still not expert in video production.
Other projects?
What's new in my hometown? My outing yesterday.
Updated the stores, including "Items I Have".
Fixing software bugs.
I missed the first season of "Counterpart" on Starz, so just before Christmas, caught up via Verizon FiOS' OnDemand feature.
Business housekeeping chores that I put off. Happy to get some of these chores out of the way.
This year, I spent a lot of time planning for the holidays. I am kind of happy now, to only have business issues to worry about.

Tuesday, June 12, 2018
Big things are happening in my hometown, and especially the business community. The latest, the opening of the Live! Hotel complex adjacent to the Live! Casino and Arundel Mills.
Briefly, construction milestones for the hotel: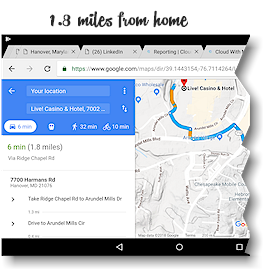 Groundbreaking Celebration, September 13th, 2016
Official Opening, June 6th, 2018
Grand Opening Celebration, Wednesday, July 11, 2018
In that I live within 2 miles of the new hotel, over the last year I tried to stop by at least once a week (starting in June 2017 and ending in June 2018) to capture construction progress photos.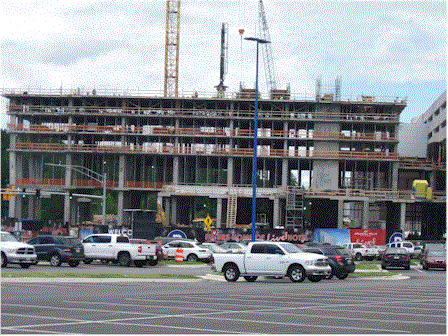 Hanover Maryland has grown into an attractive place to live and play. The thriving local business community that was in place before the mall, casino, and hotel openings- has only benefited from the extensive growth in the area since 2001.

Tuesday, March 20, 2018
Over the weekend I received a package containing a new drive for my android and a case for my RCA Cambio Windows 10 Tablet/PC. I am so pleased with both items.
First the tablet case. About 3 weeks ago, a spilled coke splattered near my Windows 10 Tablet/PC causing the plug-in keyboard that came with the unit to malfunction. Luckily, I had an extra Anker Bluetooth Keyboard which works great.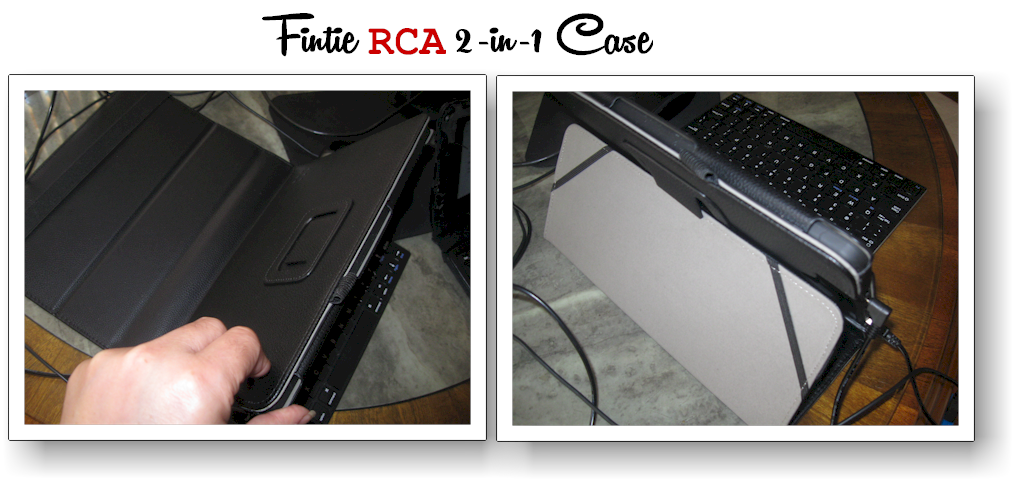 The old keyboard was part of the casing for the device, so the new case now holds both the tablet and bluetooth keyboard that I am using as a replacement. This also, worked out well.
Now the SanDisk Ultra Dual Drive. My Android operating system version is 5.1.1. Shortly after getting the device, I rooted it enabling print service to a USB printer via an OTG connector and USB cable. Initially the root process also allowed me to use USB flash-drives with OTG cables and hubs.
Recently, I somehow changed a setting that although continued to provide printer support via an OTG connection, disabled access to USB flash-drives. I tried any number of things to correct this problem, however was unsuccessful.
After reading reviews for the SanDisk Dual Drive m3.0, I was hopeful that I could once again port items from my Windows10, WindowsXP and Android using one drive and was pleasantly surprised when the SanDisk Dual Drive did the job.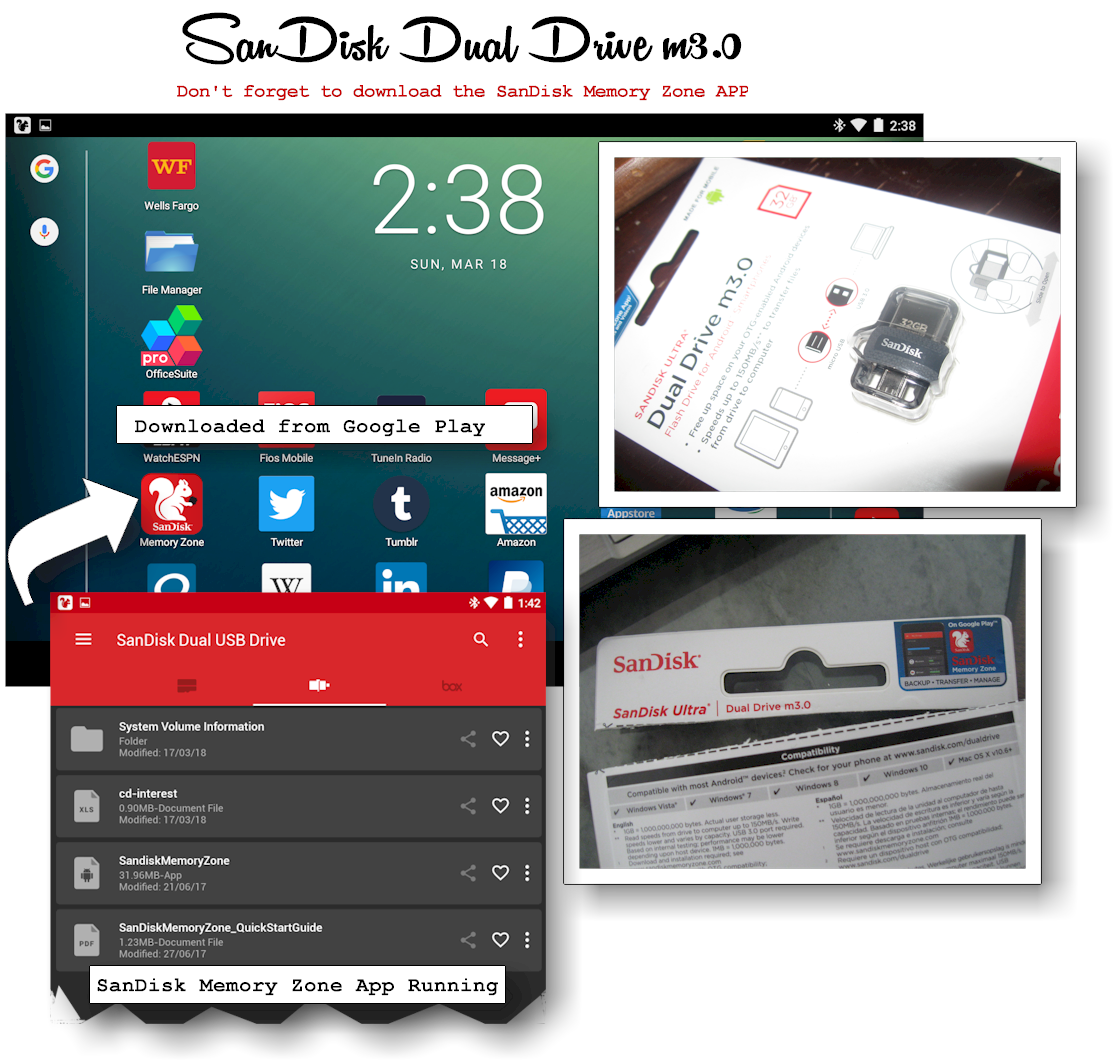 I added the SanDisk Ultra Dual Drive to these stores: Items I Have and Computer Electronics/Home Office.
What else have I been up to?
Also, you may have noticed I added a new category to this blog, Finance, so I have been thinking about relevant material as related to both business and personal finance that may be interesting.

Monday, January 22, 2018
Last Tuesday, I noticed an interesting email from Pinterest.com, highlighting Lemon Loaf Recipe ideas. Today, I decided to test one of the recipes (most who tested it, loved it.).
I am delighted with how these lemon loaves turned out. I only had a slight deviation from the original recipe. The recipe called for milk in the lemon glaze and I had none on hand, so I used half and half instead. I especially love the lemon glaze and the substitution did nothing to lessen the flavor.
The recipe also called for the zest of one lemon. After using a micro-plane to grate the lemon, I used a sharp knife to finely mince the zest. I have found that when a recipe calls for lemon zest, I tend to like it more- when the zest is minced a bit more.
I have also been cleaning out the basement and moving things around. I put components from an old stereo system in the guest bedroom and began testing the separate units. There may be a problem with the phonograph (turntable), however the other components are working fine.
I have been looking for new speakers to use with the system [currently using a pair of old headphones to check things out] and these caught my attention.
I think I am going to add the speakers to my Computer Electronics/Home Office store, listed below.
I love watching movies at home with stereo surround sound effects. Most of the televisions I use- have a stereo amp and speakers connected to the Verizon Set Top Box.
That said, I have been researching the Sound Bar offerings from Sony and Samsung which enable the same surround sound effects when combined with some of the newer high definition televisions. The new Sound Bar offerings enable more hook-up options i.e., bluetooth, HDMI, wifi, etc. than older amps and look pretty impressive. Is your den in theater mode?

Saturday, December 30, 2017
I have not done a video in awhile, so I decided to demonstrate some of the things I have been doing with our new Alexa Echo. The video is a bit longer than some of my others- and of course I am still coming up to speed with taping, editing and using video in blog posts.
New holiday gifts were added to the "Items I Have" list. Are you taking advantage of some of the great after Christmas bargins?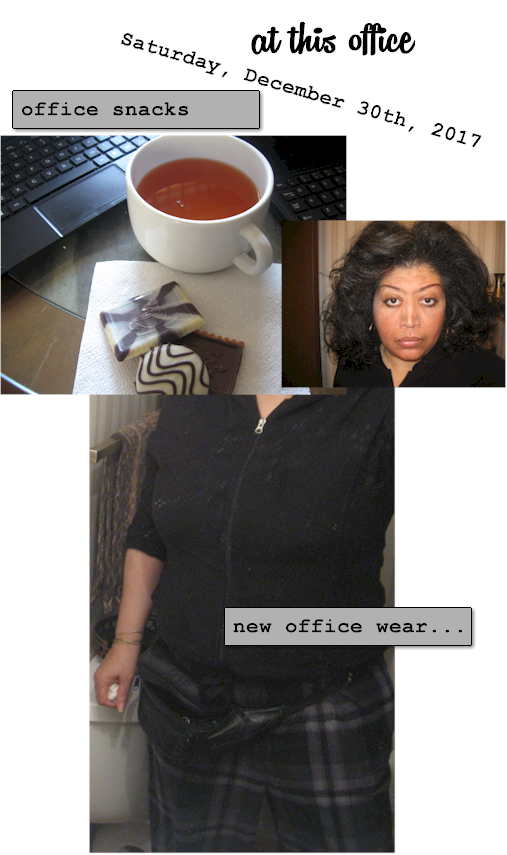 Happy New Year!

Saturday, September 02, 2017
Many are aware- I use Thingamablog as the content management platform for both my business and personal blogs. I started using Thingamablog in 2010 when Blogger decided to discontinue FTP support for users who hosted their blogs on private domains.
Thingamablog runs standalone on desktop computers and requires Java installation, if not already installed on the system.
In my opinion, the Thingamablog platform offers more security in that the entire application and post database are maintained off line. What this means? The master copies of my blogs are maintained off line and are tamper proof.
This also allows for easy backup to external storage devices of the off-line applications and databases, as opposed to online site backups.
That said, in my case I also backup my entire website so snap-shots of both the remix.qisoftware.com and personal.qisoftware.com sub-domains where I maintain the blogs, are also backed-up when I perform full-site backups.
Useful links:
In 2010, I also established the Facebook group [referenced above], for Thingamablog users. We are always looking for new members, so if you are interested in this blogging/content management tool, please join us.

Tuesday, June 06, 2017
One of my banks offers rewards for using their credit card. I love this concept and pay for most purchases with the card.
This month, charges itemized on the bill included:
Eye Glasses & Contact Lens Prescriptions
Contact Lenses [2 boxes]
Three new domain registrations totaling about $35
Web Hosting qisoftware.com
Cell Phone
Mother's Day Gift for my Mother
Total charges last month; about $397. This added about $4.00 to my rewards account balance bringing it to $44.82. The credit card issuer will send a check when the balance reaches $50.
Noted in the illustration above, this morning I paid the entire card balance. This ensures I do not incur interest charges on any carryover balance, making the cash rewards the card offers even more attractive.
Last month, I noticed Amazon also offers a similar cash rewards [Visa] card. I have a great card, however this appears to be something worth looking into-- Amazon Rewards Visa by Chase.

Friday, May 12, 2017
In March, when I ordered my new camcorder, I did not order a backup battery nor a condenser microphone. A week ago, I ordered those accessories and yesterday the purchases arrived.
Check below for links to the specific camcorder accessories I ordered:
Amazon order: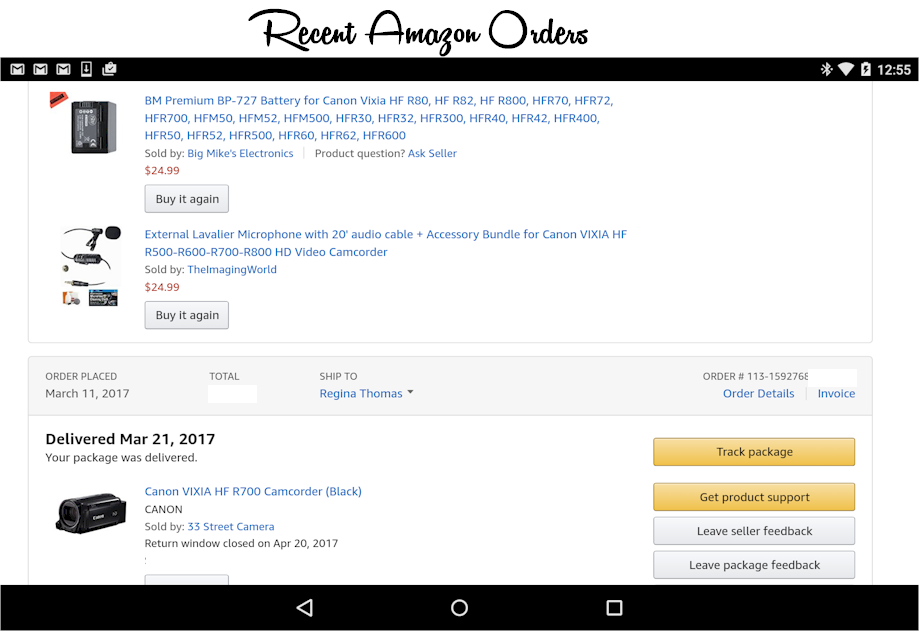 Short video demonstrating the difference between using the camcorder with and without the condenser microphone.
What else have I been up to? Actually several projects, however I will have to update this later.

Tuesday, May 02, 2017
About a week ago, most of my family went out of town. Before leaving, the fridge was stocked and I have been testing different recipes almost everyday.
One of my favorites- a roasted chicken breast with olive oil, cayenne pepper, salt, and the original chicken seasoning by McCormick. I roasted it in the convection oven-- according to the instructions in this recipe and added sides of fresh cranberry sauce and white rice.
Today, I grilled a steak on an indoor grill I purchased last year as a holiday gift that I decided to keep. The price on the grill was such a great deal, Amazon does not even list it with the order. Check here for more on the grill.
Short video capturing the grill in action today.
My new Canon camcorder produces MP4 and AVCHD [MTS] video files. Often I use the AVCHD setting for the higher resolutions. The camcorder has a built-in utility enabling quick conversion of AVCHD videos to MP4.
I also found a great video conversion utility which works with the MTS [AVCHD] video files, allowing for slightly higher file resolutions than the camcorder's built-in function.
Here is a screenshot of the AVC program.
This week, I also made a video showing how to make fresh cranberry sauce with frozen berries, however that video was 35 seconds and the steak video only 15, so I opted to use the shorter to discuss the AVC utility program.
By the way, I also love the grill.

Saturday, April 01, 2017
All day, I have been updating my iTunes Library with old CDs from my extensive collection.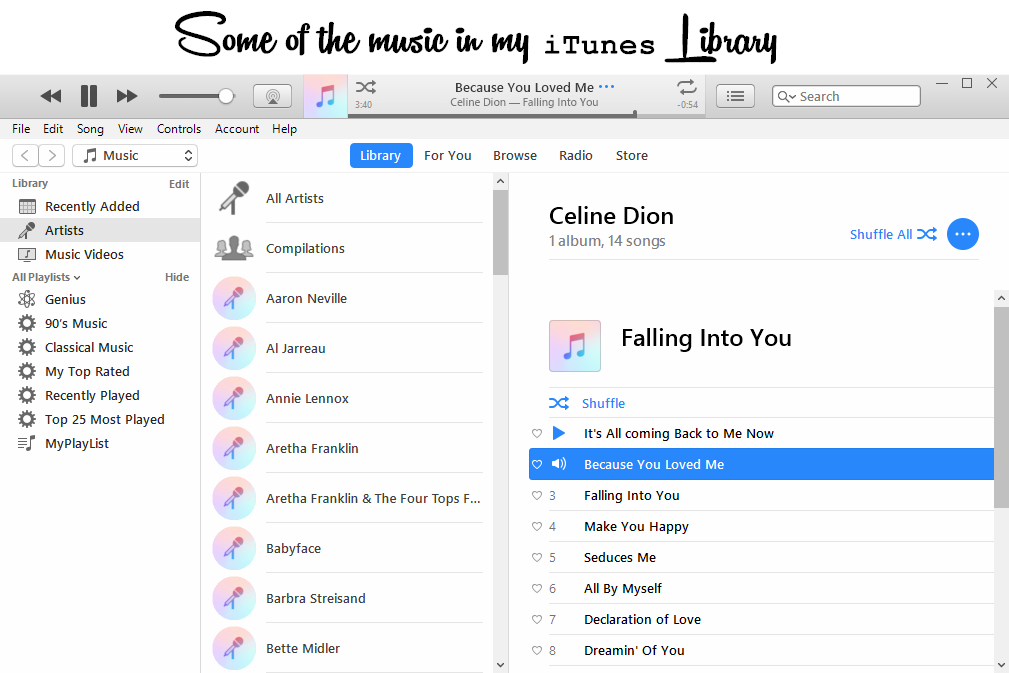 I had separate iTunes libraries on my Macbook and Netbook, so earlier this year I decided to put everything in one location and maintain the actual music library on a 32GB SD card shown as an inset in the illustration below.
Most days when I want to listen to my music, I use the RCA Cambio Windows10 platform with my TaoTronics Stereo Bluetooth Speaker.
Below, short video showing my work environment today, while porting more "old" music to my iTunes Library.
I love having all my old CDs digitized and available whenever I want to listen.

Thursday, March 09, 2017
I have been researching digital video camera options, and recently added two new cameras to my resources.
Action Camera-- it is so small and light I actually carry it in my purse.
Dash-Cam for the car.
I like using resources in multiple environments and have found I can use each new camera as a webcam as well. Shown below, photos of the dash-cam as a webcam.
Another set of images showing screen-shots of the Camera application [app] I use with webcams. The screen-shots show me as depicted by the webcam and my environment when working just off the kitchen.
Late last year, I posted a video to one of my social media accounts that was so grainy, I decided I needed a new video camera. I like the action cam and dash cam, however there are limitations to the types of video I can shoot. Also the new cameras support resolutions a lot higher than that of my older digital camera, the Canon Powershot A590.
Currently, I use my digital camera for both video and still shots. What I love about my camera? Its many features and the low resolution options for videos and images. Like most who pay for web hosting for their domains, I have limits to the amount of storage I can use. Videos and photos can take up a lot of storage- quickly.
Important features I am looking for in a video camera:
Optical zoom at least 20x
External microphone support [already have a stereo microphone]
Macro lens support.
Full HD recording
My research has led me to some interesting finds-- and I have listed some of the results in my stores under the "Just Want" Category and the "Computer Electronics & Home Office" Category. [New finds added at the end.]
I think my finds can provide a good basis for your own research and help in determining what you need based on your requirements. For instance, you may not have my concerns about storing videos online. You may only need a great video camera for life's moments or a vacation. There are a lot of great options.

Wednesday, February 22, 2017
Sunday, my Mother had to get a new cell phone. What did she get? Apple's iPhone 7.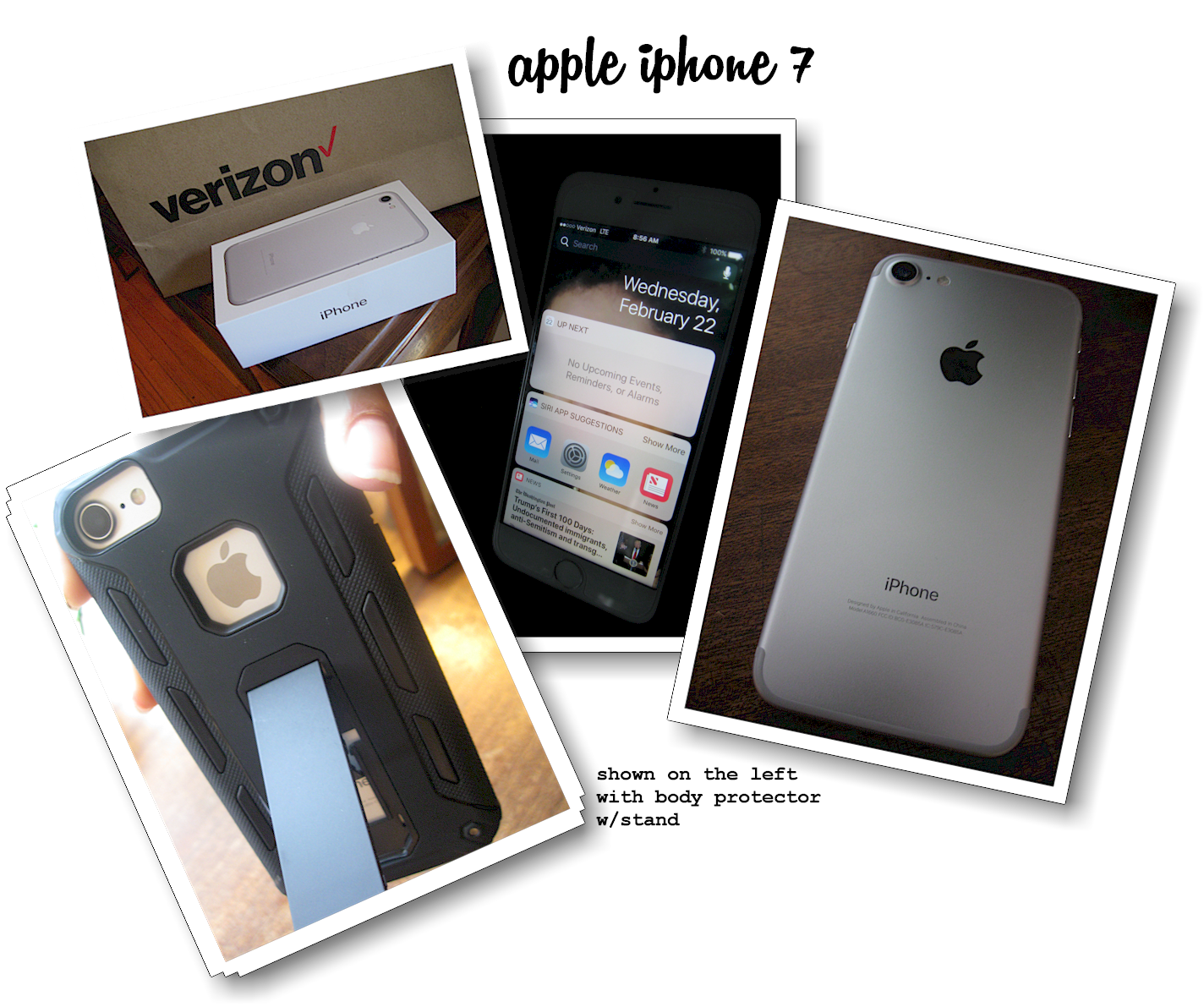 I have to say, this phone is pretty impressive. Features include...
Full HD Video
Display 1920 x 1080 pixel-resolution.
12MP Camera-- wow is that camera nice.
2x optical zoom and up to 10x digital zoom.
See the specs for yourself here, she opted for the 5.5" with 32GB of storage.
She is still playing around with the many features and is extremely pleased with her new hardware. Yes, I think this should be my next phone too.

Saturday, December 31, 2016
Early this morning, my mother and I took her car out to test the new DVR Dash Cam. It was one of her Christmas gifts.
I like the features on this dash cam and everything is so clear. It was also easy to install and mount. Because of the many features-- the learning curve for the seven buttons on this cam might be a little intimidating, however well worth the effort. I think I have got it, however she seems a little concerned.
In addition, today I received the LED light I ordered. Hoping it will lighten up my photos and videos. What do you think?
Yes, I like this new light a lot. Are you ready for the new year?

Saturday, October 29, 2016
I have had a number of issues with my hardware this week, including:
My Android would not auto-rotate.
An issue with new USB Mouse used with my RCA Windows10 PC/Tablet.
Camera Date/Time Settings.
Starting with the camera. I purchased my Canon PowerShot A590 in 2008 and use it almost daily with very few issues. That said, about once a week, I replace the two AA batteries that power the camera.
This morning when I turned the camera on, the Date/Time Set Menu appeared automatically. I thought it somehow reset itself to the factory setting. Resetting the date and time did not correct the problem.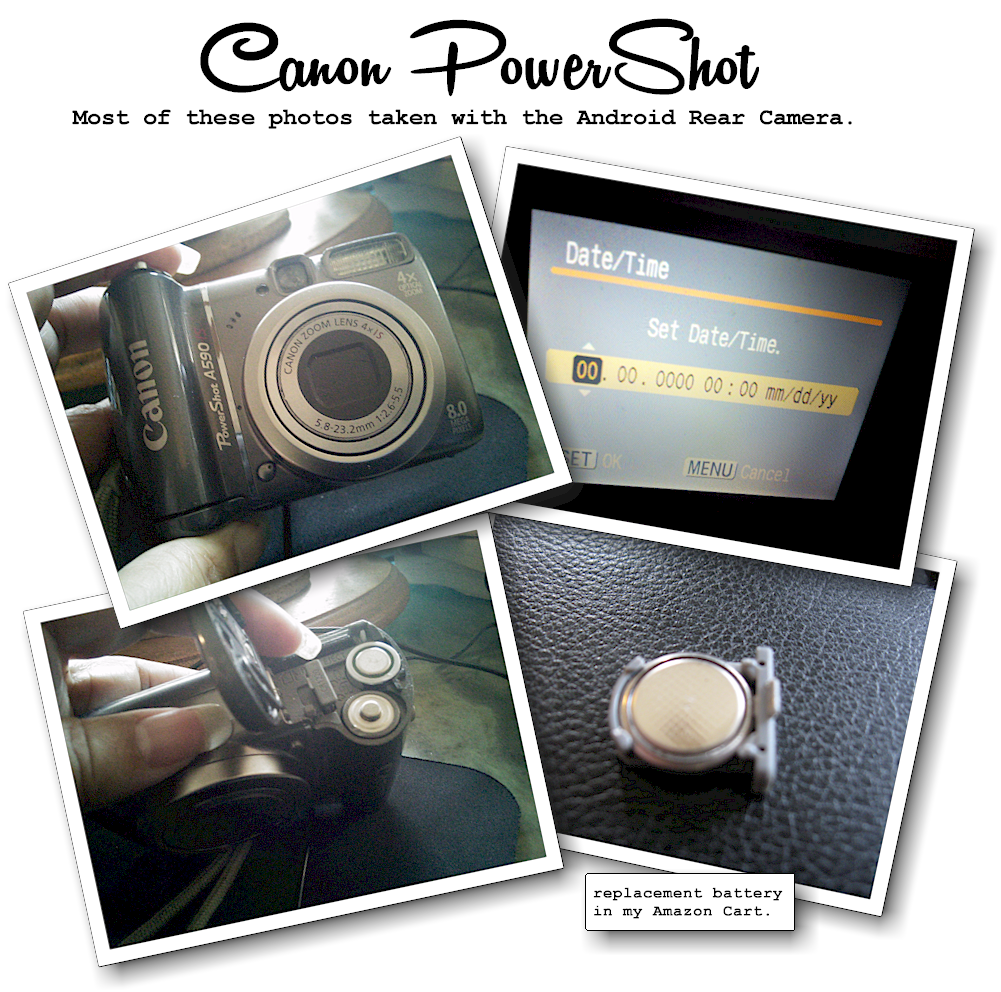 Awhile back, I took out the disc battery and discovered I reset the date/time for the camera-- so I decided it is time to replace that battery after almost 8 years. Easily found the battery on Amazon and since I am in "Holiday Shopping Mode"-- just added it to my cart.
The Android Tablet auto-rotate issue? I researched any number of fixes, including:
Using the Google Now Launcher
Clearing the Cache Partition at the Android System Prompt
I actually installed the Google Now Launcher App, however this option did not work. What did work? I started the Verizon FiOS Mobile App and selected a program to watch in full-screen mode. This worked.
I have had my Android Tablet since Feb. 2015 [2 years in February 2017] and have had very few problems-- even though I "rooted" it. I use a bluetooth keyboard and do a lot of site maintenance, shopping, bill paying and social media tasks with my Android-- so I use it like a mini pc rather than a tablet in that I normally have it in landscape mode. This means I need that auto-rotate mode to work.
Because I "rooted" the Android-- I am hesitant about trying things at the system prompt, the reason I did not try the "clear cache partition" option. If you are having a similar issue [auto rotate not working]-- you may want to look at this option.
And lastly, for some reason there is a conflict with the new USB Mouse and the RCA Windows10 PC/Tablet. I was using an older USB mouse and did not have an issue, however I want to continue using the new mouse so I had to find a workaround. The fix? Unplug the mouse until the system is started and then plug the mouse in.
I have also been researching external power banks for mobile devices. A relative recently purchased a BlackWeb 5200mAh for a trip, however never used the device. I decided to test it.
I plugged it in to my Android about 3:15 pm yesterday. I turned off my Android about 7:00 pm last night, however plugged it back in about 12:30 am this morning. I have been using my Android for most of the day-- including the early morning hours. I update my Amazon Stores in the early morning. About 10 minutes ago [2:30 pm, almost 24 hours later] the BlackWeb power-bank started flashing [indicating the power was low] so I plugged it in to the wall. I think the amount of time I used the external power bank over the last 24 hours is pretty good.
I have added a number of new items to the Computer and Home Electronics Store, including power banks that have been tried and tested. The power banks I have listed are slightly higher in power output than the BlackWeb Power Bank I tested. That said, I think these are great devices.
I am always concerned about the on-board battery life for my mobile devices and these power banks allow me to stay powered without electricity. My Android is always plugged in-- and when its not-- I have about 6-9 hours of battery life using the on-board battery. Even though my Android is almost 2 years old-- I have great battery life because I use electrical power most of the time. If I do not have electrical power-- these power banks will work too-- allowing me to use my on-board battery only when I absolutely have to.
To see all my stores- checkout the list in the upper right sidebar of this blog.

Sunday, April 17, 2016
Ordered my Mother's gift for Mother's Day last week and the package arrived yesterday.
Included in the package was a USB stereo adapter I wanted for my Netbook because the onboard system connectors are a little unstable. I think something is loose, however thought I might have done more damage if I opened the case to investigate.
This seemed like a great idea-- and yes I was right. The gadget worked straight out of the box. My 2010 Acer Netbook does not support Bluetooth.

The weather is great... I have been sitting near the open back door, working and listening to music.
Other things I have been up to...
Added a great video capture utility [AZScreen Recorder] to my tablet. [see video below]
Potted the Marigolds in various outdoor planters.
Movie: Cinderella w/Cate Blanchett
Movie: Lilith w/Warren Beatty
Still looking for Mother's Day gift ideas?
National Zoo's Cam a little fuzzy when I grabbed this video..

Hope you are having a nice weekend.

Friday, April 08, 2016
It has been raining a bit this week and everything is in bloom.
Over the last week, I have been out taking photos of beautiful Spring scenes in my area, however over the last two days- capturing short videos of things going on around here.
About the videos [in order]:
April 7th, 2016 downpour spout on the house
Workmen removing Harmans RD closed sign, April 7th, 2016. Yes, Harmans is open again.
State workmen working on the street drains, today.
Professional lawnmowers working at the house behind us, today.
What's interesting about these videos? I converted the AVI footage from my camera to MP4 format with a new APP I installed on my Android, MediaConverter. I had to install this APP- because Instagram does not upload AVI videos. I then ported the converted videos to my Netbook where I maintain this blog [Thingamablog - desktop publishing via FTP], so that I could publish them with this post. Yes, I know these videos do not work with all browsers.
Plans for the weekend?
Used easyhtmlvideo.com to create webm video files.

Sunday, February 28, 2016
A couple of days ago, I found this video on Instagram and decided to check in on Bei Bei via the Smithsonian Zoo Cam links for the Giant Pandas.
I started watching the live video last night around eight I think, and Bei Bei was just about to fall asleep. So this morning around 6:40, I waited and he and his mother started moving about around 6:50 or so. Mei, his mother came in to the area where he sleeps twice before he decided to join her in the larger area.
An hour later he was outside climbing a tree.. He is really kind of funny.
Around 3:00 pm this afternoon, Mother and son were having a meal and both fell asleep when they finished. Screengrabs taken after they finished their meals:
I watched as Bei Bei pulled his fresh bambo into the area where I saw him sleeping last night, eat a bit, roll around, and then fall asleep. His mother was already eating in the larger area where Zoo keepers had placed a lot of bambo [no I did not see that], when I tuned in. She ate a lot more than Bei Bei then fell asleep. I guess it takes a lot of energy to eat all that bambo.
I am researching live video capture on my Android-- so I decided to post this Instagram video to test compatibility issues with older browsers. I used the Instagram Embed code offered-- but I am also looking into capturing live video from the screen.
That said.. I really like the Giant Pandas at the National Zoo and the technology that allows me to check in to see them.

Monday, February 01, 2016
The other day, I was watching television and a commercial featuring Wallapop, caught my attention, so I decided to look into how this service worked.
After a bit of research, I found there are several services [new to me] that allow users to buy and sell in their local communities or regions. Some of these include:
So after downloading one of the apps I took a look around. Then I decided to go through my closet and look around. I found these shoes:
and this outfit I wore to a Washington, DC- Al Jarreau Concert in 1987 or so.
Styles always come back-- and although this outfit is old-- it is actually very becoming on. The dark velour/velvet like skirt comes about 8" inches from the ankle and looks very elegant with heels and long rhinestone earrings. The top is again in style with the peplum [bottom edge] detail.
I love clothes and keep most of the things I purchase, except when given no choice. I am an organizer's nightmare, however since I tend to buy more in the way of classic styles- I would probably pass on their advice anyway, in that I tend to think they are more likely to be trend setters and would want to keep nothing unless "current".
The outfit for the Al Jarreau concert does have details that tend to be more trendy [especially the top], so it is not exactly a classic-- however I could use the skirt in different ways. It is a junior 9/10, meaning it is not cut for a fuller figure and vanity sizing today would probably make it a 7/8 without the popular stretch element many of today's garments feature.
The shoes? I walked around in them for a couple of hours today, and decided they were so comfortable I would keep them. The shoe upper, mostly "just" leather with nothing to make the shoe stiff. I consider these classics, so I can pair them with many of my spring/summer dresses. Yes, I buy a lot of black for summer too.
So, I decided not to try to sell my old things. I do have one or two miscues, purchased online- that still have the tags, that are really nice-- but just do not work for me. I think I will try selling those items with one of the services.
Have you tried selling, using one of these services?

Tuesday, April 14, 2015
This Spring, homeowners in my neighborhood are having solar panels installed. From the window in the den, I have watched two new installations. Yesterday, I went out to get a closer look.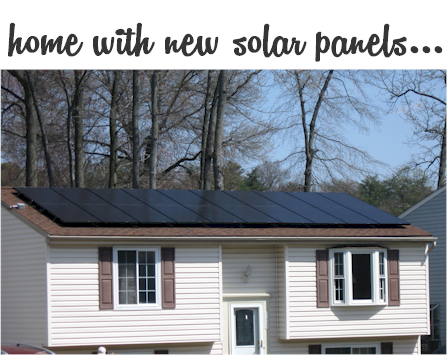 When I drove down the nearby street, I found three homes with new solar panel installations within the first block. I love this idea, and have noted as described by bloggers and HGTV episodes, that RV owners and custom home builders are doing more with solar panels.
Sophisticated solar power controllers are now offered for RV and homeowners which allow for more efficient use of multiple sets of batteries. When one set of batteries is being charged via the solar panels another set is used to supply power. Then when the charged batteries run out the other set is swapped in for power while the discharged set recharges. See this:
For some reason, I get excited about things like this. Youtube Solar Panel Link.
Recently, I also downloaded the EarthCam app Apple Store/Google Play to my tablet.
I did not get into Washington to see the Cherry Blossoms this year, however my Twitter stream [source: Patch] provided information about a new EarthCam camera in Washington. I wish they would put one at the City Dock in Annapolis. It is so pretty there and sometimes you see the cadets.
Also, watching a lot of tennis and the arrival of Spring. News from Washington? I am told the United Nations is involved.