Sunday, July 25, 2021
It has been hot in our area with lots of moisture. I have been sticking with easy meals and desserts to prepare.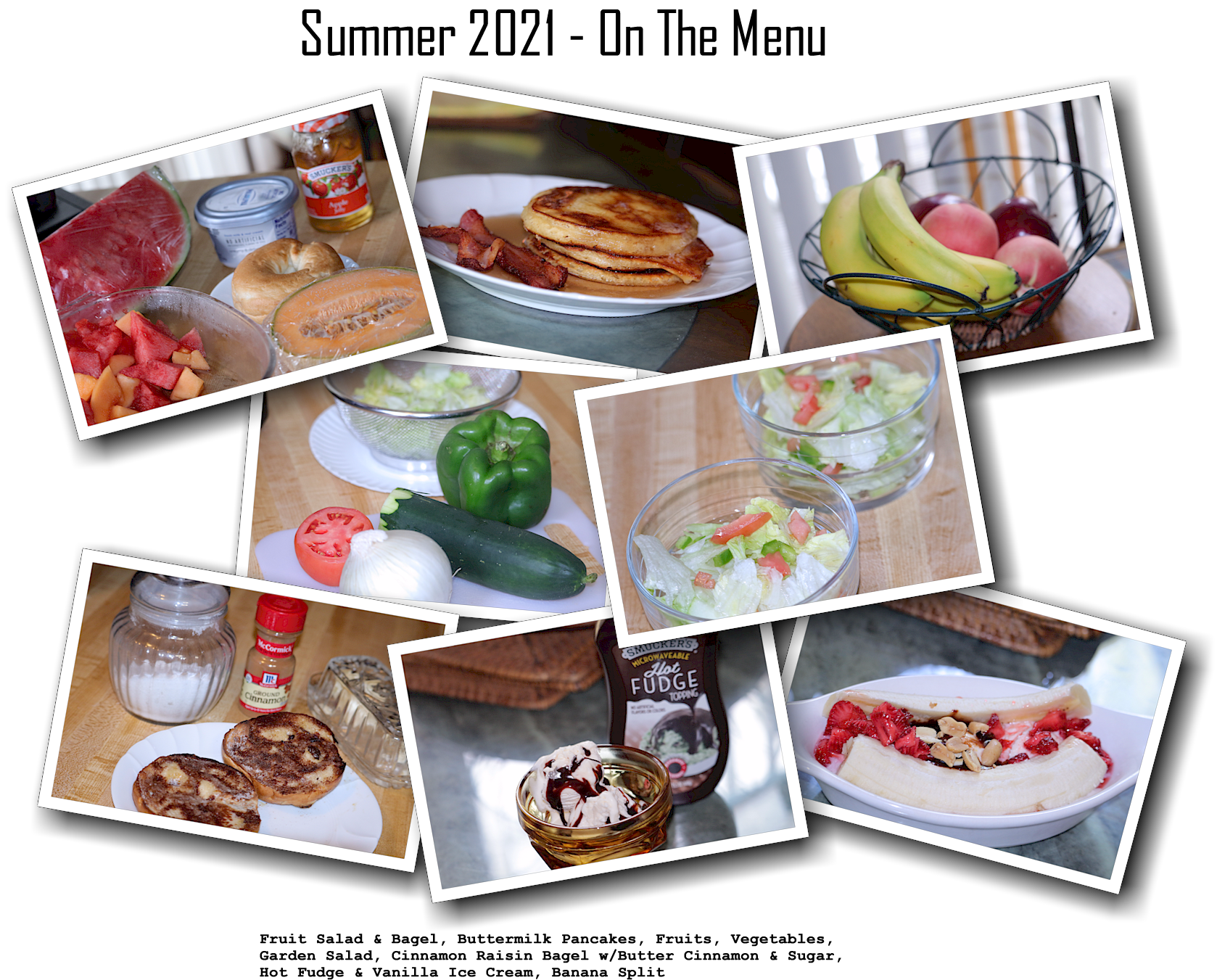 Shown below, some of the plantings in my gardens. I added a new hosta plant to the front porch and filled the deck planters with marigolds, however have done little more in the way of gardening this year.
The plantings in my gardens include:
Marigolds, most flying insects do not like marigolds so these were a great addition, especially with the cicadas this year.
Variegated Day Lilies (Pink & Yellow)
Back deck
Crocosmia Lucifer Spectacular Red Perennial
Shasta Daisies
Black Eyed Susans (Maryland's State Flower)
Hydrangea bush
Hosta on back deck
Most of the statewide pandemic restrictions in place over the last year have been lifted, and my area is becoming busier everyday.
Live Casino & Hotel along with Arundel Mills probably attracting most of the crowd. Friday, I had an appointment in the area, and was surprised by how many visitors I noted (based on automobiles in the parking lots and coming off major exists to the mall and casino). Seems as though people are trying to get back to normal.
Hope you are having a great summer. Have to say, I am ready for the cooler weather of autumn.

Sunday, May 09, 2021
Happy Mother's Day. I have been working different projects over the last week, in preparation for Mother's Day. I ordered online, however did stop by a garden center on Friday, for a hosta plant and marigolds for the planters on the deck.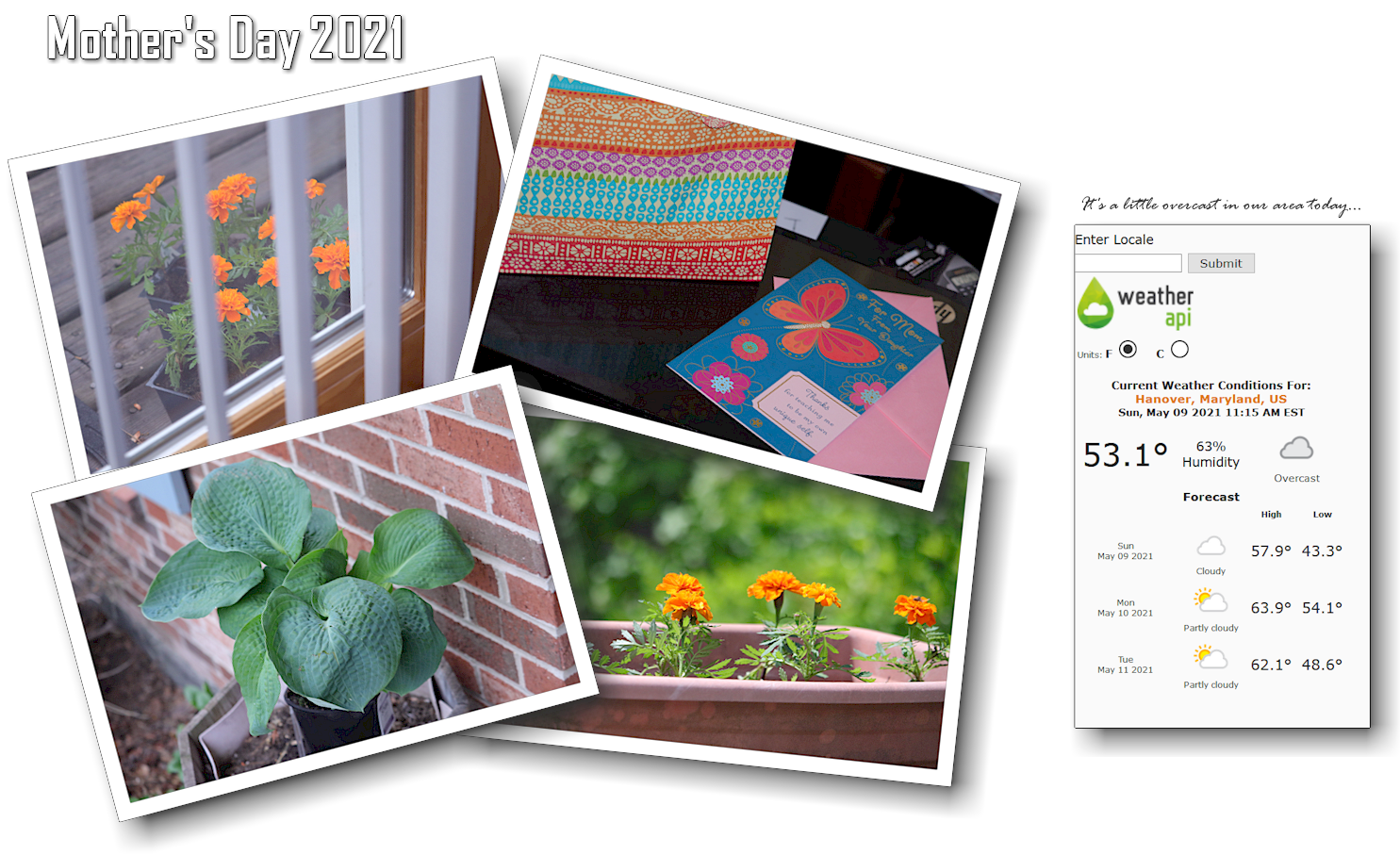 In our area it has been a bit overcast over the last 3 or 4 days, including today. The weather? That is another project I have been working. A new interface (Java Servlet) using the WeatherAPI resource.
The illustration below shows a side by side comparison of the Yahoo Weather interface used on WiredPages and the new WeatherAPI interface.
Most of the work for the new weather interface is complete. There are minor cosmetic changes I may implement, however, since I have no plans to install the new interface online, will probably hold off.

Sunday, May 02, 2021
In early April 2020, repairs to the main bathroom on the upper level were an important preoccupation along with the many concerns relating to COVID-19.
A trip to Lowes for fixtures and tools needed for the repair- provided the opportunity to purchase a new plant, the snake plant shown below.
The two illustrations below, show a photo of the plant, taken yesterday and the set of photos taken when I first replanted the Mother-in-Law's Tongue (Snake Plant) in April 2020.
When I left home after college, my parents gave me a snake plant for my first place. I never had a problem. I hate to admit, I almost killed the new plant, over-watering.
With all of the other plants I maintain around the house, I thought I could water as often as I did the others. Big mistake. I am pleased I realized my mistake before it was too late.
Other recent photos...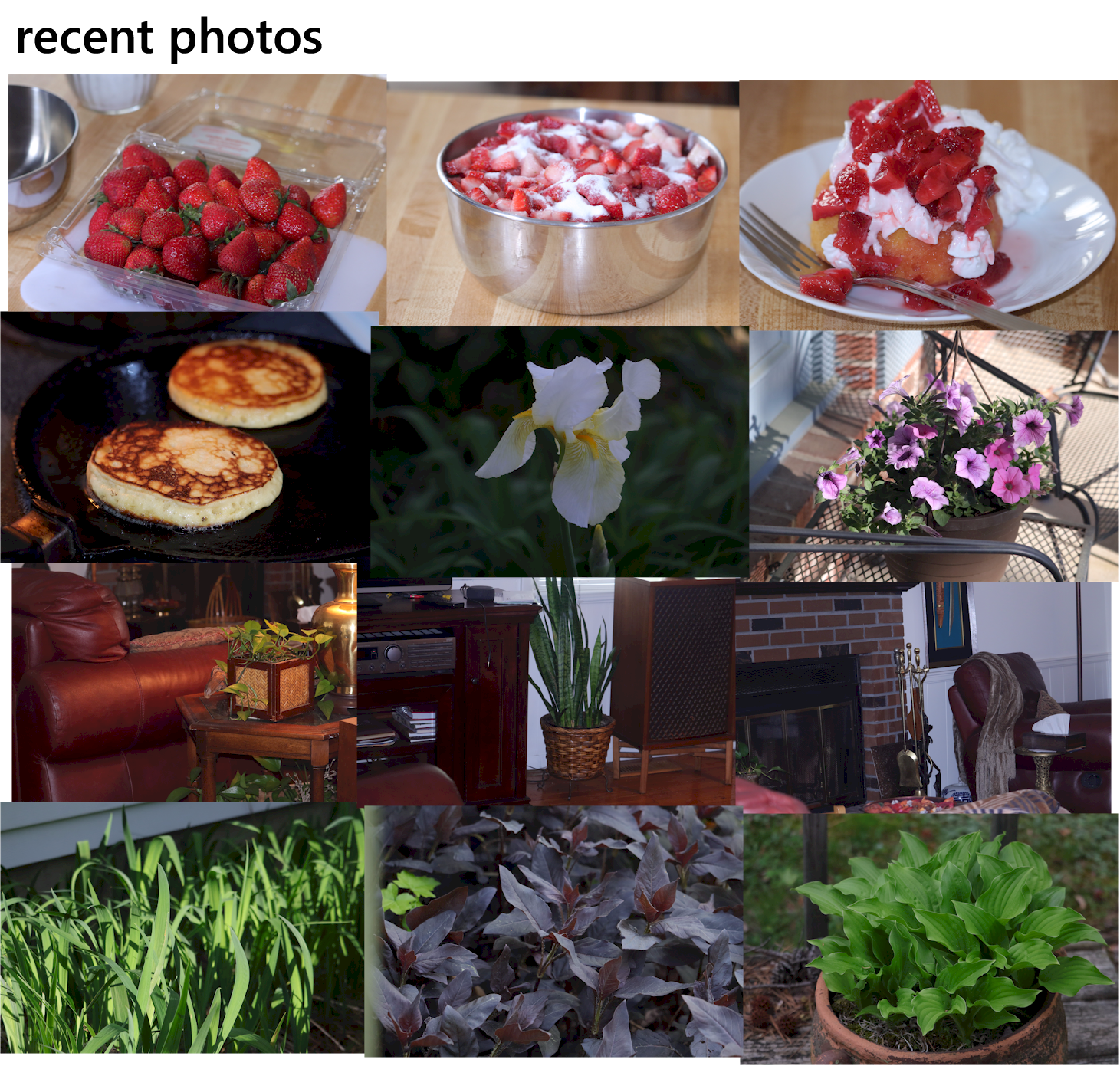 Photo Summary
Strawberry season, so I buy strawberries... I love strawberry shortcake.
Love buttermilk pancakes --recipe
Yellow irises in the backyard are in bloom
Cascading petunias for the front porch
Scenes from the den, including the same snake plant photo
Purple irises on the side of the house not yet in bloom
Alternanthera Purple Prince - a perennial ground cover
Hosta plant on the back deck
There were many changes over the past year, however we made it. So did the Dracaena Trifasciata (mother-in-law's tongue).

Friday, April 03, 2020
In early March [2020], I discovered because of corrosion, the faucet in the main upstairs bathroom would have to be replaced. We ordered a new faucet (PARLOS Brushed Nickel) and also decided to use Amazon's Home Services to have the work done.
The plumber who performed the initial work, although installing the new faucet, also explained the corrosion was more extensive than we thought. We would need a new sink as well. So I took measurements and went over to Lowes to get a new sink.
While at Lowes, I also found a Dracaena Trifasciata (mother-in-law's tongue or snake plant, similar Amazon offering) that I decided I had to have. When I left home right after college, my mother gave me one she had had for years, so I was happy to find another at a very reasonable price (under fourteen dollars).
This post was going to be about all of the projects I have been working lately, however the bathroom project was a big one and took a lot of time to complete. The repairs were completed by 11:00 am Wednesday, however the sink was not usable until the following morning to give the epoxy a chance to set up.
Of course, the current situation with COVID-19 a factor in scheduling of repair services--- even with our hustle to purchase the hardware that was needed for the repairs. Just happy to have that sink working again.

Tuesday, December 24, 2019
I am baking today, however I wanted to take a moment and tell you about a recent acquisition that I am pretty pleased about.
I imported most of my CDs to iTunes, and have the app installed on several mobile devices. In March of this year, while using an unprotected charging device, I believe I damaged my first bluetooth speaker (no longer accepting a charge), so I caught a sale and picked up this DOSS SoundBox XL 32W Bluetooth Speaker.
In addition to iTunes, I have several Echo devices hooked up to stereo and/or amped standalone speakers, enabling Alexa music requests in most areas of the house. I tested the new speaker with all of these systems and found in most cases the audio was greatly enhanced, however not in the den.
Systems around the house using other Echo devices where the Doss speaker made a significant difference:
If you are looking for a new bluetooth speaker, I think you will find this speaker has surprising output.
P.S. Issue from the last post, cleared up. I am so pleased about this.

Saturday, December 14, 2019
It was a busy week, highlights included:
Replaced a brake lamp bulb on one of the cars (The internet allows me to think I can repair anything).
Trip to the market.
Online shopping & waiting on the deliveries.
Wrapping presents.
First holiday gift: Handy Multi-Use Tool - Synchrony
Putting up the tree and the rest of the holiday decorations.
Correcting a problem with the Instagram API Demonstration application.
Fixed the submit button issue with the map tool on the WiredPages Dining & Travel page.
Beautiful moon in our area on December 11th, 2019. The following photos taken with my Canon EOS M50.
Hope your holiday preparations are going well.

Monday, November 11, 2019
My mother's birthday is right around the corner. This year, I decided to get her something she said she needed, however was unable to find. I researched online, offerings of the lampshade replacements she wanted and asked her about certain styles before I ordered.
I am glad I did. The new lampshades arrived today, and though not her birthday, I decided to give them to her a bit early after first ensuring the shades were undamaged. Illustrated below, the etched-like ginger jar lamps and the old versus the new lampshades.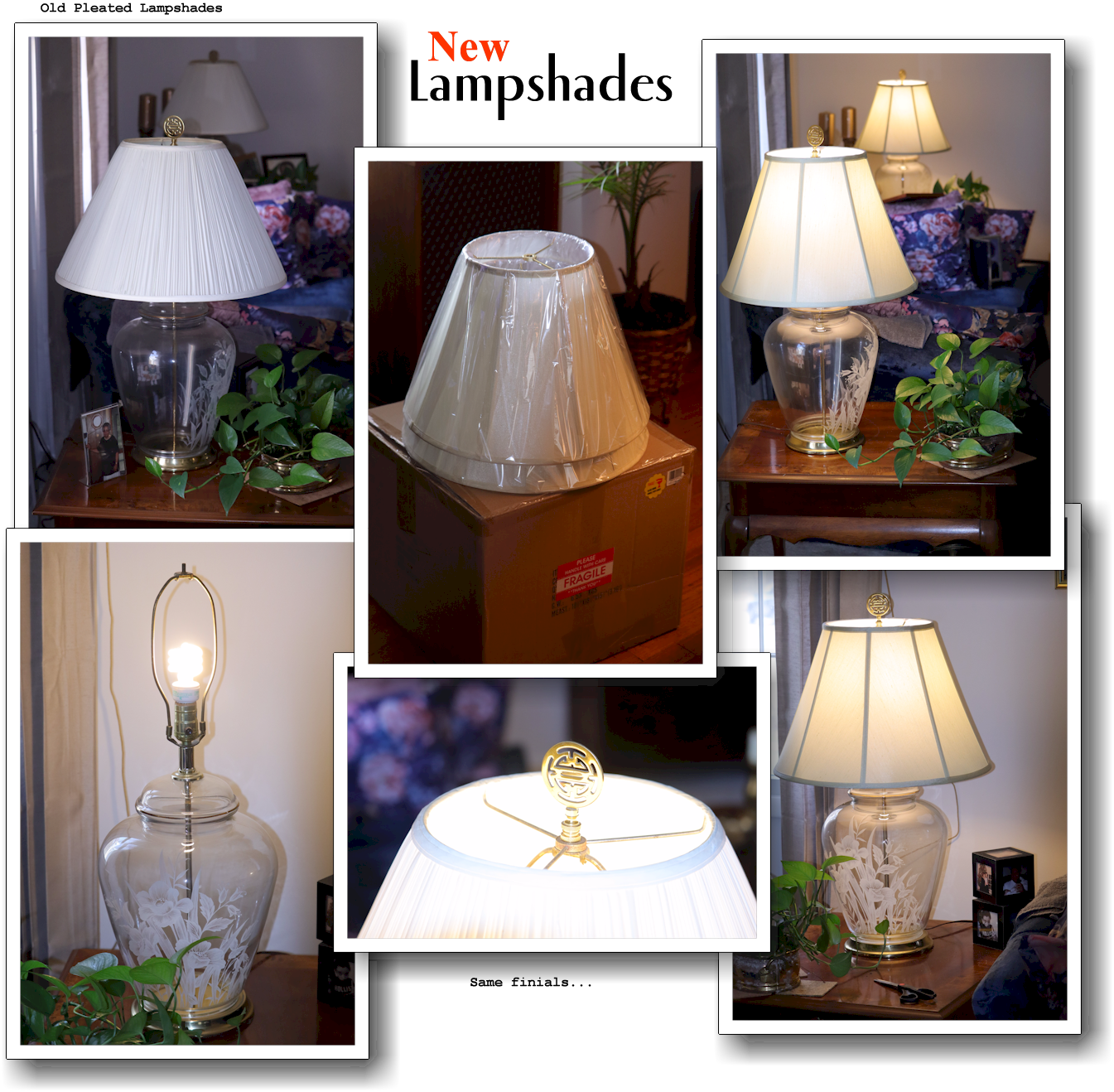 Though the older shades do not look that bad in the photos, some of the pleats had separated from the lower hem of the shade, giving a slightly frayed appearance. She did not see the final gift selection, so I am pleased she likes the new lampshades.
I used to know where lighting stores in my area were located. I love finials, lamps, lampshades. I am not sure now, why it is hard to find things like lampshades and even online- the research was a little more difficult than I anticipated.
Now, what to do about dinner and other birthday activities...

Friday, May 24, 2019
Currently, I set up an office in any room in the house because I am mostly mobile. Even my bedroom has a desk (of sorts) and an old computer. I rarely use the desk and old computer, instead a breakfast tray and wifi wireless devices.
Also in my bedroom, I have a four poster bed, highboy chest, dresser, and two nightstands. The set is all wood (cannot get all wood now for the price I paid then), in a Queen Ann style with a cherry finish, purchased over twenty years ago. I also maintain an office upstairs where I have two of my desktop computers. The photos below, show elements from both rooms.
I would like to update the bedroom set, however it is not a priority at this time. What can I do? Update the desk in the bedroom. I have looked around and found things I would like to add.
The leather wingback chair, is really not an option at this time, however I love this idea (used to have a pink wingback chair in my bedroom-- see link below). Not only is it a little too expensive (for my budget), I really do not have the room. The guest bedroom is larger, however for some reason I did not want to take that room.
The finial is to replace the one on the lamp in the upstairs office. I was moving the stereo equipment and cables around and dropped the lamp. I am happy only the finial was damaged (superglued it). I purchased the lamp years ago from the Tyson's Corner Woodward and Lothrop and would have been very upset if more damage had been done.
Underneath the desk, I have a cardboard box holding paper stock that I want to replace with the rolling wicker file cabinet.
More photos of my office areas...
These updates would cost around $700.00, and within budget, however it would mean going into my savings. I will let you know what I decide. The problem, I want an iPad, iPhone, and iMac Pro.

Saturday, May 18, 2019
We are still creating the new look for the main entry. Late last year, we purchased an espresso console table from Wayfair to replace the Queen Anne Table & Mirror that were damaged.
Last month, we finally hung a mirror that matched the table and are now in the process of adding other pieces to compliment the new look.
A couple of weekends ago, I found the brass pocket change holder in a drawer somewhere, so I cleaned it up with Brasso. The palm tree (purchased specifically for the area) and other knick-knacks found around the house added a new dimension. We are pleased with how this turned out.

Sunday, January 13, 2019
It started snowing yesterday evening around six, and has continued throughout the morning.
I am working an OAuth issue with an API service, (the WiredPages WeatherTool is unavailable at this time), so I had no plans to venture out.
The new year brought any number of issues, I was not expecting. That said, pretty pleased I think I have found solutions for most of the problems.

Sunday, February 18, 2018
In late 2016, we ordered new handles for the refrigerator in the kitchen. The handles had turned slightly orange with age. Thursday, I finally decided I would attempt to install the new handles.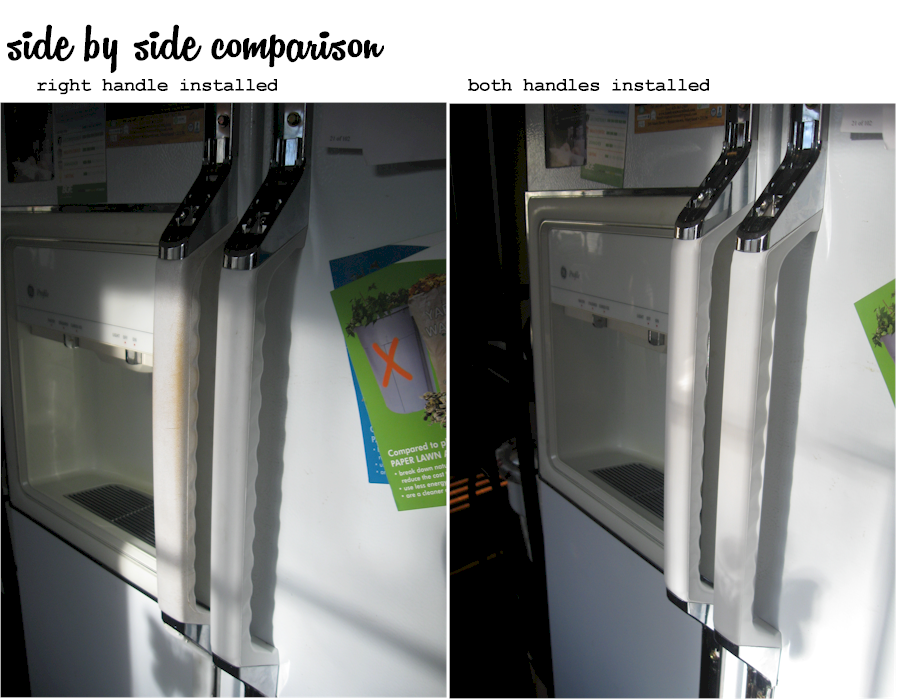 What took so long? Even though I found any number of DIY forums that explained how to install the handles, when I first tried to wedge a knife between the trim and the frame I could not get it to budge.
Thursday, I used a flathead screwdriver I found in the kitchen utility drawer which did the trick.
FYI: You are also going to need a special screwdriver that has a tip with six points as shown in the illustration below: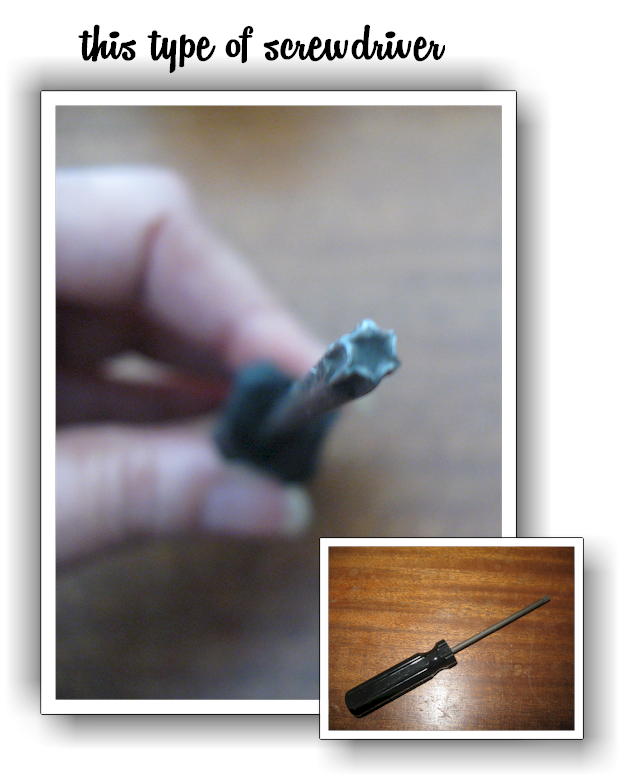 Products discussed in this post:
Are you in the mood for your own DIY projects? Since getting our Alexa Echo [Christmas 2017], I have been researching the many appliances coming out that are "Alexa" enabled and added a few of the more noteworthy items to my store.

Monday, January 22, 2018
Last Tuesday, I noticed an interesting email from Pinterest.com, highlighting Lemon Loaf Recipe ideas. Today, I decided to test one of the recipes (most who tested it, loved it.).
I am delighted with how these lemon loaves turned out. I only had a slight deviation from the original recipe. The recipe called for milk in the lemon glaze and I had none on hand, so I used half and half instead. I especially love the lemon glaze and the substitution did nothing to lessen the flavor.
The recipe also called for the zest of one lemon. After using a micro-plane to grate the lemon, I used a sharp knife to finely mince the zest. I have found that when a recipe calls for lemon zest, I tend to like it more- when the zest is minced a bit more.
I have also been cleaning out the basement and moving things around. I put components from an old stereo system in the guest bedroom and began testing the separate units. There may be a problem with the phonograph (turntable), however the other components are working fine.
I have been looking for new speakers to use with the system [currently using a pair of old headphones to check things out] and these caught my attention.
I think I am going to add the speakers to my Computer Electronics/Home Office store, listed below.
I love watching movies at home with stereo surround sound effects. Most of the televisions I use- have a stereo amp and speakers connected to the Verizon Set Top Box.
That said, I have been researching the Sound Bar offerings from Sony and Samsung which enable the same surround sound effects when combined with some of the newer high definition televisions. The new Sound Bar offerings enable more hook-up options i.e., bluetooth, HDMI, wifi, etc. than older amps and look pretty impressive. Is your den in theater mode?

Friday, September 22, 2017
It is finally here, the first day of Autumn. I love this time of year.
Social media posts-- HanoverMD Businesses
Movie: La La Land
A new Facebook application that will display upcoming events from the Hanover Maryland Businesses page to websites and blogs. Will post about this project later on my business blog [Remix].
Paying business related bills.
Research for the stores. Links located- upper sidebar on the right.
Illustration below shows partial results from the Facebook API. See "new Facebook application" referenced above.
I think it is going to be a beautiful Fall. Are you looking forward to the season?
By the way, did you notice the number of upcoming Job Fairs or Hiring Events in our area via this link?

Wednesday, August 02, 2017
Hot and thunderstorms, the last couple of weeks, however everything looks beautiful.
As you may recall, I take weekly photos of the progress at the construction site for the Live Hotel [being erected next to the Maryland Live Casino in Hanover, Maryland]. These photos taken over the last 3 weeks.

Other recent activities:
Social media efforts for the Hanover Maryland Businesses FB page and my high school alumni group.
Movie: "Passengers" w/ Jennifer Lawrence
Watching STARZ's "Power" series.
Tracking professional tennis.
Minor cosmetic changes to my blogs i.e., Remix & this one.
Added more tracking scripts to ecommerce areas of my site [qisoftware.com], i.e., Forums, Remix & this blog. [legal notice] Mirrors maybe negating commerce data-- and hopefully this will help to correct some of the problems.
Looking into DNS error issues on qisoftware.com.
Setup a paypal.me account.
Potting a plant clipping [made a video clip].

Continuing work on my stores...
I went out this morning. Had to deposit more of my birthday money in the bank and rode around Hanover to see what's new.
They finished work on "The Arundel" [luxury apartments], that lobby looks beautiful [did not go inside, however did get photos of the exterior]. If you only know the mall [Arundel Mills] and casino and have the opportunity, checkout some of the new construction going on in our area. It is pretty impressive.

Wednesday, July 12, 2017
As mentioned in previous posts, there are several major construction sites in the Hanover [MD] area, including the Live! Hotel and The Arundel luxury apartments.
Weekly photos show the progress at the Live! Hotel construction site.
More photos to come as they become available.
What else have I been up to?
A little yard work.
A little baking.
Research for an area magazine.
Waiting on a package.
Wimbledon action.
Movie: "When the Bough Breaks"
Movie: French movie [English subtitles]- "Elle" airing this evening on STARZ.
"Power" series on STARZ.
Continuing work on the Amazon Stores...
Recent photos from my gardens.
I have been working several projects while trying to stay cool. Had a quiet 4th and now that everyone is back in town, getting back to a normal routine.

Sunday, April 23, 2017
Years ago [about 17 or so], my niece and I created the house plant arrangement discussed in this post. The arrangement has grown so much, this weekend I decided to transplant one of the plants to a separate planter.
My irises are a little late this year. I think it is because of the warm weather false start in our area earlier this year.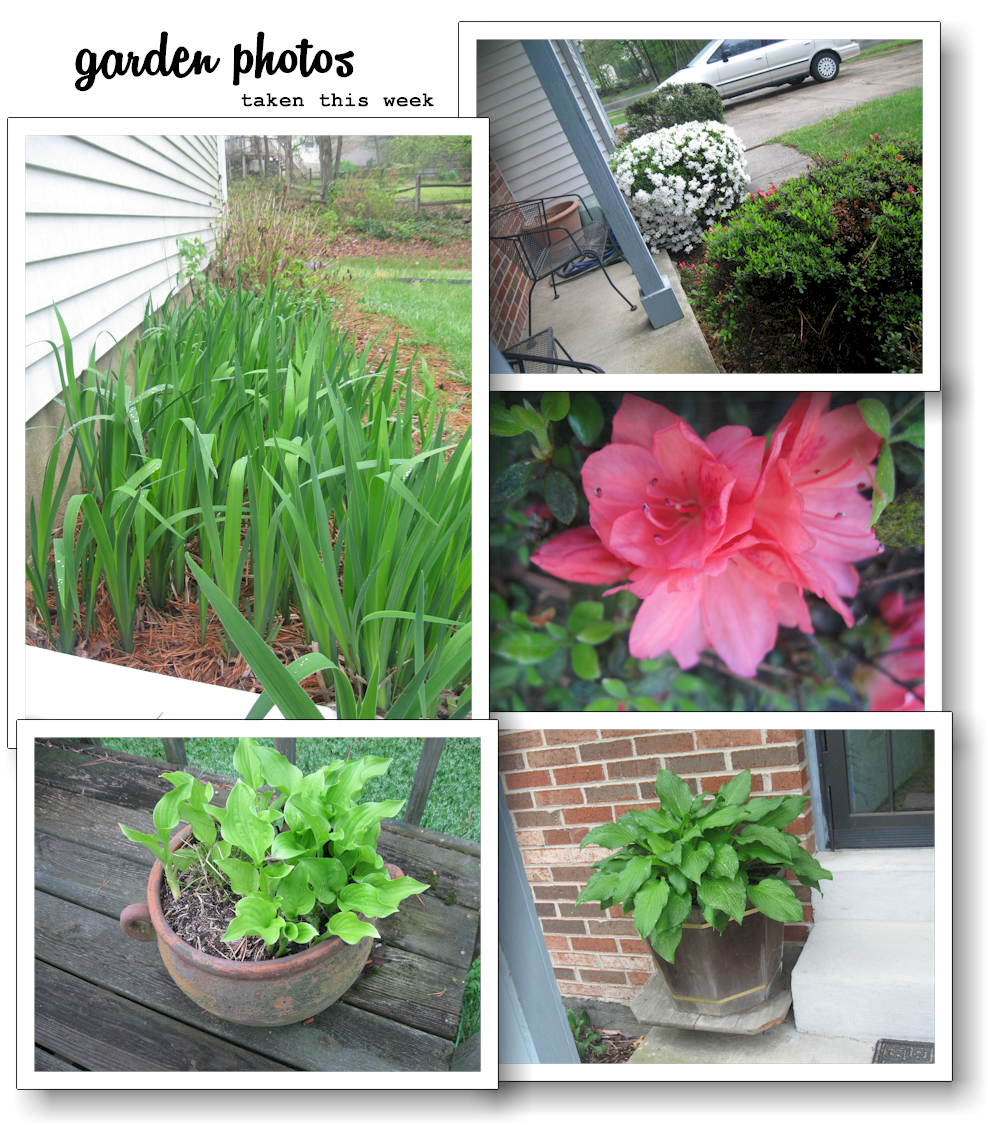 Other things I have been up to?
Hope my irises start blooming this week...

Tuesday, December 27, 2016
Christmas morning, I was showered and dressed by 6:00 am- and ready to prepare the dessert [chocolate cake] for the day. After everyone arrived, we opened gifts [around 11:00 am] and then had cake. Dinner was later.
It was a nice Christmas.
This morning, I went by the bank to deposit my gift money, because the banks were closed yesterday [December 26th- in observance of the holiday]. Other than that, I really did not get out much over the weekend.
I started reading Philip Roth's "Indignation" Friday night and though a short novel, read a bit each night and finished last night. I like period pieces like this and this was a very interesting read.
Closing out the year, I will work on my sites, look into filing my taxes, update the stores [see upper right sidebar] and work on the HanoverMD Businesses page on Facebook.

Thursday, December 01, 2016
Seems like it took forever for December to arrive. Maybe I feel this way because this year, Thanksgiving fell so early in the month and I have completed my holiday shopping.
I think we are putting up the rest of the holiday decorations, the end of next week. Sister stopped by Sunday, with the Poinsettia.
Other things I have been up to:
Movie: Batman v Superman: Dawn of Justice [premiered on HBO Thanksgiving weekend]
The Affair on Showtime-- new season started November 20, 2016.
Movie: 45 Years
Social Media [areas working]: High School Alumni Group (FB Admin), Hanover Businesses also on FB.
Paying bills: qisoftware.com hosting, cell phone, etc.
Researching tax issues. I am a sole proprietor [legal business entity in the State of Maryland] enabling me to use a combined status for personal and business tax filing & reporting. This calculator a bit out of date, however still useful.
Research for my stores. [Been here before? Start at the last page of the shopping category for new additions.]
Miscellaneous photos of things going on around here...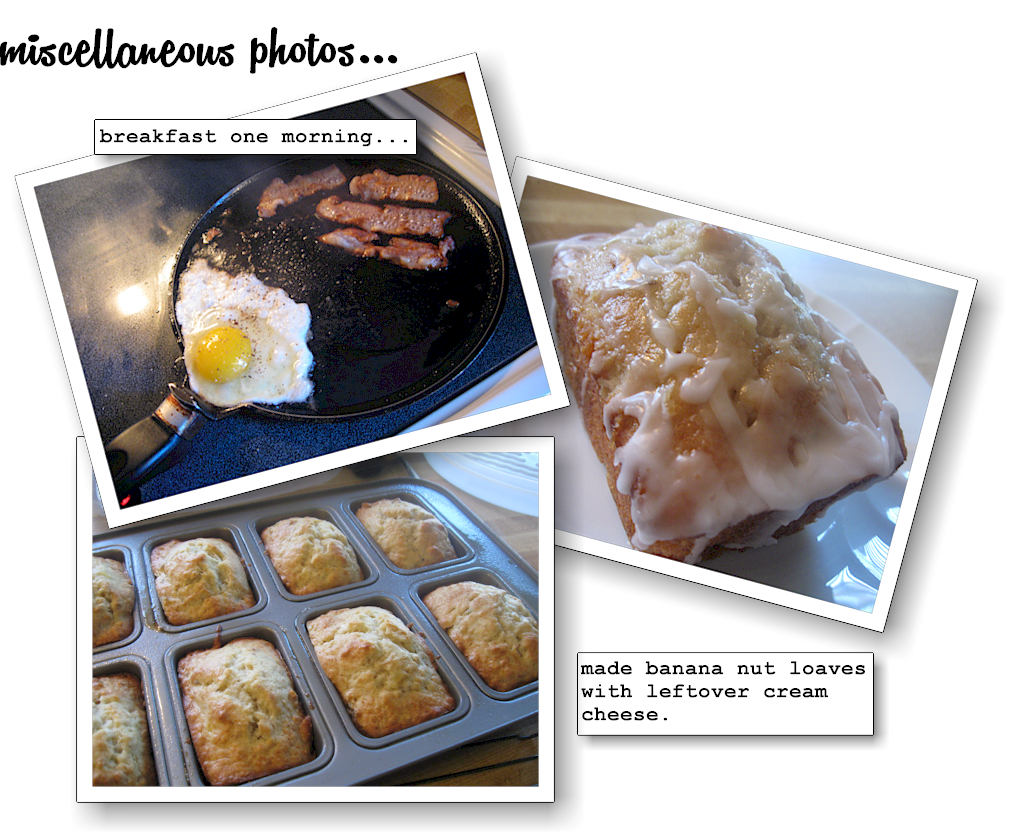 How are your plans shaping up?

Friday, November 25, 2016
Yesterday morning [Thanksgiving], I was up and dressed by 7:00 am and the turkey was on by 7:30 am.
In years past, because my parents' home was the site of so many festive Thanksgiving gatherings, I try to provide photos of the events going on now. Does anyone remember my Mother's beautiful holiday trivets?
I like the quiet holiday we now enjoy. In the past, I always felt I simply stopped in to have dinner, greet visiting relatives and old friends, and then left. I may have returned over the holiday weekend for "extended family" shopping trips or leftover dinners, however really just a visitor.
Now, I am much more the event planner. Before, my career was very important to me-- and I went to an office everyday. I hosted very few parties in my own home. An office Thanksgiving party was also a big event, also planned by others [in this case, office staff].
This more to say, although Thanksgiving is now different-- it is not bad. I love working and now I combine work with holiday planning. In the past, holiday planning was done for me. Believe it or not-- I used to give my Mother money to purchase the holiday gifts I gave. Now I do all of that.
This morning, I had plans to be at Arundel Mills for the beginning of Black Friday shopping, for a Hanover MD, Businesses project. I cancelled when I realized the Mall opened yesterday at 6:00 pm and has been open ever since.
I am almost done with my holiday gift purchases. Later today, I will be wrapping more gifts. By the second week in December, I will finish all of my shopping and we will start putting up the decorations and tree.
This year, I want to get out and enjoy the season more, however have no definite plans. Are you still looking for gift ideas?
Today, I am working and having leftovers for lunch.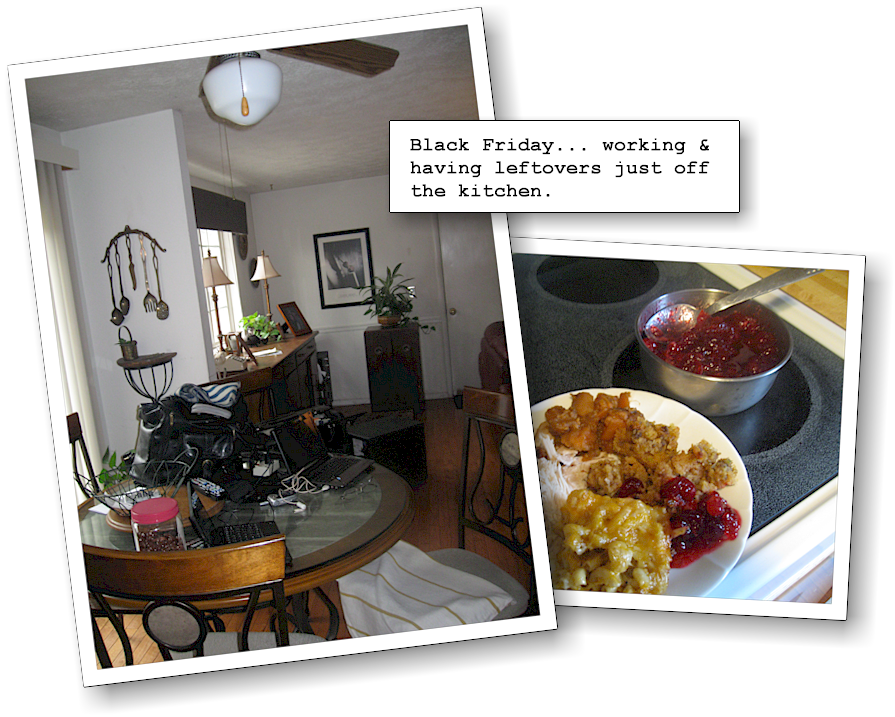 Sometimes, I simply cannot believe I make my own turkey and dressing with all of the trimmings...

Monday, October 31, 2016
We have had a beautiful October. Peak Autumn color is all around.
I have been eyeing this jacket since I added it to my Career Dressing Category and when it went on sale earlier this month- I decided I had to have it.

It wears like a heavier jacket and I have found a number of items to pair it with. Also, if I lose weight-- because of the jacket's weight and belt, I will be able to wear it no matter my size [assuming I only lose weight]. When ordering online, I tend to like larger sizes.
Recent meals.... It is getting a little cooler and I am having more tea...
Are you a tea lover too? I added several gifts for tea lovers to the Gift Ideas Category. Our area [Arundel Mills], has a tea speciality shop, Teavana which also carries a lot of items.
More October photos...

This October, I have also done quite a bit of research for my stores. I think I have found some great ideas-- so see what you think:
Hope you have a safe and happy Halloween....

Saturday, October 22, 2016
The latest circular from Costco showed a set of Cuisinart knives that I decided I needed.
I had an eclectic mix of knives and sharpeners-- along with a complete set in the storage block next to the stove...
however, I always seemed to be looking for a clean knife to dice up vegetables, chicken, or fruit for stir fry or something else I thought to make.
I have had the knives since Wednesday [Oct. 19, 2016], and have to say-- "they are great".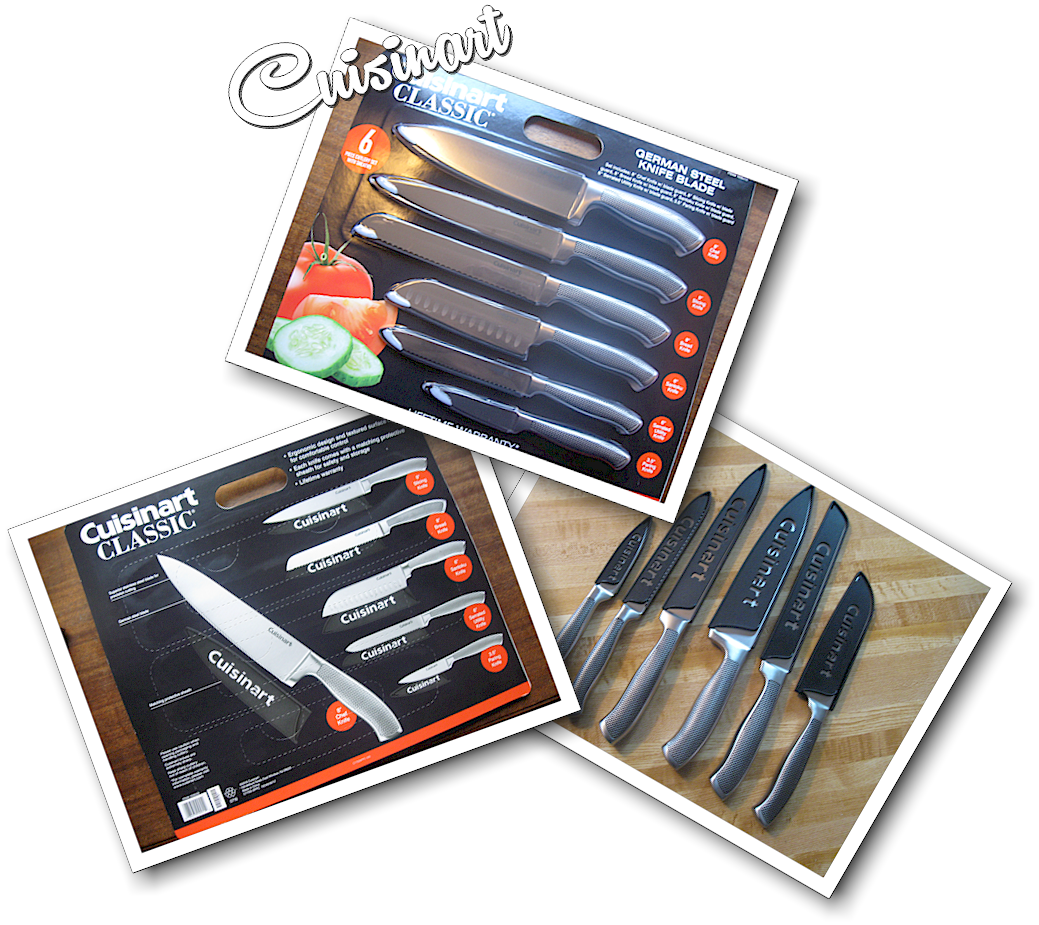 Autumn is slowly making an appearance. For the past 3 or 4 days we have had 75-80 degree weather. That said-- a little "fall" is coming in...
What else?
New blog post on Tumblr.
Updated the profile image on the Facebook HanoverMD Biz Page.
Movies: "Spectre" [2015]. Later today: "By the Sea" w/Jolie & Pitt.
Set up DoubleClick for different areas of qisoftware.com. I may write an entry about this for Remix, later. Have you used DoubleClick for Publishers?
I did not get out as much as I wanted this week-- however, hope to reset and get going, next week.

Sunday, October 16, 2016
Last Thursday, while changing a light bulb in one of the lamps above the garage doors, I missed a step on the step-ladder and briefly lost my balance. I was also trying to avoid the hose caddy I left sitting right next to the ladder-- so when I stepped off [skipping the lower step] I saw the hose caddy and this caused more of a scare. Somehow I picked up the ladder in this balancing act-- and was finally able to gain control of both the ladder and me without harm- or so I thought.
Long story, short-- though I did not realize I strained my left knee during this balancing act-- I must have, because I have been hobbling around for the last 3 days. The pain did not start until several hours after the incident-- and that first night I was in excruciating pain. Almost impossible to walk without support. Today, is the first day-- the knee feels almost normal again.
Because of this, I have been either in front of a television or working on a computer for most of the weekend.
What have I been up to?
Shown in the photo above-- the Washington Redskins game is on.
Movies: "Insomnia" and "Manglehorn" both w/ Al Pacino and "Joy" w/Jennifer Lawrence and Robert De Niro.
Taking photos of my Fall Gardens... [see below].
Watching the new cub twin pandas at the Atlanta Zoo
Shopping for gifts. My mother's birthday is next month and of course, Christmas is coming. I always start researching this early in the season because [1] I order most things online and want to make sure I have time to return if I make a mistake and [2] I like researching for my Amazon Stores.
My Fall Blooms... [referenced above].

This year, I seem to think I need big ticket items and have added them to my Just Want category, however have added what I think are nice ideas [with lower price tags] under the Gift Ideas category. Are you spending big this holiday season?

Sunday, June 26, 2016
On Tuesday, June 21, 2016 the shingles for the new roof were delivered. Before that evening, I am not sure how I thought that worked, however was a bit surprised a crane was lifted a couple of times to get the tiles onto the roof.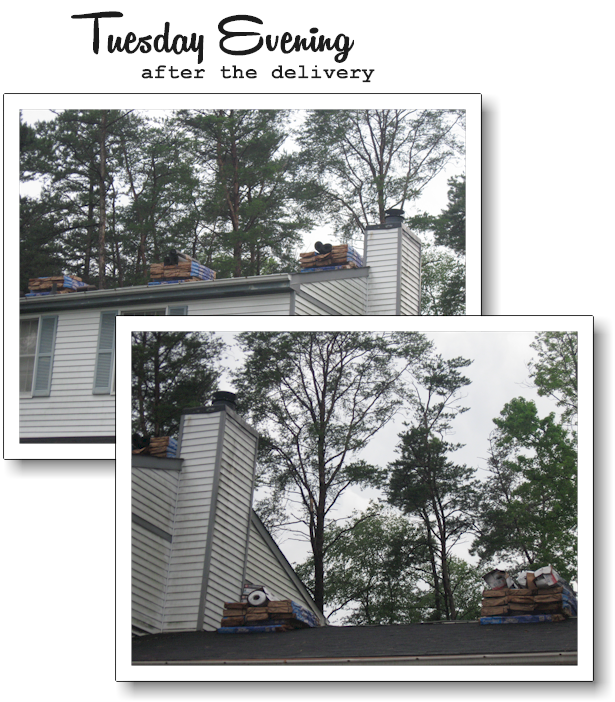 The next day [Wednesday, June 22, 2016], workers arrived around 6:30 am to start work.
The workers were finished by 2:00 pm. Again, I was a little surprised in that the installation did not take longer.

This was a big check-mark off our to-do list, and we are happy with the results.

Sunday, June 05, 2016
For sometime, I have wanted to add more security to the front door. We had only a deadbolt and a regular door lock as installed by the builder when my parents purchased their new home in 1984.
Several years ago I stayed at a hotel which used Security Door Guards on the doors, so I decided this might be the right solution. Since my Mother was going to Lowes on Friday anyway, I asked her to pick one up- after first "sharing" the item via Amazon [had one in my cart, picture is worth a thousand words].
She returned with the brass version [for some reason I chose antique brass] shown in the final installation photos below. Cost about the same as that on Amazon.
It has been awhile since I have pulled out my drill and worked on projects around the house, however I did not think I would have any problems. Boy was I wrong.
I got out all of the tools I would need:
Marked all of the holes with a pencil-- 7 holes total.
Drill
Phillips Head Drill Bit
Level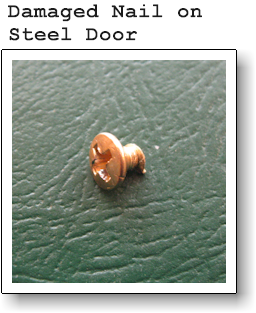 After installing the left side of the guard without a hitch-- I was ready to start on the right. The first problem? I broke the screw shown on the right. How? The door is steel.
So I had to find drill bits that would allow me to make pilot holes. I thought we had some because my Father used to have a lot of things like that but I had no idea where. Right after my Father died, My Aunt Judy [Virginia Johnson] came to visit and she installed the peephole you see in the photo, of the door [above]. She used my Father's tools to do this.
I searched for awhile and finally find the two bits shown below. I searched on the internet for steel penetrating bits and found most were gold so I knew I was looking for gold bits.
The two sizes I found:
The lock guard package indicated I would need to drill 3/32 pilot holes so I thought I was good to go. Boy was I wrong.
Though I was able to drill a hole with the 3/32 drill bit-- the screws that came with the lock would only go in about 1/8 of the way. So then I thought I would try the larger bit [1/8]. Same problem. The screws that came with the lock would not screw in all the way.
Again Internet research saved the day.
I ended up using the larger bit and smaller brass screws we had around the house. [We keep lots of things like this]. I think the instructions are for wood doors and not steel doors, that said-- I did not need to drill pilot holes in the wood frame for the left side installation of the lock.
By the time I finished around 6:00 pm Friday evening, I was frazzled. I think I am just not used to doing things like this anymore. I used to hang curtains, art, cornice boards, etc., without the problems I had Friday-- but none of those earlier tasks involved a steel door.
FYI: I owned property in Bowie, MD and that is where I lived until February 1996. I moved to Hanover, MD at that time. In 1989 when my Father died, only my Mother and Sister lived at the home I now reside in. My sister moved- late 2005. Just my Mother and I now.

Monday, May 30, 2016
The sun is shining and I had an early lunch of leftovers because we cooked yesterday.
Also this weekend:
Movie: "The Intern" with Anne Hathaway and Robert De Niro
Movie: "The Last Days of Disco"
Earlier in the week; Movie: "21 Grams"
Movie: "All the King's Men"
The French Open.. Rainy in Paris.
Playing around with video production.
Paid the quarterly web hosting tab for qisoftware.com
I will probably go out later today. Hope you are having a nice weekend.