Monday, December 14, 2020
Today, while searching for a Windows 10 utility for screen video capture, I discovered Windows 10 comes with a screen recording utility called "Capture" "Game Bar".
To activate the program, on your keyboard use the Windows key in combination with the "G" key.
I recorded the following video using the capture program. The video discusses a new Java servlet I started work on today, which uses the Share This API.
The resolution on the monitor I used for the screen capture was 2560x1600. The original output file was over 34MB. Since I am not using Youtube for this demonstration, I converted the file to a smaller format.

Saturday, June 01, 2019
One of the ingredients I use in my Cheesecake recipe, is heavy whipping cream. Normally, with the leftover cream, I use a Braun Immersion Mixer to make whipped cream.
The whipped cream though good, tends to lose its body after a day, so I found a Stabilized Whipped Cream recipe that I decided to test.
Short video- making the Stabilized Whipped Cream version...
Both versions of the whipped cream are good, however the version using the Braun Immersion mixer should be used immediately (it will destabilize over time). I think the stabilized version is worth the effort.
Things you may need for these recipes:

Thursday, January 03, 2019
I have been working several projects including updating my sites for the new year. This mostly involves updating the copyright year, i.e., 2002-2019 for site pages that provide the data.
I have also been playing around with a new audio resource. I am pleased with how this worked out. The video does not provide the actual robust audio quality, however you may get a sense of how well this works.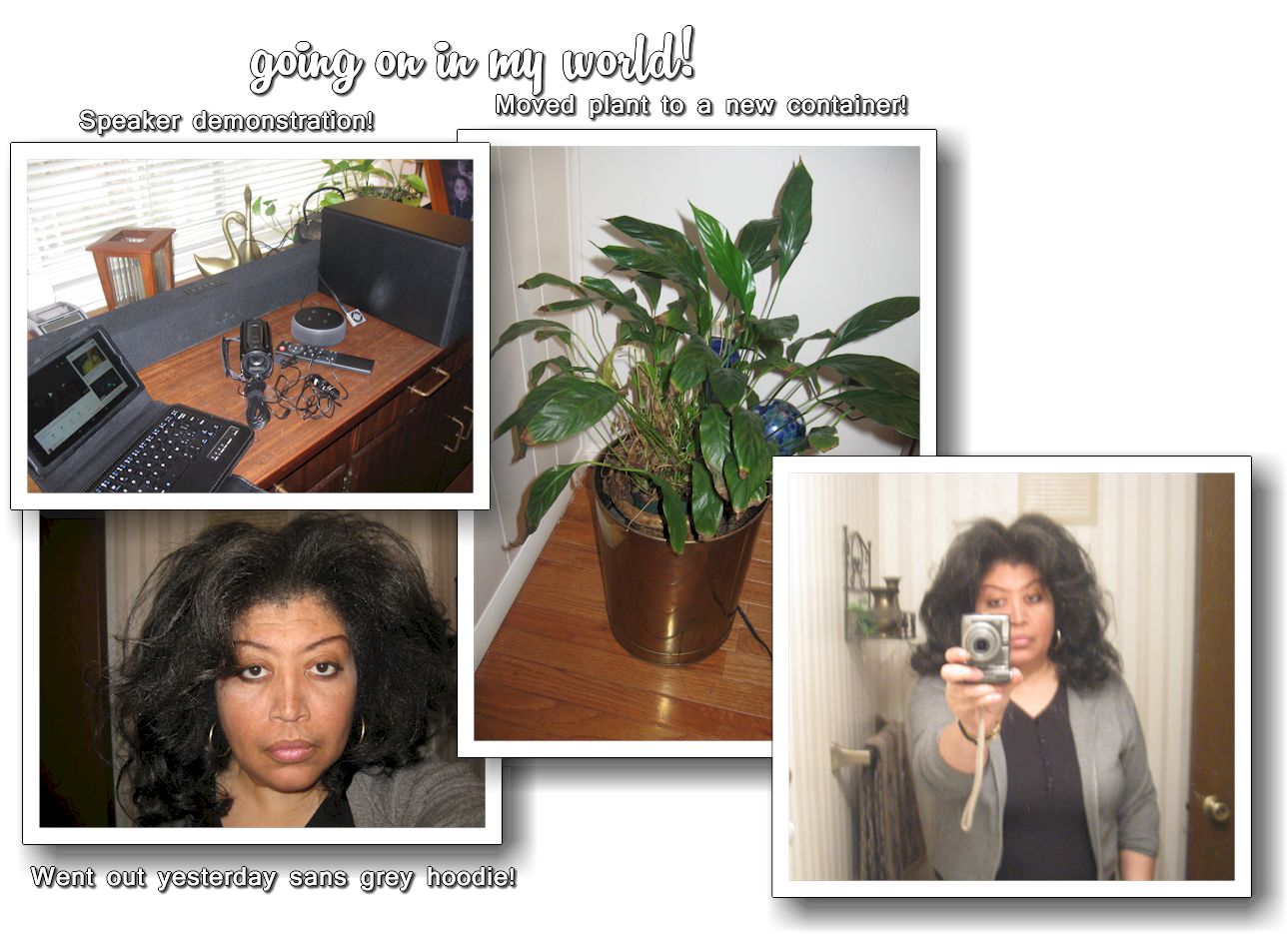 The video provides demonstration of Alexa Echo Dot, Apple iPod Mini and Youtube video via my Android as sample input audio to the 100 Watt per Channel speaker set. Keep in mind, I am still not expert in video production.
Other projects?
What's new in my hometown? My outing yesterday.
Updated the stores, including "Items I Have".
Fixing software bugs.
I missed the first season of "Counterpart" on Starz, so just before Christmas, caught up via Verizon FiOS' OnDemand feature.
Business housekeeping chores that I put off. Happy to get some of these chores out of the way.
This year, I spent a lot of time planning for the holidays. I am kind of happy now, to only have business issues to worry about.

Wednesday, December 19, 2018
I started work on the USPS Business Zip Tool. The tool (Java Servlet), is powered by the USPS Webtools APIs and will be installed on the Wiredpages Business & Markets page. Work is almost complete.
The following video provides a simulated look at how the tool will function. This is a simulated demonstration because I used the HTML results file provided by the program and not real time program execution results. The screen recorder(great resolution) I use is installed on my Android.
Screen grabs of the new tool.
I have minor changes I want to make, however in no hurry to install the new tool. I probably will have it up before the end of the year, however I may wait until the new year. Security and server loads always an issue.

Monday, September 03, 2018
Labor Day, the unofficial end to summer. It has been a busy summer for me.
Some of the things I have been up to:
As noted in blog posts, lots of work developing new interfaces for WiredPages.
An event in our lives made a local news story. Only noted in case needed for future reference.
Watching Power (Starz series), The Affair (Showtime series), The Sense of an Ending (movie)
Updating the stores:
Friday (08/31/18), I started work on a new interface to replace a Java Applet that provided a snapshot of the market indices. The old applet was located on the home page and the Market & Business page.
This 30 second video, shows where I am in the development process for the new Java Servlet.
Also on tap this summer, like every summer- my age climbs higher. Recent photos...
Why not dye my hair? Believe it or not, some are not sure if it is my hair. Four years ago when I dyed it a darker brown than my actual color-- it looked more like a messy wig.
Today, I really do not get out a lot, however when I do-- you might be surprised by what tends to be a curiosity. Why is that hair so big and messy? I have a lot of hair that is very porous [like a sponge it absorbs steam and humidity]. People have done odd things. I do not want to be tested.

Tuesday, August 21, 2018
Big event over the weekend, however about all I want to say at this time. Everything on track. Waiting on repair people.
In other news, working on a new tool for the WiredPages Employment page.
Short video to demonstrate how the interface will work.
You may have noticed one of the tools on the Employment page was removed, so this interface will be integrated sooner rather than later. I am still tweaking the appearance and testing different results [debugging] from the API. Should be installed within the week.

Tuesday, May 08, 2018
For reasons I am not going to go into here, though I have continued the tedious process of converting my old Java applets to servlets, I am no longer installing the updates to the server.
Work on the Quick Number Base Converter servlet was completed about 2.5 weeks ago.
Be back soon to provide details about some of my other projects and activities.

Thursday, March 15, 2018
In an earlier post, I discussed integrating elements of the Google Tag Manager resource throughout areas and subdomains of my different sites.
My online sites include:
Sometime ago, I setup Google Analytics defining different properties of my sites for reporting purposes. I use only one Google Analytics account for all of my sites, as shown in the following illustration.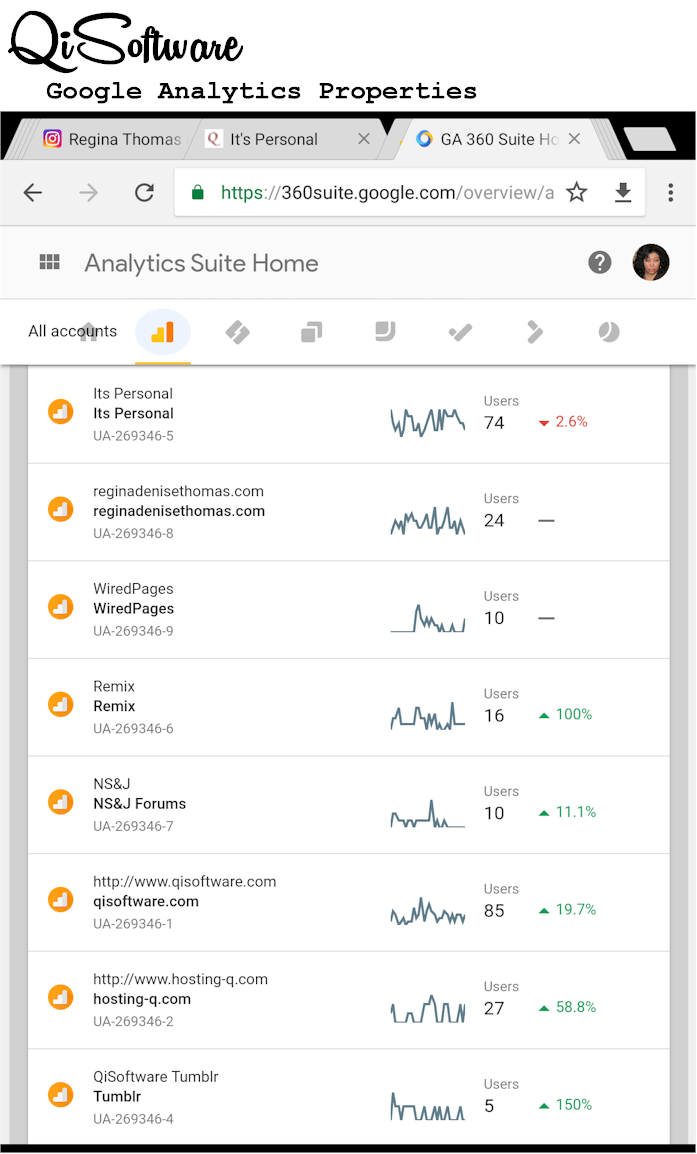 Over the last two weeks or so, I have spent a little time researching and testing basic Analytics Tag implementation concepts across different areas of my sites with emphasis on this blog and my Personal Résumé Site.
For those of you who have not researched and tested Google Analytics Tag implementation, the following video may have little meaning. Those who have, may find the video interesting. Keep in mind, I tend to capture everything and do not spend a lot of time editing nor recapturing videos I create.
Google Analytics and the associated Tag Management resource are powerful reporting tools, and in my case well worth the time and effort to come up to speed with ways to use and integrate these resources.

Friday, May 12, 2017
In March, when I ordered my new camcorder, I did not order a backup battery nor a condenser microphone. A week ago, I ordered those accessories and yesterday the purchases arrived.
Check below for links to the specific camcorder accessories I ordered:
Amazon order: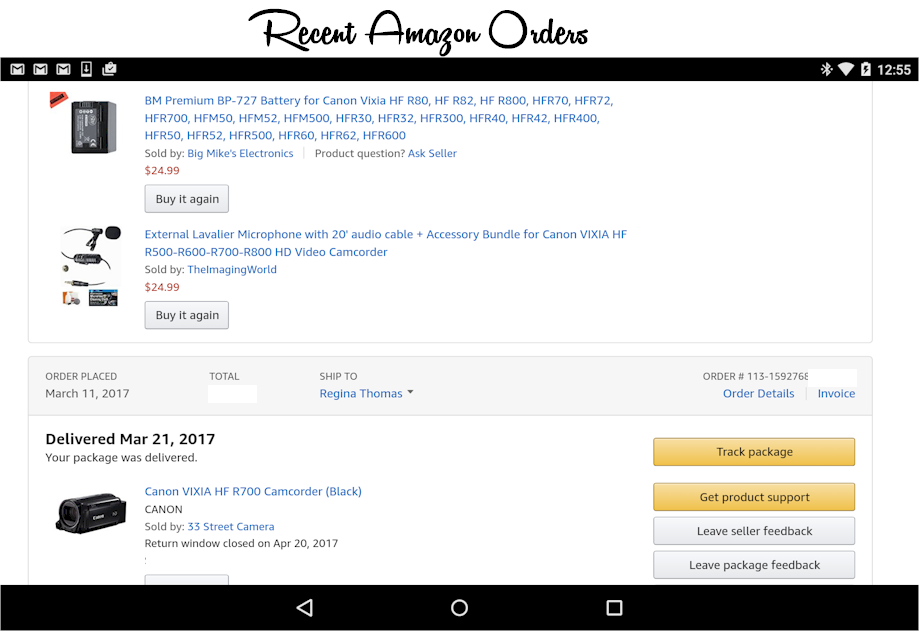 Short video demonstrating the difference between using the camcorder with and without the condenser microphone.
What else have I been up to? Actually several projects, however I will have to update this later.

Saturday, April 01, 2017
All day, I have been updating my iTunes Library with old CDs from my extensive collection.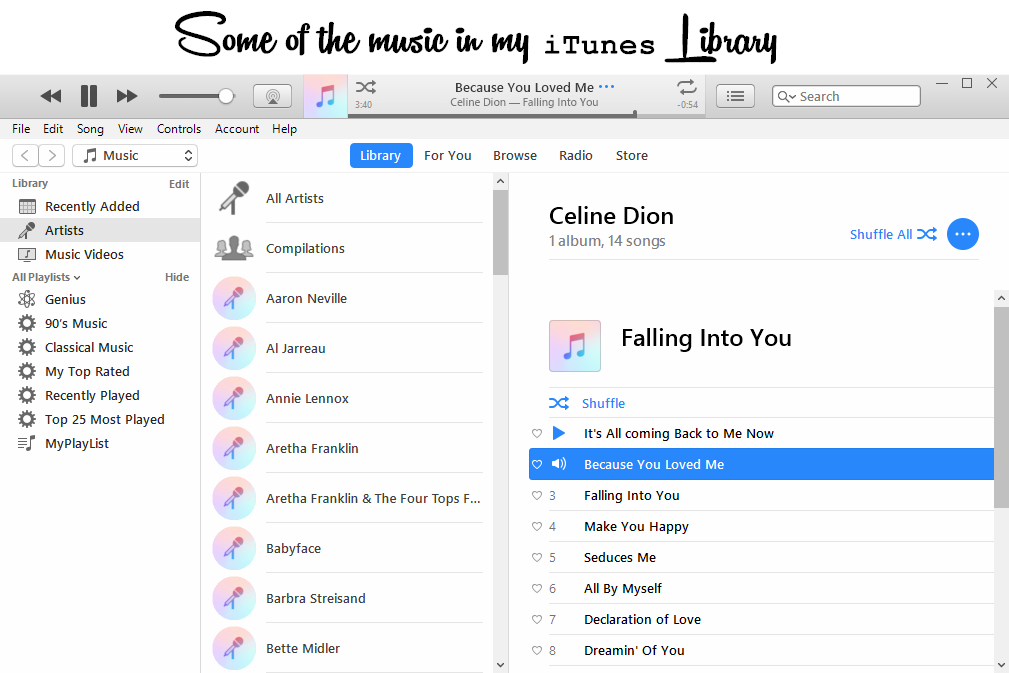 I had separate iTunes libraries on my Macbook and Netbook, so earlier this year I decided to put everything in one location and maintain the actual music library on a 32GB SD card shown as an inset in the illustration below.
Most days when I want to listen to my music, I use the RCA Cambio Windows10 platform with my TaoTronics Stereo Bluetooth Speaker.
Below, short video showing my work environment today, while porting more "old" music to my iTunes Library.
I love having all my old CDs digitized and available whenever I want to listen.

Friday, March 24, 2017
Finally ordered a camcorder. The final decision came down to these two:
Canon Vixia HF R700
Canon Vixia HF R800 [see this link]
I opted for the 2016 unit [R700] because it was $41.00 cheaper. The specs on both almost the same, however the R800 has one or two added features.
I am very pleased with my new hardware. Its light, easy to use and has the high definition and external microphone support I was looking for. Two items I will be ordering in the near future, an external microphone and one additional battery pack.
A short demo video to show the type of output you can expect from this camcorder.
Above, I am using the HTML5 Video Player to provide either a MP4, OGV or WEBM version of the video- depending on the browser requesting the playback.
I am using a commercial software app "TheFileConverter" to convert the MTS video file the camcorder created, into the MP4, OGV and WEBM formats for use with web browsers. Shown below- part of the underlying html for the HTML5 Video Player.
I do not need to provide different video formats for my social media accounts and am so pleased I can now upload Full HD Video to my Facebook, Flickr, Instagram, Tumblr, Twitter, and Youtube accounts.

Friday, January 13, 2017
Today, I decided to take a tour of Hanover, MD [the town where I reside] using the new dash cam.
I merged several longer clips [shot today], to create this video, however have yet to master a dubbing technique to add sound bites.
Areas shown in the video...
AACC @Arundel Mills
Maryland Live Casino-- when I slo-mo the video the flickering on the neon signs is absent.
The area known as Arundel Preserve in Hanover.
Milestone Parkway [runs from Arundel Mills Blvd to Route 175].
One of several new housing areas right down the street from where I live.
Pulling into the driveway.
Probably will not use the dash-cam every time we use one of the cars-- however like having it just in case...
You can learn more about Hanover, MD as related to commerce here.

Tuesday, December 13, 2016
Sunday, my sports action camera arrived. I have been testing the many features, and quite frankly it has many that are impressive. I am still learning how to use some of them. Photos taken with the XDV Sports Camera...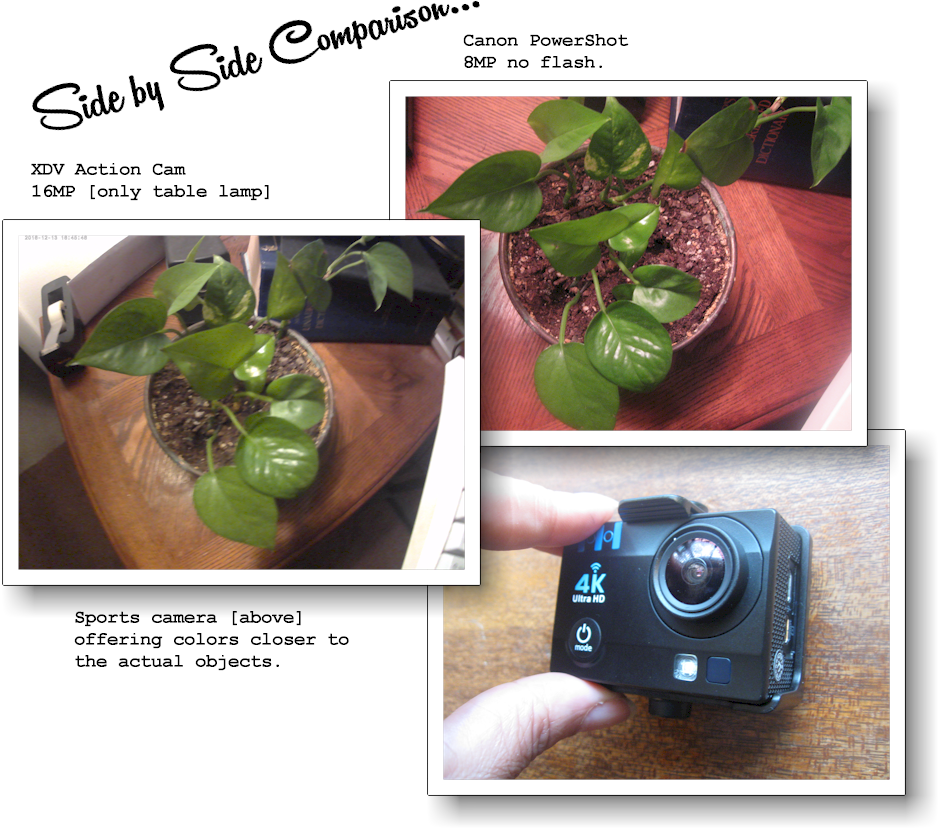 I tapped "plug and play" features to enable connection between the camera and most of my computers and tablets.
Short video clip from XDV Sports Camera- captured yesterday while creaming butter and sugar for a cake. I used an accessory that came with the camera and a 57" tripod to mount the camera- to shoot the video.
I like my new camera, however I have one or two issues [okay three]:
Really need an external light source-- not collocated with the camera but more on the subject. I have a similar issue with my Canon.
Not enough telescopic lens support.
Though other action sports cameras come with the option to select the FOV, mine did not. I would like this option.
I got a good deal on my camera and happy to add it to the business tools I use everyday.
For the money, you get a lot of features-- including a webcam, high resolution video and image output, and it is small enough to carry and clamp anywhere.

Monday, August 22, 2016
It has been a hot "August" and I have made it hotter with some of my favorite Mexican entrées.
Sunday before last [August 14, 2016], I made enchiladas for lunch/dinner and had the same as leftovers the following Monday and Tuesday.
Today for lunch, I decided to use the leftover flour tortillas to make fajitas. Note: The flour tortillas worked with the enchilada dish however I think I meant to get "soft white corn tortillas" for that dish.
Short video showing how I put together my lunch [fajitas] today [two attempts]:
I have been up to other things, too:
Saturday's Olympic coverage including the Women's Triathlon.
Cincinnati Tennis Open, US Open [Tennis] starts next week.
Last night, the latest episode of "Power" on STARZ
Watching Bei Bei's [National Zoo's Baby Panda] Birthday Celebrations [August 22nd is his birthday, he is one year old today].

Tuesday, August 16, 2016
Recently, I purchased an HDMI adaptor to allow output from my RCA Windows 10 Tablet/PC to a High Definition [HD] Television.
The following illustration shows some of the specs of the RCA Windows 10 Tablet/PC. Note the mini HDMI output bullet amongst the features.

The following is a demonstration video using the HDMI adaptor with the Windows 10 Tablet/PC and an HD Television.
Yes, I am still trying to come up-to-speed insofar as video production. I am thinking I need a camera which provides robust audio/sound quality and professional video editing software.
I currently own Windows Movie Maker and [Apple's] iMovie. iMove in particular- a nice package, however a bit dated in that I have the version for Mac OSX 10.4. I do not use either package for the videos on this blog, instead relying on my tripod, camera and me... Re-shoot as many times as needed.
I have read good things about Final Cut Pro X, so when I start upgrading my equipment and software that is the package I will purchase. What do you use?

Wednesday, July 13, 2016
Recently, I have been discussing issues with my Windows XP Desktop, so I thought I would provide this video of how things look now [while the system is booting].
I have also been working on my Amazon Stores.
Are you ready for the upcoming school year? I have been adding new items like the "Travel Safe" under the Home Office & Electronics Category. I think that looks like a great idea for new college students living away from home.

Monday, July 11, 2016
In April [2016], I posted about the installation of a version of FireFox on an older Windows XP system that would allow HTML5 Video playback.
The system was a little sluggish with the new Firefox browser update so I researched memory upgrade options. Believe it or not the system only had 256 MB of memory installed. I use the system to insure my programs are compatible with an older Desktop Windows XP environment.
It took me an evening, but I found what I needed. My system is a bit odd in that it only has 3 slots and the first two were filled with 128MB memory modules.
In 1997 or so when the system was purchased it came with 128MB and in 2010 or so, I added another 128MB. It had been awhile since I opened up that CPU [to look at memory issues1] and that is why I was a bit surprised by the 3 slot configuration. The system manuals long gone. Purchased from my sister when she moved in 2006.

So in April or May, I ordered a 128MB module from Amazom. For whatever reason the order was never filled. Last week I tried again with another supplier [again via Amazon] and the memory arrived today.
It did not take long to install the module and I am happy to report the FireFox browser is no longer sluggish.
Over the last year and a half I have added the following upgrades to that older Desktop Windows XP System.
Upgraded the operating system from Windows 98 2nd Edition to Windows XP.
Added color laser printing.
Installed RW CD Writer1
Added another 128MB of memory.
I do not think there are any other upgrades I can install on that system, and though I do very little [on that platform]- other than a couple of desktop publishing tasks and ensuring my programs work in that [online] environment, I am happy- I still have the system.
1System board memory location on that system is hidden by drive ribbon connectors and power cords. Last year when I installed the internal RW CD Writer I did not notice nor concern myself with the on-board memory configuration.

Friday, June 24, 2016
I did not start drinking coffee until after college- when I started my first position with Boeing Computer Services in Vienna, VA. The coffee stations scattered about our floor offered Brim or a non-decaffeinated brand and I chose the Brim.
At the time, I lived in Falls Church, VA- minutes from Tyson's Corner Mall. I purchased my first bag of fresh coffee beans [in the beginning I had the beans ground at the store] from a shop that had amazing aromas coming from its open doors.
My favorite flavors included:
Columbian Supremo
Orange Blend
Irish Cream
Since then, I have owned many coffee [spice] grinders and coffee makers. I have mentioned before, my brother and sister-n-law gave me my first espresso machine for Christmas one year, which I never used before moving to Hanover. I used to use a drip coffee maker with freshly ground beans.
Since moving to Hanover, I have used four different espresso makers, including the gift from my brother and his wife.
Shown below, some of the espresso makers I have used. Not shown, a smaller Italian Bialetti Moka Express, Espresso Maker [similar to the larger silver one shown].
I love espresso. If I have nothing else during the day [this seldom happens], I will have an espresso.
This morning's brew [literally]....
In 2011, after more years of daily use than I want to admit, I needed to replace the Krups. I found the Krups a little more than I could afford, so my mother gave me the Mr. Coffee that I now use. Both brands make excellent cups of espresso.
Espresso Machines make great gift ideas. I have done a little research on espresso machines, grinders and beans and provided the results in some of my stores [Gift Ideas & Items I Have]:

Monday, June 20, 2016
I was in the kitchen this weekend, trying to capture on video "How to make French Fries" with a wok. I often use my wok to make Kung Pao Chicken or other stir fry favorites, however never fries.
In photos, the results...
Video clip as I am scooping the fries out of the wok. My video production efforts are still a work in progress.
I have to say, I love McDonalds Fries, however these were pretty good. Not shown, the salt I added just after the fries were pulled from the heat.

Sunday, May 08, 2016
I thought this was an interesting report from CBS News about Bei Bei the panda cub at the National Zoo.
I captured this short video on May 6, 2016. I think he likes whatever it is he is eating. What do you think?
Several months earlier... he was not that interested in the biscuit.
Hope you had a nice Mother's Day. Great dinner.

Friday, May 06, 2016
I have decided that video production is not as easy as I thought it would be, so I have been practicing. Yesterday, I shot three videos while doing various tasks in the kitchen. Here is the last of the three.
I have also discovered I am having audio issues.
Though I am pleased with the video quality produced by both my Android and Canon PowerShot A590 cameras for online use, I am not that happy with the audio quality being reproduced.
Unfortunately, my PowerShot does not have a port/jack for an external microphone, however the Android does have this feature.
That said, I am now careful about moving in and out of range while speaking when the record function is active.
Video issues? Yes, the next time I will use a little less of me when trying to open, scoop and plate the Gelato. Other issue? How long does it take to open a new container of Gelato? I should have tested that before I started.
The first two videos were nowhere as good as this.. so I will continue to practice.
The Marie Callender's Apple Pie? Delicious. I also like the Breyers Vanilla Caramel Gelato, however the combo may be a little too sweet. Dessert for Mother's Day? I would offer either, or.

Wednesday, May 04, 2016
I ordered my Mother's gift ages ago, so this week I thought I would design a card using a photo I took late last month of one of her Azalea bushes. For some reason, I hate buying greeting cards.
In this case, I am using MS Publisher, however could have used iPhoto on my Macbook to create a similar card. These days, I use my Macbook only when absolutely necessary. My software development projects and Business Blog Remix are maintained on that system-- and I cannot afford to replace it at this time.
iPhoto comes with most versions of Apple's OSX operating system, whereas the MS Publisher version I am using shipped with my Professional Microsoft Office 2000 Suite software.
I am not sure if I am going to give her this card, however I think she will like her gift. I printed draft copies of the card to both color and black & white laser printers to see if everything is lining up and to ensure the accent colors match the photograph.
Also this week...
Updating [always] my Amazon Stores:
Scheduling new posts for my Tumblr blog
Researching web hosting issues.
Watching the National Zoo's Panda Cub [Bei Bei], however video shown below recorded 4/27/16, last week.
Researching how to avoid a monthly service fee on my business checking account. New limits set by my bank- activated on May 1st, caught my attention.
Bei Bei, makes me laugh...
What are you doing for Mother's Day? Washington, DC's Race for the Cure is also Sunday.