Wednesday, June 16, 2021
Recently, I added comments and the option to shorten initial posts with a "read more" teaser to this blog and my business blog. I discuss this project in this post on my business blog.
To minimize legal issues, I use the Thingamablog content management system (CMS) to publish my off-line blog posts to my sites. This insures that I maintain the master copies of my blogs off-line on computers and as backups on external storage devices.
One of the problems with using a CMS hosted locally, and not popular online services like Blogger and WordPress, are issues with comments. Most users who go this route, use services like DISQUS to host the comments associated with their blogs.
The illustration below, shows the script added to the Thingamablog entry.template file for each blog (this and Remix), to handle comments and the read more teaser.
To date, though I have added the feature to this blog, I have not used the "read more" teaser, so I used an illustration from Remix, where I have used the new feature.
I also want to note, if you are a Thingamablog user, and want to try the "read more" teaser solution I discuss in the Remix post, you have to insure the HTML inserted into the Extra 1 field is clean. No double quotes, carriage returns, line feeds, etc. Why? My implementation uses Javascript which has an issue while reading the remaining post text- stored in the Extra 1 field. I only needed to check if the field was not null and believe it or not, that check was not easy.
Initially, I installed DISQUS on each blog, however, by late last week interesting ads began to appear on this blog, so I decided to install a self-hosted comment script. After a bit of research, I decided to use Commentics.
Several issues installing the new script. The first, I use Apache Tomcat so any time I add a PHP driven feature I have issues. One of the workarounds I have found, install the new feature on a sub-domain and make sure to update the underlying Tomcat XML files to handle the new sub-domain.
The second, I did not realize Commentics was a cPanel offering through Softaculous. I downloaded the script and prepared to SSH the files to my server when I found I could no longer use the SCP command I illustrated in this post. In 2017, when I first setup ssh access on qisoftware.com it took me a morning or so to get it setup correctly. I love being able to copy directory trees with a single line of code. Not sure why this is blocked, however I used FileZilla to copy the files. Then I discovered Commentics is a script offered by my web host.
To enable Commentics on this blog, I added the lines of code indicated, to the header and lower areas of the entry.template file of this blog's template.
The following illustration shows the last blog post entry with the Commentics script for comments in the lower area.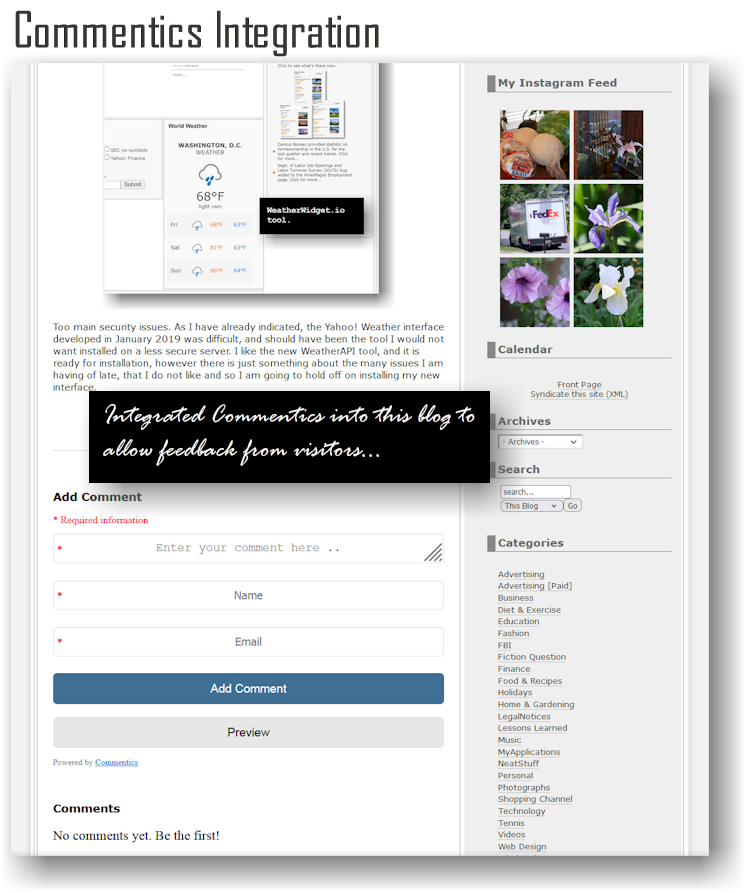 I continue to tweak the Commentics template for this blog. I really like this service because it offers a lot of features. Because I am concerned with load issues, DISQUS continues to be the service used on Remix. That said, other than my test comments, I have no comments so I am not sure why I am concerned with this issue.

Sunday, May 09, 2021
Happy Mother's Day. I have been working different projects over the last week, in preparation for Mother's Day. I ordered online, however did stop by a garden center on Friday, for a hosta plant and marigolds for the planters on the deck.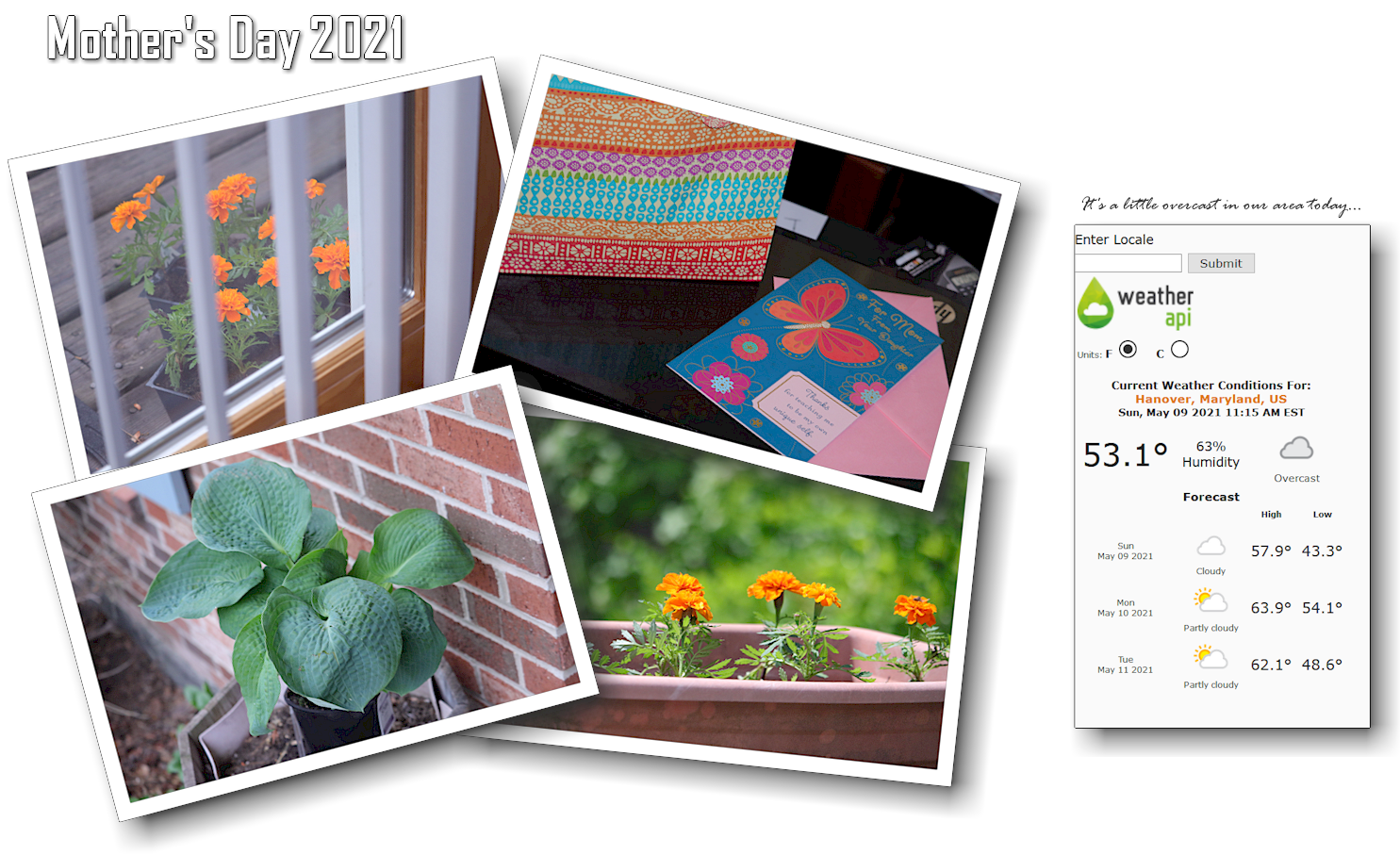 In our area it has been a bit overcast over the last 3 or 4 days, including today. The weather? That is another project I have been working. A new interface (Java Servlet) using the WeatherAPI resource.
The illustration below shows a side by side comparison of the Yahoo Weather interface used on WiredPages and the new WeatherAPI interface.
Most of the work for the new weather interface is complete. There are minor cosmetic changes I may implement, however, since I have no plans to install the new interface online, will probably hold off.

Monday, September 07, 2020
In 2009, I switched from a shared to a private Tomcat jsp hosting plan for use with qisoftware.com.
What is Tomcat?
Apache Tomcat is a long-lived, open source Java servlet container that implements several core Java enterprise specs, namely the Java Servlet, JavaServer Pages (JSP), and WebSockets.
The switch [on qisoftware.com's servers] enabled me to restart my private Tomcat service whenever the need arose.
The switch for hosting-q.com, where I maintain most of my Java Servlets, occurred in October 2018.
When I started using private Tomcat services, I only needed to be able to restart Tomcat so updates to the web.xml file and new Java .class files were recognized.
This to say, that if I ever had a problem with either shared or private Tomcat services-- I simply decided my web hosting providers should research and fix the problem.
In October 2018, a newer Tomcat private service was established on hosting-q.com, for which (quite frankly), I had to do a bit of research- to have it work correctly. Last week, I forgot I had to do this. Yes (even then), I tried asking the web hosting provider to resolve some of the issues, however now I realize, they feel if you ask for a private Tomcat hosting plan, then you know how to run a private Tomcat service.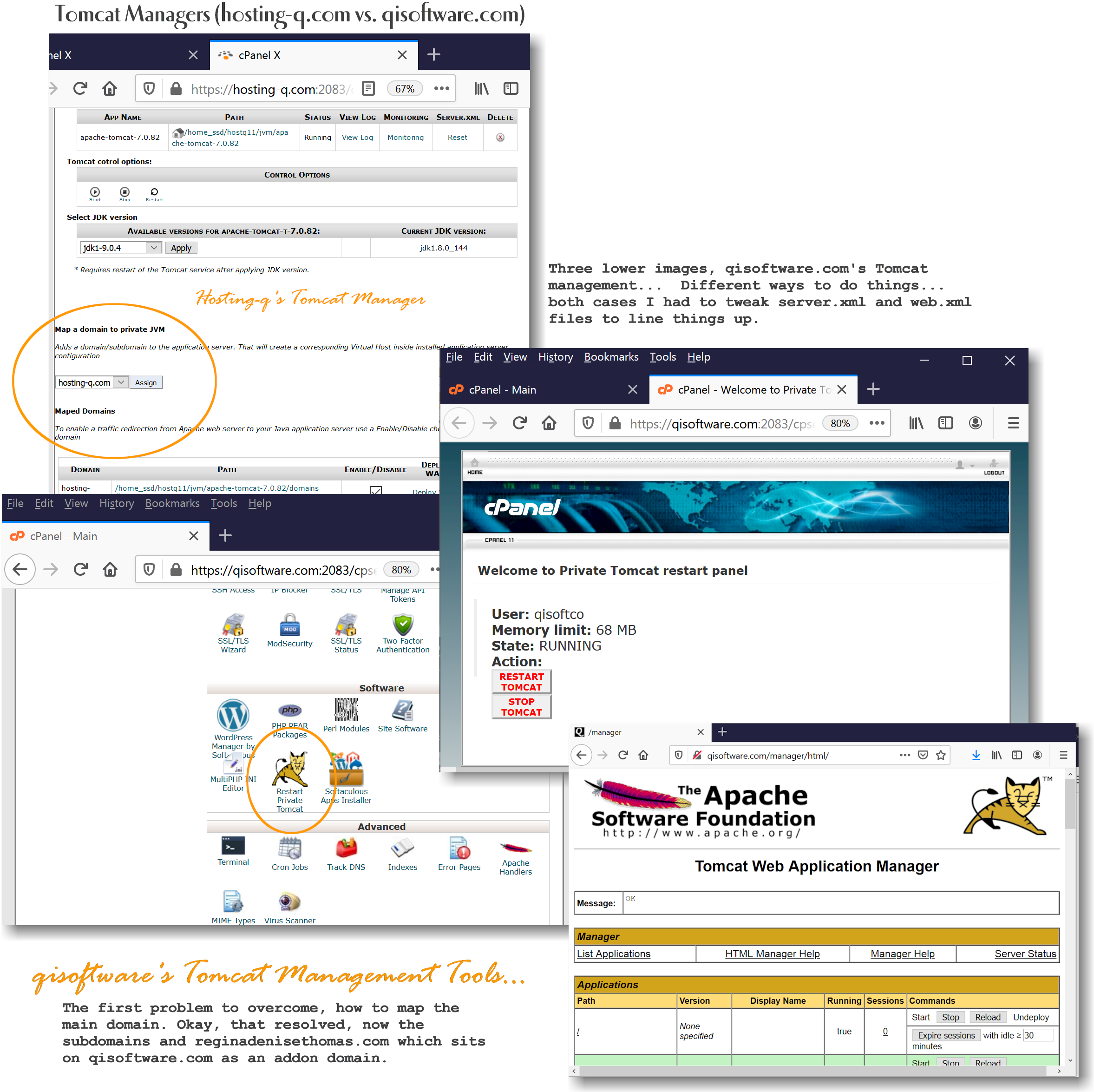 Last Wednesday (September 2, 2020), when I okayed the update for the current Java JDK version 1.6, the web hosts also indicated they would update both Tomcat to version- 8 (8.5) and the Java JDK to 1.8. When this happened, the site dropped almost immediately.
Java JDK 1.8 is considered a must have to handle today's SSL issues, and since I have been developing in that environment (JDK 1.8) since December 2019, I knew it was a must have for qisoftware.com servers.
Preliminary tests showed, I could not even install a simple Java JDK 1.8 test servlet on qisoftware.com servers without dropping the entire site (keep in mind when you use a private Tomcat service the Apache Tomcat server is used to run the entire site).
The other issue, for the last year or so, I have been migrating new tools, or updates of existing tools to hosting-q.com because qisoftware.com's versions of Java and Tomcat simply could not handle the new interfaces.
Two weeks ago, when hosting-q.com experienced an overload, I knew I had to do something about qisoftware.com- to assist in the efficient distribution and deployment of Java class files, between the two sites.
I had errands to run Wednesday (September 2, 2020) morning, and knew before I left- I had a lot of problems. When I returned, I was able to figure out how to map qisoftware.com and reginadenisethomas.com to the new Apache Tomcat Server.
By the end of Wednesday evening, I had the following sub-domains mapped.
forums.qisoftware.com
personal.qisoftware.com
remix.qisoftware.com
wiredpages.qisoftware.com
I probably should not admit to this, however here goes. While trying to get the sub-domains mapped, I inadvertently deleted all of the files in most of the sub-domains, reginadenisethomas.com and the rest of the lower directories under the main level.
No problem- remix.qisoftware.com and personal.qisoftware.com are Thingamablogs so I simply ran the local software and reinstalled each blog (personal.qisoftware.com took over nine hours to reinstall on a Verizon FiOS network-- think we are sharing some of our throughput with neighbors).
As requested two days before (August 31, 2020) by my web hosting providers, I made a backup of the entire site (oddly enough, Tomcat & WiredPages directories were missing), so it was easy to use a secure copy command to replace the deleted directory structures.
Other issues I had to resolve:
cgiemail-- though the cgi-bin directory appeared to be mapped, the MIT Form to Email application I have used since 2004 or so, simply would not work. Created a PHP Form-to-email Function to handle qisoftware.com/contact.html and wiredpages.qisoftware.com/busdir/SubmitListing.html.
index.php not recognized for forums.qisoftware.com. The following command set did work for 10 minutes and then suddenly dropped the Tomcat Server.


Had to come up with another way, which I am not happy about.

Continuing to look at this problem.
All of this to say, at this time, qblog.qisoftware.com (Q's Wire, MySQL Database uncorrupted) and blog.qisoftware.com (original Business Blog) are not installed. Very easy to use the secure copy command to load these sub-domains and the associated directory trees. I am simply weighing the options.
Did you want to ask if you should use Java Servlet Technology or use someone like me to develop custom tools? Yes. Most big sites use Java technology. It is more secure and executes faster than most scripting languages. Smaller sites can use a shared Tomcat environment. Developers like me-- need the Private Tomcat Server.

Saturday, June 06, 2020
I mentioned in the last post, there are several new tools ready for installation on WiredPages.
The following summarizes each tool, and provides illustration as to how the new tool will appear on each page.
The WiredPages Home page will get a Market Indices bug, which will provide timely information about stock markets.

The WiredPages Real Estate page will get a Mortgage Calculator.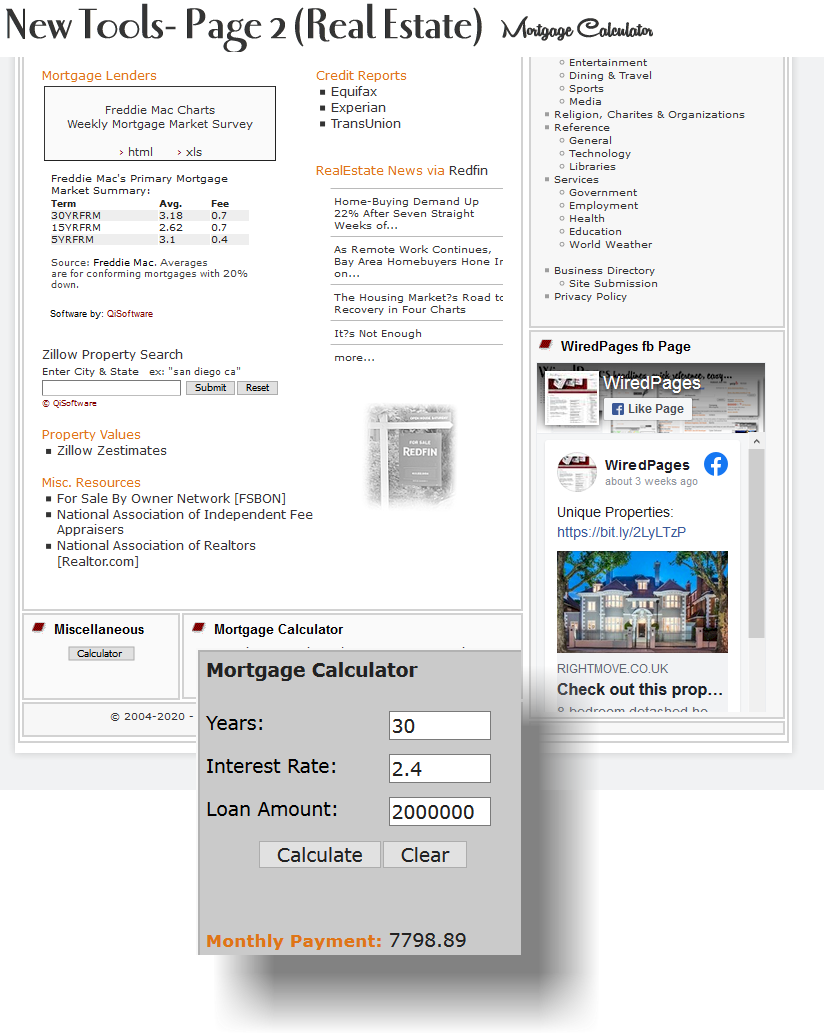 The WiredPages Business & Markets page will get the Market Indices bug along with a Biz Zip Search tool.

The WiredPages Style & Events page will get the "This Day In History Calendar". Click on any day and the tool provides important events in history for that day.

The WiredPages Media page gets the NPR One StationFinder interface.

The WiredPages Health & Wellness page will get the FatSecret Nutrition Information Search tool.

The WiredPages Arts & Entertainment page gets the Youtube Music Video Search & Playback tool.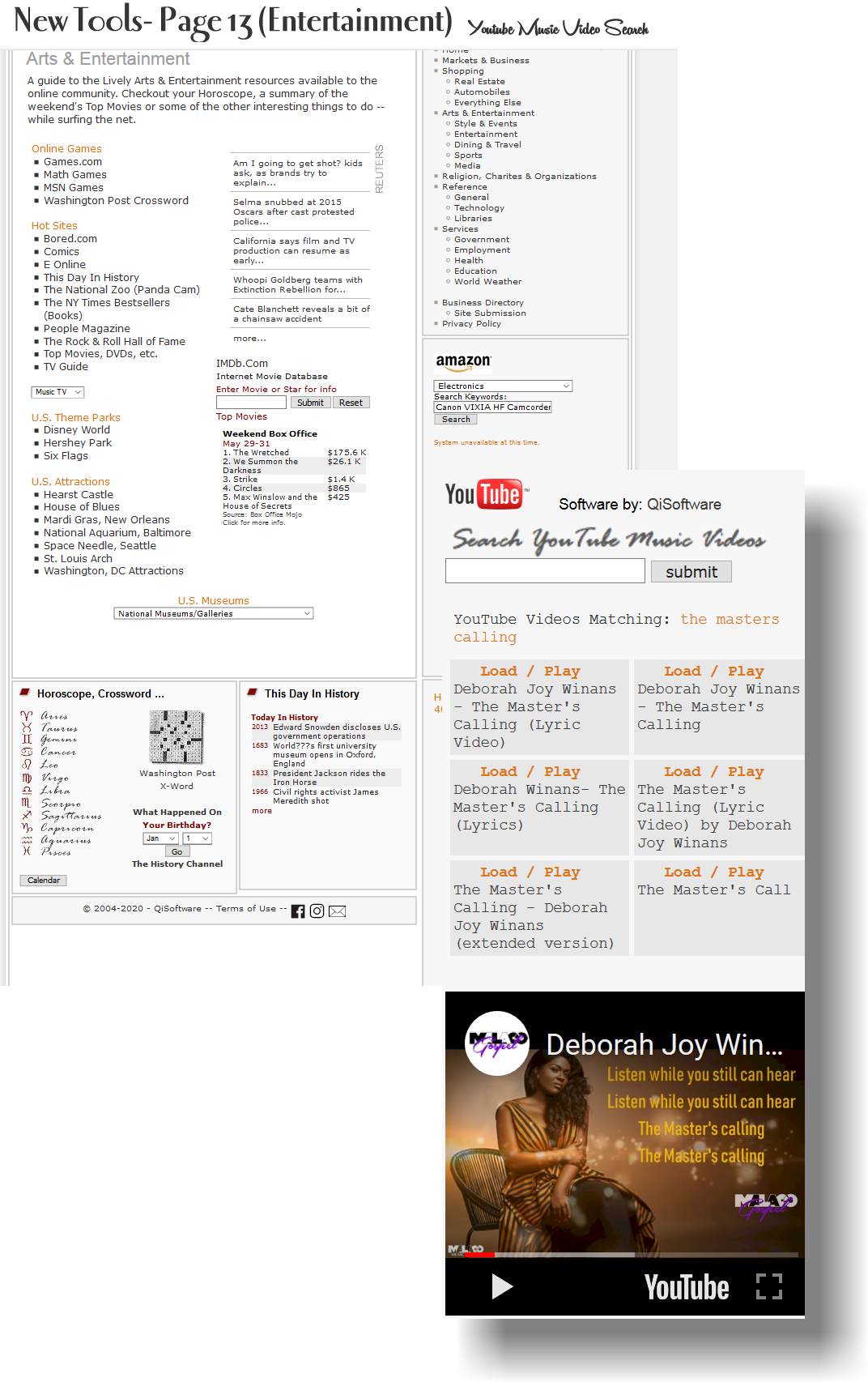 The WiredPages Reference page gets the World Factbook interface.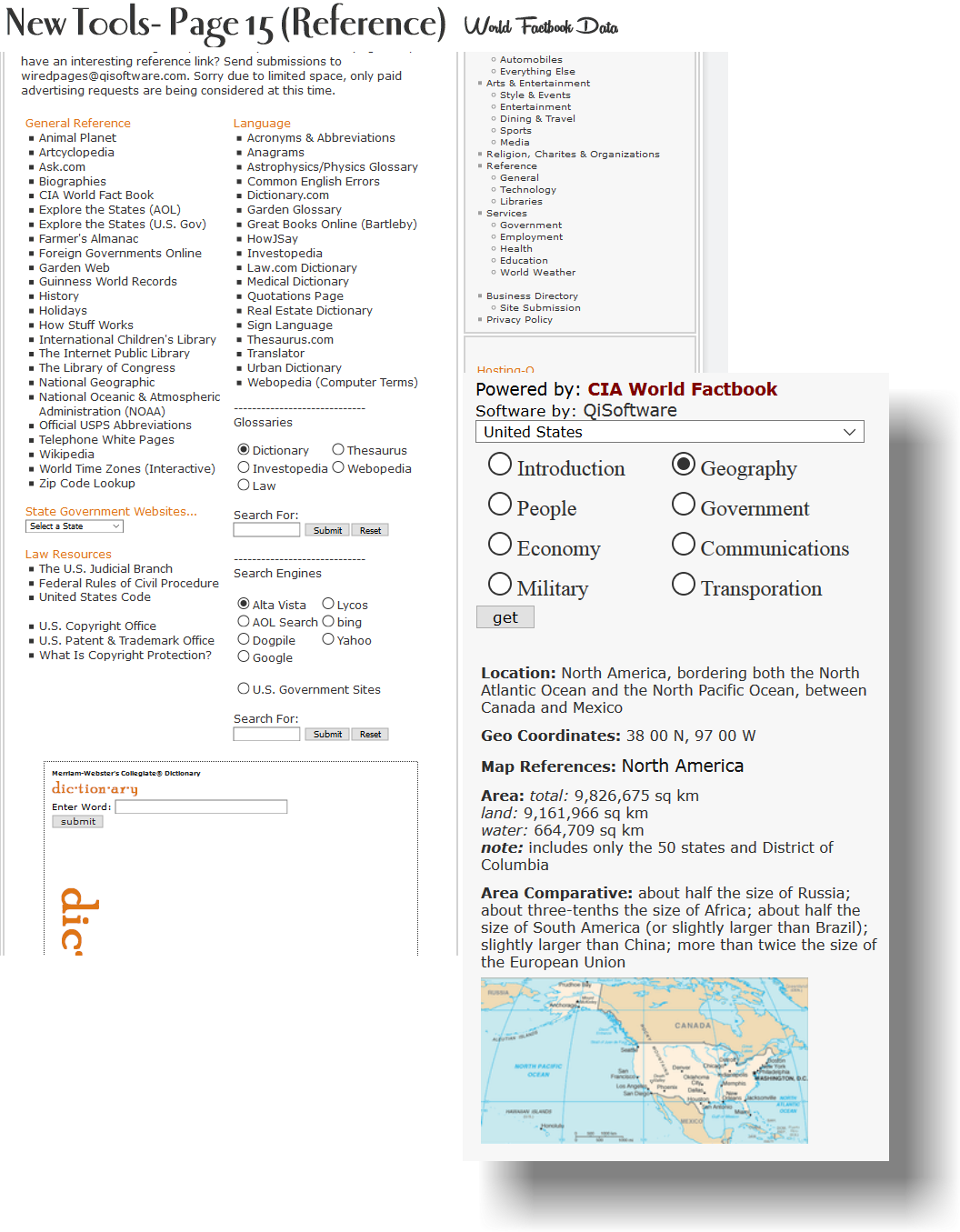 The WiredPages Technology page will get the Alexa Site Rank tool.

There are several other tools in the works, however the tools listed here are ready for installation. Why not install now? Security and potential server load issues. Why continue to develop new interfaces? I hope my issues will be resolved and quite frankly, I love developing new software tools for WiredPages.
Note, the overlay for each tool is larger for illustration purposes.

Monday, March 30, 2020
Recently, when I finished work on the new Amazon Product Advertising API interfaces for WiredPages, I decided to continue with other software projects, specifically an effort I put aside sometime ago.
The NPR One API resource is an interesting project, and quite frankly when I signed up over a year ago, I thought I would get back to the project a lot sooner. Part of the problem, it took longer than usual to set up the correct authorization procedures. When I finally "correctly" initialized all of the codes, I felt most of the hard work was done and it was only a matter of writing the interface.
Below, illustration of work completed on the project, with still lots more to do...
One of the biggest obstacles, I thought I could use HTML5 audio features to enable live streaming of radio programs. I could not. So I spent most of the weekend coming up to speed on a popular jQuery Player.
Over the years, I have decided against using cutting edge technologies like JQuery and AJAX because a lot of my development hardware is older and cannot support those newer technologies. However, what this has enabled me to do, is insure my sites work with both new and old technologies. My old desktop Mac can still run most of the tools on my sites without issues. Today, there are very few sites my old desktop Mac computer can visit.
Now, I do have access to newer hardware, however up until recently, my newer hardware was for testing and not development work. These days, I am using a Windows 10 Pro mini for a lot of development efforts. Updates to SSL protocols left me with little choice but to afford a newer development platform-- see the Items I Have link for more information.
So, back to my efforts this weekend... I am pretty happy with the jQuery Player I will be using for the NPR One API project, and will have to get over the fact that some of my hardware platforms will not be able to provide the live radio streams from NPR's network of stations.
The new tool is a Java Servlet and will be installed on the WiredPages Media page.

Saturday, March 21, 2020
Earlier this week, I noticed I had access to the Amazon PA API, so I decided to take the opportunity to convert my old PA API 4 tools, to the latest release (PA API 5). Efficiency guidelines, periodically disabling the resource, so this was my first opportunity to work with the new API.
I am not sure why, I thought the new release of the API would be easier to use, as related to development efforts for Amazon Product Search tools. In my opinion, the earlier release, PA API 4 was easier, especially the signing process.
That said, after some research and testing, I was able to get three program versions working using different frameworks:
Java Servlet not using the Amazon supplied SDK
Java Servlet using the SDK
PHP Version
When I install the new tools on WiredPages, I will be using the Java Servlet version which does not incorporate the Amazon supplied SDK. The following graphics illustrate how the new tools will look on the site, however [shown below] running in local mode from my IDE (NetBeans).
If you are familiar with my earlier Amazon Product Search tools, you will note the new tools are similar to the old. Updates also included new search categories. I will probably release the new tools sooner rather than later, however I am still researching security issues. Think I have found most of the program bugs.

Wednesday, October 16, 2019
Fall arrived and I have taken the opportunity to get out to take photos with my recently acquired Canon EOS M50 Camera and Canon EF-S 55-250mm F4-5.6 IS STM Lens .
I use photos quite a bit for graphics. In 2010, I started a Facebook alumni group for my high school and periodically visit the school to take photos. Recently, I updated the header graphic for the group using one of the photos I took on a recent visit.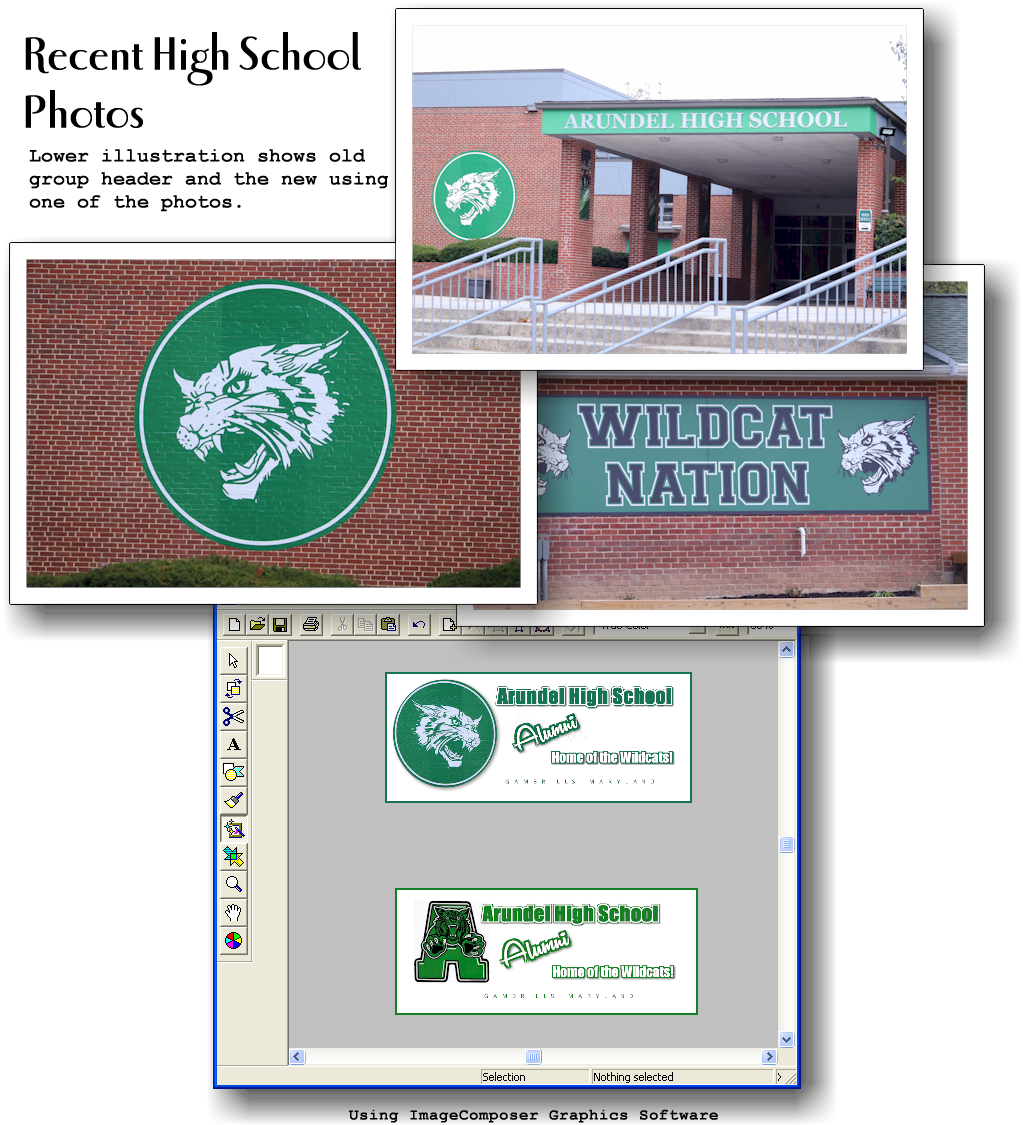 In addition, the following illustration shows another photo used as a new graphical element for the WiredPages Real Estate page.
And it goes without saying, I post regularly to my Instagram and other social media accounts.
In my area, autumn color is just around the corner, and I plan to get out and enjoy the season.

Friday, March 29, 2019
I am not a web designer (more software developer), that said I do all of the work -including web design for my sites.
As mentioned in the last post, I recently updated the look for the Business Blog, Remix. I liked the way the new header graphic worked out so I thought I would do something similar for this blog.
Initially, I tried a photo image, however the results were not what I expected. I searched through stock clip-art I keep on hand and found a graphic I thought I could use.
The new header graphic for this blog looks similar to the one created for the business blog, however I am going to keep both headers for the time being.
Why not hire a web designer? Nerdy programmer cannot afford a web designer. Because of security issues, I have put on hold most of my programming projects, and began updating the graphics on several areas of my site (qisoftware.com). That said, programming is easier for me.
Other things I have been working?
By the way, have you noticed the relatively new widget on the WiredPages Real Estate page?
Unique properties are added to the interface (lower right corner on the page) on Tuesdays & Fridays. There are quite a few noteworthy (expensive) homes that you may want to scroll through. I have spent a little time going through the interiors of most of the homes. If you love great design be sure to check out the details by clicking on the links.
Want your Unique Property listed? A project I am considering.

Tuesday, March 26, 2019
Over the weekend, I updated the header graphics and elements of the CSS for the QiSoftware Business Blog, Remix.
In coming weeks, you may notice changes to other areas of the QiSoftware site and its sub domains.
QiSoftware site areas include (but not limited to):
It's Personal (this blog)
QiSoftware updates in conjunction with new features and other enhancements planned for the site.

Tuesday, June 19, 2018
In the past, WiredPages provided many tools powered by popular APIs, enabling visitors quick access to data and information.
Some of the tools/interfaces included [there were many more]:
World Weather -- Tool is being rewritten eliminating the Java Applet interface.
YouTube Search & Video Playback- interface is being rewritten to handle updates to the underlying API.
Indeed Job Search-- rewritten [changes to underlying API] and installed on the Employment page.
Political Representatives-- installed on the Government page.
CIA World Factbook Quick Reference-- researching new ways to provide the data on the Reference page.
Zillow Real Estate Values-- referenced on the Real Estate page-- installed.
Food Nutrition Data-- working and ready to install on the Health page. Security issue a concern.
Four tools that are working and ready for installation are shown in the illustration below. The illustration was screen-grabbed today after I retested each interface. Three of the tools are new; [1] Amazon links to the NY Times Best Sellers, [2] Gift Ideas, and [3] Today in History.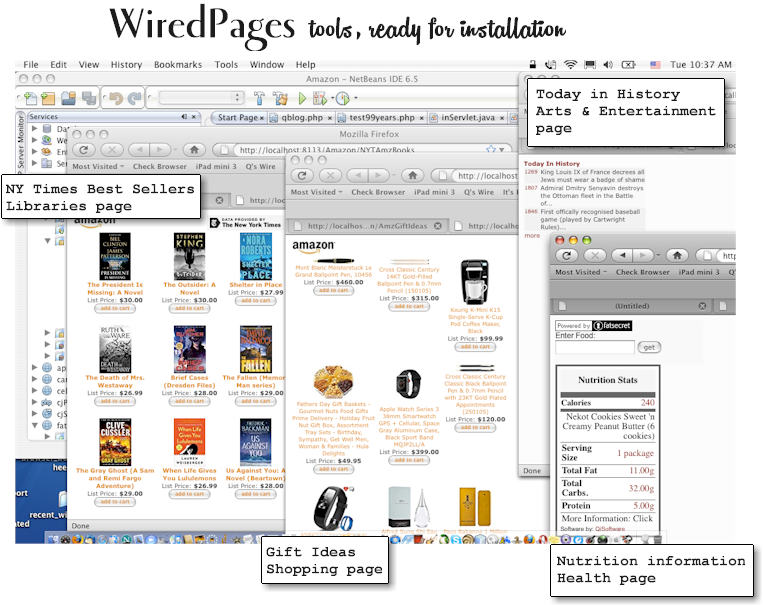 The Fat Secret interface [shown lower right corner] is the same tool that was installed on the Health page in prior years, however due to security concerns I am holding off on updating access to the tool.
Tools like the Mortgage Calculator [almost] and Base Converter are ready, however I am holding off on installation.
I am working to get all of the tools working [many had to be rewritten to remove the Java Applet interface which today's newer browsers are not supporting], however probably will not install many more of the tools until I resolve the security issues.
This post, in case you were wondering...

Sunday, June 17, 2018
Over the last few months I have been trying to create a new banner for my business blog. Each iteration, leaving me acutely aware of the time I might save using a "real" graphic artist.
Then finally, yesterday I came up with something I might be able to live with for more than a week.
Other activities:
Movie: "The Mountain Between Us" last night HBO
Showtime Series: Billions (season ended last Sunday)
Continuing with software development for new tools and updates to WiredPages
Business Directory updates
Cloud hosting research. Are you considering this option? More later.
Store updates:
Hope you are having a nice Father's Day.

Friday, April 27, 2018
Among many recent updates to WiredPages (WP), the Basal Metabolic Rate (BMR)1 calculator maintained on the WP Health page was updated from a Java applet to a servlet.
The illustration above taken before work was complete, however I wanted to show the difference in the applet version versus the servlet. Updates like this conversion now allow visitors using mobile devices to interact with many of the WiredPages interfaces that were originally developed using Java applet technology. Typically, mobile devices, i.e., iPads, Androids, tablets [stand alone] and phones do not support Java applets.
Briefly, some of the other recent changes:
Added a new Dictionary interface to the Reference page.
Added Famous Birthdays to the Style & Events page. (Did not update the online birthday database with the master version I use off-line for software development and testing. Security issues, however the current online version is pretty robust.)
Updates to the interfaces on the Government page.
Slowly, updating links on most of the pages.
Yesterday I decided to take a break from software development. I went out to take photographs for business community projects. See my social media link icons, top right sidebar.
Today, again I did not pull out my Macbook [used for software development and illustrative documentation screen-grabs].
It has been a busy 3 or 4 weeks insofar as updates and rewrites to WiredPages interfaces and I still have lots of work to do.
1BMR is the amount of energy expended each day when the body is at rest.

Sunday, April 15, 2018
Over the last two weeks, there have been extensive updates to WiredPages and the associated Busines Directory.
Over the last 3 years because of server mirrors, redirections and moves, you may have noticed the "No Authorization" message on several of the pages where security triggers have stopped execution of many of the tools that were available with the service.
Sometime ago, I started updating the underlying software for some of the tools, however put off the actual installation of the new software. Documentation of this work, provided in Remix blog posts.
Over the last two weeks, because I decided to prepare to re-establish the news service [WiredPages], I found many of the tools broken because either the data source updated their offerings or unusable because the "Java Applet" is no longer supported by newer browsers or tablet devices, i.e., iPads, Androids
To be honest, I had no idea so many of the tools were in disrepair and I have been working 12 hour days to fix the problems. I still have a lot of work to do.
That said, I wanted to give you an idea of what I have been doing [and where I have been doing it] for most of the last two weeks.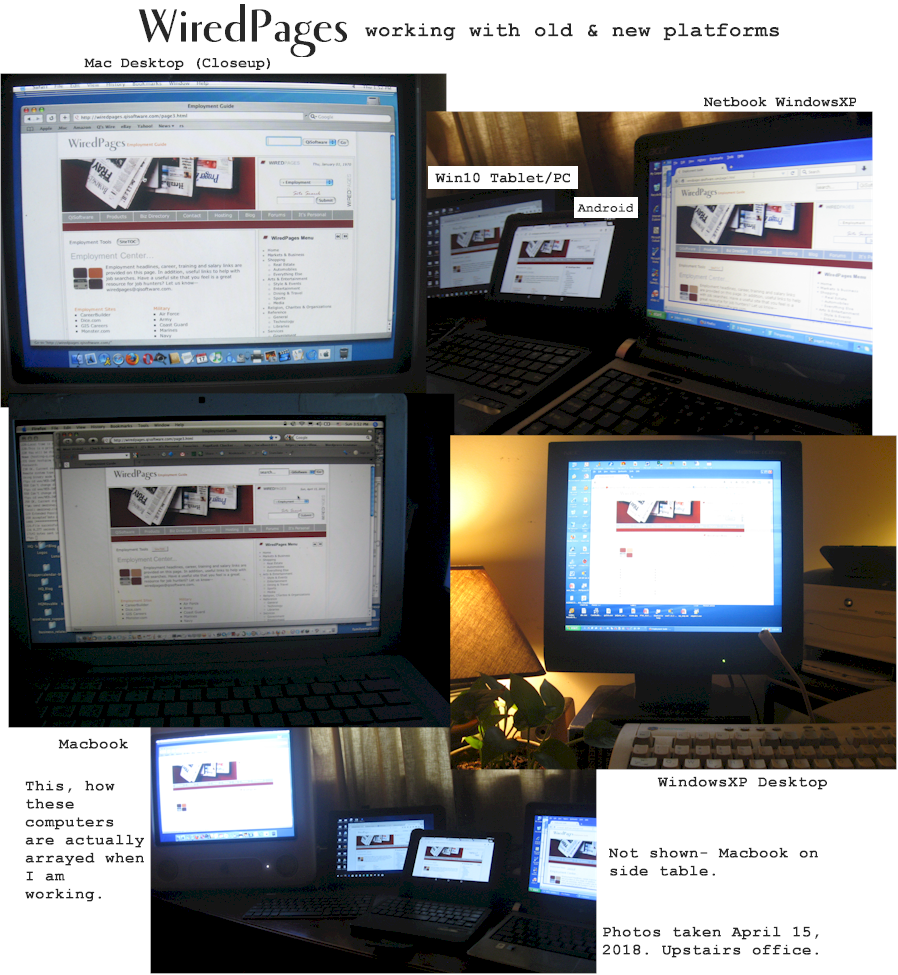 I use the Macbook for software development and the other platforms to ensure the new tools and site updates work on as many systems as possible. Some of my computers are very old and most of my pages and tools still work in those environments-- as well as new.
When will I finish? I used to work 12 hour days just to ensure the site and its tools were in working order. Yes, I also liked adding new tools. So the answer is- not sure. I am busy and actually miss working software issues-- so I am not unhappy about this-- just a little tired.
What's been updated? Will update this later, however here are a few examples....

Saturday, April 07, 2018
Normally, my software development efforts are discussed in the Remix blog, however because of the many projects ongoing, I have chosen to use this less formal setting for discussion of my latest interfaces.
First, recent visitors to WiredPages will notice I updated all of the AP News Headlines interfaces. The following illustrates both the new interfaces and how they used to look.
When I developed the original interfaces, I used a combination of Java applets & servlets. Now the interfaces are comprised of only servlets. The reason? Many desktop browsers no longer support Java applets and mobile devices, i.e., iPads, Androids, etc., never supported the Java applet.
The following pages [WiredPages] have new AP News interfaces:
You will notice, some of the pages [WiredPages] still use Java applets. Firefox and MSIE are able to run the applets, however you need to set the security settings to enable engagement.
The Java applet shown in the illustration above [lower image in the illustration], was taken from a recent screen-shot using my Windows10 PC/Tablet and the Firefox browser. This of course, before the interfaces were rewritten and online versions updated.
Some of the WiredPages tools that use Java applets have been rewritten using only Java servlet technology, however I will not update the online versions until I workout security issues.
The second interface just completed, is an interface that provides visitors with the latest New York Times Best Sellers [books] and the Amazon link for purchase.
The interface illustrated above uses the following resources:
Amazon Product Advertising API
New York Times API
Java Servlet Technology [Java Servlets run on servers and are typically faster than other server side programming/scripting technologies.]
The new interface is ready to install, however I am still deciding where to showcase the tool. Options include: the QiSoftware Products Catalog or the Libraries page of WiredPages. Yes, security issues also a factor in when the interface will be installed.

Monday, March 26, 2018
I had a busy weekend. While continuing efforts to integrate all areas of my sites with analytics tags, I also updated some of the WiredPages Business Directory pages. Discussion in this Remix Blog post.
Today, I booted up my Macbook to check operational status of several software widgets and tools. The following illustration shows two of the tools running in local mode on my Macbook.
There were no errors with the Amazon Product Search tool, however not the case with the Zillow Zestimate widget. Happy to report, I was able to correct those issues.
Over the last 3 years or so, I have updated or entirely rewritten several tools associated with WiredPages and other areas of qisoftware.com, however because of a security issue- have yet to install the updates. Sometimes, I simply provide reminders that the tools exist and are operational.
Other things I did over the weekend & today?
Movie: "Atomic Blonde" w/ Charlize Theron
Showtime Series: "Billions" Season Premiere
Updates to the useful Business Tools... list.
Created and saved new Buttons using my PayPal business account.
New header graphic for Remix Blog - playing around with MS Excel.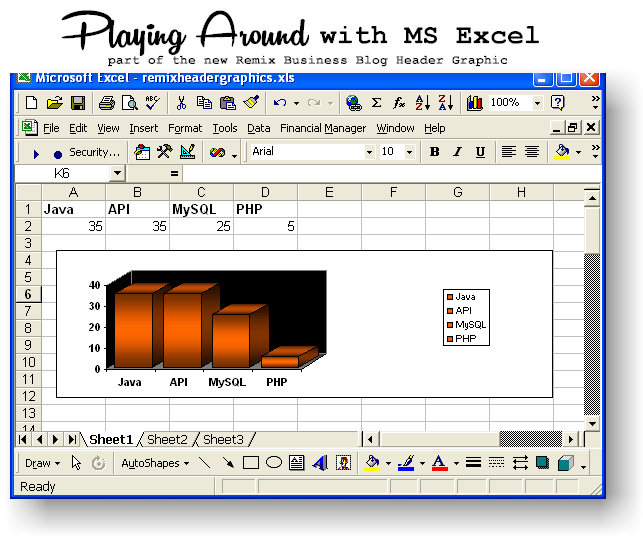 I am planning a special meal for the upcoming holiday (Easter), so I will be a little busy by the end of the week. Between then and now, hope to continue testing and updating my software tools to insure they are operational.

Tuesday, February 27, 2018
For the past week or so, I have been integrating the Google Tag Manager resource throughout areas/subdomains of the QiSoftware Site.
This process involved updates to several areas, including:
The process was especially tedious for the main site [www.qisoftware.com] area pages and WiredPages [wiredpages.qisoftware.com]. The reason? The 20 and 24 pages associated with qisoftware.com and WiredPages respectively, are not maintained using a traditional content management system, e.g., WordPress or Drupal. In other words, I manually edit each page using the VI Editor in a Terminal Window on my Macbook.
The reason for this self inflicted tedium? Initially, it had a lot to do with the template I configured to use with older browsers. I found the Macbook VI Editor inserted the least amount of ambient control tags when writing the files which tended to help older browsers render the pages correctly.
Today, because of security issues I have with the site, if there are non-linked mirrors, it is harder for someone to pretend the pages of the mirrors are official versions, if changed. In other words, it makes it harder for others to change my pages.
Remix and this blog are Thingamablogs and the Forums- phpBB, so the task was easier with these content managed site areas.
In addition, to the myriad of code tags pasted into the headers of pages and variable fields, minor cosmetic updates were incorporated into the pages of the main site [qisoftware.com] area.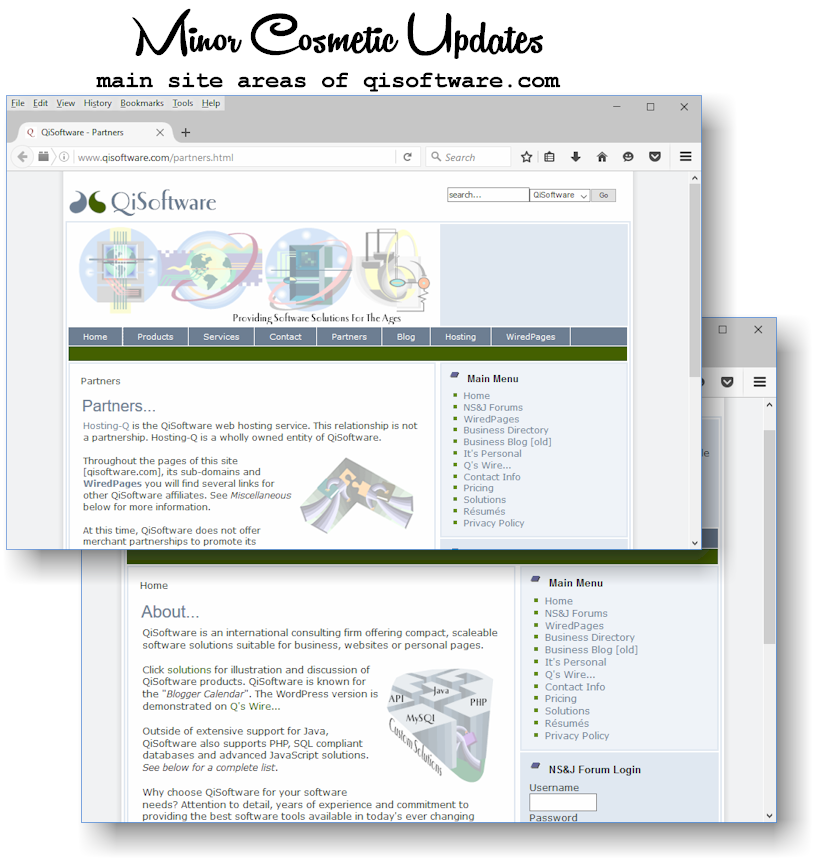 WiredPages updates? Although, I have rewritten some of the applications I maintain on WiredPages, I did not include the new versions on this series of updates. The updates recently integrated only dealt with integrating Google Analytics reporting code tags to the underlying elements of the pages.
I hope to republish the fully working version of WiredPages in the near future, however because of security issues will not attempt this task until I am assured my code is being used in the manner I intended.

Friday, August 11, 2017
Earlier in the week, I had problems with the MySQL databases associated with the NS&J Forums and Q's Wire Blog. The forums use PHPBB and Q's Wire is a WordPress blog that is hosted on qisoftware.com. If you tried to access either the forums or blog, error messages indicated there were "database connection errors".
Recently, my web hosting provider upgraded a number of system software services on my server- including PHP. Initially, I thought this may have been the problem, however now I am not so sure.
Somehow the database passwords became misaligned. I am the only authorized user with access to cPanel- [hosting domain management interface] for both domains [qisoftware.com & hosting-q.com]. So, it appears these errors were caused by someone's deliberate actions and no, I do not think it was the web hosting provider.
After realigning the passwords, I requested full- backups of both sites.
I also fixed the Blogger Calendar's servlet for Q's Wire. The screen-grab captured using a WindowsXP system running Firefox browser version 43.0.1 (the reason the applet works without any special security updates to the system's Java control panel).

I installed the Blogger Calendar in the current version of Q's Wire's template for this demonstration only, however if you view the source for any page of Q's Wire, you will notice the "commented out" script for the Blogger Calendar.
What else have I been up to?
Shopping online for a birthday present for my sister. I am pretty happy with my selection and picked two from my Gift Ideas store.
Updated Business Tools I Heart post, on the Remix Blog.
Other minor domain issues with qisoftware.com. Email spam options also affected by someone's deliberate actions. Also, changed the domain hosting password.
Rogers Cup Tennis
STARZ's "Power" series.
Arundel Mills Cobbler to have a pair of heels repaired. Liked this experience, 20 minutes my shoes are ready.
Social media tasks for the Hanover Maryland Businesses, Facebook page.
It was not all bad this week, in that the problems were resolved quickly. I was also happy to boot-up my Macbook and work on software code issues. I miss working software development issues...

Wednesday, June 28, 2017
For the last week I have been integrating affiliate stores and links that were hosted on affiliate sites, to my business site and blogs. Affiliate program changes the reason for these updates.
Both the Business Blog Remix and this one [personal blog], maintained off-site stores. Now the stores are accessed via the blogs.
In addition to creating the new stores for each of the blogs, I also updated the banner graphic used on the Remix Blog. There were also several minor cosmetic issues associated with the blog, that were also corrected.
When I first received notice one of my affiliate programs would be undergoing significant changes, I was a bit worried. A week and a half later, I am happy most of my work in anticipation of the affiliate program changes has been completed.
Links for the blog stores are located in the upper right sidebar of each blog and listed below for your convenience.

Saturday, June 17, 2017
Over the coming months, Amazon plans to phase out the astore feature, so I am currently adding new pages to this blog that will incorporate most of the product links provided in the Amazon versions of the stores.
Currently the links for the Amazon versions of the stores are listed in the right upper sidebar. I will gradually replace the Amazon links with the page versions associated with this blog.
Listed below, demonstration links for the blog page versions of the stores [keep in mind I am currently working this project].
This project should keep me busy for a couple of days...

Saturday, May 20, 2017
Recently, I have been working several projects mostly associated with the HanoverMDBusinesses Page maintained on Facebook.
Preliminary tasks [for one of the projects] included, registering two new domains:
hanovermaryland.org [future full blown website similar to ococean.com]
reginadenisethomas.com [software and other support tools for my projects that I do not want hosted on my business sites, i.e., qisoftware.com and hosting-q.com]
I also created a new Instagram account that will be used exclusively with the HanoverMaryland Businesses page and site.
Currently, the Facebook page uses the QiSoftware Instagram account w/hashtag "hanovermdbiz". In the future, the new HanoverBusinesses Instagram account will be integrated on both the page and site.
To provide a more professional appearance to the photos published via Instagram, I have been playing around with the Photo Apps that were pre-installed on my Android and Windows10 platform.
Both apps, quite frankly are pretty sophisticated and allow for incremental angular rotation and image cropping- both of which I find quite useful. I use these apps because I post Instagram photos from my Android to the QiSoftware account and now from the Windows10 platform to the new HanoverBusinesses Instagram account.
The HanoverMDBusinesses page is sort of a hobby that I started in 2010 and work when time permits. I hope the new [future] website and other online resources will engage visitors and promote the business/entertainment/shopping/dining community that exists just outside my back door [figuratively speaking].

Friday, March 24, 2017
Finally ordered a camcorder. The final decision came down to these two:
Canon Vixia HF R700
Canon Vixia HF R800 [see this link]
I opted for the 2016 unit [R700] because it was $41.00 cheaper. The specs on both almost the same, however the R800 has one or two added features.
I am very pleased with my new hardware. Its light, easy to use and has the high definition and external microphone support I was looking for. Two items I will be ordering in the near future, an external microphone and one additional battery pack.
A short demo video to show the type of output you can expect from this camcorder.
Above, I am using the HTML5 Video Player to provide either a MP4, OGV or WEBM version of the video- depending on the browser requesting the playback.
I am using a commercial software app "TheFileConverter" to convert the MTS video file the camcorder created, into the MP4, OGV and WEBM formats for use with web browsers. Shown below- part of the underlying html for the HTML5 Video Player.
I do not need to provide different video formats for my social media accounts and am so pleased I can now upload Full HD Video to my Facebook, Flickr, Instagram, Tumblr, Twitter, and Youtube accounts.

Thursday, January 26, 2017
Along with several pages, I maintain two groups on Facebook.
Awhile back [Jan. 2014], I created a custom header graphic for the Thingamablog Group, however opted to use the Alumni group member photos, Facebook used as the default because no group header graphic was specified.
Recently, Facebook changed their default policy [now only a member's group friends' photos show in the header-- even for the admin], so today I created a custom header graphic for the Alumni group.
A screen-grab of the graphics software I used to create the new image...
Below, how the new header graphic looks on the page- via my Android. I have hidden some of the page Admin details, along with some of the data related to my friends who are not group members.
What else?
Filed my Maryland State tax return on Tuesday, January 24th, 2017. Text message this morning reporting it was accepted.
Showtime's series "The Affair".
Tracking Australian Open tennis action.
Extensive updates to my detailed résumé [Linkedin maintains the summary version]. Curious? Public on indeed.com.
Movie: "Bridge of Spies"
Movie: "Genius"
Updating several of the Amazon Stores, see the upper right sidebar.
I have also been going through a lot of old files. Among other things, I found an important letter one of my attorneys sent out in 1995, an aerial photo of the Pentagon given to me when I left Boeing and the Engineering Excellence Award --Rockwell bestowed on me... I am not sure why I went down memory lane recently, however it did prompt the recent updates to my detailed résum&eacute.

Friday, December 23, 2016
Winter arrived this week- with a cold snap. We even had an ice storm the day before.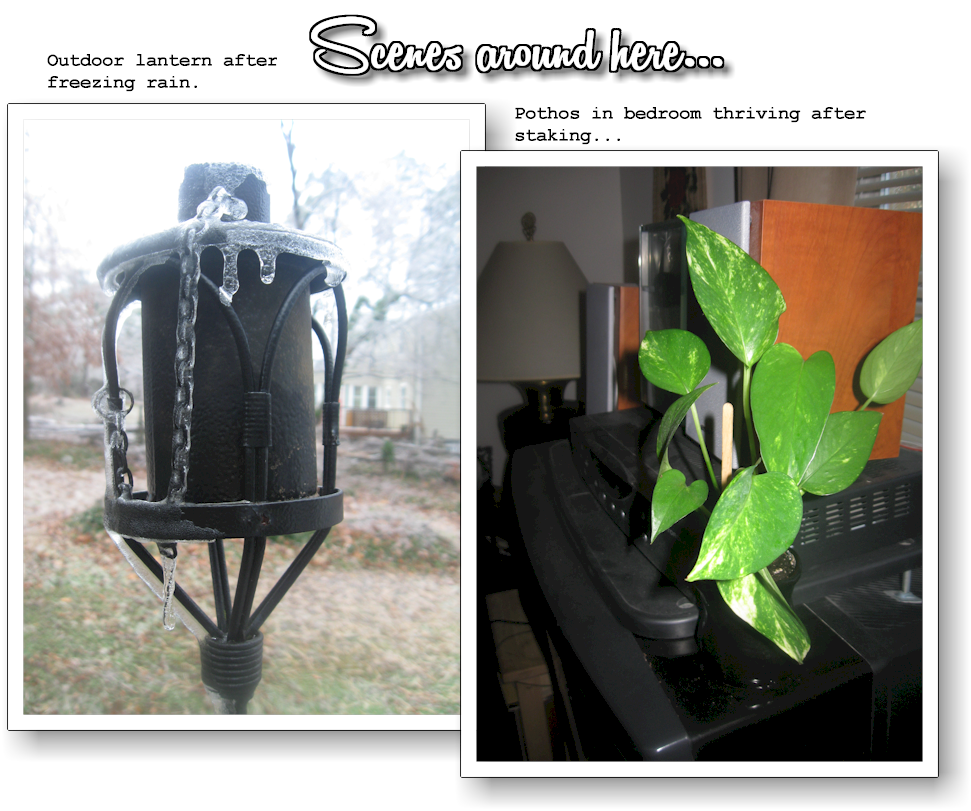 I am happy most of the choirs for the end of year festivities are complete. We again opted out of the big turkey dinner this year, however will have a nice dinner [roast and potatoes w/all the fixings] Sunday.
Last week my new bluetooth speaker arrived, so I have been playing around with that- along with the new sports action camera. I am happy with both of these recent acquisitions.
Other activities? Years ago, I signed up as a Facebook developer however have done little with the platform. With a little extra time on my hands this week, I decided to add an app for use with the HanoverMD Businesses page.
My efforts were met with mixed results. The "Use App" button, illustrated below, provides job listings in Hanover MD.
The application for the page tab [shown on the left in the above illustration] is where I ran into issues. Because of page width problems I was unable to get the app to display correctly using the page tab redirect.
The following illustrates how the page tab application should have looked:
I believe the easiest way to correct the problem is to use the API the listing service provides- and develop my own interface. This would require setting up at least one of my domains with an SSL certification. At this time, I do not want to do this-- in that I need to move one or both of the domains. I know, I have been saying this for 4 years now.
That said, this exercise was interesting in that the Facebook developer platform has changed since the last time I did anything with it.
I plan to relax and enjoy a lot of quiet time until the beginning of the New Year. How about you? Anything exciting planned?

Tuesday, August 16, 2016
Recently, I purchased an HDMI adaptor to allow output from my RCA Windows 10 Tablet/PC to a High Definition [HD] Television.
The following illustration shows some of the specs of the RCA Windows 10 Tablet/PC. Note the mini HDMI output bullet amongst the features.

The following is a demonstration video using the HDMI adaptor with the Windows 10 Tablet/PC and an HD Television.
Yes, I am still trying to come up-to-speed insofar as video production. I am thinking I need a camera which provides robust audio/sound quality and professional video editing software.
I currently own Windows Movie Maker and [Apple's] iMovie. iMove in particular- a nice package, however a bit dated in that I have the version for Mac OSX 10.4. I do not use either package for the videos on this blog, instead relying on my tripod, camera and me... Re-shoot as many times as needed.
I have read good things about Final Cut Pro X, so when I start upgrading my equipment and software that is the package I will purchase. What do you use?

Saturday, July 23, 2016
I have had the RCA Windows 10 Tablet/PC for about week, and I have to say "my expectations were exceeded".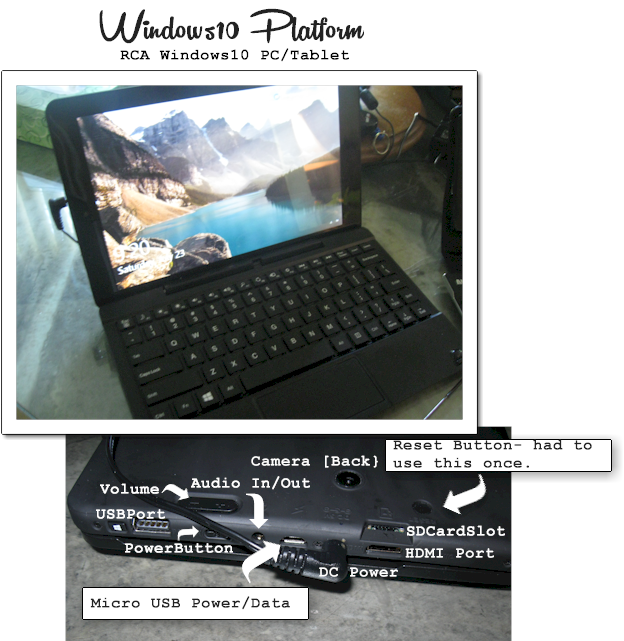 As mentioned, I needed a MS Windows 10 system to ensure my programs worked correctly in that environment and for the price-- I simply could not afford to pass on this option.
One of the areas I check, Java.
The 32GB SD Memory Card arrived on Monday...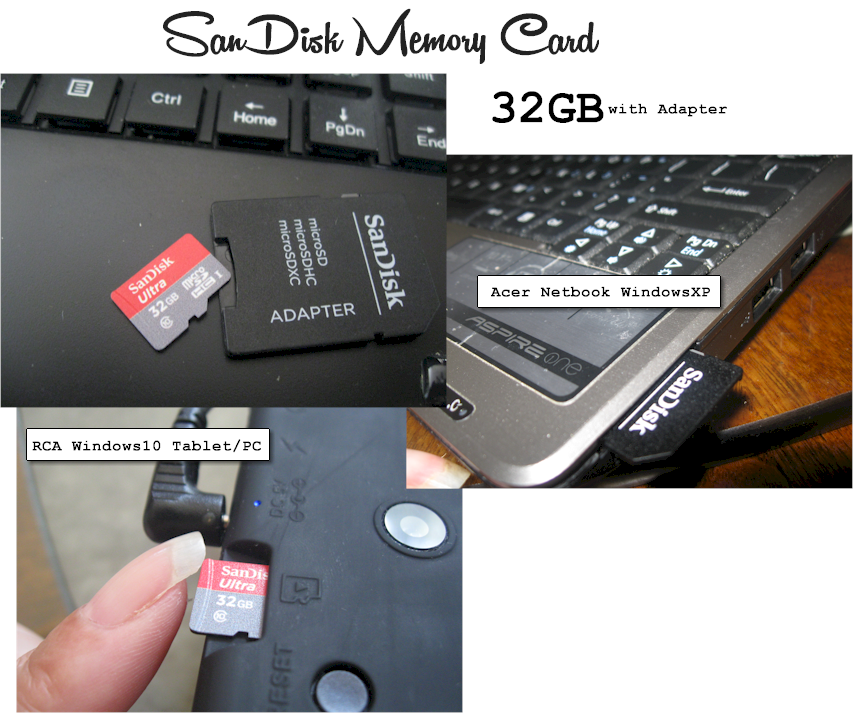 ...so I also installed my iTunes Library and ran a few tests. I had to copy the library from my WindowsXP system and install it on the SD Card for use with the RCA Windows10 Tablet/PC.
I now have several mobile devices, including:
MacBook
Acer Netbook
Nexus Android
RCA Windows10 PC/Tablet
My experience insofar as extending battery life with the older devices is to stay plugged in whenever possible. If I need to use battery power, I allow the battery to drain completely before recharging.
In addition, I calibrated the battery on each device before first use, by fully charging, then fully discharging and finally recharging the battery. This is often recommended by manufactures in their instruction manuals.
I have had great battery life with most of my devices, however keep in mind- I use the device battery, rarely.